How to Get to the Ship

Plus Other Essential Information
Read Carefully !

LINKS to sections on this page
(or scroll down to read the whole page):

Travel Documents Printed in Advance

What to Do When You Get Onboard

---

ARRIVAL AT THE CRUISE PORT

---
NAME OF PORT:

Port Everglades
http://www.porteverglades.net


---

LOCATION OF CRUISE TERMINAL

Port Everglades
1850 Eller Drive
Fort Lauderdale, FL 33316
The ship will probably be sailing from Terminal 18, though the actual location might change. Look for directions to the ship named "Oasis of the Seas." Make sure the ship is "Oasis" before you give your luggage to the porters, who will be waiting at the dock.

Travel Time: From the Fort Lauderdale International Airport, travel time is approximately 10 minutes. From the Miami International Airport, travel time is approximately 30 minutes.
---

ARRIVAL AT THE TERMINAL

Not before 11:00 am on October 15, 2016. If you arrive too early, then you will be waiting on the dock, and that is not fun. The ship will sail at 4:30 pm, so get there well ahead of time. Royal Caribbean International requires guests to be checked in no later than 90 minutes prior to the scheduled sailing time. Therefore you need to be checked in by 3:00 pm. Guests arriving late may not be permitted to sail. There are government regulations in some ports that require cruise lines to submit a departure manifest 90 minutes prior to sailing.

HAND-CARRY ONE BAG

Make sure you keep one bag that you hand-carry onto the ship. Upon arrival at the dock, your luggage will be transfered onto the ship by porters and delivered to your stateroom, and you will not see it again for several hours. You might not see that luggage until late that night. Therefore, pack a carry-on that you can wheel onto the ship with all you need for the day, including your travel documents, change of clothing, swim suit, workout clothes, cosmetics, medicines, book to read, and/or anything else you might want.

Give your checked bags to one of the porters upon your arrival at the dock. Make sure your luggage tags are securely attached to your luggage so they will arrive in your stateroom. (Print out those luggage tags in advance from the Royal Caribbean website when you complete your online check-in.) Gratuities for porters are not included in your cruise fees. A suggested tip is $3 per bag.

CHECKING IN AT TERMINAL

At the Cruise Terminal, you will check in at Royal Caribbean. Look for a sign directing you to your Deck. If you are booked in a suite, or if you are an Emerald, Platinum, Diamond or Diamond Plus member of the Royal Caribbean Crown & Anchor Society, be sure to take advantage of Priority Check-in. When you get to the pier, look for a sign directing you to your Deck and to Priority Check-In. That is the area where you can go ahead of the long lines.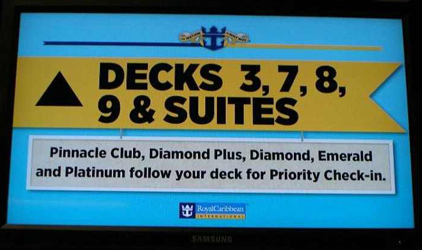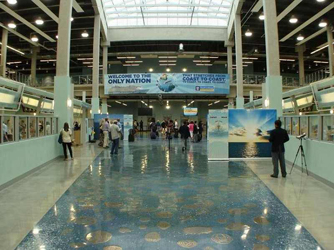 If you have completed your online registration in advance at and printed out your "SetSail" Boarding Pass, then you will "sail through" the registration process. If not, please arrive early, by 2:00 pm, in order to complete your registration at the dock.

Guests can complete Online Check-In (on the Internet) no later than 4 days prior to the cruise. If you completed Online Check-In, you will go to an area designated for documentation validation. By checking in online, you will expedite your boarding process and will be able to start enjoying your cruise vacation much faster.

At the Cruise Terminal, you will need to present:

- Your SetSail Pass
- Identification Documents (proof of Citizenship) for each guest
- Credit Card to be used for your Onboard Expense Account
- Onboard Expense Account Information (i.e your credit card and the reservation information that is authorized to charge against the account)

PARKING AT THE PORT

After dropping off your checked luggage at the pier terminal with the porters and cruise line representative, proceed to the appropriate parking garage for that terminal. Rates are $15 USD per day for the regular vehicles and $19 for the oversized vehicles (rates subject to change without notice by the Port Authority).

For vehicle size restrictions, parking questions, or additional information, please contact USA Parking at (954) 468-3680.

Convenient parking is available in the Midport and Northport Parking Garages and the Midport Surface Lot between Terminals 18 and 19. All Port public garages and surface lots are: well lighted, security patrolled, provide disabled parking with unimpeded access to crosswalks and elevators (See disabled parking section below).

Parking Fees
$3 for 0-1 hour
$6 for up to 5 hours, and then $1 per hour thereafter up to daily maximum
$15 daily maximum
$19 daily maximum for oversized vehicles (exceeding standard width and/or height of a parking space). For assistance, contact USA Parking at 954-468-3680.

Midport Parking Garage (probably closer to the Terminal for Freedom of the Seas)
The 2,000-space Midport garage services:

Midport Cruise Terminals 19, 21, 22/24, 25, 26, 27 and 29
From I-595: I-595 empties on to east bound Eller Dr. Continue traveling east after the security checkpoint. The garage entrance will be on your left.

Midport Surface Lots
Cruise Terminal 18: 600-space surface parking lot adjacent to the terminal
Parking Lot #19: 400-space surface parking lot located between Terminals 18 and 19 and is used when the Terminal 18 and Midport Garage are full.
Garage and surface parking rates are the same.

Northport Parking Garage
The 4,250 space Northport Garage services:

Northport Cruise Terminals 1, 2 and 4
Greater Fort Lauderdale/Broward County Convention Center
From 17th Street Causeway: Turn south on Eisenhower Blvd. from 17th St. The garage will be on the left side after the security checkpoint.

From State Road 84: come east on State Road 84 and enter the Port. Turning left at Eisenhower Blvd. The parking garage will be on the right just before the security checkpoint.

From I-595: I-595 empties on to Eller Dr. Head east on Eller. Make a left (north) at the light after the security checkpoint (Eisenhower Blvd). Follow signs for Terminals #1, 2 & 4/Convention Center. The garage entrance will be on your right just before the security checkpoint.

FREE Disabled Parking
Any vehicle with specialized equipment or other criteria are exempt from parking fees in Port Everglades, including: ramps, lifts, foot, hand controls, vehicle displaying the Florida Turnpike Toll Exemption sticker.

To obtain free parking at Port Everglades: At the entry of the Port Everglades parking garage, pull a parking ticket from the automated machine. Get the attention of one of the parking agents in an adjacent exit booth. Advise the agent that you would like a disability waiver of parking. A parking supervisor will examine the vehicle to determine if the driver/vehicle meets the criteria for a parking waiver. After verification, the supervisor will sign the ticket and record the driver's name, address and registration number and will be directed to enter the garage. When exiting, the parking ticket will be surrendered to the exit parking attendant and no parking fees will be charged.
---
TRAVEL DOCUMENTS PRINTED IN ADVANCE

---
PRINT OUT YOUR "SETSAIL" BOARDING PASS AT ROYAL CARIBBEAN WEBSITE

Check-in online in advance! It's easy.

When you check-in online, it saves time. You won't have to fill out any forms at the port. Once you have completed the Online Check-In process, you will receive a "SetSail" Pass, which indicates you successfully completed the check-in process for you and other guests listed on your SetSail Pass.

IMPORTANT: You must complete and print your SetSail Pass 4 days prior to your sail date.

To register online, first gather the following information for all the guests that you're checking in:

- First and Last Legal Names (as they appear on the passport or birth certificate)
- Ship, Sail Date and Royal Caribbean Reservation Number (series of numbers)
- Royal Caribbean's Past Passenger Crown & Anchor Member Number (if applicable)
- Contact Information (including permanent address and telephone number)
- Passport Details or or appropriate proof of citizenship and identification (passport number and expiration)
- Emergency Contact Person (name and phone number)
- Travel Plans (flight details or approximate car arrival times)
- Credit Card for Purchases Onboard (last four digits and expiration date)

TIP: For security purposes, the system will time-out after 30 minutes even while there is activity, so make sure you gather everything listed above before you begin.

CLICK HERE to go directly to the Royal Caribbean Online Check-In page
(You may also access this page by visiting www.rccl.com. Place your cursor over the link on the top of the page marked "BEFORE YOU BOARD." Select the second option "Online Check-in" from the drop-down menu.)

NEED HELP? For computer tech support, call this number: (800) 398-9819. They will walk you through the process.

LUGGAGE TAGS: After you have completed your SetSail Pass, you will print out luggage tags marked with your stateroom number. These will automatically direct all your luggage from the place the porter takes your luggage at the port directly to your stateroom.

Once this is complete, you are all set and ready to enjoy your cruise onboard Royal Caribbean. Just make sure you take your boarding pass, luggage tags, and necessary documentation (passport, visas, etc.) to the pier with you.
WHAT IS THE ROYAL CARIBBEAN SEAPASS ACCOUNT?

One of the best things about cruising with Royal Caribbean is the convenience of being able to sign for all your expenses and have them charged to your stateroom.

When you check-in for your cruise, you'll receive a SeaPass Card. The Cruise Card is used to access your personal shipboard account to which all purchases are charged.

All of Royal Caribbean ships operate on a "cashless" system, meaning your boarding card, (also known as your Royal Caribbean SeaPass card), will be used as a charge card to make all onboard purchases. To activate this Royal Caribbean SeaPass account, most guests provide a credit card, (American Express, Optima, MasterCard, Visa, Discover and Diner's Club), to have these purchases charged at the end of their cruise. Additionally, the Royal Caribbean SeaPass system may be activated with traveler's checks, debit cards with a Visa or MasterCard logo, or cash.

A running tab of all your purchases will be kept under separate folio numbers for each guest and an itemized statement left in your stateroom the night before disembarkation. If you provided a credit card and there are no discrepancies, the amount will be charged to your account on the morning of disembarkation. If you have used traveler's checks or cash to activate the account, you will need to settle the account at the Guest Relations desk, to either receive a reimbursement of the unused amount, or to pay the balance due.

ROYAL CARIBBEAN SEAPASS CARD: YOUR ID

Royal Caribbean Cruise Line uses a computerized system for tracking all persons, both guests and crew, who enter and exit the ship. Upon arrival at the ship, each guest is issued a boarding card (Royal Caribbean SeaPass) which they must swipe to be officially logged on to the ship. The system imbeds a full color, digital photograph together with personal database information on their SeaPass. With a card swipe, a computer displays a corresponding photo with database information and merges time and date tracking information upon entry or exit.

Your SeaPass Card will serve as your boarding card. This card identifies you as a Royal Caribbean guest and must be carried with you along with picture identification when you go ashore. Because the ship is closed to the public while docked at the various ports-of-call, you must show your SeaPass Card and picture I.D. to the officer on duty in order to return on board.

If you or one of the kids has trouble keeping track of that SeaPass card, go to the shops onboard and buy a plastic holder with a lanyard. Place the card inside the plastic holder and you are good to go. For extra security, stop by the Guest Relations Desk and get a hole punched in the card to slip through the security ring that attaches to the lanyard.
---

GRATUITIES

As a "Cruise Into Spirit" Seminar-at-Sea attendee, your incredibly low fee of a total $13.50 or $15.95 (for suites) per day, per person, for service charges (tips) to your steward, waiters, and all other onboard staff was ALREADY PREPAID when you registered for the event.

This gratuity is shared by your stateroom attendant, dining services staff, and housekeeping staff members who help enhance your vacation experience.

At your discretion, the gratuity payments may be adjusted onboard at Guest Relations, in which case they will not automatically be added to your onboard SeaPass account.

A 15% gratuity will be automatically added to all beverages, mini bar purchases, spa and salon services. Additional gratuities may be added at your discretion.

---

SEMINAR-AT-SEA SPEAKERS INSPIRATIONAL PRODUCTS

On our "Cruise Into Spirit" Seminar-at-sea, our speakers will bring books, CDs, DVDs, and other products. They will also offer private sessions. They will be selling their wares in the meeting room in the Conference Center on the ship. Also, the Seminar might be video-recorded, and those DVDs will be available. Those special items can be purchased with cash or a credit card and will not go through the Royal Caribbean SeaPass account system. If you get short on cash, all ships in the Royal Caribbean fleet have ATM machines. There is a transaction fee levied by the owners of the ATMs, plus any other fees your financial institution would charge.
WHAT TO DO WHEN YOU BOARD THE SHIP

Make sure you keep one bag that you hand-carry onto the ship. Upon arrival at the dock, your luggage will be carried onto the ship by porters and delivered to your stateroom, and you will not see it again for several hours. You might not see that luggage until late that night. Therefore, pack a carry-on that you can wheel onto the ship with all you need for the day, including your travel documents, change of clothing, swim suit, workout clothes, cosmetics, medicines, book to read, and/or anything else you might want.

As soon as you get onboard, go straight to your stateroom and get settled, if your room is ready. There you will find the "Cruise Compass" Newsletter with schedules for all the onboard activities, including a Tour of the Freedom of the Seas with the Cruise Staff.

If your room isn't ready yet, then head for one of the many dining rooms onboard for lunch. If the spa or fitness classes are your thing, make your appointments on the first day, as the most popular treatments and times fill up fast.

---

LUNCH IS SERVED

Shortly after you are welcomed aboard your incredibly spectacular Royal Caribbean ship, you're invited to relax and dine, from 11:30 am to 3:00 pm at any of the following free restaurants: Solarium Bistro (Solarium, Deck 15), Windjammer Marketplace Buffet (Deck 16), Park Café (Central Park, Deck 8), Wipe Out Café (Sports Deck 15) and from 11:30 am to 9:00 pm: Vitality Café (Vitality Spa, Deck 6). Other free dining rooms will be closed for lunch on embarkation day.

If you would like to make lunch a special event, the following pay-to-eat restaurants will also be open on departure day from 11:30 to 3:30 pm: Seafood Shack (Boardwalk, Deck 6) and Johnny Rockets (Boardwalk, Deck 6) and from 12:00 to 1:30 pm: Giovanni's Table (Central Park, Deck 8) and from 1:00 to 11:00 pm: Vintages/Tapas (Central Park, Deck 8).

If you want a snack on embarkation day, the following will also be open: Café Promenade (24 hours: Royal Promenade, Deck 5), Mondo Coffee Bar (11:00 am to 3:45 pm: Royal Promenade, Deck 5), Boardwalk Donut Shop (11:00 am to 9:00 pm: Boardwalk, Deck 6), Boardwalk Bar (11:00 am to 9:00 pm: Boardwalk, Deck 6), Ice Cream Parlor (11:00 am to 11:00 pm: Boardwalk, Deck 6), Sorrento's (11:30 am to 3:45 pm: Royal Promenade, Deck 5), Cupcake Cupboard (11:30 am to 11:00 pm: Royal Promenade, Deck 5).

Room Service is also available 24 Hours a Day.

Read the details in your "Cruise Compass" Newsletter, which you will find in your room, as the dining information might be out of date due to frequent Dry Dock renovations to the ship.

Royal Caribbean's unique combination of gracious dining staff, fine cuisine, and new friends make every meal onboard a memorable occasion, starting from the moment you get on the ship.

---

SEMINAR-AT-SEA CHECK-IN AND FIRST MEETING

Right after you board the ship, anytime between 1:00 pm to 4:00 pm, go to Deck 3 Forward, The Conference Center, to check in for the "Cruise Into Spirit" Seminar-at-Sea:

MANDATORY Check-In
For "Cruise Into Spirit" Seminar-at-Sea:
ALL attendees of the Seminar-at-Sea (including speakers, staff, and vendors) are required to check-in for the Seminar-at-Sea on Deck 3 Forward in The Conference Center, from 1:00 pm to 4:00 pm. Registration will be closed during the boat safety "Muster Drill," which will occur at approximately 4:00 pm. During your check-in, you will receive your cruise and seminar guide and your unique seminar entrance identifier so you can get into our seminars. Security on the seminar will be strict, and you will not be allowed into any events without your unique identification. Also, if you are attending one of our special Seminar-at-Sea shore excursions, you will receive your shore excursion tickets at this mandatory check-in.

MANDATORY First Meeting
Welcome-Aboard Sail-Away Orientation and Logistics:
The first meeting of our Seminar-at-Sea will take place in Studio B (Ice Skating Rink), Deck 3 Forward, from 4:30 to 6:00 pm. Our first meeting will include introductions with all our presenters: "Cruise into Spirit Speakers Introduction." See the entire TENTATIVE schedule at www.divinetravels.com/CruiseIntoSpirit2016Schedule.html.

Group Photo
At 5:50 pm, right after our first meeting, we will meet for a Group Photo in Studio B (Ice Skating Rink).

Cruise Into Spirit Cruise Dinner:
Dinner will begin at 6:00 pm in the main dining room. Our group will have a designated place to dine together nightly from 6:00 to 8:00 pm. Make new friends at dinner, or dine with your favorite speakers! Please note that you can eat anywhere you want within that general designated seating area. Even though your "Cruise Card" will have a table-number printed on it, your table is NOT really assigned, so please move around and meet new people for each meal. Please arrive on time in order to get a spot. Otherwise empty tables might be relinquished to general seating.

Of course, you are not required to eat with our group, or in our dining room. There are 25 places to eat anytime on the ship, including a giant buffet and FREE room service. See details of dining choices on the ship at the following page: www.divinetravels.com/OasisSeasShip.html.

---
HOW TO GET TO FORT LAUDERDALE

---
FLIGHT GUIDELINES

Embarking Passengers
For voyages departing from Fort Lauderdale at 4:30 pm, the latest recommended flight arrival:
Latest arrivals into the Ft. Lauderdale Airport: 1:00 pm
Latest arrivals into the Miami International Airport: 12:00 noon

Disembarking Passengers
For voyages arriving in Fort Lauderdale at either 6:00 am or 7:00 am, the earliest recommended flight departure:
Earliest departures out of the Ft. Lauderdale Airport: 11:30 am
Earliest departures out of the Miami International Airport: 12:30 pm

Royal Caribbean ChoiceAir
Royal Caribbean's ChoiceAir program has been enhanced with Premium Benefits that give you everything you want in airfare service: the best value, the assurance that you'll get to your ship, the flexibility to choose your favorite airline and flights, and the security in knowing you have round-the-clock support throughout your travels.

Benefits include:

- We guarantee the lowest airfare available. If you find a lower fare within 24 hours of booking, we'll award you 110% of the difference to spend on board your cruise—a benefit no other cruise line offers.

- We have experts on hand monitoring your flights, and if any delays or cancellations jeopardize your travel plans, we work quickly with the airline to get you on the next available flight to get you to your ship.

- You have the flexibility to search different airlines and flights, so it's easy to find exactly what you want. And, we save you time by filtering out flights that won't work with your cruise.

- We have Royal Caribbean Air Agents available 24/7 to help ensure you air travel is as carefree as your cruise. Just call. They'll do whatever they can to help.

- Royal Caribbean's ChoiceAir with all its benefits and services is absolutely free to use. All you pay for is your air travel, which is exactly the way it should be.

- For additional details about the Royal Caribbean ChoiceAir program, contact Adele at Legendary World Travel: 760-230-5624 after you have made a reservation for the Cruise.

Travel Delays:
Air travel schedules can be affected by a number of factors. If your flight arrives at your ship's home port after the ship's scheduled sailing time due to weather or mechanical problems, contact Royal Caribbean's emergency travel hotline and/or a supervisor at the airline's ticket counter for assistance in securing hotel accommodations and flight arrangements to your ship's next destination.

Calling within USA: 800-256-6649
Calling International: 305-539-4107

In case you miss the departure of your ship due to carrier-caused delays or other covered reasons, please make sure you have enough travel insurance to cover additional accommodations, meals and "catch-up" transportation expenses. You are responsible for any expense incurred to meet the ship at its next port of call.

For this reason, we highly recommend that you arrive a day prior to sailing and stay in a hotel the night before to avoid any possible delays. We offer pre-cruise hotel reservations and we offer travel insurance. Contact Adele at Legendary World Travel: 760-230-5624.

---

PREPARATION FOR YOUR CRUISE

---
Information about how to prepare for your Royal Caribbean Cruise vacation can be found at www.Royal Caribbeancruises.com/plan-and-book/before-you-go-overview. Here are a few details that you will find useful:

LUGGAGE AND WHAT TO BRING

You should dress for a cruise with Royal Caribbean the same way you would for any stylish land-based resort. Casual sportswear, including shorts, lightweight pants and jogging suits, is the order of the day both at sea and ashore in hotter climates.

We recommend you bring a sweater, a jacket or an all-weather coat for cool evenings, and for shore excursions, depending on your destination. Due to unpredictable weather, don't forget a hat or visor and a collapsible umbrella. Please be sure to bring proper clothing for visits to religious sites. You'll also want low-heeled, rubbersoled shoes for strolling on deck, as well as comfortable walking shoes or sandals to wear.

Royal Caribbean makes it easy to know what to pack and what to wear when you're dining onboard our spectacular ships. There are two designations for dress codes: Smart Casual and Formal.

Smart Casual
Passenger attire should be in keeping with what they would wear to a nice restaurant at home.
- Skirts/dresses, slacks, and sweaters for ladies
- Pants and open-neck shirts for men
Inappropriate dinner wear such as pool or beach attire, shorts, ball caps and casual jeans (with fraying and/or holes) are not permitted in the dining rooms. Shoes must be worn.

Formal
When formal nights are held, please observe the dress code in the Traditional Dining and Anytime Dining venues for the enjoyment of all our guests.
- Evening gowns and cocktail dresses for women
- Tuxedos, dinner jackets or dark suits with a tie for men

Number of Formal Evenings and Smart Casual Evenings
7 Days:
2 Formal Evenings
5 Smart Casual Evenings

Formal Wear Rentals
Royal Caribbean offers formal wear rental on all cruises; this can be arranged prior to embarkation.
Dress with an elegance and style that is perfect for all the formal activities on your cruise with Royal Caribbean. Cruiseline Formal Wear delivers beautifully-tailored clothing directly to your stateroom. To order your formal wear, please visit http://cruiselineformal.com, call 800-551-5091 or 305-252-8572. For questions, email: custservice@cruiselineformal.com.

Packing for Your Vacation

Many domestic airline carriers now impose excess baggage fees for one or more bags and bags weighing over 50 lbs., so check with your carrier regarding weight restrictions.

All luggage should have a sturdy personal identification tag that will not be lost or damaged in the course of typical airport and trucked luggage handling. On journeys including air travel, luggage will be subject to a considerable amount of handling and we would recommend that your luggage be of sturdy construction.

Royal Caribbean recommends that your travel protection insurance should be adequate enough to cover any possible loss or damage that may occur. Any loss or damage caused by Royal Caribbean or an airline must be reported immediately to the responsible party.

Royal Caribbean will make every effort to assist you in safeguarding your belongings. But remember, you are responsible for your possessions at all times. Royal Caribbean is not responsible for money, jewelry, cameras, binoculars, documents or any other articles you retain in your personal control. We strongly recommend you hand-carry all valuables and breakables, including jewelry, electronics and cameras, essential medications, travel documents, valuables, and breakables should be hand carried in your possession at all times. Please read the Passage Contract for limitations and responsibilities for lost items and baggage.

Suggested Packing List:
yoga mat, rain poncho, rain footwear, warm clothing for viewing UFO Starwatches after sunset on the outside deck, nice clothes for dinner, dressy or formal clothes (optional) for dinner on two formal night on 7-day cruise, long pants and tops, sweatshirt and sweatpants, warm jacket or windbreaker, shorts, t-shirts, underwear, socks, sleeping-clothes, walking shoes, sandals or flip-flops, 2 bathing suits and cover-up, sunscreen, watch, alarm clock (or ask for wake-up call from ship Operator), cosmetics, toiletries, bar soap (optional), medications, sunglasses, eyeglasses or contacts, hat or visor, camera, laptop or notebook computer (Wi-Fi is available on the ship for a fee) with chargers, extra batteries, backpack or fanny pack for day excursions, binoculars, night-vision goggles for star-watch (optional), post-it notes and pens (to leave notes on your door or for your cabin attendant), book to read, journal, notebook.

If you're planning to visit our onboard fitness center, be sure to bring extra shorts, t-shirts and socks that you won't mind working out in - plus a pair of tennis or running shoes/sneakers.

Save space:
Be sure to leave some room in your luggage for all those souvenirs and mementos. Some space-saving ideas include:
- Bring shirts and pants/skirts that mix and match, turning three outfits into five or six.
- Wear your heaviest shoes during embarkation and disembarkation so you don't have to pack them.
- Pack small items inside larger ones for efficiency.
- Bring an additional empty collabsible bag for those acquired extras.

Onshore attire:
You'll need comfortable walking shoes, as well as a hat or umbrella and sunscreen for protection from the sun. If you'll be touring any museums, cathedrals or churches, it's always wise to dress conservatively. In the unlikely event of rain, you may want to bring a poncho, raincoat, or travel umbrella.

Luggage Allowance:
Each guest is permitted to carry a reasonable amount of personal property (including luggage) aboard the vessel; however, for your comfort and convenience, it is recommended that you limit the number of pieces you take. Keep in mind that airlines may charge for excess or oversize luggage. Charges incurred for excess or oversize baggage are the sole responsibility of the passenger. Each airline has a different limit on the amount of luggage they allow. Check with your air carrier for specific restrictions, such as allowance of pounds and any additional charges.

What Not To Bring:
For the safety of our guests and crew there are certain items that are not allowed onboard. If these are found they will be confiscated. Alcoholic beverages, illegal drugs, flammable liquids, explosives, and dangerous chemicals will not be returned.

Weapons, illegal drugs, and other items that could interfere with the safe operation of the ship or the safe and secure environment of our guests and crew are prohibited. Do not pack fragile or expensive items (such as jewelry) in checked luggage.

- Firearms & Ammunition, including realistic replicas
- Sharp Objects, including knives and scissors (Personal grooming items such as safety razors are allowed. Scissors with blade length less than 4 inches are allowed.)
- Illegal Drugs & Substances
- Candles & Incense
- Coffee Makers, Clothes Irons, Electrical Extension Cords, & Hot Plates
- Baseball Bats, Hockey Sticks, Cricket Bats, Bows and Arrows
- Skateboards & Surfboards
- Martial Arts Gear
- Self-Defense Gear, including handcuffs, pepper spray and night sticks
- Flammable Liquids and Explosives, including lighter fluid and fireworks
- HAM Radios
- Dangerous Chemicals, including bleach and paint
- Alcoholic Beverages (Alcoholic beverages that are purchased in ports-of-call or from shops onboard will be stored by the ship and delivered to you on the last day of the sailing. Alcoholic beverages seized on embarkation day will not be returned.)

---

CRUISE TRAVEL DOCUMENTATION

Each passenger is responsible for providing Royal Caribbean Cruises with complete and accurate immigration information. The Passenger Immigration Form (PIF) should be completed online using Cruise Personalizer.

Ensure your name appears exactly as shown on your travel document. If the name does not match, contact your travel agent (the travel agent must call in corrections). Please provide Royal Caribbean Cruises with the correct information at least 45 days prior to your cruise. Failure to do so will result in delayed check-in and, possibly, denied boarding.

For non-US passport or non-US permanent residents disembarking in a US Port, the US Department of Homeland Security requires that before your cruise, you provide the address at which you will be staying in the US, post-cruise.

Travel Document requirements vary by destination and your citizenship. Below are document guidelines for both domestic and international voyages. Once a booking is made, you may view voyage specific requirements on the Cruise Personalizer.

Document Requirements for US and Canadian Passport Holders
A valid passport is required for all international itineraries. Although US and Canadian passport holders are not currently required to sail with a passport on most domestic itineraries (including Alaska, Bermuda, Canada, Caribbean, Hawaii, and Mexico and Panama Canal), Royal Caribbean highly recommends they are carried.

If your cruise requires international air travel, including flights between the US and Canada, the Caribbean, Bermuda or Mexico, you will be required to present a valid passport when departing from or returning to the US by air. Even if your cruise does not involve air travel outside the US, should you be required to unexpectedly depart a vessel prior to the end of the sailing, a passport would be required to re-enter the US by air. As such, Royal Caribbean Cruises continues to strongly recommend that all passengers are in possession of a valid passport.

For domestic itineraries for which a passport is not required, US and Canadian passport holders must present one of the following valid Western Hemisphere Travel Initiative (WHTI) compliant travel documents at cruise check-in:
- Passport Book: Recommended travel document
- US Passport Card
- US or Canadian Issued Enhanced Driver's License (EDL)
- US or Canadian Issued Identification Card (issued to minors and non-drivers)
- NEXUS Card Air travel is limited to participating airports
- SENTRI and FAST cards

Passport Requirement for Minors Traveling with Only One Adult
When minors are traveling with only one adult 21 years of age or older, Royal Caribbean requires that all passengers must be in possession of a valid passport. We have implemented this requirement because we want to ensure that your party remains together should an emergency arise that requires one or more in your party to be disembarked in a non-U.S. port. We cannot guarantee that all members of your party will be allowed to disembark with just a WHTI-compliant document or birth certificate. Failure to present a valid passport for all passengers traveling together will result in denial of boarding without refund of the of the cruise fare.

US citizens traveling on U.S. roundtrip or "closed-loop" voyages may also travel with an original certified birth certificate presented together with a valid government-issued photo identification. These voyages include Mexico roundtrip from Fort Lauderdale.

For information regarding WHTI compliant documents, visit www.getyouhome.gov.

US Permanent Residents are required to present one of the following at cruise check-in:
- Permanent Resident Card (ARC/I-55 card)
- Temporary ARC/I-55 card and valid government-issued photo identification
- Expired ARC/I-55 card and form I-797 and valid government-issued photo identification
- Passport with "ARC" stamp in the passport
- Canadian Permanent Residents are required to present a valid passport and Landed Permanent Resident - - Card at cruise check-in.

Non-US/Non-Canadian Passport Holders:
A valid passport is required for all non-US and non-Canadian citizens for all itineraries.

IMPORTANT: Visa and documentation requirements vary by destination and change from time to time without prior notice. Passengers should check with the consulate of each country they will visit, or a visa service to verify current regulations. It is the passenger's responsibility to have proper travel documentation. They should reconfirm visa requirements with the consulate 14-30 days prior to the cruise.

Passport validity:
Many countries require passports be valid for six months after the completion of your travel. Check your passport to verify it will be valid for this period of time. Please ensure the name on the passport matches the name on the booking. Additionally, make certain that your passport contains blank pages for entry and exit endorsements and any visas that may be required. If necessary, allow sufficient time to renew your passport and/or obtain additional pages.

US and Canadian passport holders sailing on a domestic cruise should ensure passports or other travel documents are valid through the completion of travel. There may be occasions where we retain your passport at check-in. This is to ensure that you are not inconvenienced by immigration clearance during your cruise and where face to face inspection is not required. We recommend you bring a second government issued photo ID if you wish to have one with you while in port.

Passport Services
There are over 7,000 Application Acceptance locations in the US Callers may locate the one closest to them by going to the US Department of State website at http://iafdb.travel.state.gov. The United States Postal Service also provides passport services. To obtain this information, go to usps.com to find a Post Office location, fees, and to download a passport application at http://www.usps.com/passport. For information regarding Passport applications, please visit: http://travel.state.gov/passport/passport_1738.html or call the National Passport Information Center at 877-487-2778 (M-F, 5am to 5pm Pacific Time).

*This information is provided as general guidance. Because governmental travel requirements change periodically, you must check with your travel agent or the government authorities for all countries you will visit to determine or verify the actual requirements at the time of sailing. Royal Caribbean assumes no responsibility for advising passengers of such requirements.

Vaccinations*
Information regarding required vaccinations for your cruise is listed on your Travel Summary (if applicable). We recommend seasonal influenza vaccinations for all passengers. Furthermore, you are strongly urged to seek advice from your primary care physician or an approved public health advisory service to identify any specific vaccination or health precautions required for each port of call. Vaccination requirements vary by destination and change from time to time. Passengers should check with the World Health Organization (WHO) (http://who.int/ith) or contact the United States Centers for Disease Control and Prevention (CDC) at www.cdc.gov/travel to verify current regulations.

Norovirus is the most common cause of gastroenteritis in the developed world. The health and well-being of our passengers and crew is our highest priority. There are several measures which have been placed to prevent and contain illnesses on our ships that meet or exceed standards set by the U.S. Centers for Disease Control and Prevention.

The simplest way for you to stay healthy is to frequently and thoroughly wash your hands with soap and water, especially before eating and after using the toilet. You'll also find hand sanitizers located throughout the ship for your use after washing your hands. If you feel ill during your voyage, please immediately report to the medical center.

Health and Travel Insurance
We strongly recommend you review your health insurance coverage before cruising. Many policies, including Medicare, will not pay for services or hospitalization outside of the country or for emergency evacuation. Royal Caribbean Cruises ships are foreign-flagged and are considered "out of country." Please contact Adele at Legendary World Travel:760-230-5624,to arrange for insurance.


ROYAL CARIBBEAN CRUISE LINES SMOKING POLICY

For the comfort and enjoyment of our guests, our ships are designated as non-smoking; however, we recognize that some of our guests do smoke. Therefore, to provide an onboard environment that also satisfies smokers, we have designated certain areas of the ship as smoking areas.

Cigarette, cigar, e-cigarette and pipe smoking is permitted in designated outdoor areas of the starboard side of all ships; with the exception of Oasis-class ships that will allow smoking on the port side of the ships. To assist in locating areas where smoking is permitted, guests will find visible signage posted within all smoking areas and ashtrays that are provided for use. Outdoor areas near restricted areas, food venues, and kids play areas and pools will not allow smoking. On Oasis class, smoking is not permitted in Central Park or the Boardwalk neighborhoods.

Casino Royale allows smoking and has a designated area for non-smoking guests. There will be visible signage indicating the non-smoking area in the casino. There are select cruises departing from China that will not have a non-smoking area in the casino.

Onboard all interior public spaces are smoke free. Smoking is not permitted in any dining venue, theater, bar, lounge, hallway, elevator, and jogging track.

Smoking is not permitted inside any stateroom and any stateroom balcony. This applies to all stateroom categories onboard. If a guest is in violation of this stateroom policy, a cleaning fee of $250 USD will be applied to their SeaPass account and may be subject to further action pursuant to the "Consequences Section" of the Guest Conduct Policy.

Cigarettes, cigars and pipe tobacco must be properly disposed of and never thrown overboard. Cigar and pipe tobacco is limited to designated outdoor areas and Cigar Bars. You must be at least 18 years of age to purchase, possess or use tobacco onboard.

Electronic cigarettes or e-cigarettes are only permitted within the designated smoking areas.

Royal Caribbean International kindly asks all guests to please observe the smoking policy. These requests are made to provide a comfortable cruise for everyone. Guest may also inquire at Guest Services for the location of the designated smoking areas onboard.

Guests who violate this smoking policy may be subject to further action pursuant to the "Consequences Section" of the Guest Conduct Policy.
---

TRAVEL WITH CHILDREN

Children or teens traveling with one adult
Passengers under the age of 21 years must travel in a stateroom with a passenger 21 years or older who shall assume responsibility for their care during the cruise. For family groups booking multiple staterooms, the minimum age for each stateroom is 16 years of age, provided they are traveling with a parent or legal guardian. Each passenger agrees and warrants that he/she will supervise any passenger in his/her care at all times to ensure all policies, along with all other rules of the Carrier and ship, are strictly adhered to by all passengers under their supervision.

Passport requirement when minors travel with one adult on voyages governed by the U.S. Western Hemisphere Travel Initiative (includes travel within Bermuda, Canada, Caribbean, Mexico & United States)
When minors (any passenger under the age of 18) are traveling with only one adult 21 years of age or older, Royal Caribbean requires that all passengers possess a valid passport. Carrier has implemented this requirement so that your party remains together should an emergency arise that requires one or more in your party to disembark in a non-U.S. port. Carrier cannot guarantee that all members of your party are allowed to disembark with just a WHTI-compliant document or birth certificate. Failure to present a valid passport for all passengers traveling together results in denial of boarding without refund of the of the cruise or cruisetour fare.

Age requirements for babies
Children over six (6) months of age at the date of sailing will be accepted on the following itineraries: Alaska, Canada & New England, Caribbean, Europe, Mexico and Panama Canal.

Infants/Young Children and Swimming Pools
Parents/guardians are reminded to bring their children dressed in appropriate attire with towel and sunscreen. Youth staff will not conduct children's activities in the adult or splash pools. Parents must supervise their children at all times when using the pools. Infants and young children in diapers and/or swim diapers, and children who are not toilet trained are NOT permitted in any of the pools or spas due to public health concerns.

Our policy is strictly observed onboard and is intended for the public health safety of all passengers.

Documents for passengers under the age of 18
Several countries require special documentation for children traveling with only one parent or with neither parent; these requirements are subject to change without notice. Many foreign countries require any single parent or guardian to bring a permission slip for the minor to travel abroad. It is your responsibility to ensure that you possess the proper documents for all of the countries that you will visit. Please verify requirements with the consulates of the countries visited prior to your cruise.

Restrictions for children and teens
Entry into the disco after 10 p.m. is limited to passengers 18 years and over. Be sure to check with the Youth and Teen Centers for special dance parties designed for kids and teens.

Children who are toilet-trained and accompanied by a parent or guardian are permitted in the sauna and hot tub(s) unless otherwise specified.

Passengers under the age of 13 are allowed in the evening entertainment show lounges if they are with their parent or guardian.

In line with domestic U.S. age limits, as well as our company policy, the casino, cash prize bingo and horse racing are reserved for passengers 21 years and older. Additionally, only those passengers 21 years and older will be allowed to purchase or consume alcohol. Picture identification may be requested.


Passengers under the age of 18 are prohibited from purchasing cigarettes or tobacco products while on board.

Additional Reminders
Children under 3 are not permitted in the Fun Factory Kid's Center unless accompanied by a parent at all times. Youth Center staff cannot administer medication, bottle-feed, change diapers, or provide meal service. All children participating in the Youth program must be potty-trained. Children who are not potty-trained are not permitted in hot tub or pool facilities.

For more information about the Fun Factory, see www.divinetravels.com/Royal CaribbeanInfinityShip.html.

Children with Special Needs
Royal Caribbean welcomes all children and teens ages 3-17 to participate in our programs. Let our staff know of all medical and/or special needs for your children. We will make every effort to accommodate them. Please be advised that Royal Caribbean Youth staff do not offer individual one-on-one supervision.



---

PREGNANT WOMEN

Pregnant women are not allowed to sail if they are entering the 24th week of their pregnancy by the last day of the cruise.

All pregnant women are required to produce a physician's letter stating that mother and baby are in good health, fit to travel and the pregnancy is not high risk. The letter must also include the estimated date of delivery (EDD) calculated from both Last Menstrual Period (LMP) and ultrasound (if performed).

Please fax your physician letter to the Fleet Medical Department confidential fax at (661) 753-0121.

---

PASSENGERS WITH DISABILITIES

Royal Caribbean is committed to providing all its guests with an unrivaled cruise vacation. For detailed information about your accessible cruise, please go to www.royalcaribbean.com/allaboutcruising/accessibleseas/home.do

To customize your accommodations to meet your specific needs, please complete the Guest Special Needs Form at https://secure.royalcaribbean.com/allaboutcruising/guestSpecialNeeds.do

For more information contact our Access Department at (866) 592-7225 (voice), fax (954) 628-9622, send an e-mail to special_needs@rccl.com, or contact our local Travel Agent Adele at 760-230-5624.

For additional assistance, feel free to ask for a Complaint Resolution Official (CRO). Our CROs have been trained and are aware of the applicable U.S. Department of Transportation (DOT) disability regulations as well as our policies and procedures regarding guests with disabilities. They will be glad to respond to your concerns. Our CROs are available at all U.S. port of departure and all of our ships.

Tender Port Policy
The goal of Royal Caribbean Cruises is to provide a safe comfortable cruise experience for all passengers. If you will be using a mobility device during your sailing we strongly recommend you travel with a person physically fit to assist with your needs both onboard and ashore.

Embarking and disembarking can be challenging for those with limited mobility. Many major ports of call provide easy access for wheelchairs and scooters. However due to various conditions; steepness of the gangway, weather, shore-side facilities, tidal and sea conditions, passengers using mobility devices may be required to transfer to a stair climber or be precluded from going ashore. Royal Caribbean staff will make every effort to assist but are not allowed to individually physically lift more than 50 pounds (22 kg).

Some ports of call require the ship to anchor off shore. Passengers are then taken to shore by small boats or tenders. When tendering is required, passengers using mobility devices will not be transferred into or out of the tender, if lifting in excess of the above limitation is required. Many tender ports do not provide wheelchair access so even if the passenger can board the tender they may not be able to disembark ashore. Again the shore-side facilities, movement of the tender, weather and tidal conditions can also preclude tendering.

The decision to allow any passenger to board a tender or disembark the vessel will be made by the Captain on the basis of the safety and welfare of all involved and is final.

If passengers are unable to tender or disembark because of circumstances outlined above there will be no refund or credit for missed ports. While Royal Caribbean recognizes your disappointment, the safety of both passengers and crew takes precedence.