Join with Like-Minded Souls
in the Experience of a Lifetime
Our " Cruise into Spirit" and Seminar-at-Sea takes place right onboard one of the most extraordinary cruise ships in the world, during our seven-day cruise, in conference rooms on the ship, and during our port calls in the Eastern Caribbean. Join us!
Join an incredible cruise and seminar-at-sea as we sail from Fort Lauderdale to the awe-inspiring beauty of the Eastern Caribbean.


Be amazed by the ship that revolutionized cruising: Oasis of the Seas, a ship that is a destination in itself.


Delight in a spiritual conference at Sea, with speakers, readers, healers, and vendors.


Enjoy 7 days of pure bliss, as we sail into higher consciousness and spiritual awakening.


Practice yoga, enjoy veg, non-veg, or raw food, and participate in awesome spiritual workshops and activities.


View the starlit Caribbean sky with a nightly UFO Watch under the stars.


You will make new friends, gain greater wisdom, and create memories that will last a lifetime.
IMPORTANT NOTE: This seminar-at-sea does not promote any particular religious beliefs or creeds. it is about developing our own inner knowing of truth.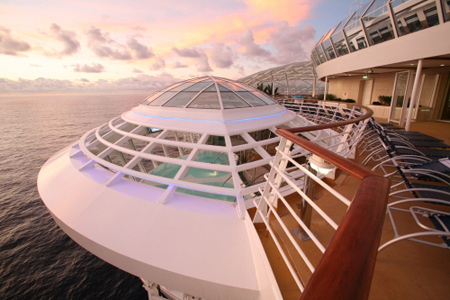 ---
Included FREE When You Register
Seminar-at-sea with renowned spiritual teachers
Spiritual experiences, rituals, and healing
Nightly UFO watch under the stars with night-vision goggles
Yoga instruction with an expert teacher
Awesome coaches, readers, healers, and vendors
Excellent seminar staff attending to your needs
Some of the most beautiful staterooms at sea
High-speed Internet access at speeds comparable to shore
Excellent caring service by the crew
Dining with like-minded people in our group
Fabulous dining options in 25 different restaurants
Awesome buffet open all day and night
Great choices for vegetarians and vegans
Free room service all day and night
Incredible onboard entertainment
Fun-filled free programs for toddlers, kids, and teens
Broadway Tony-Award winning musical CATS
AquaTheater fountain and dive shows
Ice skating spectacular shows
Royal Promenade parades and musical productions
Outdoor movies and sports on mega-sized screen at pool
Central Park walkway with thousands of live plants
Dance classes, educational programs, a rt auction at sea
Onboard library, game room, and card-playing
Recent movies to watch in your stateroom
Hilarious comedy-club entertainers
The most spectacular destinations on the planet
3-D theater with first-run movies
Access to state-of-the-art fitness center
Access to adults-only swimming pool and cafe: Solarium
10 cantilevered whirlpools overlooking the ocean
Ice-Skating rink, FlowRider surf simulators
Mini-golf course, Full-sized basketball court
43-foot high rock-climbing walls
Zip line, 9 decks in the air and 82 feet across
Boardwalk arcade with classic carnival games
Hand-carved carousel
Much, much more!
---
The Incredible Royal Caribbean
Oasis of the Seas

Oasis of the Seas is one of the biggest and most innovative cruise ships. Its groundbreaking design introduced seven distinct, incredible neighborhoods, built for ultimate enjoyment, each home to countless unique activities and experiences. There's always a dazzling array of entertainment to enjoy.

Hop on a classic colorful carousel on the Boardwalk. Watch acrobats splash down in the spectacular AquaTheater, the first amphitheater at sea, with its mesmerising high diving acrobatic shows. Your imagination will soar in the Youth Zone—the largest kids' area at sea, or at the Pool & Sports Zone, with FlowRider surf simulators, zipline views, and our signature rock-climbing wall.

Unwind with a stroll in Central Park—a meandering garden lined with shops and fine restaurants—or melt away stress as you bask in the tranquil Solarium pool and recharge at the Vitality Spa. Jazz up your evening with Tony Award-winning Broadway hit CATS, or hit the Royal Promenade for memorable moments with DreamWorks Experience characters and duty-free shopping. When the sun goes down, the night heats up with Broadway shows, Casino Royale, plus 16 bars and lounges.

We've raised the bar with all new onboard experiences and entertainment onboard Oasis of the Seas, including re-imagined dining, game-changing high-speed internet, exciting new retail offerings, a new Broadway show, and brand new suite rooms.

Dynamic Dining brings more choice and flexibility than ever before, with a vast and varied choice of dining. Raising the bar for entertainment, we bring Andrew Lloyd Webber's Tony award winning CATS to sea for the first time. The Royal Promenade is host to Kate Spade New York, Michael Kors, and the Britto Art Gallery.

Royal Caribbean's Oasis of the Seas offers the ultimate "at sea" experience by combining speed, added comfort, greater space, sweeping ocean vistas, and an exceptional staff committed to serving your every whim. With pure relaxation and incredible views along the way, Oasis of the Seas, a dazzling ship, combines sleek swiftness, panoramic vistas, and wide-open spaces for the ultimate cruise getaway. With acres of glass throughout and elevators facing the sea, every view is picture-worthy.

Book your Cruise into Spirit and Seminar-at-Sea on Oasis of the Seas today.

---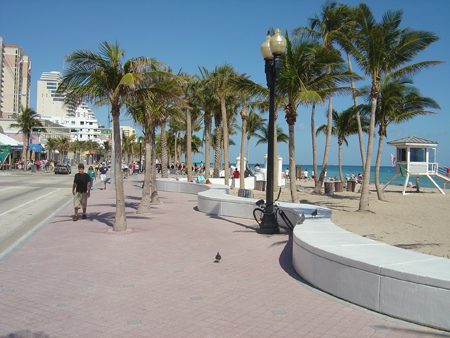 Fort Lauderdale lies along the Atlantic Ocean at the mouth of the New River, 25 miles north of Miami. Its warm tropical weather attracts many people throughout the year. For sun-worshippers, the city has six miles of beaches. There are also many recreational waterways with extensive boating facilities, access to every conceivable watersport, a variety of fascinating museums and trendy restaurants, and an array of entertainment venues.

One Thing You Don't Want to Miss

People have been flocking to Fort Lauderdale's beaches for decades. And with good reason. Fort Lauderdale Beach is a two-mile strip of beautiful beach featuring the recently renovated Promenade, which offers all sorts of bars, restaurants and shops.

Other Fun Things to Do

- Take a 30-minute airboat ride across the Everglades, one of the most breathtaking natural areas in America. Discover a variety of fish and birds that inhabit the area, and perhaps see the most famous Everglades inhabitant - the alligator. Enjoy Sawgrass Reptile Exhibit after your ride and take the opportunity to touch or possibly hold a small alligator. Discover the replica of a Seminole Indian village. See tropical birds, rare snakes, and even the endangered Florida panther.

- Take a narrated drive through Port Everglades over the Intercoastal Waterway and along the famous Fort Lauderdale Beach. Explore the International Swimming Hall of Fame, Las Olas Boulevard, the Riverwalk area and more. Stop and see Esplanade Park, the crossroads of the Center for Performing Arts and the Museum of Discovery and Science. Take a 90-minute Intercoastal Waterway cruise, and hear a lively commentary from the boat's captain on the history of the New River and Fort Lauderdale's historic sites.


Get a Taste of Local Flavor

Fish is fresh and delicious in Florida. Grouper is probably the most popular choice and is served almost any way imaginable. You'll find it fried, broiled, sautéed, and even served with pasta. But a true Floridian staple is a fresh grouper sandwich and fries eaten outside by the water. It's hard to beat this old standby.

Destinations Nearby: Hollywood, Florida

Named one of Fodor's Best Beaches for Families, Hollywood South Beach features a boardwalk dotted with restaurants and six miles of white sand beach. North Beach boasts several unique eco-adventures including the Sea Turtle Hatchery. To venture into the Historic Downtown for a taste of Hollywood's distinctive flavor, simply hop on the Hollywood Trolley, which operates Wednesday through Sunday.

---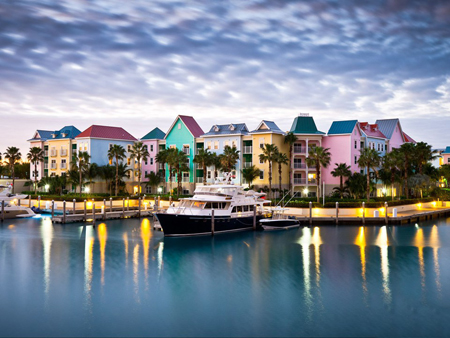 Nassau, Bahamas

With dazzling beaches, turquoise waters, colorful past and vibrant Junkanoo culture, Nassau is a great place to sun and sightsee. The city is on New Providence Island; just offshore is Paradise Island, home to luxury hotels and resorts.

For a city now known for its warming sun and balmy breezes, Nassau has a tumultuous past. First settled by the English, the area was contested by England, France and Spain. For many years, Nassau was a home base for notorious pirates, and it was burned to the ground by the Spanish three different times. Since 1740, however, visitors from all over the world in search of both relaxation and adventure have made Nassau their favorite destination.

One Thing You Don't Want to Miss

Visit the luxurious Bahamian resort, Atlantis in Paradise Island. Interact with amazing dolphins at Atlantis Dolphin Cay, one of the largest dolphin habitats in the world. Register for the Aquaventure program, the premier water park in the Caribbean, and participate on a Discover Atlantis Tour. View more than 50,000 fascinating species of marine life in the largest open air aquarium in the world.

Other Fun Things to Do

- Take advantage of a once-in-a-lifetime opportunity to get up close and personal with a dolphin. Have your picture taken while kissing these loving creatures, learn about their anatomy, and pet and feed them while standing in waist-deep water. All at the wonderful facility that is home to Universal Studios' Flipper, who starred in the 1996 movie with the same name.

- Take a break and relax on your own semi-private island. Located just a short boat ride away from Nassau, Blackbeard's Cay is surrounded by crystal-clear turquoise water, sandy beaches and swaying palm trees. Or better yet, check out the Stingray Adventure. This amazing experience could easily be the highlight of your trip.

- Relive the swashbuckling past on an exciting pirates and dungeons tour of Fort Charlotte and the Pirates of Nassau Museum. (Eye patches and peg legs not included.)

- Go on a glass-bottom-boat tour for a glimpse into the underwater world of the Bahamas.

- Visit Predator Lagoon where you'll see sharks, barracuda and many other creatures from the deep.

- Join the fun crowd of thrill seeking SUB aquanauts for an undersea experience you'll be telling all your friends about.
Sporting Adventures

- While in Nassau, experience the wonders of a majestic coral reef or the intrigue of a sunken wreck on a dive excursion.

Local Currency

The Bahamian dollar (BSD) is the official unit of currency. U.S. dollars, traveler's checks and credit cards are widely accepted.

OUR AMAZING
FULL MOON CRUISE INTO SPIRIT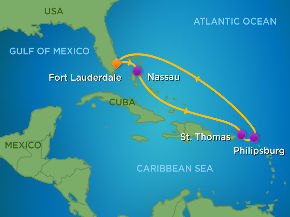 Incredible Royal Caribbean
Oasis of the Seas
7-Day Cruise into Spirit
From Ft. Lauderdale to Eastern Caribbean

Destination
Arrives
Departs
Sat.
Oct. 15, 2016
Fort Lauderdale, FL

Check-in for Seminar at Sea:
Conference Room Deck 3 Forward: 1:00 pm to 4:00 pm

4:30 pm: Seminar at Sea Begins
4:30 PM
Sun.
Oct. 16, 2016

Full Moon Night

Nassau, Bahamas

Special Cruise into Spirit Shore Excursions (extra fee)


Seminar at Sea

7:00 AM
2:00 PM
Mon.
Oct. 17, 2016
Cruising

Seminar at Sea

Tue.
Oct. 18, 2016
Charlotte Amalie, St. Thomas

Special Cruise into Spirit Shore Excursions (extra fee)

Seminar at Sea
10:00 AM
7:00 PM
Wed.
Oct. 19, 2016
Philipsburg, St. Maarten

Special Cruise into Spirit Shore Excursion (extra fee)

Seminar at Sea
8:00 AM
5:00 PM
Thur.
Oct. 20, 2016
Cruising

Seminar at Sea

Fri.
Oct. 21, 2016
Cruising

Seminar at Sea

Sat.
Oct. 22, 2016
Fort Lauderdale FL
6:15 AM
Register NOW before all the spaces are taken!
---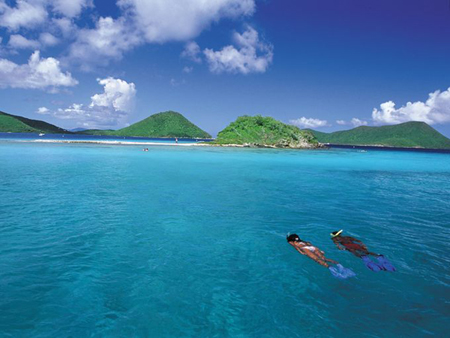 Royal Caribbean
Eastern Caribbean Cruise
Breathtaking natural beauty combined with old-world charm defines the magical allure of the Eastern Caribbean. With a distinctive fusion of European, African and Latin American influences, this region boasts quaint towns alive with diverse cultures amongst a breathtaking backdrop of swaying palm trees, velveteen sands and turquoise waters accented with rainbow fish. The locals are friendly, the duty-free shops bustling and the cultures fascinating. Soak up the sun, adopt its laid-back island mindset and explore coral reefs teeming with marine life on an Eastern Caribbean cruise vacation, roundtrip from Ft. Lauderdale.
The Eastern Caribbean Islands enjoy a perpetual summer and convenient departure ports from Florida. Our cruise, sailing from Fort Lauderdale, will visit stunning ports in the Bahamas, St. Thomas, and St. Maarten. Among the islands, French, Dutch, Swedish, English, and Spanish influences are still quite evident. Each island offers an opportunity to encounter different languages, cultures and architecture. You will find sophisticated, cosmopolitan islands as well as unspoiled islands that have clung to the past, unaffected by the outside world. Secluded coves and beaches that stretch for miles with sweeps of gold, white, pink, silver, or black sand offer a kaleidoscope of diversity.
Whether you seek romance, adventure, fun, an active vacation or just want to relax on a world-famous beach, an Eastern Caribbean cruise is for you. It brings the fun-in-the-sun experience many cruisers are looking for. Your getaway includes sandy beaches and opportunity to enjoy an array of watersports. Or sit and do nothing with a frosty drink in hand. Duty-free shopping galore – some of the port towns have an ambience akin to shopping malls – and casinos, including at the massive Atlantis resort in the Bahamas, offer diversions for those not focused on sun-seeking. Nature lovers will find the opportunity to explore both on land and sea.
Sail the Caribbean from Fort Lauderdale. Witness amazing beaches and glimmering waters in every shade of blue. Whether it's adventure or relaxation, the Cruise Into Spirit 2016 Cruise and Seminar at Sea offers the best of both worlds.
---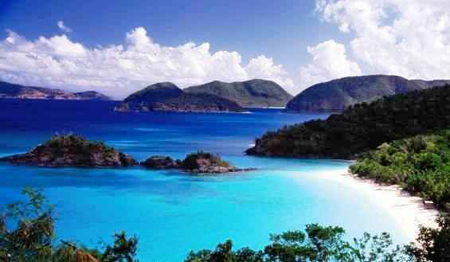 Charlotte Amalie, St. Thomas
Beyond the glitz of its famous shopping district, St. Thomas enchants with a fascinating history and natural scenery. Explore the island's diverse heritage in Charlotte Amalie, or splash your way around at vibrant reefs or a gorgeous beach.
St. Thomas is known as an idyllic vacation spot today, but its history is not so peaceful. In the 18th century, the island was at the center of a bustling pirate culture, as swashbuckling pirates such as Blackbeard and Drake traded stolen wares in the port of Charlotte Amalie. This world-renowned Caribbean island is home to amazing beaches, gorgeous sea and landscapes and unbelievable duty-free shopping.
One Thing You Don't Want to Miss
While the beaches and ocean are beautiful, there is one thing that really sets St. Thomas apart - shopping. Browse through the shop-lined streets of Charlotte Amalie and find out why St. Thomas is called the "duty-free shopping capital of the world." Shop for duty-free trinkets and bargains on everything from liquor to imported china and crystal. Visitors can bring home $1,200 in merchandise without paying duty - twice the limit of most of the Caribbean.
Other Fun Things to Do
- Take a ride on Skyline Drive and enjoy a breathtaking view of St. Thomas Harbor. Then travel to Mountain Top, the highest point on St. Thomas, and see spectacular views of Magens Bay, one of the most beautiful beaches in the world.
- Check out Coral World Marine Park, where you can touch sea stars at the touch pool or explore the mystery of life in a mangrove lagoon off the Coastal Trail.
- Sit back and enjoy a relaxing half-day sail to Buck Island aboard a large sailing yacht, then snorkel in Turtle Cove.
- Travel 700 feet above the sea via skyride to The Paradise Point and see the most fantastic vistas in the Caribbean.
Sporting Adventures
- Take a brief harbor cruise through the picturesque St. Thomas harbor then bike through Water Island.
- Take Stand Up Paddle Boarding (SUP) - the fastest growing water sport in the world.
- Enjoy a ferry to Virgin Island National Park on St. John and hike a hillside trail with tropical views.

Shopping for Bargains
St. Thomas is the bargain-shopping bazaar of the Caribbean. There are over 400 shops along the Main Street area in Charlotte Amalie and some 50 more in Havensight Mall. Great bargains are found on precious gemstones, and on fine jewelry and watches from designers like C2K, Caribbean Hook, Chopard, Honora, House of Tanzanite, John Atencio, John Hardy, Kabana, La Nouvelle Bague, Roberto Coin, Starnight, White Diamonds, Alfex, Concord, Gucci, Maurice Lacroix, Michele, Movado, Wenger and more. St. Thomas also features excellent buys on luxury items like perfume, leather, imported linens, china and crystal. Cameras, electronic goods, and designer clothing are also available, as are a selection of island rums and liquors, with great bargains on your favorite spirits.
Local Currency
The U.S. dollar (USD) is the official currency. Traveler's checks and credit cards are also widely accepted.
---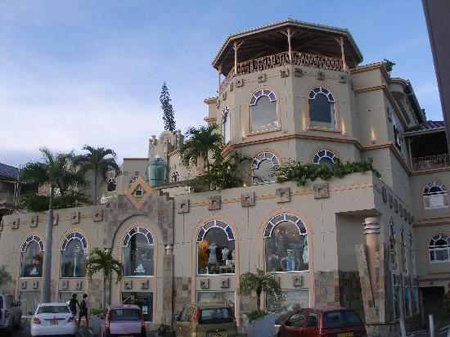 Philipsburg, St. Maarten
One island, two cultures: welcome to St. Maarten, considered the French Riviera of the Caribbean. Experience Dutch and French culture and enjoy gorgeous coastline, lush tropical landscapes, a great selection of restaurants and plenty of duty-free shopping.
When the Spanish closed their colonial fort on St. Maarten in 1648, a few Dutch and French soldiers hid on the island and decided to share it. Soon after, the Netherlands and France signed a formal agreement to split St. Maarten in half, as it is today. Philipsburg displays its Dutch heritage in its architecture and landscaping. The island offers endless stretches of beach, beautiful landscapes and great shopping.
One Thing You Don't Want to Miss
Compete in an actual race on an America's Cup shortened course. Grind a winch, trim a sail or just sit back and enjoy. Professional sailors will give you a quick lesson, then you're off to compete on Stars and Stripes, one of the most famous sailboats in the world.
Other Fun Things to Do
- Rendezvous at one of the newest and trendiest restaurants in French St. Maarten. Explore Orient Bay, the French Riviera of the Caribbean, with over 1 1/2 miles of white-sand beaches.
- Admire the delicate nature and dazzling colors of hundreds of butterflies as you tour St. Maarten's popular Butterfly Farm.

Sporting Adventures
- Tour the saltwater lagoons by kayak, and discover egrets, plovers, heron and pelicans.
- Discover the undersea world of coral reefs and exotic fish as you take a snorkeling expedition through Shipwreck Cove.
- Experience St. Maarten's vibrant history by bicycle.

Shopping for Bargains
There are about 500 duty-free shops on St. Maarten with prices 25% to 50% below those in the U.S. The selection of jewelry and watches is premier on the Dutch side of St. Maarten. Friendly competition between merchants guarantees excellent prices on emeralds, diamonds, rubies, sapphires, pearls, gold and silver. St. Maarten offers a wide selection of fine jewelry and watches from such well-known designers as C2K, Caribbean Hook, Honora, House of Tanzanite, John Atencio, John Hardy, Kabana, Roberto Coin, Starnight, White Diamonds, Alfex, Concord, Faconnable, Gucci, Maurice Lacroix, Michele, Movado, Wenger, La Nouvelle Bague and more. Be sure to try a bottle of St. Maarten's own guavaberry liqueur. The guavaberry is exclusive to this island.
Local Currency
In October 2010, the Dutch side of St. Maarten voted for autonomous status separate from the Netherlands. Until then, the Netherlands Antilles Guilder (ANG) was the official unit of currency. However, the new official currency has yet to be decided, but U.S. dollars, traveler's checks and credit cards are widely accepted.
---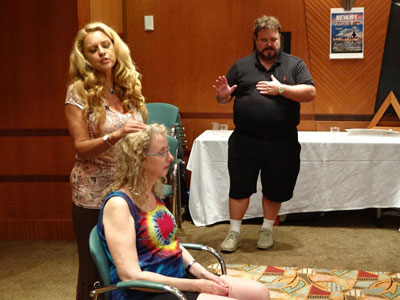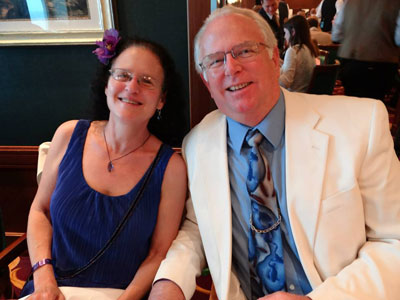 "I very much enjoyed the cruise and could not possibly find anything I would change. I thought it was very well organized and I would love to be a part of it again. Thank you for a wonderful time!"--Chuck Poloka, Pennsylvania

"Thanks again for a wonderful Seminar At Sea - felt you had a good mix of presenters. I was impressed with how deep some of the workshops went, and loved having more than one session with some of these great teachers, with time between to integrate and assimilate what was taught. I loved having our meals together so there were opportunities to sit with the teachers and ask deeper questions and have some personal contact."--Evalena Rose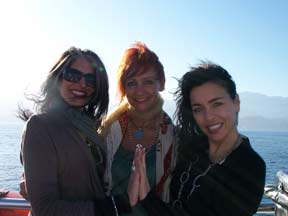 "When you ask me what I loved about the cruise, I will tell you, 'everything.' It was my experience to enjoy...I asked God to see dolphins and a school of them showed up playing outside my balcony room. I asked God to see whales and whales showed up jumping into the air. I asked God for a beautiful sunset and I was in awe as I watched the sun sink in the horizon. With every blessing, my heart was filled with gratitude."--Tina Taylor, Illinois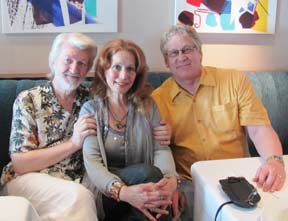 "The exceptional service, quality of our room, and the ease of getting food when hungry were great. The view was splendid, as were the excursion opportunities. All enjoyed this event!"--Barbara Tralle, California

"Your staff were exemplary in all ways. You, Adele, and the door monitors all were helpful, courteous, supportive, superb. Peter was a great help and always there when I needed him, as it seems he was with others."--Evalena Rose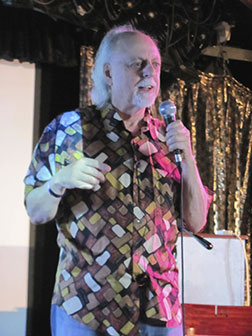 "It was the perfect venue for having non-stop workshops, easy access to dining, and also to our rooms. This was so much better than a hotel-based week long workshop! Brilliant idea!!"--Julie Hart, California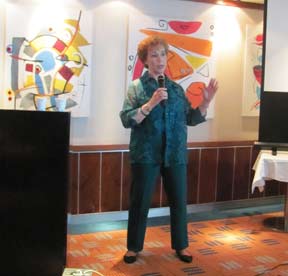 "I enjoyed the cruise tremendously. Of major importance for me was being able to disconnect with the 'outside' world. Being in the middle of the ocean certainly helped. I think that this was a perfect way for me to re-connect with myself. This cruise surpassed all my expectations."--A.R.J.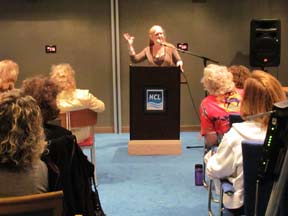 "The panel of speakers was by far the best attribute of the trip. The speakers covered a wide array of topics... everything from Angel wings to the modern Nazi regime. It was all around enlightenment."--D.R.M., Wyoming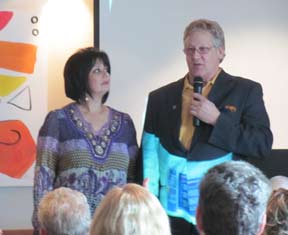 "I first want to thank Susan Shumsky for putting this amazing event together. Thank you to all the speakers for sharing your insights, wisdom and love. Susan, you came into my dreams 2 nights before the cruise. You are a great teacher and very matter of fact...The meditations were and are powerful. Each one left me floating out of my chair...Your gifts and messages are so important to us all. Thank you for the love and light that you shine on this world...My experience was perfect...Just know, I love you guys."--Tina Taylor, Illinois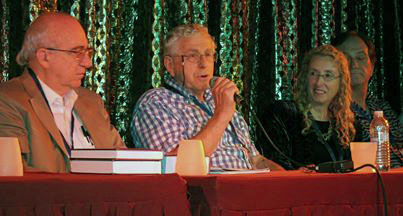 "The cruise was amazing, interesting, fun and knowledgeable. Nice work for giving all of us having such a wonderful time...Well, Susan, hats off to you and all you did to find everyone and put the cruise together."--Victoria Buchen, Arizona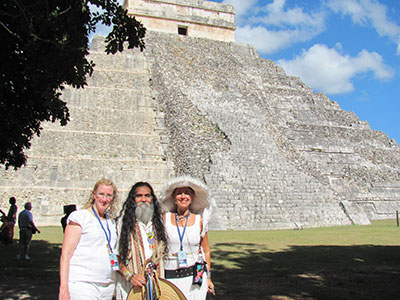 "I loved it all I didn't do any excursions it was awesome!!! I would do again loved Dannion he's awesome! And Sean! I need laughter to lighten it up like meetings at work, too professional, makes me want to sleep!"--Laura Cringan, Massachusetts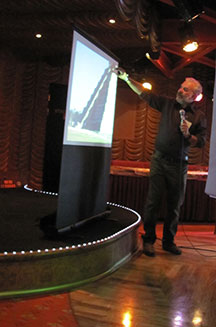 "I enjoyed the various speakers and the different areas that were covered. The speakers who had the experience that was most relatable to me, I enjoyed most. The ones who offered experiential exercises were by far my favorite. Dr. Susan Shumsky was number one!!! Due to the guided meditations and the personal experience they offered to me. I also really enjoyed Victoria of the Light because I had a personal connection with her."--Gerri Walker, Pennsylvania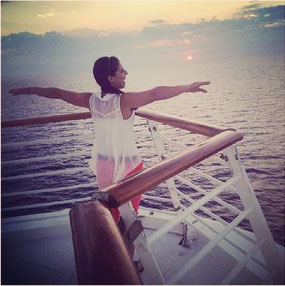 "I enjoyed Dannion due to his personal story and sense of humor. I enjoyed Sean David Morton due to his experiential exercises, sense of humor, and secret government information. I found that intriguing. I enjoyed the insight that was provided into the Mayan people that was given by Elizabeth Araujo."--Gerri Walker, Pennsylvania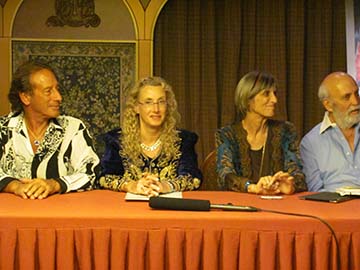 "Just wanted to say thank you Susan for inviting me to be a part of the cruise and for all the work and hours that you put in, so everything would run smoothly. I really enjoyed being a part of the group. I was also very impressed with your lecture and so was everybody else that attended it. You are a brilliant speaker. I am looking forward to your next cruise."--Lai Ubberud, Texas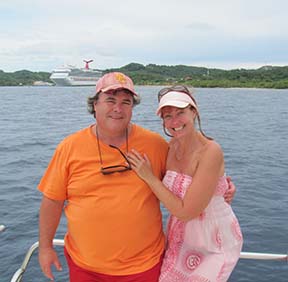 "I love Danion and Sean David Morton. They were both fabulous. Nicki's presentation was incredible. So was Susan's. And the ceremony/presentation that Marybeth did on the second last day was off the charts! I also loved the closing ceremony, with all the speakers. It was very high. I totally enjoyed the night vision experience and think that's a big plus. We could have promoted it a bit more at dinner every night. I don't know about his attendance, but I was shocked at how easy it was to get to the roof and 'play' in this way. A big plus, and cudos to you for bringing him. I thought that was really special."--Maureen St. Germain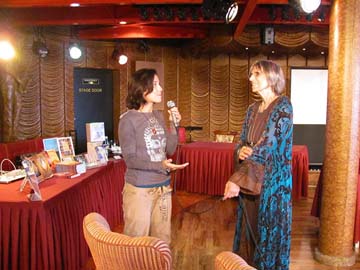 "My favorite speakers were Dannion - gives confidence in spirit; Sean- information and funny; Susan - phenomenal meditations. My favorite event was the last speaker panel; funny, but to hear they were blessed as well as blessed us. My favorite shore excursion was Honduras - not so Americanized. The ship staff and services were phenomenal."--Kathy Brilliant, California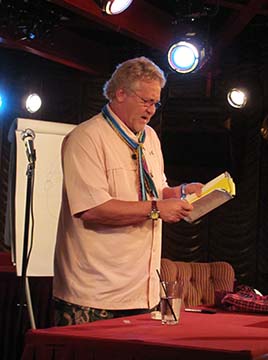 "I enjoyed being Mayan. The people, ports and spirit of the trip were all incredible. Dannion was my favorite speaker. If you really listen to what he is saying, some of the most brilliant and cosmic material being said on the planet right now. He also adds a great sense of humor to otherwise humorless topics (like death). Sean David is like a water fountain of information. The angel wing thing was also great because it was interactive with the audience. The Jedis vs. Cyborgs thing is something I've been talking about for several years. Loved to hear it coming from Sean David now too! I really enjoyed Mark Becker's yoga. It was a nice change of pace to the classes and other scheduled activities. A great way to start the day! Meeting and connecting with people."--Sean Murphy, California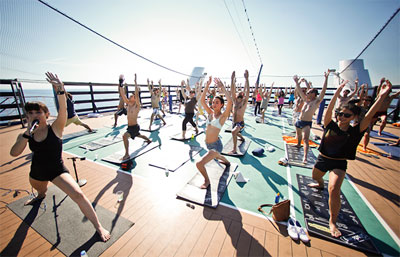 "Thank you so much for inviting me to participate on the Cruise into 2012 conference. I met a lot of wonderful people and appreciated meeting you both. It was a powerful time for the planet and especially the oceans. Day by day the Light is increasing on Earth and we are all blessed to add to the Light of the world whenever we have the opportunity."--Patricia Cota-Robles, Arizona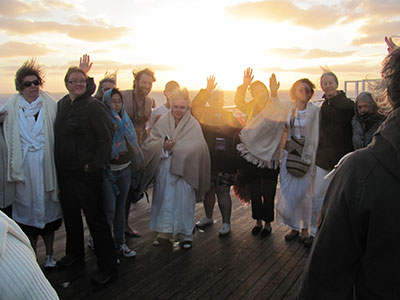 "I wanted to thank you, Susan, for organizing this cruise. I think it gave the participants and the speakers new openings for the future, which was its purpose."--Carl Johan Calleman, Sweden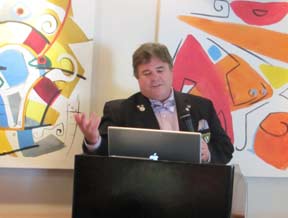 "I enjoyed the sense of community and purpose. I enjoyed the informality and accessibility of most of the speakers. I enjoyed that some shore excursions were exclusively for our group."--Jim McPhie, California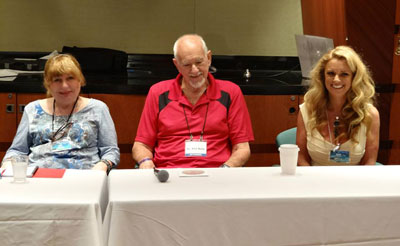 "Las Caletas Hideway was wonderful and I felt that was the closest we ever resonated as a cosmic spiritual experience throughout the trip. I connected with people I had never imagined and there were some exchanges which were quite important. Since I work with Emoto, I was able to use water as a medium for carrying important messages and even though I was very discrete I had people connecting with me. I am sure that at some level, we were all pulling in the same direction. Many thanks to Carl Calleman for his dedication and perserverance and to you for keeping it all together."--Beth Goodson, Switzerland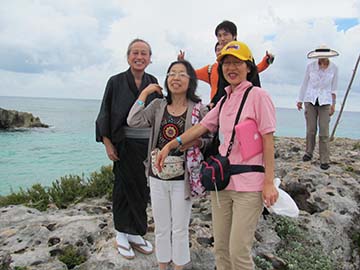 "I loved all the incredible speakers and the variety of information. I loved the Mayan ceremony and the food aboard ship. I was pleasantly surprised to find that speakers like R Hoagland, S Morton, and Wayne H. who I hadn't heard before were giving us access to such valuable information and were such wonderful speakers. What a treat! Every one of them was wonderful in their own area of expertise."--Tami Kukuczka, Michigan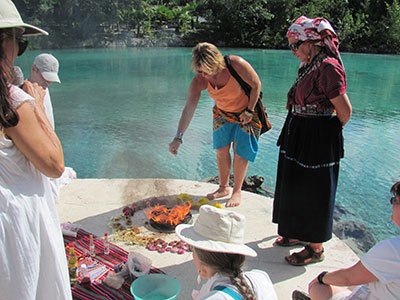 "Overall, I loved just about everything about the cruise. If I had to choose a few memorable experiences they would be the sacred ceremony in Puerto Vallarta, Whale Watching in Cabo and seeing a UFO zoom across the sky while stargazing on the Helipad with Richard Hoagland. I sincerely hope you have more spiritual cruises in the future!"--C.J.M, Vancouver, Canada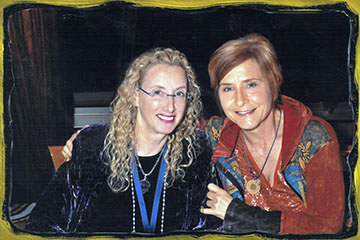 "I enjoyed Dr. Shumsky's meditations the most. This is the first time I can honestly say I learned what meditation is all about and how to be comfortable with myself during meditation. I intend to continue my meditations and reaching the spiritual goals I have set for myself."--R.T.W.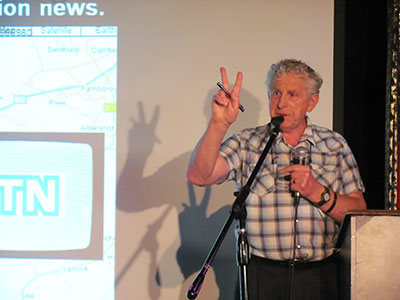 "What I enjoyed most about the cruise was everything! Great ship, great itinerary and wonderful people. My favorite speakers were Maureen, Tenwhitefeathers, Lai Ubbard, Susan, Dannion, Sean. I also really enjoyed Mark's yoga class. He is a great teacher! I really enjoyed the fire ceremony at Altun Ha. I also LOVED the Sting Ray and Dolphin swim."--Melissa Thomson, California

"My favorite presenter was Aeoliah. I went to all three of his sessions and thought they were very deep and meaningful. I thought that the staff on the cruise were just fantastic!!! My favorite port day was the last and the whale watching."--J.V., Aptos, CA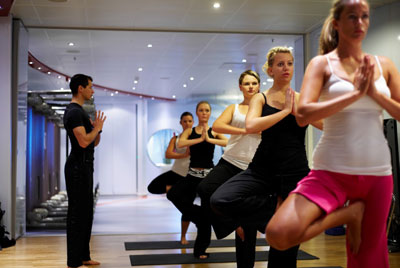 "I liked Susan's & Others unbelievable effort to make things go right when maybe the universe had another idea. I liked the pace, the starting time each day, the continuity, the people, the accessibility to the speakers plus an update at the end of each speaker on what or who was next and updates on changes if there were any."--Wonderful Wanda, Florida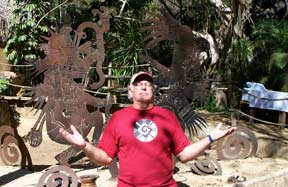 "I wanted to especially thank you for the work and time you gave for this event. I am aware of your extra efforts, and the trip went extremely well. It turned out to be very sacred and special. Many, many people were helped and grew in these energies."--Elizabeth Joyce, Pennsylvania

"We really enjoyed the cruise and meeting the other presenters and being a part of everything. We would definitely do it again!"--J.V., Aptos, CA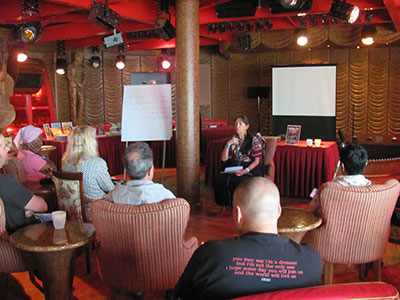 "Susan... I can't say enough about your effort from the beginning of your asking for the order to the follow with additional information, to the Teleconference, to Ship Data, and the situations you had on board with guests, speakers, and crew. You were marvelous!"--Wonderful Wanda, Florida

"I liked the Crop Circles. The speaker was pleasant and excited about the topic. I got gems from each presentation I attended."--Mel Sears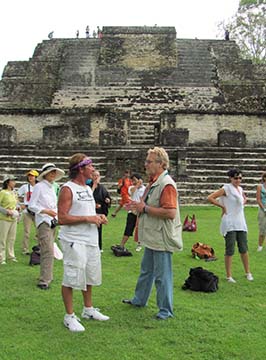 "In my opinion, the cruise lived up to the advanced billing. I found the 9th Wave Ceremony something to remember. The cruise was relaxing. I found the dolphinarium visit interesting because of the opportunity to meet a dolphin at close range with nothing between us (such as the hull of a boat). The beach horseback ride constituted the first opportunity for me to ride a horse since I was a teenager."--Tom Shaffer, Connecticut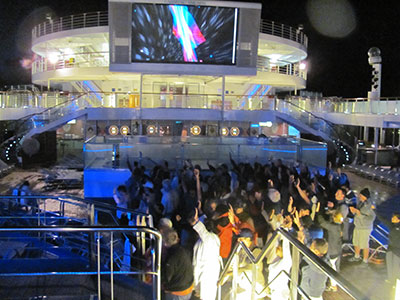 "THANK YOU! THANK YOU! THANK YOU! Susan, I really appreciate everything you did to make the trip a reality (both for me and everyone else). I feel so blessed and grateful just to be able to go on the cruise this year. May you all be blessed and see you on a future cruise! Thank you all so much!"--Sean Murphy, California
"Got a lot of information, met a lot of great people--left feeling really good!"--J.A.H, New Jersey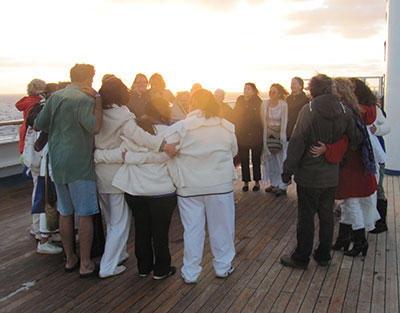 "All in all I found the seminar informative, stimulating and thought provoking. I will be inspired to read many of the presenters...I found the seminar life-altering. The information presented here will be part of every decision I make in the future. Thank you for your offering of an enriching experience."--Addie R., Florida
"I would have to say that what I loved most about the cruise was meeting other like-minded individuals and sharing with them. My favorite speaker was Colin Tipping. I came to a new level of awareness and a different perspective on forgiveness."--Bob Morse, St. Petersburg, FL
"Your staff were helpful. I appreciate the effort all of you made in order to meet people's needs. The cruise line staff were also helpful. Our cabin steward was wonderful."--Mel Sears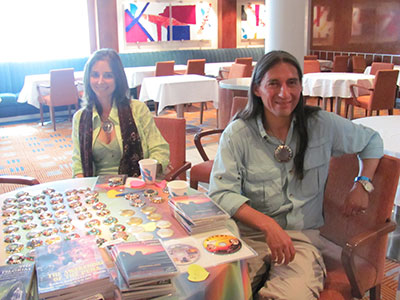 "I liked the fact that we were a microcosm--this presented challenges as well as beautiful opportunities. I thought all speakers were well prepared. I personally resonated with the theme of the cruise: Carl Calleman and those speakers who tried to present the idea of co-creation at this important date. The shore excursion was just magic. Victoria of Light was with us and through her capacities as a whale rider led whales which stayed with us for 8 miles--even the pilot of the boat was blown away by that experience."--Beth Goodson, Switzerland
"It was wonderful in so many ways! So nice to meet and talk with other like minded people, to hear some wonderful presenters and be charged up and excited by the music...Being able to walk right into the dining room without a reservation was a big bonus for the whole group, and it was exciting to get to know a few of the attendees and presenters at dinner as well."--Lily S., Oregon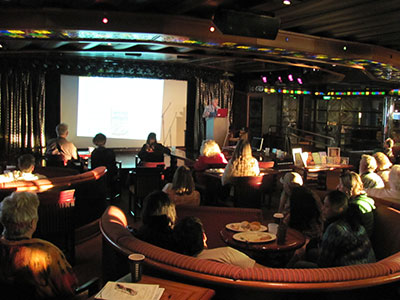 "I enjoyed the meeting of like minded people in a lovely relaxing situation. Victoria of Light was favourite followed closely by Dannion, then Harrison. The evening meals I enjoyed as it was a lovely way to meet the others. I loved the three excursions I took -Tulum, Altun Ha, and swimming with the Stingrays and Dolphins. They where all great in different ways can't pick best. I liked the food and service. Thanks so much for the opportunity, and all you did to make it a great experience."--Jessie Dickie, New Zealand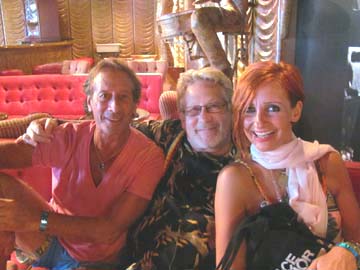 "The team of support people that were there all the time, EVERY one of them were sweet, comfortable, and easy to work with... Their genuine concern for our welfare was very evident. Who could ask for more? The taping team were MOST impressive. They are very hard workers. They were so flexible and 'on the job.' so many hours. I don't know how they kept up! Great prices for the videos."--Maureen St. Germain, New York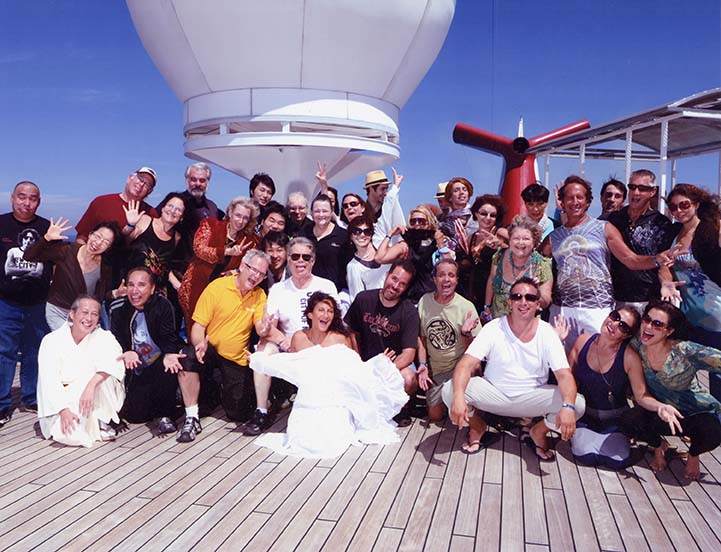 "I enjoyed meeting the people, not having to cook, and the excursions off the ship. I enjoyed the dinners as you could talk to lots people. Meals were really great, the staff were very helpful, service of rooms was awesome."--Lesley Evans, New Zealand
"My favorite shore activity at port was whale watching, because we got up close and personal with the whales and each other. Loved our private boat and that you and Adele were with us."--Evalena Rose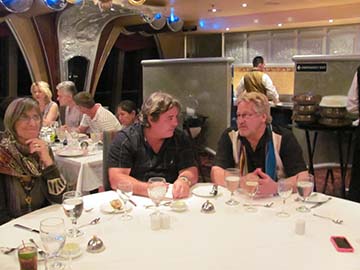 "The whole idea of the Spiritual cruise and many of the people involved made it a memorable experience. I arrived on the cruise after a two week spiritual retreat, totally balanced in full love, light and power. The cruise was a beautiful finish to my month of Spiritual work and I learned so much. It was a time for making new friends, sharing ideas, understanding and generally having fun."--Julia Green, Florida
"I liked the chance to connect with others. Going to the seminars made this possible and easy. I liked having friends to eat with and to hang out with in the ports."--Mel Sears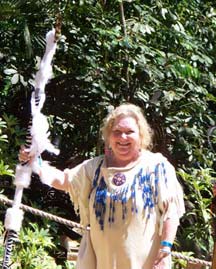 "I liked everything about the cruise. My favorite speakers were Sean David, Carl Calleman, and Maureen St. Germain. My favorite event of the cruise was holding a stingray. My favorite shore excursion was Elizabeth Araujo's ceremony at Cozumel."--R.C., New York
"What we loved most was meeting such a diverse group and sharing with the people in the workshops. We both found the cruise enriching and entertaining. To meet the speakers in real time and finding out they are just like us was such a blessing."--Peter and Margot Biro, Edmonton, AB, Canada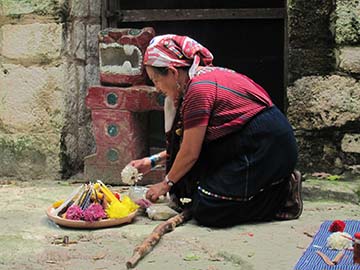 "My favorite speakers were Victoria of Light as she has high vibrational energy and it takes you to an amazing place. Dannion Brinkley as he was in his heart and felt like Love and Truth. Marybeth as she was coming from heart. Harrison was a genuine loving soul who also was coming from his heart. My favorite shore excursion was the trip to Altun Ha and the ceremony there, as it felt like I was connecting to other life times. It felt very special."--Lesley Evans, New Zealand
"Barry and Joyce Vissell's exercises helped me touch and bring healing to my core wound, and their support afterward was extraordinary and deeply compassionate. I loved Yogi Amrit Desai workshop, where I had a transcendent experience with the yoga and meditation on the first day at sea. Amazing man."--Evalena Rose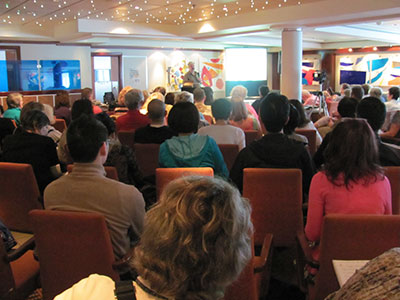 "The service people, staff and waiters were fabulous. They noted needs, and remembered us. They produced 'food requests' almost like a magician, very quickly and with grace and ease. The ship was beautiful. Great deco, interesting layout and well thought out. Food service seemed very efficient no matter where we ate. Impressive. Loved their food, service and accommodations. I thought our stateroom (on the 2nd floor) was laid out VERY well. We were both able to store our clothes and suitcases, have room to both of us work and be comfortable! It may have been bigger than my NYC bedroom!"--Maureen St. Germain, New York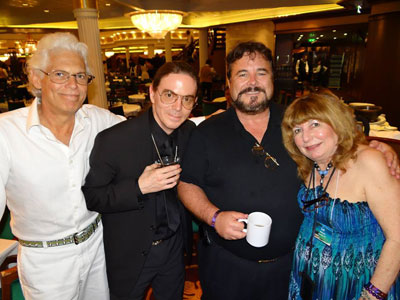 "During Sean's meditation I felt the Holy Spirit gently rock me back and forth. However, it was in Susan Shumsky's guided meditation that I had a most magnificent experience. The Holy Spirit began rocking my body back and forth uncontrollably and I began to have vivid visions. It was very difficult for me to come back to the room. I wanted to stay in bliss forever. When I did finally manage to open my eyes, I continued to rock. I rocked for several hours afterwards-all during lunch and into the next presentation. I kept asking everyone if the boat was rocking and they said no. All I can say is, Susan has a direct line to the Divine!"--C.J.M., Vancouver, Canada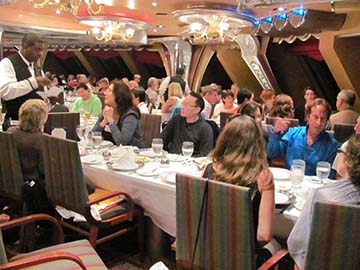 "Our Captain took us first to Lover's Beach and Los Arcos explaining each feature and some history. We got up close to the Seal colony near land's end. Then we took off in search of whales! Our Captain had a heads-up from another Captain that some whales had been spotted a few miles north in the Sea of Cortez. Shortly we came upon a group of small craft that were shadowing some whales. Just as we got close, a baby whale jumped completely out of the water. The baby was swimming along with its mother and rolling and slapping its tail. Because there were several small boats of various kinds watching we all kept a ways away from the whales so as not to sppok them. Just about the time that many of the other small boats turned back, the large catamaran with many of our fellows in Oneness showed up and although we had seen the papa whale some ways off, he came over and put himself between the large catamaran and mama and the baby. The whales picked up speed and for a while we had some difficulty staying near them. But, then the large catamaran left and papa let us get real close to himself and mama and baby. All this time Victoria had been "singing" to the whales and now the whales slowed down and we were right next to them. Papa went right under us, but he didn't come up until he was clear of us. It was a truly amazing excursion."--Jim McPhie, California "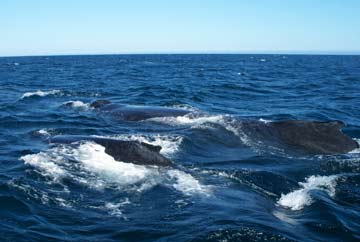 "I would like to tell you thank you so much for a great "Spirit of Love Cruise." You are the best for all things what are you doing for all of us. I am so happy that I took this wonderful holistic vacation with all of you famous people. For me it was fantastic, because I got more information."--D. K., Mississauga, ON Canada
"What I loved most about the cruise was being a part of the Seminar at Sea, time with the Vissell's, helping people grow, doing private sessions, and most especially the shore excursions." --Evalena Rose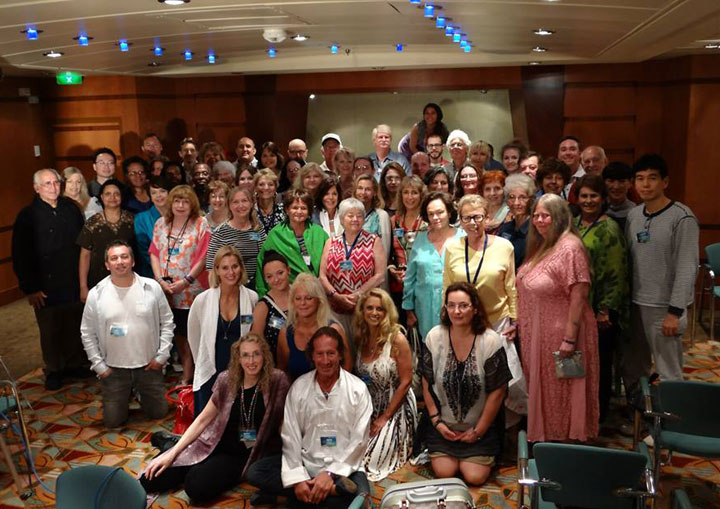 "Barry and Joyce were our favourites along with Colin Tipping. They were very genuine and organic in their talks. We could relate to their messages."--Peter and Margot Biro, Edmonton, AB, Canada
---
Comments About the Mayan Ceremonies:
"My experience of the 9th Wave Ceremony was almost indescribable. The moment I stepped off the boat, I started crying. Like I was home. Well, at least that's how it felt. The air was so pure. The sounds were so calming. I was definitely in a state of grace. During the ceremony the drum beats moved through me and I felt every word in my heart. I felt the air, the trees, the birds, the sun, the earth and...I felt one with all. After the ceremony was over, I was brought to tears again. This time, it felt like a letting go. It was a letting go of something so deep inside me that I can't even describe it. I just remember saying thank you over and over again. Then finally, that sense of responsibility was gone. I took the deepest breathe I have taken in awhile and just started laughing, uncontrollably. It was so cool."--Tina Taylor, Illinois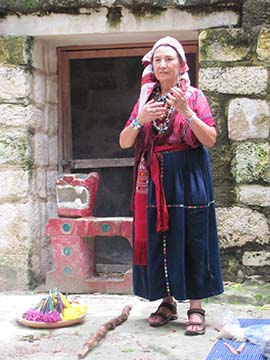 "This was the highpoint of the week. We walked up the hill and stopped to be cleansed with incense - and then went into the arena area. The ceremony was endearing and it was great to see Dr. Calaman honored for his writing. That brought tears of gratitude to my eyes."--Elizabeth Joyce, Pennsylvania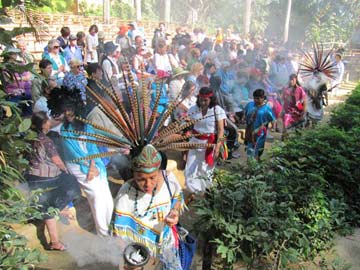 "I found the whole experience of the 9th Wave Mayan Ceremony moving, and a lot of work had been put in to the celebration to make us feel welcome and part of the ceremony. What they gave, they gave from the heart and their beliefs...Having listened to the talks on the Mayan calendar beforehand made it even more meaningful as I knew nothing at all about the Mayan calendar before this journey."--Julia Green, Florida
"I felt blessed that these indigenous people included us as their brothers and sisters after all the persecution they have suffered. I really feel the ceremony was profound and it brought me to tears of gratitude."--Tami Kukuczka, Michigan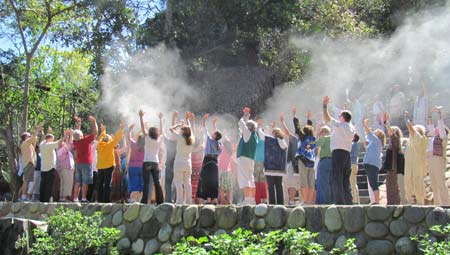 "My favorite events were the ceremonies, all of them, Nicki's, Elizabeth, and the very special ceremony that was done at Altun-ha were just spectacular. All of them were very very special. I especially appreciate the phenomenal logistics that you arranged for the ceremony with the Mayan Elders and Dannion. People don't realize how incredible they were. I think the choice of locations that Mark demanded was SPECTACULAR!!! They were well prepared with the ceremony initiation circle and then the circle on the main lawn. Quite impressive. It is quite an undertaking. Congratulations on pulling that one off! You chose well."--Maureen St. Germain, New York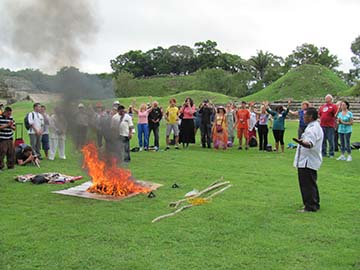 "It was exhilarating! One of the Mayan elders hugged me and I can still feel it!!!!"--M.A.J., New Jersey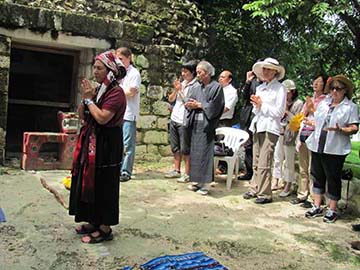 "I had a personal experience in Belize at Al Tun Ha. That was my favorite because I connected with the spirit of the ancestors personally and came back a different person than when I started."--Gerri Walker, Pennsylvania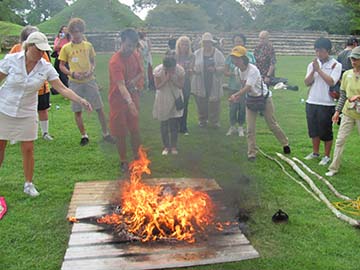 "My favorite activities were the hugs, dinners, and general sense of celebration among each other. If I had to say one event it would be the ceremony at Altun Ha. Going to a sacred site is a must on 'spiritual trips' like this."--Sean Murphy, California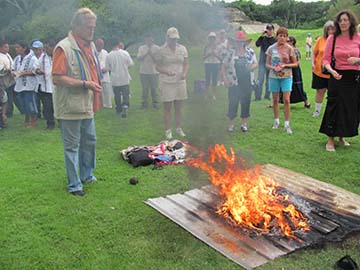 "Absolutely and utterly amazing. I will bear this experience in my heart forever and will pass it on, whenever and wherever I can."--Helle Thuren, Denmark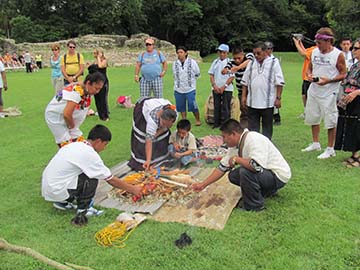 "The Ceremony was magical! I especially enjoyed being on stage at the end and participating in the dancing. One of the Mayan elders gifted me with a sacred ceremonial rattle. I felt truly blessed and grateful for the experience. During and afterwards I felt very light, etheric and full of love :) Yes, the wave is upon us!"--C.J.M., Vancouver, Canada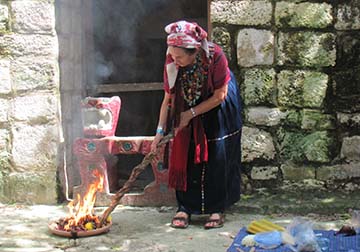 "The Mayans were as if from another world, so pure in their intent and they performed the rituals. Even the children focused pure hearted and content on the mission of making their purpose known to the spirit world."--Connie Fisher, New Mexico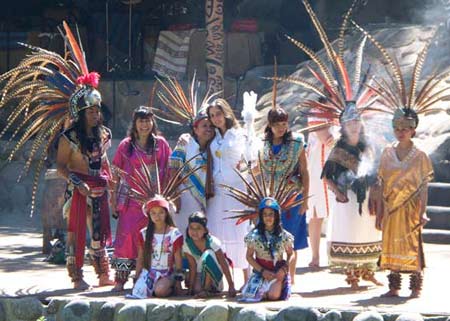 "I was so grateful to have this very uplifting, profound experience. It was so amazing that the Mayans came all the way across the country to make this happen there and then. Their honoring of Carl Calleman was one of the highlights for me...The snake dance was great for its sense of inclusion and community. Everyone was on another plane for some time afterwards. Really, I'm not sure I left there yet! We are all One."--Jim McPhie, California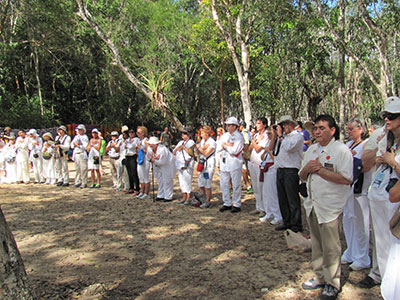 CLICK HERE for fees and to register now,
before the ship is sold out!