Oasis of the Seas

Staterooms and Suites
Pictures and Descriptions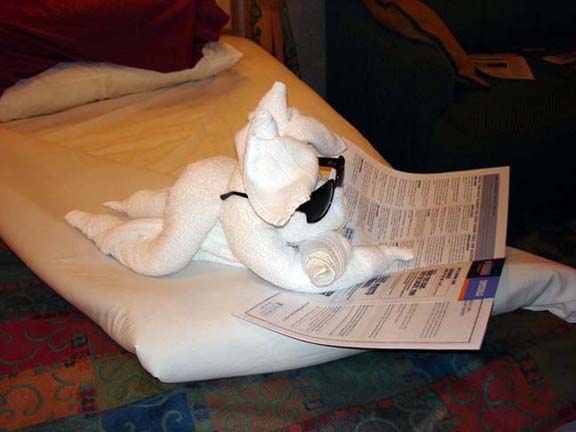 After a day of exploring the world, its exotic cuisine and interesting cultures, there's nothing better than returning to the comfort of your private stateroom. We've designed every one of our staterooms to be a comfortable, relaxing place for you to rest after your adventures. Our staterooms vary by ship, but every room offers a television, telephone, private bath, shower, vanity and even a hair-dryer.

Beautifully designed, decorated, and appointed, all staterooms maximize the use of space. They are equipped with desks, safes, hair dryers, newly installed high-speed Wi-Fi Internet access, mini-fridges, and flat-screen interactive TV's that feature a range of satellite TV channels, national U.S. networks, depending on the ship's location (such as CNN, TNT and Fox News), several Royal Caribbean channels, as well as interactive options. Note: Because the TV's are modern Samsung flat-screens, kids can bring their PlayStations and Wii consoles for in-room use. The TV's allow you to book shore tours and entertainment as well as to view your onboard bill.

Staterooms have good under-the-bed storage and flip-up bedside tables (a cool space-saving feature). Bathrooms feature showers enclosed in clear glass with shampoo dispensers and footrests for leg-shaving. Other than shampoo, the only toiletry you'll find is a bar of soap (so if you need lotion, hair conditioner, etc. bring your own). Electrical outlets -- one 220-volt, two 110-volt -- are inconveniently located underneath the desk. You can easily schedule wakeup calls on a new Cisco phone system.

Passengers can choose from seven basic categories of staterooms that are either inside, outside, balcony, or suite. Then, within each are different setups at different price points, including larger configurations for families.

By choosing a category, you can then choose a specific room-type, based on your needs. The staterooms shown below are samples only. Actual stateroom decor, details and layout may vary by stateroom category and type. Actual stateroom colors and features may vary.

Note: Passengers are no longer allowed to smoke in their staterooms or balconies. They can only smoke in designated areas of the ship.
To View Details of Staterooms of Your Choice,
Click on Links or Scroll Down:

Loft Suites (Magnificent, Opulent 2-Level Suites with Balcony)

Suites (Spacious, Luxurious Outside Staterooms with Balcony)

Ocean View Balconies (Outside Staterooms with Balcony)

Neighborhood Balconies (Inside Staterooms with Balcony Overlooking Neighborhoods )

Ocean Views (Outside Staterooms with Window)

Neighborhood Views (Inside Staterooms with View Overlooking Neighborhoods)

Interiors (Inside Staterooms with No Windows)

---

Stateroom Features on Oasis

---

With many different staterooms to choose from, Oasis of the Seas has an abundance of options at all price levels. The ship has a total of 45 different stateroom categories. There are 14 types of suites, 14 categories of balconies, and 17 ocean view and interior categories.

Royal Caribbean pioneered inside-facing staterooms that weren't truly insides, with windows overlooking the action. On Oasis of the Seas, the cruise line pushes the trend further with more staterooms that don't face the ocean -- yet still offer a view. Here, you can book staterooms with windows or balconies above the Boardwalk or Central Park. These are roughly the same size as standard oceanviews and balconies, which start from 179 square feet and 182 square feet (with a 50-square-foot verandah), respectively. The draw is the novelty of being able to look down at the Boardwalk's spinning carousel or live Central Park foliage.
Same goes for Boardwalk staterooms, though these have a few extra perks. Those that are located further aft offer sea glimpses and are also terrific spots from which to watch performances at the AquaTheater. Note, though, that this area can get a bit loud and boisterous (with balcony doors fully closed, however, you can hear virtually nothing outside).

There are six quite-prized AquaTheater-facing suites with wraparound balconies that overlook the amphitheater. One plus here is that the curved balconies offer both the aft view -- and more peaceful sea view.

The lofts are the highest accommodations at sea and offer spectacular views of the ocean with floor to ceiling double-height windows to ensure the view is enjoyed from every vantage point. Other features among these coveted 28 lofts are a unique modern design dotted with abstract, modern art pieces, spacious living areas on the lower level with contemporary detailing, and a private balcony with sun chairs and stunning views to help guests unwind.

Loft Suites are available in three styles. Crown Loft Suites measure 545 square feet with a 114-square-foot balcony, and feature a living space downstairs with a pullout sofa and bathroom, and a master bedroom and bathroom upstairs with a shower large enough for two (his-and-hers shower heads), fog-free mirrors and limestone mosaic tile accents. The Sky Loft Suites add some extra space, with 722 square feet with a 410-square-foot dine-on balcony, plus a roomy shower in the downstairs bathroom.

Then there's the Royal Loft Suite -- the largest and most opulent suite onboard, which accommodates up to six passengers. The Royal Loft Suite is 1,524 square feet with an 843-square-foot balcony and can connect to an adjoining Crown Loft Suite to accommodate a party of 10. When you enter the stateroom on the main level, you'll find a Baby Grand piano, a dining area with a dry bar for entertaining, a bath with a shower, a living room sofa that converts into a double bed and a wraparound balcony with a dining area and private whirlpool. Upstairs, there's a master bedroom and a massive bathroom with a tub, shower, two sinks and a bidet.

Beyond these new designs, staterooms are available in varying sizes and styles, from insides to owner's suites. Royal Caribbean's popular Presidential Family Suite is back as well. On Oasis of the Seas, the suite will accommodate 14 passengers with four bedrooms and four baths. Oasis of the Seas' regular Family Suite (there are four of them) features a master bedroom and bath, as well as a guest room with a private bath, and a balcony with space for outdoor dining and lounging for four.

The balcony staterooms include those overlooking the ocean, the Boardwalk, and Central Park. These balcony staterooms include both doubles and family staterooms that can accommodate up to 6 persons.

Some of the ocean view superior balcony staterooms (category D1) have larger balconies than those in categories D2-D8. Some staterooms have windows overlooking the ocean, Boardwalk, or Central Park. The Boardwalk and Central Park staterooms have a nice window seat and bay window. Some outside ocean view staterooms can accommodate families of up to 6 persons. The interior staterooms are in four sizes. Some are family-sized and others are doubles.

Interior staterooms feature shower-only bathrooms with sliding doors, as opposed to curtains. A single pump in each shower is preloaded with shower gel/shampoo. Family insides have room for up to six to sleep on two twin beds that convert into a queen, plus a sofa and/or Pullman.

Special Suite Amenities

Suite guests (other than Junior Suites) have access to the Concierge Club lounge (open 24 hours but not always manned), where guests can enjoy complimentary pre- and post-dinner canapes and cocktails. Suite passengers can also ask the concierge to book shore excursions, dining reservations, spa appointments and more.
Suites offer more room, comfort and luxury. Most come with a private balcony and all include standard features. Some suites even include complimentary concierge service, which includes access to a private lounge as well as personalized service to help with making reservations or other arrangements. Suites are a great way to travel in style and give your family more space, while keeping everyone together.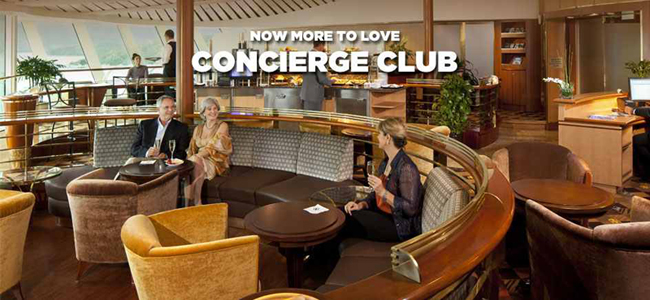 On a Royal Caribbean International cruise vacation, all guests enjoy friendly and engaging service aboard some of the world's most innovative cruise ships. Suite guests enjoy even more amenities and personalized service for an exceptional vacation experience. Announcing Royal Caribbean International's new suite program designed to focus on distinctive and personalized service and touch every aspect of the guests' experience from arrival through departure. Suite guests enjoy a myriad of special privileges and upgraded amenities for their cruise, along with Royal Caribbean's world-renowned friendly, engaging and attentive Gold Anchor Service from every member of its staff and crew.

Enhanced Program for Suite Guests Staying in the following suites: Royal Family Suite, Owner's Suite, Grand Suite, Owner's Loft Suite, Grand Loft Suite, Royal Loft Suite, Sky Loft Suite, AquaTheater Suite, and Crown Loft Suite. (Junior Suites are excluded.)

- Priority check-in
- Personalized attention throughout the cruise with complimentary Concierge Club service on select ships
- Reserved prime seating in the main theater for entertainment shows, where available
- Priority tender tickets on select cruises. (Tender service is provided when smaller vessels are necessary to reach shore in locations without docking ports large enough for cruise ships.)
- VIP pool deck seating, where available
- Full breakfast, lunch and dinner dining room menus available for in-room dining
- Private breakfast and lunch seating in specialty restaurants on our Voyager and Freedom Class ships
- Mattel board games available to order for in-room entertainment for the kids
- Complimentary luggage valet service
- Luxury spa bathrobes for use onboard
- Complimentary pressing service on formal night
- Priority departure with exclusive suite* departure lounge featuring continental breakfast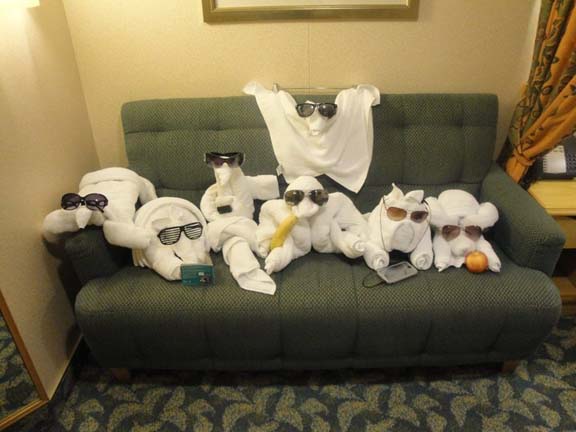 Loft Suites

To say that cruise ship accommodations have evolved since the first staterooms were designed would be an understatement. With Royal Caribbean International's Oasis of the Seas, the world's most revolutionary cruise ship, the urban living concept takes to the high seas with the introduction of industry-first loft suites. The addition of the contemporary two-level suites redefine cruise ship accommodations with vibrant, ocean-inspired colors in a sophisticated setting.

Each loft, which measure 545 square feet (51 square meters) or larger when combined, are fitted in contemporary décor with a Caribbean influence. The impressive design includes an upper-level bedroom that overlooks the living area below and extended ocean views. Beds are outfitted with white, luxurious duvets complemented by tropical blue and green accents that tie in to the loft's natural surroundings. The lofts feature LCD televisions, separate vanity areas, a guest bathroom downstairs and master bathroom upstairs featuring his and her shower heads, fog-free mirrors, and limestone mosaic tile accents.

---

Category RL
Royal Loft Suite

Decks: Deck 17

The Royal Loft Suite is the largest of all the lofts onboard Oasis of the Seas. It features its own Baby Grand piano, indoor and outdoor dining rooms, a private wet bar, library, and extended balcony with entertainment area and jacuzzi. It spans two decks, giving you an amazing panoramic view. Take the stairway up to the master bedroom and bath on the second level. The master bedroom has two twin beds that can convert to a queen-sized bed, a master bath with a tub, shower, two sinks, and bidet. The guest bedroom, bath, dining and living area are on the main level. The guest bedroom has two twin beds that can convert to a queen-sized bed, a guest bath with shower, a dining area with wet and dry bar, a grand living room with double sofa bed and entertainment system.

The exclusive Royal Loft Suite is available to accommodate groups of six. The largest of all lofts onboard Oasis of the Seas, spanning 1,524 sq. ft. (141 sq. m.), it features indoor and outdoor dining rooms that seat eight, private wet bar, a library and extended 843-square-foot (78.3-square-meter) balcony with its own LCD television, entertainment area, and Jacuzzi. The Royal Loft Suite has the ability to connect to a Crown Loft Suite for additional room to accommodate a total of ten guests, providing 2,069 sq. ft. (192 sq. m.) of space.

Cabin Size: 1,599 sq ft
Balcony Size: 874 sq ft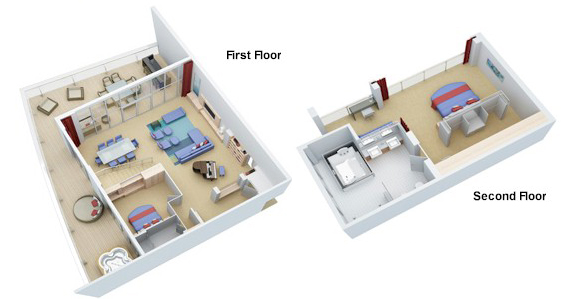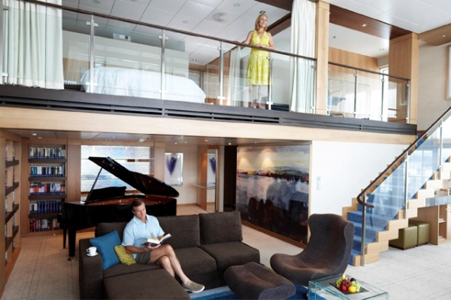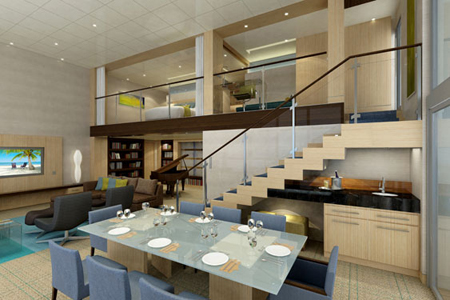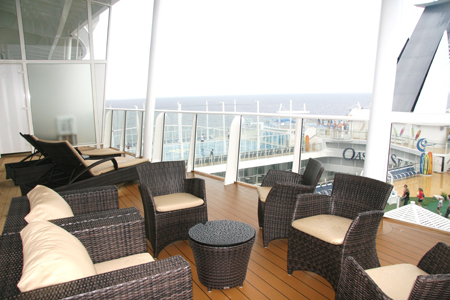 ---

Category OL
Owner's Loft Suite

Decks: Deck 17

One bedroom, two bathrooms, sleeps up to 4. Two-deck-high stateroom with panoramic views. On main level, open living/dining room with sofa that converts to double bed. Split bath setup with shower and sink in one bath, toilet and sink in the other. Private balcony with dining area. On second level, master bedroom with two twin beds that convert to Royal King, private bath with shower and sink, and private balcony.

Cabin Size: 1076 sq ft
Balcony Size: 161 sq ft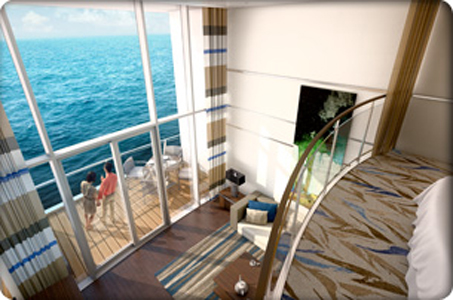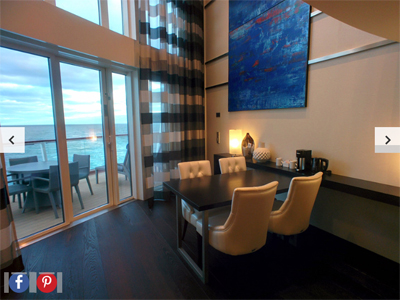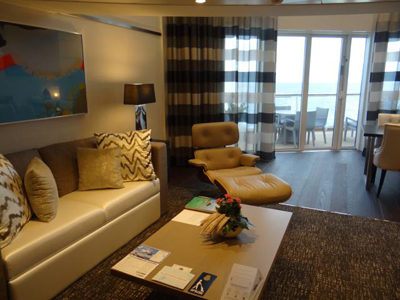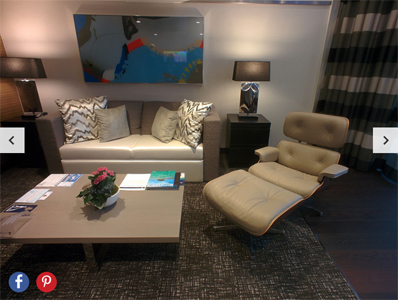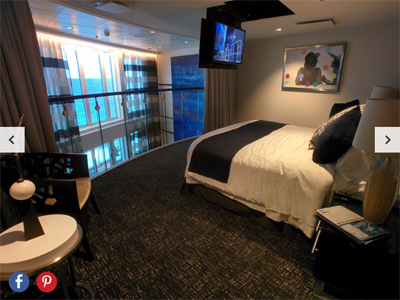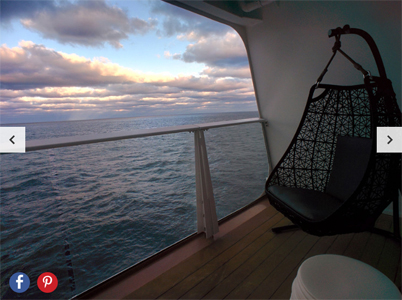 ---

Category GL
Grand Loft Suite

Decks: Deck 17

Our Two-deck-high Grand Loft Suite offers one bedroom, two bathrooms, sleeps up to 4. Two-deck-high stateroom with panoramic views. On main level, open living/dining room with sofa that converts to double bed. Full bath with shower. Private balcony (216 sq. ft.) with dining area. On second level, master bedroom with two twin beds that convert to Royal King and a private bath with shower and sink. Also includes hair dryer, TV, radio, phone mini refrigerator and safe.

Cabin Size: 914 sq ft
Balcony Size: 161 sq ft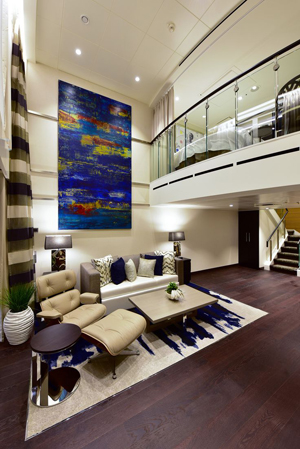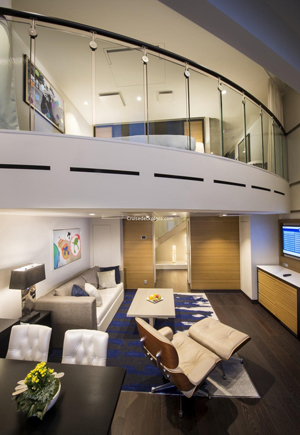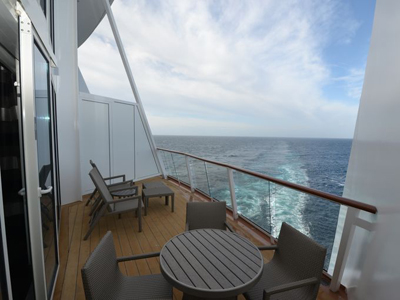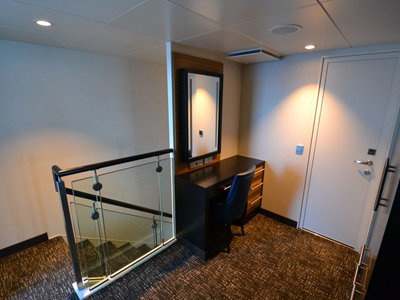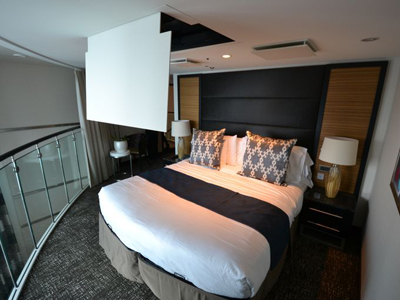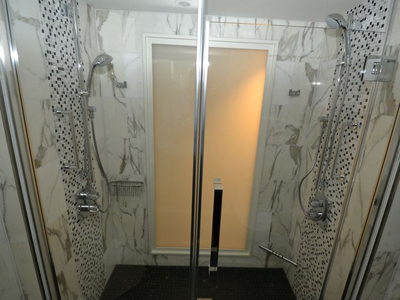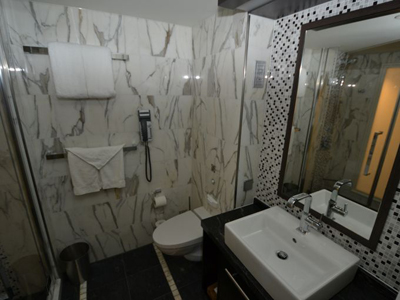 ---

Category SL
Sky Loft Suite

Decks: Deck 17

Two deck high stateroom with panoramic views. Master bedroom and bath on second level. Bedroom has two twin beds that can be converted to a queen-size bed. Bath has a shower for two. Stairway to second level. Bath with shower for two on main level. Private balcony with dining area. Dining area with dry bar. Living room sofa converts to double bed. Closets on each level.

Cabin Size: 724 sq ft
Balcony Size: 376 sq ft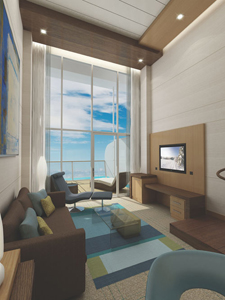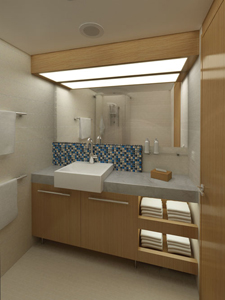 Category L1
Crown Loft Suite

Decks: Deck 17, Deck 18

Crown Loft Suites, just like all of the Loft Suites, span two decks with staircase and floor-to-ceiling full wall windows, giving you an amazing panoramic view of the land and sea. Crown Loft Suites feature a master bedroom on the second level with two twin beds that convert to a queen-sized bed, and a master bathroom with his and her showerheads. The main level is home to the living room, an entertainment center with large flat-screen LCD television, stereo, and DVD/CD player, dining area, double sofa bed, guest bathroom, and entrance to your private verandah.

Cabin Size: 540 sq ft
Balcony Size: 98 sq ft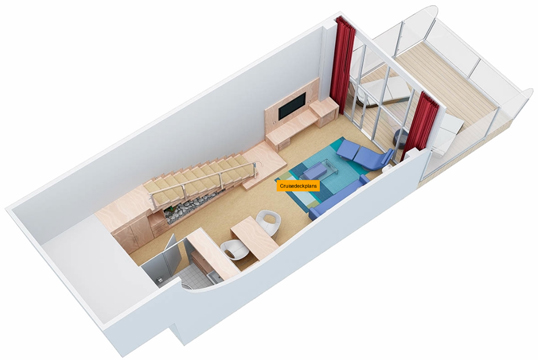 ---

Category L2
Crown Loft Suite

Decks: Deck 17, Deck 18

Crown Loft Suites, just like all of the Loft Suites, span two decks with staircase and floor-to-ceiling full wall windows, giving you an amazing panoramic view of the land and sea. Crown Loft Suites feature a master bedroom on the second level with two twin beds that convert to a queen-sized bed, and a master bathroom with his and her showerheads. The main level is home to the living room, an entertainment center with large flat-screen LCD television, stereo, and DVD/CD player, dining area, double sofa bed, guest bathroom, and entrance to your private verandah.

Cabin Size: 540 sq ft
Balcony Size: 98 sq ft
---

Category A1
AquaTheatre Suite

Decks: Deck 8

Aquatheatre Suites have floor-to-ceiling sliding glass doors that lead to your private wrap-around veranda overlooking the Aquatheatre and Boardwalk, outdoor ocean-front dining area and bar, two bedrooms with two twin beds that convert to a queen-sized bed, considerable closet space, two full private bathrooms with shower and tub, as well as a living room with desk, drawer space, vanity, and double sofa bed. Each suite also has two Pullman beds, a marble entry, thermostat controlled air-conditioning, entertainment center, internet access, direct-dial telephone, radio, mini bar, individual safe, 24 hour room service, and concierge service.

Cabin Size: 820 sq ft
Balcony Size: 803 sq ft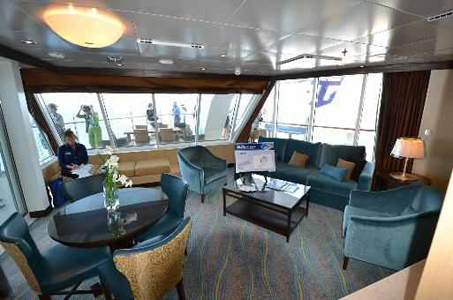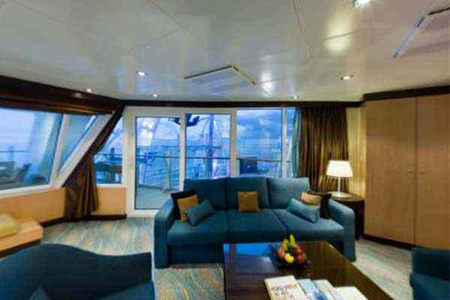 ---

Category A2
AquaTheatre Suite

Decks: Deck 9

Aquatheatre Suites have floor-to-ceiling sliding glass doors that lead to your private wrap-around veranda overlooking the Aquatheatre and Boardwalk, outdoor ocean-front dining area and bar, two bedrooms with two twin beds that convert to a queen-sized bed, considerable closet space, two full private bathrooms with shower and tub, as well as a living room with desk, drawer space, vanity, and double sofa bed. Each suite also has two Pullman beds, a marble entry, thermostat controlled air-conditioning, entertainment center, internet access, direct-dial telephone, radio, mini bar, individual safe, 24 hour room service, and concierge service.

Cabin Size: 720 sq ft
Balcony Size: 716 sq ft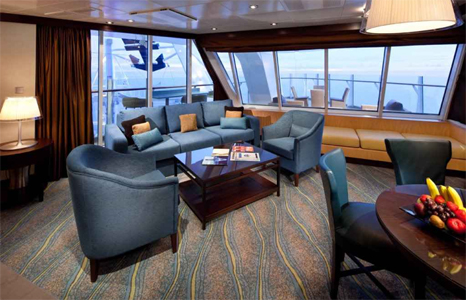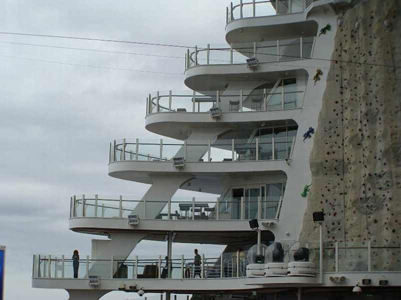 ---

Category A3
AquaTheatre Suite

Decks: Deck 10

Aquatheatre Suites have floor-to-ceiling sliding glass doors that lead to your private wrap-around veranda overlooking the Aquatheatre and Boardwalk, outdoor ocean-front dining area and bar, two bedrooms with two twin beds that convert to a queen-sized bed, considerable closet space, two full private bathrooms with shower and tub, as well as a living room with desk, drawer space, vanity, and double sofa bed. Each suite also has two Pullman beds, a marble entry, thermostat controlled air-conditioning, entertainment center, internet access, direct-dial telephone, radio, mini bar, individual safe, 24 hour room service, and concierge service.

Cabin Size: 659 sq ft
Balcony Size: 648 sq ft
---

Category OS
Owner's Suite

Decks: Deck 10, Deck 11, Deck 14

Owner's Suites have floor-to-ceiling glass doors that lead to your private veranda, outdoor ocean-front dining area, master bedroom with two twin beds that convert to a queen-sized bed, large closets, marble entry, large private bathroom with separate tub and shower, as well as a spacious living room with sofa bed, dining area, and wet/dry bar. Each suite also has its own entertainment center with large flat-screen television, stereo, and DVD/CD player, thermostat controlled air-conditioning, internet access, direct-dial telephone, radio, individual safe, 24 hour room service, and concierge service.

Cabin Size: 569 sq ft
Balcony Size: 246 sq ft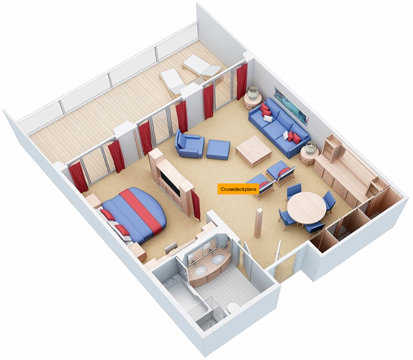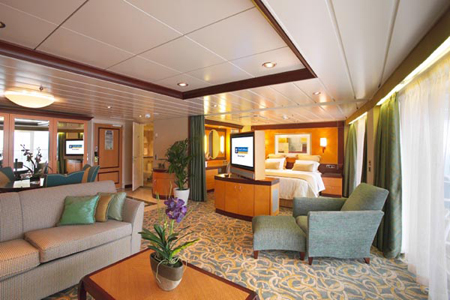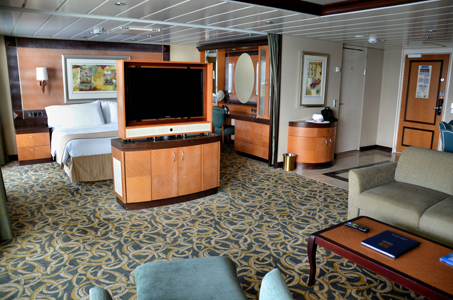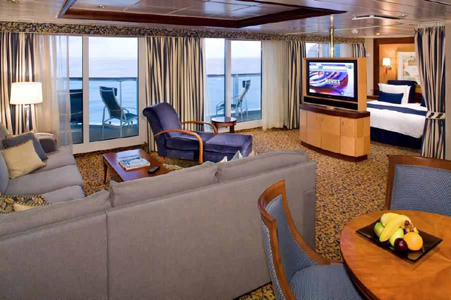 ---

Category FS
Royal Family Suite

Decks: Deck 9, Deck 10

Royal Family Suites have a master bedroom with two twin beds that convert to a queen-sized bed, walk-in closet, vanity, and large private bathroom with tub and shower. There is a guest bedroom with two twin beds that convert to a queen-sized bed, two Pullman beds, dresser, vanity, and private bathroom with shower. A spacious living room includes a dining table, chairs, and double sofa bed. Each suite also has a marble entry, floor-to-ceiling sliding glass doors leading to your expansive private veranda, large entertainment center with LCD television, thermostat controlled air-conditioning, internet access, direct-dial telephone, radio, mini bar, individual safe, 24 hour room service, and concierge service.

Cabin Size: 575 sq ft
Balcony Size: 246 sq ft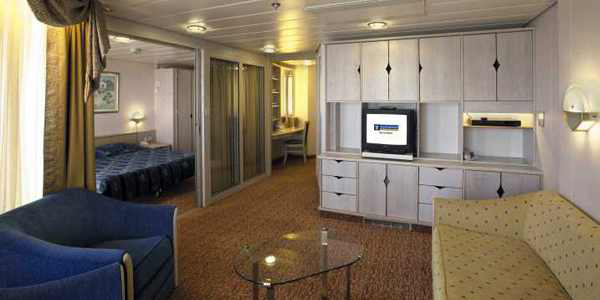 ---

Category GS
Grand Suite

Decks: Deck 6, Deck 7, Deck 8, Deck 9, Deck 10, Deck 11, Deck 12, Deck 14

Grand Suites have floor-to-ceiling glass doors that lead to your private veranda with lounge chairs and tub, two twin beds that convert to a queen-sized bed, large closets, marble entry, private bathroom with tub and shower, as well as a spacious living room with desk, drawer space, vanity, sofa bed, and chairs. Each suite also has its own flat-screen LCD television with stereo and DVD/CD player, thermostat controlled air-conditioning, internet access, direct-dial telephone, radio, mini bar, individual safe, 24 hour room service, and concierge service.

Cabin Size: 371 sq ft
Balcony Size: 114 sq ft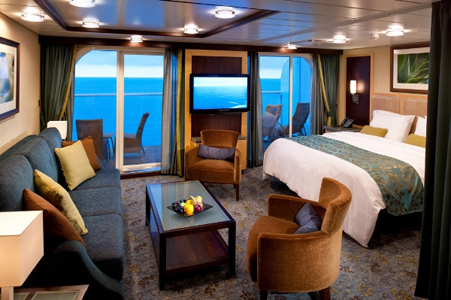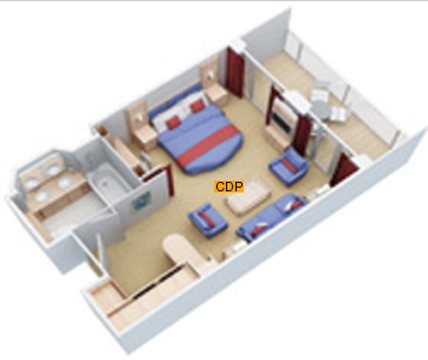 ---

Category JS
Junior Suite

Decks: Deck 6, Deck 7, Deck 8, Deck 9, Deck 10, Deck 11, Deck 12, Deck 14

Junior Suites have floor-to-ceiling sliding glass doors that lead to your private veranda, two twin beds that convert to a queen-sized bed, plenty of closet space, private bathroom with tub and shower, as well as a separate living area with desk, drawer space, vanity, and sofa. Each stateroom also has its own flat-screen LCD television, thermostat controlled air-conditioning, internet access, direct-dial telephone, radio, mini bar, individual safe, and 24 hour room service.

Some staterooms are equipped with a sofa bed and/or upper Pullman-style bunk beds to accommodate a third or fourth guest.

Cabin Size: 287 sq ft
Balcony Size: 78 sq ft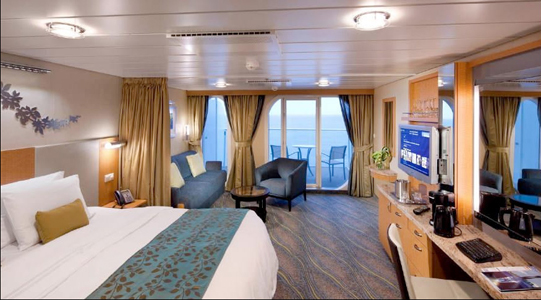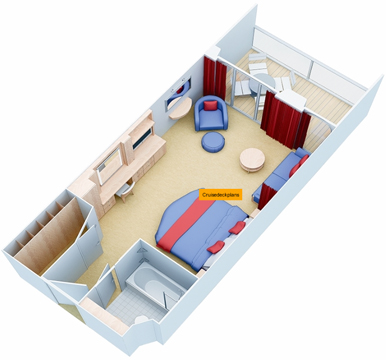 ---

Category W
Suite Guarantee

Decks: Deck 6, Deck 7, Deck 8, Deck 9, Deck 10, Deck 11, Deck 12, Deck 14

Suites have floor-to-ceiling sliding glass doors that lead to your private veranda, two twin beds that convert to a queen-sized bed, plenty of closet space, private bathroom with tub and shower, as well as a separate living area with desk, drawer space, vanity, and sofa. Each stateroom also has its own flat-screen LCD television, thermostat controlled air-conditioning, internet access, direct-dial telephone, radio, mini bar, individual safe, and 24 hour room service.

Some staterooms are equipped with a sofa bed and/or Pullman bed to accommodate a third or fourth guest. Staterooms 14254 and 14654 are wheelchair accessible staterooms.

Cabin Size: 287 sq ft
Balcony Size: 80 sq ft

---

Category FB
Family Ocean View Stateroom with Balcony

Decks: Deck 7, Deck 11

Family Balcony staterooms have floor-to-ceiling sliding glass doors that lead to your private veranda, two twin beds that convert to a queen-sized bed, considerable closet space, a private bathroom with shower, as well as an expanded living area with desk, drawer space, vanity, and double sofa bed. Each stateroom also has two Pullman beds, its own flat-screen television, thermostat controlled air-conditioning, internet access, direct-dial telephone, radio, mini bar, individual safe, and 24 hour room service.

Cabin Size: 290 sq ft
Balcony Size: 81 sq ft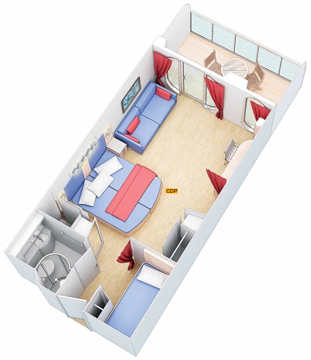 ---

Category D1
Superior Ocean View Stateroom with Large Balcony

Decks: Deck 6, Deck 7, Deck 8, Deck 9, Deck 10, Deck 11, Deck 12, Deck 14

Superior Balcony staterooms have floor-to-ceiling sliding glass doors that lead to your private veranda, two twin beds that convert to a queen-sized bed, considerable closet space, a private bathroom with shower, as well as a living area with desk, drawer space, vanity, and sofa. Each stateroom also has its own flat-screen television, thermostat controlled air-conditioning, internet access, direct-dial telephone, radio, mini bar, individual safe, and 24 hour room service.

Some staterooms are equipped with a sofa bed to accommodate a third guest.

Cabin Size: 182 sq ft
Balcony Size: 80 sq ft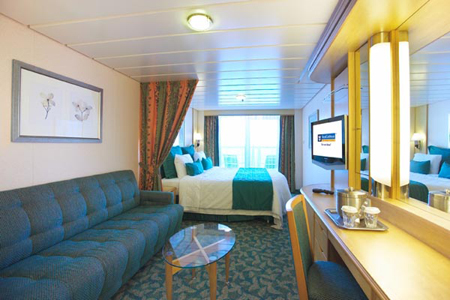 ---

Category D2
Superior Ocean View Stateroom with Balcony

Decks: Deck 6, Deck 7, Deck 8, Deck 9, Deck 10, Deck 11, Deck 12, Deck 14

Some staterooms are equipped with a sofa bed to accommodate a third guest.

---

Category D3
Superior Ocean View Stateroom with Balcony

Decks: Deck 10, Deck 11, Deck 12, Deck 14

Some staterooms are equipped with a sofa bed to accommodate a third or fourth guest.

---

Category D4
Superior Ocean View Stateroom with Balcony

Decks: Deck 6, Deck 7, Deck 8, Deck 9

Some staterooms are equipped with a sofa bed to accommodate a third or fourth guest.

---

Category D5
Superior Ocean View Stateroom with Balcony

Decks: Deck 6, Deck 7, Deck 8, Deck 9, Deck 10, Deck 11, Deck 12, Deck 14

---

Category D6
Superior Ocean View Stateroom with Balcony

Decks: Deck 10, Deck 11, Deck 12, Deck 14

---

Category D7
Superior Ocean View Stateroom with Balcony

Decks: Deck 8, Deck 9, Deck 10, Deck 11

---

Category D8
Superior Ocean View Stateroom with Balcony

Decks: Deck 6, Deck 7, Deck 8

Some staterooms are equipped with a sofa bed to accommodate a third guest.

---

Category X
Balcony Guarantee

Decks: Deck 6, Deck 7, Deck 8, Deck 9, Deck 10, Deck 11, Deck 12, Deck 14

Balcony staterooms have floor-to-ceiling sliding glass doors that lead to your private veranda, two twin beds that convert to a queen-sized bed, considerable closet space, a private bathroom with shower, as well as a living area with desk, drawer space, vanity, and sofa. Each stateroom also has its own flat-screen television, thermostat controlled air-conditioning, internet access, direct-dial telephone, radio, mini bar, individual safe, and 24 hour room service.

Cabin Size: 182 sq ft
Balcony Size: 50 sq ft

---

Oasis of the Seas
Neighborhood View Balconies

---
Category B1
Boardwalk View Stateroom with Balcony

Decks: Deck 8, Deck 9, Deck 10, Deck 11, Deck 12, Deck 14

Boardwalk Balcony staterooms have floor-to-ceiling sliding glass doors that lead to your private veranda overlooking the Boardwalk, two twin beds that convert to a queen-sized bed, considerable closet space, a private bathroom with shower, as well as an expanded living area with desk, drawer space, vanity, and sofa. Each stateroom also has its own flat-screen television, thermostat controlled air-conditioning, internet access, direct-dial telephone, radio, mini bar, individual safe, and 24 hour room service.

Some staterooms are equipped with a sofa bed and/or upper Pullman-style beds to accommodate a third or fourth guest.

Cabin Size: 182 sq ft
Balcony Size: 47 sq ft

---

Category B2
Boardwalk View Stateroom with Balcony

Decks: Deck 8, Deck 9, Deck 10, Deck 11, Deck 12, Deck 14

Boardwalk Balcony staterooms have floor-to-ceiling sliding glass doors that lead to your private veranda overlooking the Boardwalk, two twin beds that convert to a queen-sized bed, considerable closet space, a private bathroom with shower, as well as an expanded living area with desk, drawer space, vanity, and sofa. Each stateroom also has its own flat-screen television, thermostat controlled air-conditioning, internet access, direct-dial telephone, radio, mini bar, individual safe, and 24 hour room service.

Some staterooms have views that are obstructed by life boats or other ship structures.

Cabin Size: 182 sq ft
Balcony Size: 47 sq ft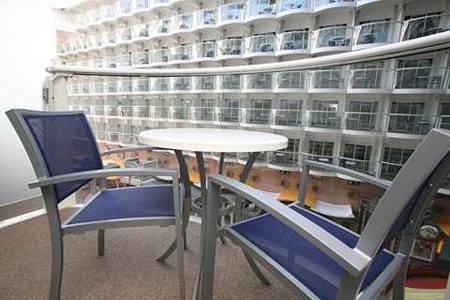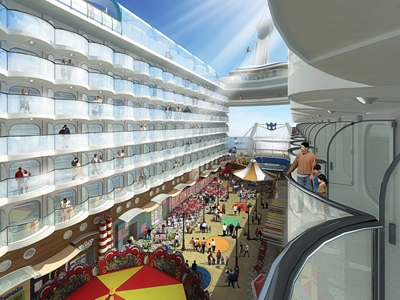 ---

Category C1
Central Park View Stateroom with Balcony

Decks: Deck 10, Deck 11, Deck 12, Deck 14

Central Park Balcony staterooms have floor-to-ceiling sliding glass doors that lead to your private veranda overlooking Central Park, two twin beds that convert to a queen-sized bed, considerable closet space, a private bathroom with shower, as well as an expanded living area with desk, drawer space, vanity, and sofa. Each stateroom also has its own flat-screen television, thermostat controlled air-conditioning, internet access, direct-dial telephone, radio, mini bar, individual safe, and 24 hour room service.

Some staterooms are equipped with with a sofa bed and/or upper Pullman-style bunk beds to accommodate a third or fourth guest.

Cabin Size: 182 sq ft
Balcony Size: 50 sq ft

---

Category C2
Central Park View Stateroom with Balcony

Decks: Deck 10, Deck 11, Deck 12, Deck 14

Central Park Balcony staterooms have floor-to-ceiling sliding glass doors that lead to your private veranda overlooking Central Park, two twin beds that convert to a queen-sized bed, considerable closet space, a private bathroom with shower, as well as an expanded living area with desk, drawer space, vanity, and sofa. Each stateroom also has its own flat-screen television, thermostat controlled air-conditioning, internet access, direct-dial telephone, radio, mini bar, individual safe, and 24 hour room service.

Some staterooms have views that are obstructed by life boats or other ship structures.

Cabin Size: 182 sq ft
Balcony Size: 50 sq ft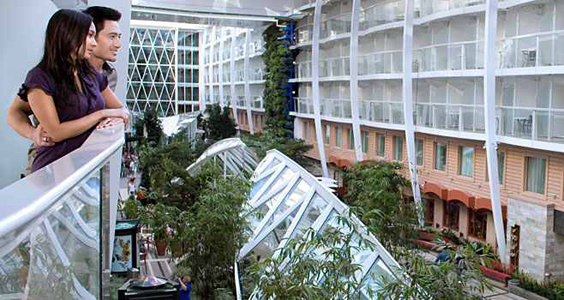 ---

Category FO
Family Ocean View Stateroom

Decks: Deck 11

Family Oceanview staterooms have two twin beds that convert to a queen-sized bed, extra closet space, a private bathroom with shower, as well as a large living area with desk, drawer space, vanity, and double sofa bed. Each stateroom also has two Pullman beds, its own flat-screen television, thermostat controlled air-conditioning, internet access, direct-dial telephone, radio, mini bar, individual safe, and 24 hour room service.

Cabin Size: 271 sq ft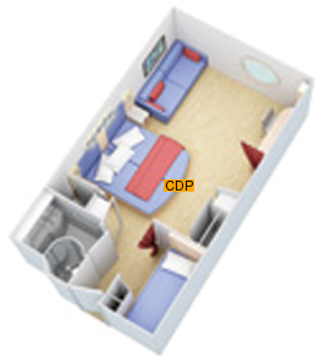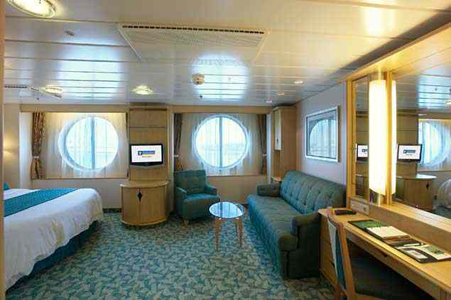 ---

Category F
Ocean View Stateroom

Decks: Deck 7, Deck 8, Deck 9, Deck 10, Deck 11

Ocean View staterooms have a picture window, two twin beds that convert to a queen-sized bed, considerable closet space, a private bathroom with shower, as well as an expanded living area with desk, drawer space, vanity, and sofa. Each stateroom also has its own flat-screen television, thermostat controlled air-conditioning, internet access, direct-dial telephone, radio, mini bar, individual safe, and 24 hour room service.

Cabin Size: 174 sq ft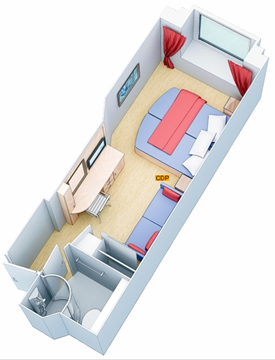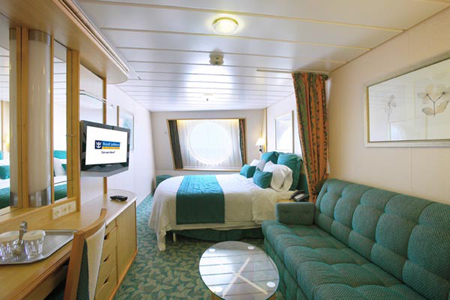 ---

Category G
Ocean View Stateroom

Decks: Deck 7, Deck 8, Deck 9, Deck 10, Deck 11

---

Category H
Ocean View Stateroom

Decks: Deck 3, Deck 7, Deck 8, Deck 9, Deck 10

---

Category I
Ocean View Stateroom

Decks: Deck 3

Some staterooms are equipped with a sofa bed and/or upper Pullman-style beds to accommodate a third or fourth guest.

---

Category Y
Oceanview Guarantee

Decks: Deck 3, Deck 7, Deck 8, Deck 9, Deck 10, Deck 11

Oceanview staterooms have a picture window, two twin beds that convert to a queen-sized bed, considerable closet space, a private bathroom with shower, as well as an expanded living area with desk, drawer space, vanity, and sofa. Each stateroom also has its own flat-screen television, thermostat controlled air-conditioning, internet access, direct-dial telephone, radio, mini bar, individual safe, and 24 hour room service.

Some staterooms are equipped with a sofa bed and/or Pullman bed to accomodate a third or fourth guest. Staterooms 3178 and 3578 are wheelchair accessible staterooms.

Cabin Size: 174 sq ft

---
Category BV
Boardwalk View Stateroom

Decks: Deck 7

Boardwalk View staterooms have a view overlooking the Boardwalk, two twin beds that convert to a queen-sized bed, considerable closet space, a private bathroom with shower, as well as an expanded living area with desk, drawer space, vanity, and sofa. Each stateroom also has its own flat-screen television, thermostat controlled air-conditioning, internet access, direct-dial telephone, radio, mini bar, individual safe, and 24 hour room service.

Some staterooms are equipped with a sofa bed to accomodate a third guest.

Cabin Size: 187 sq ft

---

Category CV
Central Park View Stateroom

Decks: Deck 9

Central Park View staterooms have a view overlooking Central Park, two twin beds that convert to a queen-sized bed, considerable closet space, a private bathroom with shower, as well as an expanded living area with desk, drawer space, vanity, and sofa. Each stateroom also has its own flat-screen television, thermostat controlled air-conditioning, internet access, direct-dial telephone, radio, mini bar, individual safe, and 24 hour room service.

Some staterooms are equipped with a sofa bed to accomodate a third guest.

Cabin Size: 194 sq ft

---
Category PR
Promenade Stateroom

Decks: Deck 7

Promenade staterooms have bay view windows overlooking the Promenade, with two twin beds that convert to a queen-sized bed, considerable closet space, a private bathroom with shower, as well as a sitting area with desk, drawer space, vanity, and sofa. Each stateroom also has its own flat-screen television, thermostat controlled air-conditioning, internet access, direct-dial telephone, radio, mini bar, individual safe, and 24 hour room service.

Some staterooms are equipped with a sofa bed and/or upper Pullman-style bunk beds to accomodate a third or fourth guest.

Cabin Size: 193 sq ft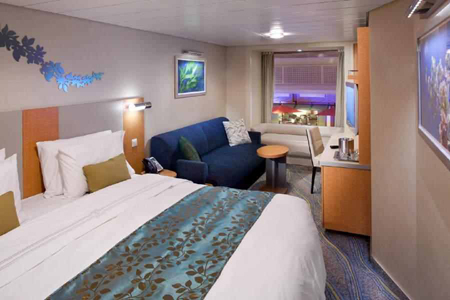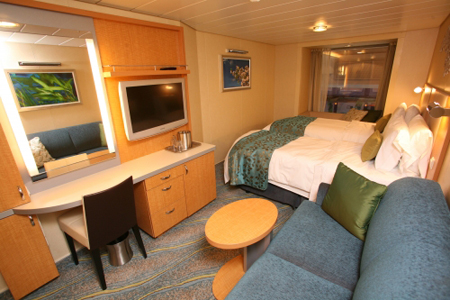 ---

Category XN
Neighborhood Guarantee

Decks: Deck 7, 9

Neighborhood staterooms have either floor-to-ceiling sliding glass doors, or a view window, that overlooks either the Boardwalk or Central Park. Two twin beds that convert to a queen-sized bed, considerable closet space with closet rods, as well as a living area with desk, drawer space, vanity, and sofa. There is also a private bathroom with shower. Each stateroom also has its own flat-screen television, thermostat controlled air-conditioning, internet access, direct-dial telephone, radio, mini bar, individual safe, and 24 hour room service.

Some staterooms are equipped with a sofa bed to accomodate a third guest.

Cabin Size: 187 - 194 sq ft

---

Oasis of the Seas Interiors

---
Category FI
Family Interior Stateroom

Decks: Deck 11

Family Interior staterooms have two twin beds that convert to a queen-sized bed, two Pullman beds, considerable closet space, a private bathroom with shower, as well as a living area with desk, drawer space, vanity, and double sofa bed. Each stateroom also has its own flat-screen television, thermostat controlled air-conditioning, internet access, direct-dial telephone, radio, mini bar, individual safe, and 24 hour room service.

Cabin Size: 260 sq ft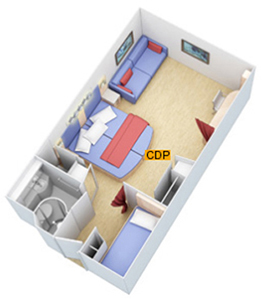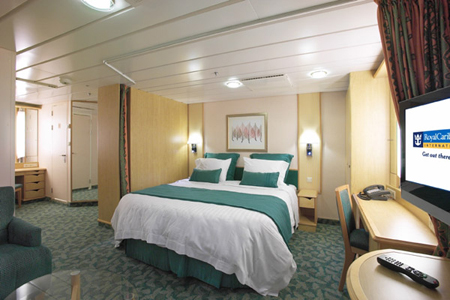 ---

Category K
Large Interior Stateroom

Decks: Deck 3, Deck 6, Deck 7, Deck 8, Deck 9, Deck 10, Deck 11, Deck 12, Deck 14

Interior staterooms have two twin beds that convert to a queen-sized bed, considerable closet space, a private bathroom with shower, as well as a sitting area with desk, drawer space, vanity, and sofa. Each stateroom also has its own flat-screen television, thermostat controlled air-conditioning, internet access, direct-dial telephone, radio, mini bar, individual safe, and 24 hour room service.

Some staterooms are equipped with a sofa bed and/or upper Pullman-style bunk beds to accomodate a third or fourth guest.

Cabin Size: 172 sq ft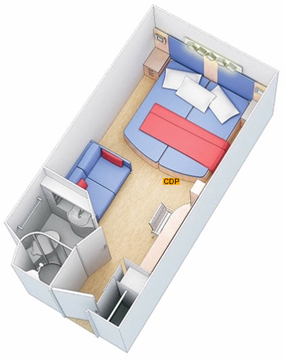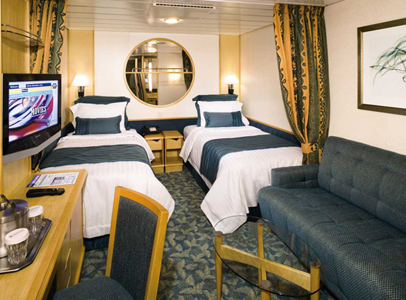 ---

Category L
Large Interior Stateroom

Decks: Deck 6, Deck 7, Deck 8, Deck 9, Deck 10, Deck 11, Deck 12, Deck 14

Some staterooms are equipped with a sofa bed and/or upper Pullman-style bunk beds to accomodate a third or fourth guest.

---

Category M
Large Interior Stateroom

Decks: Deck 3, Deck 8, Deck 9, Deck 10, Deck 11

Some staterooms are equipped with a sofa bed and/or upper Pullman-style bunk beds to accomodate a third guest.

---

Category N
Large Interior Stateroom

Decks: Deck 3, Deck 6, Deck 7, Deck 8

---

Category Q
Interior Stateroom

Decks: Deck 3, Deck 6, Deck 7, Deck 8, Deck 9, Deck 10, Deck 11, Deck 12, Deck 14

---

Category Z
Inside Guarantee

Decks: Deck 6, Deck 7, Deck 8, Deck 9, Deck 10, Deck 11, Deck 12, Deck 14