Oasis of the Seas
Cruise Ship

Check Out the Oasis of the Seas Deck Plans at:
www.divinetravels.com/OasisDeckPlan.pdf
Check Out the Oasis of the Seas Deck Plans at:
www.divinetravels.com/OasisDeckPlan.pdf
---

OUR SEMINAR-AT-SEA SHIP
OASIS OF THE SEAS

---

Introducing Oasis of the Seas

Royal Caribbean's Oasis of the Seas, is the 5,400-passenger ship that gave new meaning to the term "mega-ship" when it launched in 2009. Oasis is one of the world's biggest and most innovative cruise ships - onboard you'll discover seven incredible neighborhoods, each home to countless unique activities and experiences. From the groundbreaking onboard Boardwalk with its colorful carousel and the spectacular amphitheatre-style AquaTheater with its mesmerising high diving acrobatic shows, there's always a dazzling array of entertainment to enjoy every evening.

Jazz up your evening with Tony Award-winning Broadway show CATS, or hit the Royal Promenade for memorable moments with DreamWorks Experience characters and duty-free shopping. Join us onboard the ship that changed cruising – a world where innovation rules.

When she launched in late 2009, Oasis of the Seas was the largest and most revolutionary cruise ship in the world. An architectural marvel at sea, she spans 16 decks, encompasses 220,000 gross registered tons (GRT), carries 5,400 guests in double occupancy, and features 2,700 staterooms.

Oasis of the Seas is the first ship to tout the cruise line's new neighborhood concept of seven distinct themed areas, which include Central Park, Boardwalk, the Royal Promenade, Pool and Sports Zone, Vitality at Sea Spa, Fitness Center, and Entertainment Place.

Rest and Relaxation: Full-service Vitality Spa with thermal suite and an extensive treatment menu. State-of-the-art Fitness Center. Central Park outdoor garden with galleries, restaurants and a Coach store. Four pools including the Solarium, an adults-only retreat. Ten whirlpools, two of them cantilevered whirlpools overlooking the ocean. Concierge Club, reserved for Diamond Plus and Pinnacle Crown & Anchor Society members, and select suite guests. Diamond Lounge available for Diamond and above tier level members.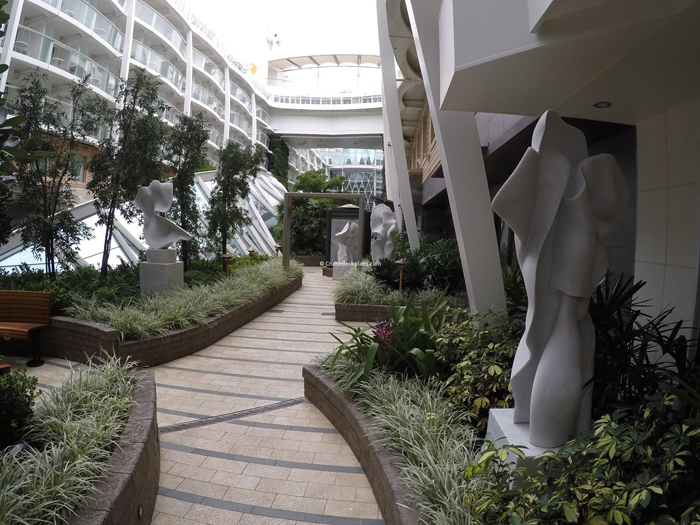 ---

Exciting Enhancements

Oasis of the Seas recently received a big makeover: a 14-day dry-dock in October 2014. We've raised the bar with all new onboard experiences and entertainment, including re-imagined dining, game-changing high-speed internet, exciting new retail offerings, a new Broadway show, and brand new suite rooms.

More restaurant options give more choice and flexibility than ever before, with a vast and varied choice of dining. Raising the bar for entertainment, we bring Andrew Lloyd Webber's Tony award-winning CATS to sea for the first time. Variety of name-brand, duty-free shopping in Central Park and the Royal Promenade including Coach. Designer boutiques from both Kate Spade New York, Michael Kors, and Britto Art Gallery for limited-edition artworks, giftware and collectibles.

For Relaxing

Enjoy the sights and scents of Central Park's gardens, get your hair done in a professional salon, enjoy a massage together with your partner.

For Action and Adventure

Go surfing on the FlowRider®, scale the rock climbing wall, speed along the daredevil Zipline or push yourself with some high energy kickboxing.

For Families

Kids can run free in our huge Youth Zone, get a soaking in the H2O Zone, take a ride on an old-school carousel, and watch amazing shows on ice.



---

Oasis of the Seas - Ship Facts

Registry: Bahamas
Built: STX Europe, Turku, Finland
Maiden Voyage: December 5, 2009
Dry Dock Renovations: 2014
Godmother: Daisy Fuentes, Dara Torres, Gloria Estefan,
Jane Seymour, Keisha Knight Pulliam, Michelle Kwan, Shawn Johnson Gross Tonnage: 225,282 GRT
Length: 1,187 feet (362 meters)
Width: 215 feet (65 meters)
Height (from the water line): 213 feet (65 meters)
Draft: 30 feet (9.1 meters)
Speed: 22 knots (cruising)
No of Decks: 16 passenger decks
No of Elevators: 24 passenger elevators
Guest Capacity: 5,400 guests (double occupancy)
Guest Capacity: 6,360 guests (total)
No of Crew: 2,394 crew (From over 71 countries)
4 bow thrusters with 7,500 horse power each


Staterooms

Total: 2,706
Balcony: 1,956
Outside: 254
Interior: 496
Staterooms with additional berths: 683
Wheelchair accessible staterooms: 46


A Few of the Many Ship Amenities

Day spa & fitness center
Beauty salon
Adult only solarium
Beach pool
Sports pool
Zip line
2 Rock-climbing Walls
Miniature Golf
Ice Skating Rink
Aquatheatre
Britto gallery
Specialty restaurants
Central Park
Nightclubs
Donut shop
Dreamworks experience
Comedy lounge
Ice cream parlour
Wine bar
Champagne bar
Starbucks
Boutique shopping
Cupcake shop
H20 Water park
Royal Promenade Boutiques
Art & Photo Gallery
Seattle's Best Coffee
Surf simulator
Medical Center
Business Services
Internet Center
High-Speed Wi-Fi
Sports court
Casino
Broadway Theater

---

Conference Center

Our comfortable conference center, which seats 300 people, features state-of-the-art presentation equipment. One of the meeting rooms for our Cruise Into Spirit Seminar-at-Sea will be located in this conference center. Some of our meetings for the "Cruise into Spirit" Seminar-at-Sea will take place in "Studio B," the ship's ice-skating rink, which doubles as a conference room when the ice is covered with flooring. We will also hold meetings in the fabulous Dazzles Lounge.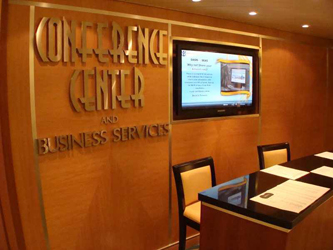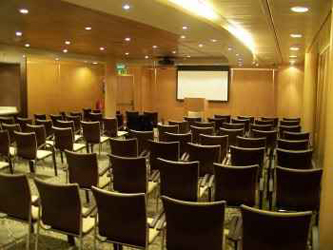 Dazzles, a two-deck nightclub with a great view looks toward the back of the ship and the AquaTheater. It is home to theme nights (like 80's music). Dazzles is a spectacular venue - spanning two decks - with an expansive floor-to-ceiling windows offering breathtaking views of the Boardwalk below. The dance lounge offers a variety of musical experiences ranging from 1940's big band to disco to ballroom evenings. In the evenings, the elegant space is theatrically illuminated with dazzling constellations of small twinkling lights reflecting off glass and mirrored surfaces above and below.

Some of our Cruise into Spirit events will take place in this gorgeous venue.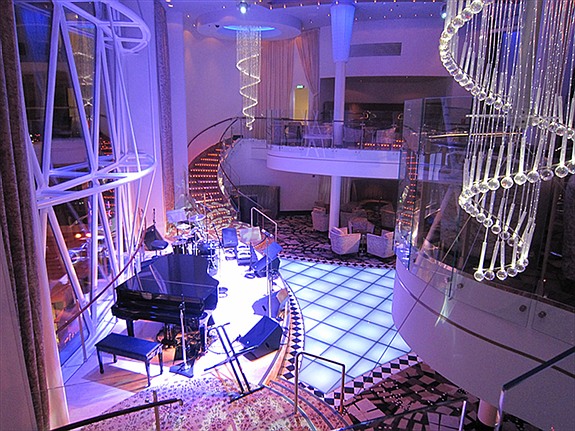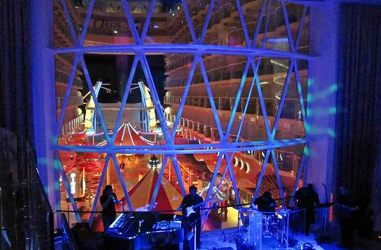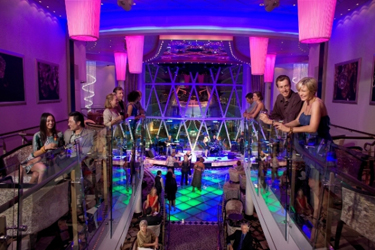 ---

Guest Services

Questions or concerns? Stop by the Guest Services desk, where our knowledgeable staff is available to assist with general ship information, report lost or damaged goods, exchange money, cash traveler's checks, deal with stateroom issues, and much more.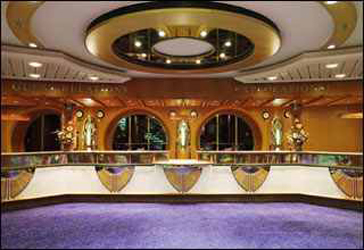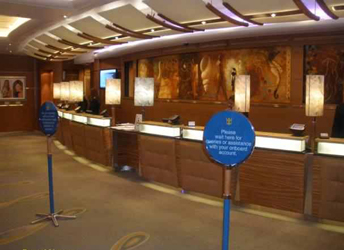 ---

Staying Informed: Cruise Compass

Every day during your cruise with Royal Caribbean International, you will receive a copy of the Cruise Compass in the late afternoon. The Cruise Compass functions as your itinerary and lists the detailed schedule and activities for the next day.

This includes info about the ship schedule, dining, entertainment, spa and fitness, special events, lectures, port information, shore excursions, shopping, and more.

In-Stateroom TV and Movies

Every room on Royal Caribbean Jewel of the Seas has an interactive TV to provide up-to-date information about what is happening on the ship. The TV interfaces with your SeaPass account so you can book shows and shore excursions at the touch of a button. You can access a variety of electronic commerce services such as previewing and reserving shore excursions, watching on-demand movies and informational videos, ordering room service, enjoying games of chance, and reviewing your SeaPass account and shipboard activities.

Royal Caribbean's RCTV offers at least 29 channels of in-room television programming fleet-wide, including satellite channels such as CNN International and ESPN International; TNT; Cartoon Network & Boomerang; Discovery, best of the Travel Channel, The Learning Channel, Animal Planet and Discovery Channel; Bloomberg TV; CNN; CNN Espanol; and movie channels that play recently released theatrical films before they hit the cable circuit. Films played on the big outdoor screen also play in-stateroom.

In addition, Royal Caribbean has developed many channels exclusive to the cruise line that offer a variety of hand-picked shows in the lineup, including classic TV shows, current sitcoms and dramas, classic movies, music videos, E! Entertainment TV programs, daytime soap operas, and E! & Style network shows geared to women.

Each Royal Caribbean ship has its own full-service mini TV station at sea complete with a television production crew and editing studio. In addition to keeping the pre-produced programming on schedule and pulling down live satellite feeds, the ships' broadcast technicians produce and edit onboard TV broadcasts, from the Cruise-In-Review videos to highlights of daily entertainment, art auctions, and other activities.
---

More Dining Options on Oasis

Royal Caribbean's Oasis of the Seas underwent a substantial overhaul in late 2014. The purpose of the dry dock was to bring the world's largest cruise ship up to date with the latest dining and technology innovations. The biggest of these is a bevy of restaurants -- both free and for-fee.

Oasis introduces bold new culinary concepts, more choice and total flexibility. New dining experiences encompass the entire landscape of unique dining venues. The new philosophy is simple: give our guests more options, more flexibility, more control over their dining experience.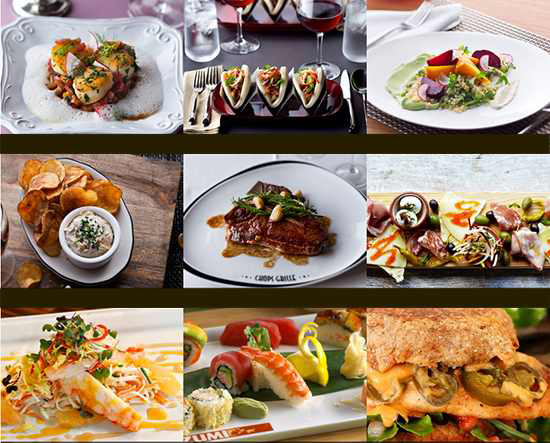 ---
Special Features and Quiet Places

Although it's been more than five years since Oasis launched, the ship has aged well, and its original industry-changing design touches -- such as the first-ever Boardwalk and Central Park at sea, which uniquely occupy space that's carved out of the middle of the ship -- are still legendary.

Entertainment Place, a hub for night owls, offers ice skating and disco, comedy and jazz, and a three-tiered theater that features "Cats," the multi-Tony Award-winning Broadway show. Particularly dazzling is the ship's AquaTheater, with its "deepest pool at sea," which serves as a platform for performers such as divers and synchronized swimmers.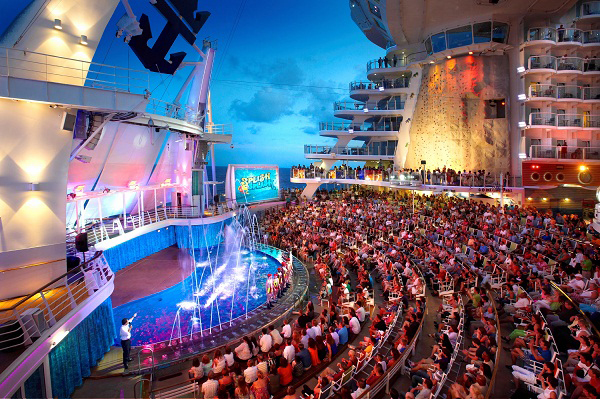 The Royal Promenade can get congested during parades, and you could wait a while for an elevator. But there are plenty of places to get away from fellow passengers -- such as the wrap-around promenade on Deck 5, and the Central Park, which is quiet most of the time. There also are a couple of open-to-all balconies overlooking the AquaTheater (one is on Deck 11, starboard); there's another off-beat spot, all the way forward and above the solarium, which most people miss.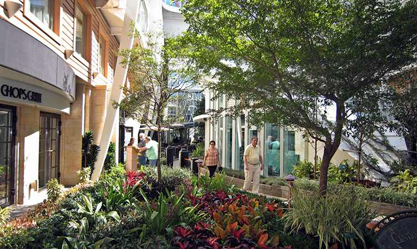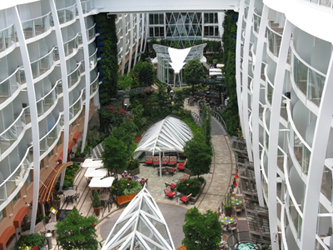 The ship is large, but it doesn't feel as massive as you'd expect, and that's a credit to its design. The neighborhood concept really does work -- Central Park with its thousands of living plants is wonderful and there are reasons to be there during the day: Park Cafe for freshly made salads, sandwiches and breakfast fare; fun tours of art and foliage; and lots of comfortable chairs in which to read; and during the night: noshing at the outdoor tables at Vintages, the wine bar, and Giovanni's, the ship's Italian restaurant. After dinner, the Entertainment Zone is a magnet. On sunny days, congregating on the pool deck is a typical activity -- and while it can be crowded, you can always find a lounge chair.

---
Internet Access

Oasis had its Internet service upgraded as part of Royal's partnership with Voom, which offers passengers Satellite Internet, with speeds comparable to those available on shore. Voom, the fastest internet at sea– and it's now available on the entire fleet.

This is instantly streaming, sharing on the fly, high speed internet. Enjoy all your favorite movies and shows on Netflix, and stream your favorite playlist on Spotify. Share every unforgettable moment of your vacation on Facebook and Instagram. Stay connected with video chatting on FaceTime and Skype, texting and e-mail. From the Caribbean to Australia, now on every ship in the Royal Caribbean fleet.

Get 30% off Voom when you purchase pre-cruise. Learn more here: www.royalcaribbean.com/cruiseplanner.

The Royal iQ app is part of the new technology package that allows passengers to book reservations for restaurants, shore excursions and spa appointments directly from a smartphone or tablet. Want to take your family to Giovanni's Table for an Italian feast, or perhaps enjoy an elegant dinner with friends at The Grande Restaurant? Use Royal iQ, the personal vacation management app, to browse all your dining options. Downloadable for iPads, iPhones, and Android phones, Royal iQ gives you the flexibility to decide your culinary journey morning, noon and night.

Bring your own laptop or tablet if you plan to connect to the Internet for more than the most minimal time, since there is no extensive Internet Café. You also have access to the Internet via your in-cabin television.

Stay Connected to Friends and Family Onboard

For families, Oasis of the Seas is so large that walkie-talkie devices -- long a popular way for passengers to stay in-touch onboard -- don't always work properly. As a result, Royal Caribbean has introduced its new Royal Connect "Wow Phone" device. These are iPhones that lack outside calling or texting capabilities. For $17.50 per device, per week, you'll have deck plans and the Cruise Compass right at your fingertips, as well as a way for your kids to reach you onboard. They can dial the phone's number from any house phone on the ship. If you give one to your child, he or she can be tracked at all times.
---

Oasis of the Seas Gratuity

Royal Caribbean passengers are charged $12.95 per person, per day ($15.95 for suite guests). Gratuities are prepaid. Passengers can modify or remove gratuities by visiting the guest services desk while onboard. A 15 percent gratuity is automatically added to bar tabs.
---

Oasis of the Seas Public Areas

---

Oasis of the Seas was the first to introduce fascinating public areas that are totally new to cruise travel.

Boardwalk

The Boardwalk is an area for the entire family to enjoy together. The elements of the Boardwalk are a dynamic way to engage families in classic fun with a colorful original carousel as well as eateries, retail outlets and carnival games. Signature elements of the Boardwalk include the AquaTheater, a remarkable outdoor venue at the stern of Oasis of the Seas with a backdrop of the ocean across the horizon, the Sea Carousel, a one-of-a-kind and first-ever at sea carousel, the centerpiece of Boardwalk, and a zip line, a thrilling new feature suspended nine decks above Boardwalk.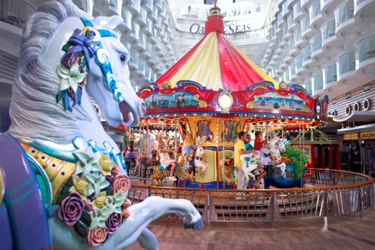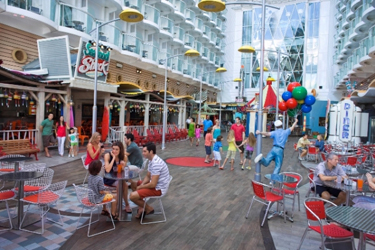 Between the colorful lights, the merry-go-round music and the smell of the freshly minted waffle cones, the Boardwalk absolutely feels like the Jersey Shore or Coney Island. It's charming, for sure: Ride the carousel with each horse, cheetah, etc. hand-carved out of wood and hand-painted. The ride is free (no age restriction, though there is a height requirement if you want to ride alone) and lasts two minutes with old-fashioned calliope music creating the soundtrack as you spin.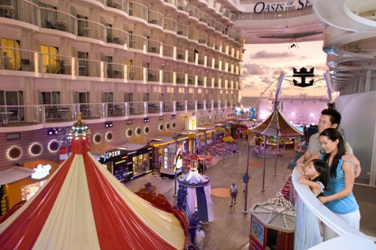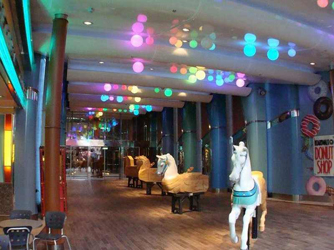 There are also fun shops here, including a candy store, and an old-timey photo booth where you can print your own color or black and white snapshots in seconds ($5 for 6). A favorite Boardwalk diversion is the Pets at Sea shop, Oasis' answer to the "Build a Bear" chain that's popular on land. Pick the "skin" of the pet you want (rabbits, penguins, etc.) and staffers help you stuff it by attaching it to one of two big contraptions that look like oversized gum ball machines -- but instead of gum balls, there's stuffing flying around inside. The stuffing fills and puffs out the pet, along with a fabric heart you've placed inside. All manner of outfits, including a captain's uniform that looks fabulous on a stuffed bear, are for sale. The pet alone is $19.99; outfits are $12.99. If you buy both together, it's $29.99. Your pet leaves the shop in a cardboard box with a precut hole so he or she can poke out a furry head and see the sights.

Royal Promenade

Giant glass-arched skylights, the Crystal Canopies, form a sculptured roof that looks up into Central Park and the sky beyond. Elements of the Royal Promenade include: Rising Tide Bar, Globe and Atlas Pub, Schooner Bar, Retail shops, Karaoke Bar, Boleros Latin Club, Photo Gallery, Vintages, Chops Grille, Pizzeria, Canopy Bar and more. The Royal Promenade also serves as the entry point for all guests embarking on Oasis of the Seas, rather than the traditional lower decks.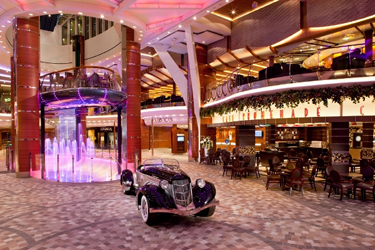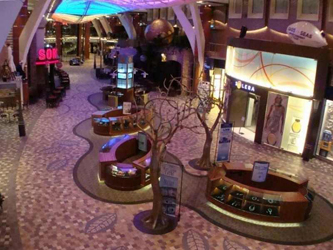 The Royal Promenade is noticeably wider and lighter than on other ships -- one aspect of the ship's new design is the skylights that let daylight in. The shops offer duty free products and Oasis souvenirs -- but there are a couple of new options. Willow, a shop geared to the 30-plus set, has lovely casual clothing (designers ranging from Eileen Fisher to Spirit), jewelry, and accessories. There's a minimally stocked camera shop. Above it is a vast photo gallery.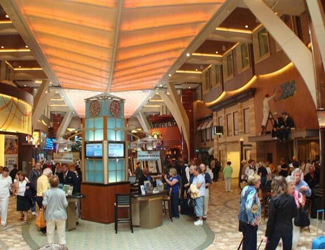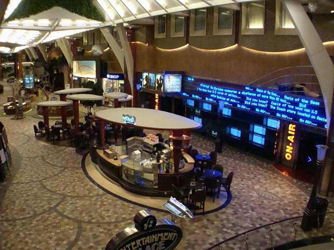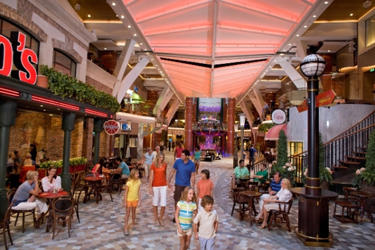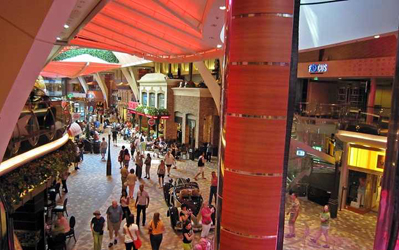 Central Park

With its 12,175 plants and 56 trees, Central Park offers a lovely respite from the buoyant energy that otherwise permeates Oasis of the Seas. A peaceful sanctuary from the bustle of ship activities, Central Park provides quietude among the magnificent gardens and innovative architectural and sculptural elements.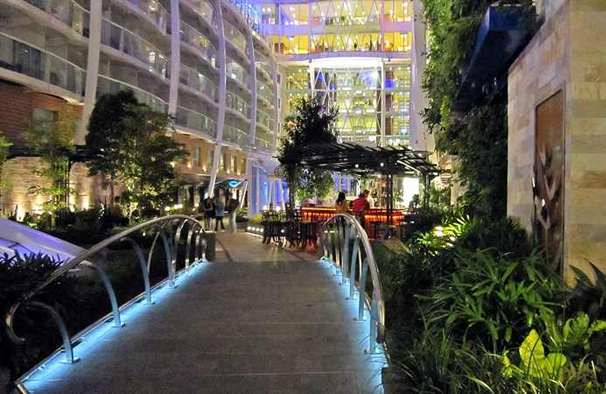 The flora and fauna ranges from an herb garden to towering (well, they'll be lofty someday) trees that offer a soft canopy. You may be onboard in an inner-facing space, but Central Park is open to the sky and, interestingly, through use of wind-controlling technology, there's a lovely breeze blowing through the area. Beyond the aforementioned restaurants, there are lots of peaceful nooks for simply curling up with a good book. On the retail therapy side of things, Central Park has the first Coach store at sea and a Britto Gallery.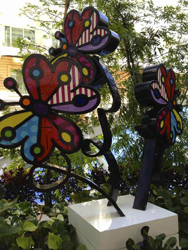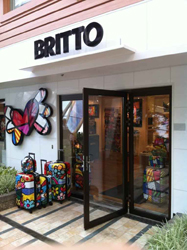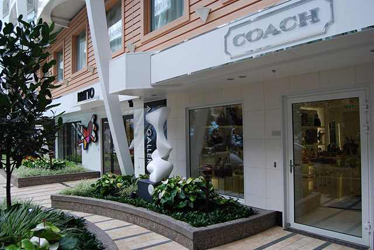 ---

Oasis of the Seas Dining

---

There are so many dining options on Oasis that you could eat somewhere different for every meal -- three times a day, for an entire week -- and literally not repeat a venue.

Main Dining Room

The Main Dining Room, aft of Entertainment Place, features décor inspired by the 1920s French Art Deco movement, Emile Ruhlmann whose work featured elegant lighting, simple shapes and beautiful wood. The striking centre piece of the dining room is Laurie Kaplowitz's masterpiece titled 'Genesis' standing at nearly 27 feet in height.

This is where our Cruise into Spirit Seminar-at-Sea dining will take place for dinner in our designated area.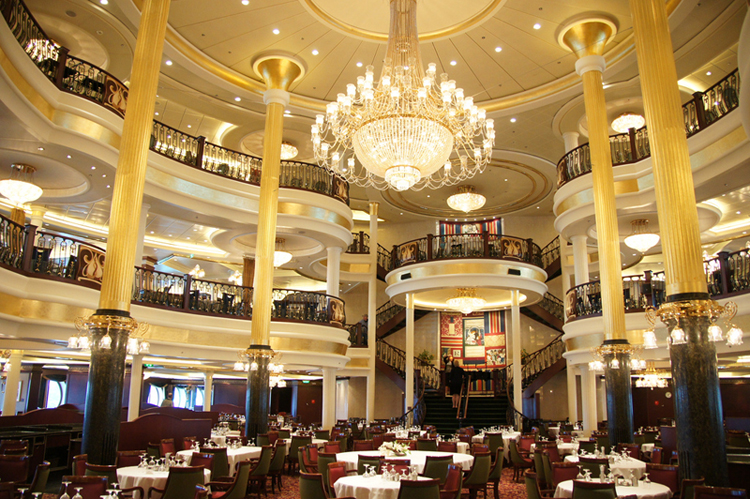 Spanning from decks 3 to 5, the dining room opens for breakfast, lunch and dinner with a variety of different seating arrangements.

From 7:00 am to 9:00 am, deck 3 opens for both express and à la carte breakfast with a choice of food either from the buffet or ordered off the menu. Selections are similar to those in Windjammers cafe ranging from sausages, bacon and eggs cooked in numerous ways to French toast, cereals, pastries, breads and fresh fruit.

Lunch, served from 12:30 pm to 2: 00 pm and again on deck 3, features a Brasserie 30 menu (designed to enable guests complete their meal in 30 minutes) and includes a "Tutti" salad bar with everything from lettuce, tomatoes, eggs, sweetcorn and grated carrots to meats, prawns, tuna, cheeses and breads.

At night the menu changes daily offering guests something different to choose from every day. Each menu has a different name which influences the dishes served and includes Saffron, Mojo, Pimiento, Shitake, Jasmine, Basil and Pomodoro. The menu also features always available items (such as salmon, chicken, steak and pasta) along with Chef's inspiration. The daily changing options consist of starters, main courses and desserts. Vegetarian, gluten free, lactose free and "Vitality" healthy options are indicated beside the menu choices.

Windjammer Marketplace Buffet

On Deck 16, the Windjammer Marketplace is the free Oasis buffet, offering the utmost flexibility for breakfast, lunch and dinner. It features multiple islands, each serving a variety of casual buffet fare. Guests can enjoy expanded selections, with theme dinners every evening.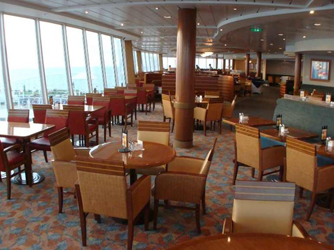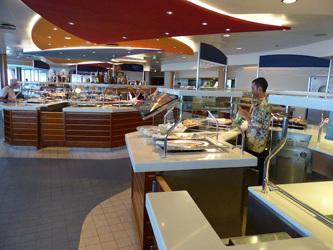 Izumi Hibachi and Sushi

Izumi Hibachi and Sushi Japanese cuisine offers a full teppanyaki menu as well as fresh and flavorful sushi rolls and sashimi. is a for-fee restaurant on Deck 4. Enjoy the pure and invigorating flavours of Japan with sushi rolls, sashimi, Hot Rock (Ishiyaki) Plates or sukiyaki. This Asian cuisine restaurant features a sushi bar and hot rock cooking, as well as other Asian fare. Open for lunch and dinner; á la carte pricing. Royal Caribbean's Izumi is an exotic Asian-inspired dining experience full of intense flavors, the freshest ingredients and impeccable presentation.

Coastal Kitchen

Coastal Kitchen, on Deck 17, is only available to suite and Pinnacle passengers: The high-ceilinged, glass-enclosed lounge is decorated in neutral cream, beige and gray, which adds to the sense of light and space in the room. It's a very relaxing spot with great views and a nicely stocked bar. Exclusively for suite guests, Coastal Kitchen fuses Mediterranean influences with the unmatched riches of California's bountiful farmlands. Enjoy Pacific Coast favorites like sea bass ceviche or Med-inspired tastes such as fig and prosciutto flatbread, and pair them with an extensive selection of vintages from the golden hills of Napa and Tuscany.
Chef's Table

The Chef's Table is a brand-new concept for Royal Caribbean and is offered each night on the cruise. The trick is that only 14 passengers can be accommodated. The dinner starts with cocktails in the library and an introduction to other passengers. Then it's onto the meal in the upper level of the Concierge Lounge, with a fantastic view overlooking the AquaTheater and Boardwalk. There are five courses (this is a regular menu, not a tasting-style affair) and before each is served the chef comes out of the kitchen and explains the preparation. You can book it before the cruise by calling Royal Caribbean or reserve your spot online and choose between a couple of nights. Wine pairings (quite generous ones) are included in the fee, as are gratuities. Great service and food.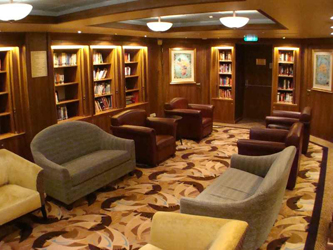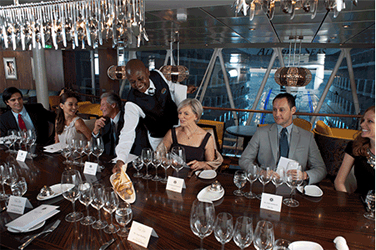 Dining in Oasis of the Seas Neighborhoods

There are plenty of Royal Caribbean dining choices in the Oasis of the Seas neighborhoods:

Dining in Royal Promenade, Deck 5

The Café Promenade serves up sugary pastries and coffees in the morning -- with small sandwiches available through the rest of the day. This popular café serves Seattle's Best Coffee, fruit shakes, pastries and sandwiches throughout the day and night. Open 24 hours; á la carte pricing.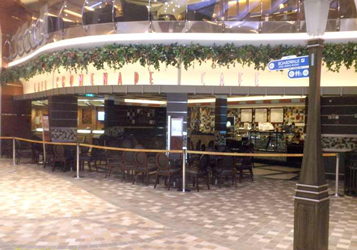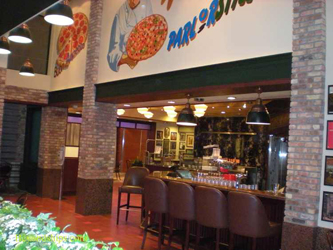 Sorrento's Pizzeria (free slices and antipasti for lunch, dinner and late-night noshing) offers a create-your-own pizza option; passengers choose from an assemblage of ingredients (meats, cheeses, vegetables) that changes daily.

A Starbucks kiosk sells the ubiquitous company's standard hot drinks at the expected prices, and diehards can even use their Starbucks gold cards. The selection of edibles is abbreviated. You'll find red velvet pie, croissants and other sweets, but not the full menu of savory sandwiches typically available on land.
Dining on the Boardwalk: Deck 6

Get the family together for good old-fashioned hamburgers and fries at Johnny Rockets--complete with authentic 1950s décor, a menu filled with all-American favorites, and a jukebox at every table. While the standard burgers/fries/shakes fare for lunch and dinner is offered for $4.95 per person, on Oasis, Johnny Rockets is also a complimentary breakfast venue (its menu offers hot egg dishes and an incredibly decadent cheesy-potato combo).

Across from Johnny Rockets is Sabor Taqueria & Tequila Bar: a Mexican restaurant is alfresco on The Boardwalk -- making it well suited for a Caribbean sailing. It features a menu of authentic, modern and Mexican dishes including hand-made tableside guacamole. These dishes can be complemented by a curated beverage menu of tequilas, mezcal, and Mexican beers, as well as delicious sangrias and tableside-mixed margaritas. "Sabor": In Spanish, it means "flavor" but here on the Oasis class of ships, Sabor Taqueria & Tequila Bar is that and so much more. A feast—or shall we say fiesta—for the eyes. A vibrant dance across the plate and palate. And a long heritage of fresh, simple ingredients, reimagined in full bloom.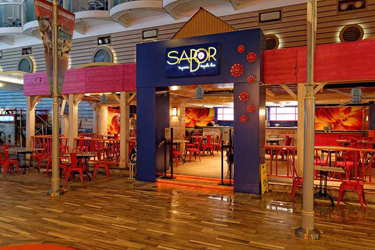 An ice cream parlor/cupcake shop, Cups and Scoops, features delicious sweet treats onboard. It has the most appetizing creative flavors and is never crowded. Try one of our signature cupcakes baked fresh daily, or enjoy a an a la carte scoop of Ben & Jerry's ice cream with your choice of toppings (try the fruity, refreshing mango flavor). The specialty cupcakes -- ranging from vanilla and chocolate to crazier flavors like bubblegum, key lime and root beer -- are delicious.

The 1950's styled ice cream venue displays classic sundaes and a variety of ice cream flavors and toppings to choose from and then mixed-to-order on a frozen slab. Enjoy sprinkles, smiles and some seriously sweet confections at the only cupcake and ice cream shop at sea. Each day gourmet cupcakes are meticulously crafted from scratch in sumptuous flavors, while classic homemade ice cream is offered in a variety of delicious flavors and is churned right on the ship. Open throughout the day.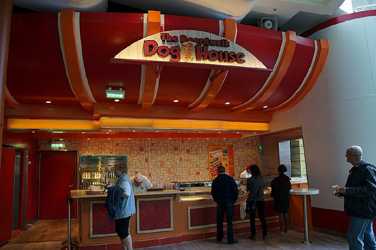 Grilled sausages and franks are available at the Boardwalk Dog House. The Boardwalk Bar offers on-the-go snacks and a variety of prepackaged sandwiches, fruit and salads, for free. Open for breakfast, lunch and dinner.
Dining in Central Park: Deck 8

The tapas at Vintages, the ship's wine bar, are served all day (and into the wee hours) and offer a delicious, lighter fare (though not necessarily low-calorie) option. The tapas range from a simple bruschetta to more elaborate concoctions and from savory treats to sweet ones. Consider ordering a "tapas sampler" -- these combine various options and are quite cost-effective.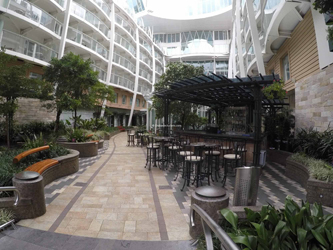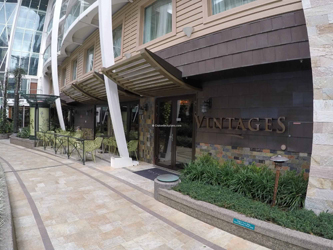 Royal Caribbean guests of all ages feast family-style on Italian fare at Giovanni's Table. A casual Italian trattoria with indoor and al fresco seating, Giovanni's Table offers rustic dishes with a contemporary flair, including toasted herb foccacia, freshly made pastas, pizzas, salads, Italian sandwiches, braised meat dishes and stews, all served family-style. Savor great Italian home cooking in this family-friendly restaurant specializing in the traditional dishes of Tuscany. With a fantastic, friendly, trattoria-style ambience, the menu is beautifully conceived. Giovanni's is open for lunch on sea days (and, uniquely in the cruise industry, on embarkation day as well -- so there's a lunch option for passengers who prefer to avoid the usual crowds at the buffet). It is one of the best values onboard. This Tuscan countryside-influenced trattoria is a more-accessible, casual Italian restaurant featuring both indoor and al fresco seating.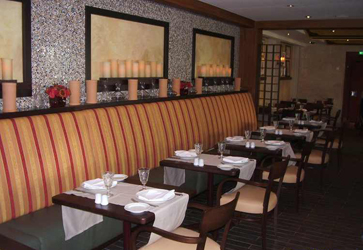 Chops Grille, the line's dinner-only steakhouse, is beautifully designed, and its sleekness wouldn't feel out of place in Manhattan. Steak and Seafood in an elegant atmosphere. Royal Caribbean's hallmark restaurant has been given a fresh twist with a revamped menu that brings contemporary flair to traditional steakhouse offerings. Featuring grade-A premium cuts of steak cooked to your specifications, plus fresh seafood, addictive side dishes and delectable signature desserts.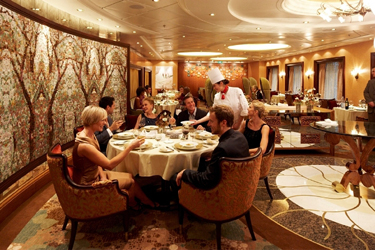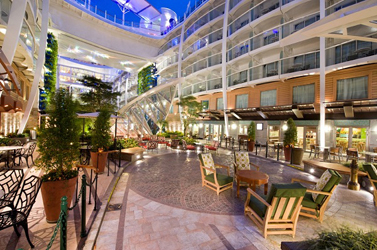 Experience farm-to-ship cuisine the genuine way, and only onboard Oasis-class ships. 150 Central Park features a six-course tasting menu created by James Beard Award-winning chef/restaurateur Michael Schwartz, using distinctive ingredients locally sourced and paired with an extensive wine tasting menu. The most exclusive dining venue on Oasis, 150 Central Park provides an intimate dining experience that combines leading-edge cuisine with modern design, creating a trendy upscale ambiance. The most sophisticated, attentive dining experience onboard, it's a perfectly intimate setting for a 6-8 course tasting menu with paired wines. 150 Central Park is the ship's showcase restaurant, with a tasting menu consisting of seven courses -- gnocchi with chanterelles, cauliflower panna cotta -- plus meal-ending cheese plates), ultimately it is a lovely experience. There's a wine pairing option and that works really well with the courses. Open for dinner.

The Park Café, which serves delicious hot Panini sandwiches and bagels for breakfast and custom-made salads and sandwiches throughout the day, is justifiably a huge hit. It is a casual-dining, walk-up gourmet market with something for everyone.

Dining in Pool & Sports Zone: Deck 15

A mini-version of the ship's buffet, offering fast foodstuffs, is located at the Wipe Out Café (complimentary all day, from breakfast to dinner). The casual self-service buffet offers a variety of options from pizza, hamburgers, sandwiches and fresh salads to quick snacks and desserts, for young cruisers on-the-go. Open for breakfast, lunch and dinner.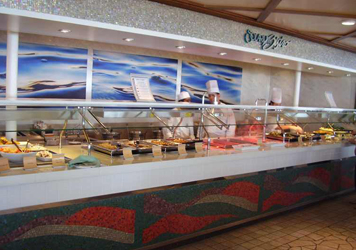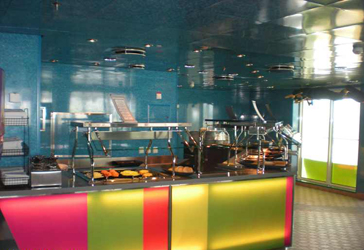 Brilliant sunlight by day, starlight canopy by night, the Solarium Bistro's brilliant food and atmosphere is equally perfect for a celebration or a cosy, romantic supper. Located in the Solarium, the contemporary bistro offers health-conscious dining for breakfast and lunch in a casual setting. At breakfast there are yogurts, granola, fruit and breakfast meats like the more healthful turkey sausage instead of the pork variety. Lunch features light fare, such as couscous, salads, fruit, yogurt and other healthy, tasty options. At night the bistro is transformed, via linen tablecloths and soft lighting, to a more upscale but still spa-oriented alternative restaurant, a romantic and intimate dining setting for specialty healthy-fare dinner and dancing under the stars.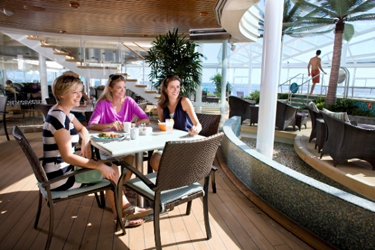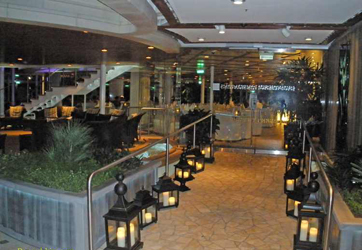 Free Room Service

Still hungry? Room service is available around the clock, free most of the day (though a tip is welcomed). Egg dishes are available in the morning, along with the usual Continental fare (croissants, coffee, cereal). Throughout the day and into the evening passengers can choose between pizza, hot and cold sandwiches and salads.

Guests wanting to enjoy a meal in the comfort of their staterooms can choose from the complimentary breakfast, lunch and dinner menus, as well as the recently introduced Dine in Delights menu, which offers name-brand culinary options ranging from the Original Johnny Rockets hamburger to Ghirardelli Chocolate Cookies. Open 24 hours; á la carte pricing for Dine In Delights and $3.95 service charge for in-room deliveries between 12:00 a.m. and 5:00 a.m.

---

Oasis of the Seas Entertainment

---

World-class entertainment on Oasis of the Seas includes: Broadway's second longest running musical, CATS. Complimentary AquaTheater shows, ice shows and other live entertainment. A VIP Room at Casino Royale. Bars, lounges, and nightclubs that never have a cover, including live jazz club, karaoke bar, and comedy club. Parties and parades on the Royal Promenade.

Prohibition Party, a reservation-only 1920s-themed celebration on every fifth night in the Jazz on 4 lounge where guests 21 and older can do their favorite Jazz Age outfit and sip on alcoholic beverages for a cover charge of $35.

The Entertainment Zone on Deck 4 is home to Studio B ice rink for shows and free skate, the Opus three-deck theater (where performances of "Cats" take place), a comedy club (book reservations in advance; it's popular and the space is small) and a jazz bar with superb live music. Blaze, a one-story nightclub, is located down here as well.

Passengers will see the "Dreamworks Experience" throughout the ship, in the form of 3D movies in the main theater, high-energy character parades in the Royal Promenade, and special daytime shows at the AquaTheater.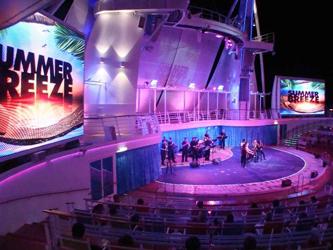 On the Boardwalk Deck 6, all the way aft, you'll find the AquaTheater, an amphitheater-style outdoor space at the stern of the ship, where evening shows take place throughout the week. This is a don't-miss event! Reserve a spot, but there are also seats (and standing room) along the back.

There are two 18-meter dive boards and 20 performers dedicated to the space: six divers, four synchronized swimmers, six acrobats and four specialty divers. Another fun fact: There are nearly 2,000 nozzles on and above the stage for synchronized water shooting.

Your heart will be in your throat when the high divers leap off a platform that seemingly scrapes the sky and then slices into the water with barely a splash. Dancers, divers and acrobats pull off stunts against a backdrop of backlit fountains, big screens and the endless horizon of the sea.

The Opal Theater, Oasis of the Seas' state-of-the-art 1,380-seat main theater, features a thrust stage and proscenium extending into the audience space to create a more intimate and interactive environment.

In addition to nightly entertainment, the Opal Theater is used in the daytime for lectures, such as Port seminars, where you can learn about the history, special features, maps, and shopping at our port stops. We might also use this space for one or more of our "Cruise into Spirit" Seminar-at-Sea workshops.

Watch the Broadway spectacular CATS and other award-winning entertainment in this spectacular venue.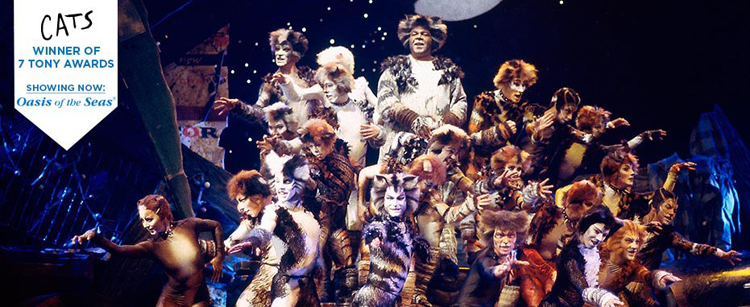 Comedy Live is the comedy club, where headline acts interact with the audience and provide engaging and customized performances each evening.

Studio B is the onboard ice skating rink and venue for a variety of themed events and shows. Some of our conference meetings will take place in this spacious theater, when the ice-skating rink is transformed with special flooring that covers the ice.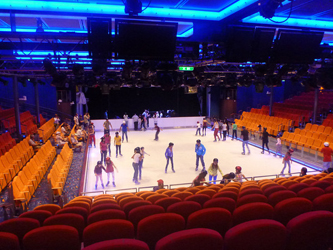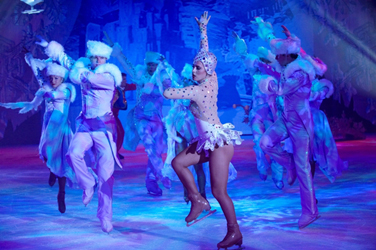 Suspended above the Globe and Atlas Pub, an unfurling bridge on hinged hydraulics creates a spectacular, surprise element for guests. Incorporated into the pub's facade, a giant copper globe "cracks open" as part of its unique construction and extend over the Royal Promenade as a bridge platform.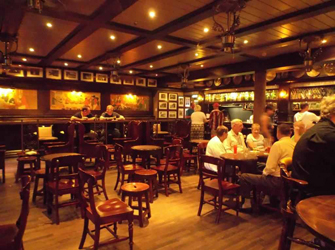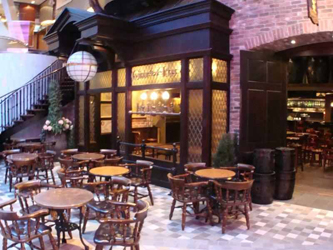 Many of Royal Caribbean's favorite bars and lounges are found in the Royal Promenade. The Schooner Bar is located on the upper level of the Royal Promenade. It's fun to sit in chairs that ring the promenade on formal night, and watch the world go by! The top-of-the-ship Viking Crown Lounge, which here provides a stunning view forward from its lofty perch on Deck 17, is gorgeous.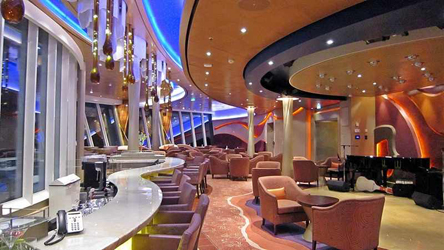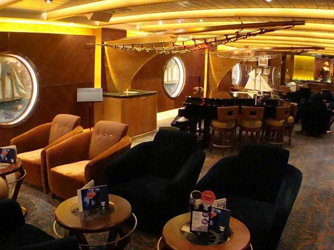 Follow the Latin beat and find yourself in Boleros, a nighttime hot spot where you can keep up with live music and cool down with a mojito or caipirinha. Bolero's jumps to a packed house every night, with terrific live music and lots of dancing.

Rising Tide is a unique bar, the first moving bar at sea that spans three decks and moves up and down, like an elevator, from the Promenade to Central Park Deck.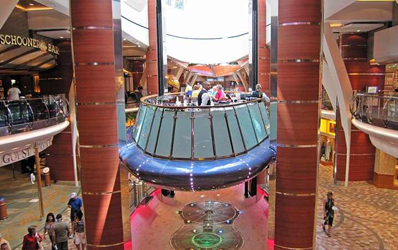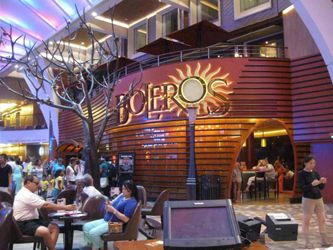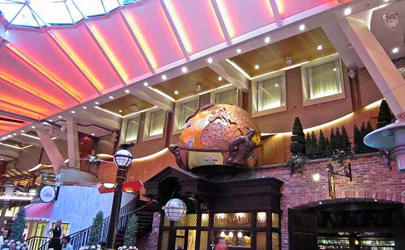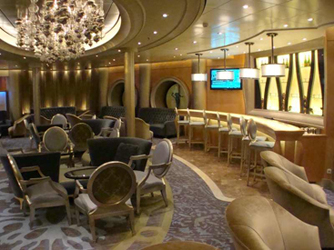 The On Air Club, located in the Royal Promenade, radiates energy day and night with television monitors featuring news, sporting events, and music. Club 20 is a high-energy late night dance club experience under the stars. It transforms the adults-only Solarium into an evening hot spot. Jazz on 4 is an intimate lounge inspired by prohibition-era Chicago, filled with live jazz and blues. Blaze is a quintessential nightclub experience where guests can dance the night away to pulsating music in a hip and trendy atmosphere.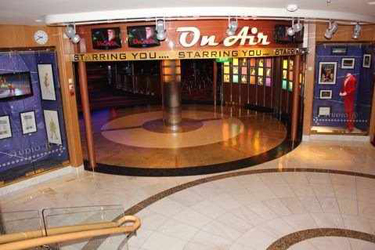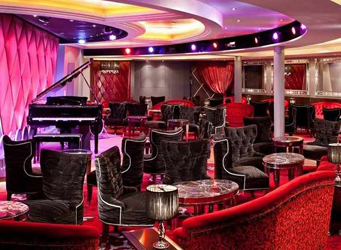 Oasis of the Seas features the largest and most sophisticated casino afloat: Casino Royale. There is a themed walkway entrance, The Museum of Gaming, exploring the history of gambling. Design elements include dramatic sculptures, crystal chandeliers, and hues of amethyst, aquamarine and ruby. You'll find 450 slot machines; extensive table games including Blackjack, roulette, craps, and Caribbean Stud Poker; a bar and lounge area; a sports book; a poker room; and a players' club.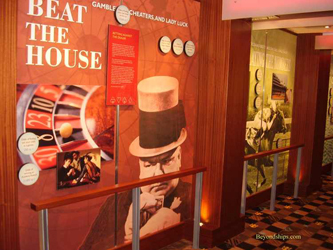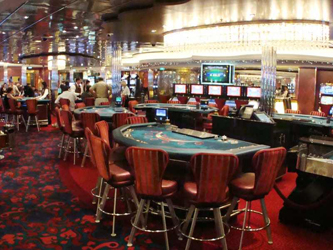 ---

Oasis of the Seas Spa & Fitness

---

In the Pool and Sports Zone, Oasis of the Seas' top-ship neighborhood, you'll find a "zero entry" pool that's great for gradually wading into deeper water; a sports pool (think water-jousting and pool volleyball); and the H2O Zone that's just for kids and features several brightly colored water-spraying sculptures.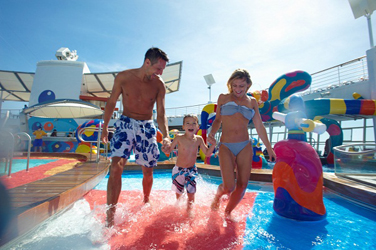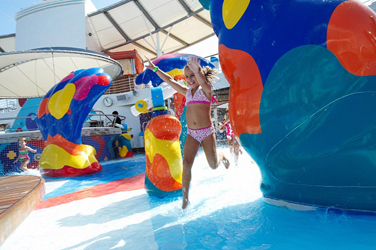 Oasis of the Seas is the first cruise ship ever to feature its own zip-line, which runs diagonally across the Pool and Sports Deck, above the Boardwalk. For those who dare to try it, the zip-line offers an amazing (and free) aerial view of the carousel and other attractions, so be sure to look down! You'll need to sign a waiver, obtain a wristband and prepare for what could be a long wait. (It will take about 10 minutes just for the staff to harness you properly.) You will also be required to empty your pockets and wear sneakers and a helmet. This is definitely a fun option, especially at night when the Boardwalk's festive lights are aglow.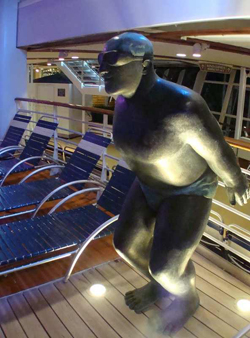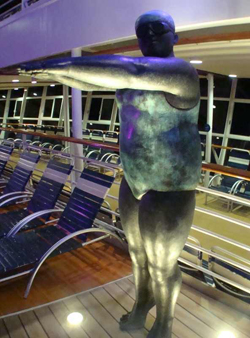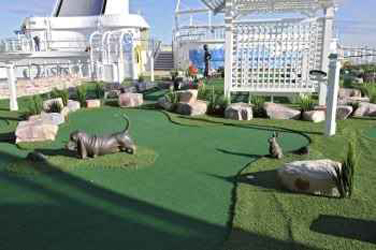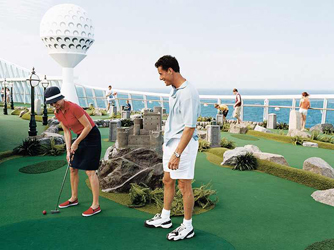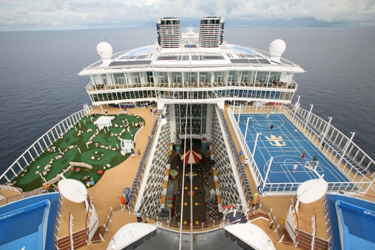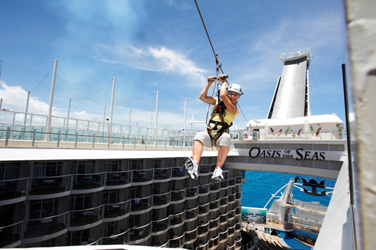 There are also two FlowRiders, the surf simulators. Both are located on Deck 16 aft, with the Wipeout Bar wedged between them. One note: If you're intrigued by the FlowRider and have never surfed before, we suggest boogie boarding first. Surfing isn't as easy as it looks.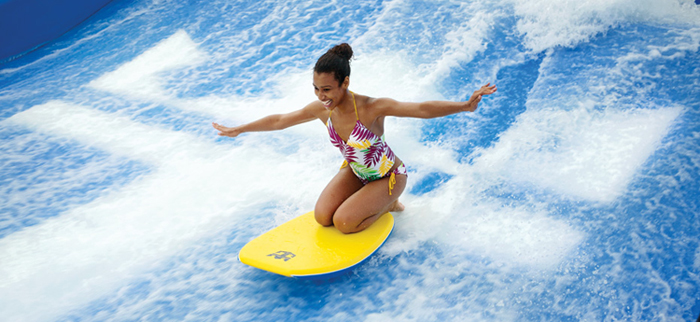 The adults-only, beautiful, glass-roofed Solarium is often packed and difficult to find a chaise, so plan to arrive early.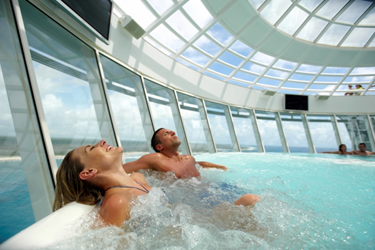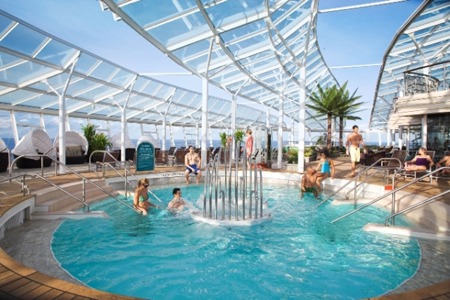 The ship's gym has been moved from Royal Caribbean's more traditional top-deck, full-windows locale to midship and is illuminated by portholes with no outside view to the sea. One nice touch: a stairwell inside the gym leads directly down a deck to the ship's running track.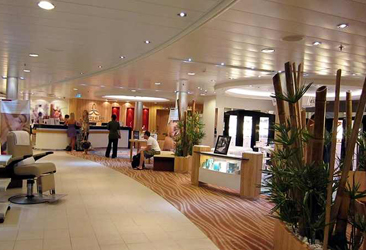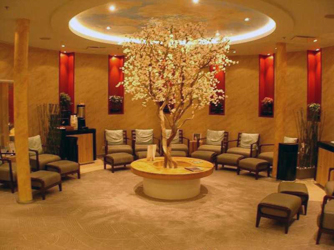 The extensive and vast Vitality Spa offers teeth-whitening, facials, acupuncture treatments, a wide variety of massage treatments, couples massage, body tune-up therapies, waxing services, spa facilities, nail services, hair services, teen and kid spa, and shave, facial, and hair for men. They also host a huge menu of fitness classes at sea and at port -- from pilates and stretching to detox and weight-loss classes.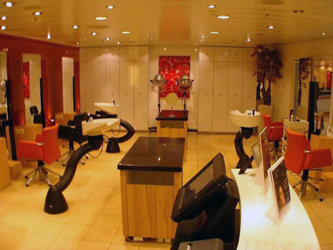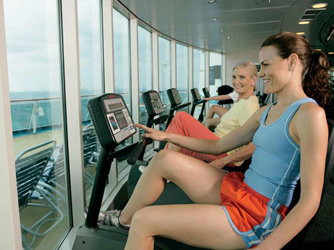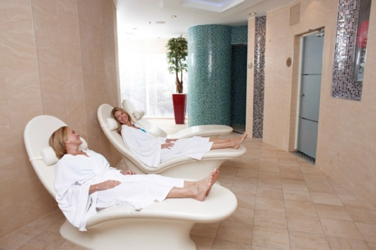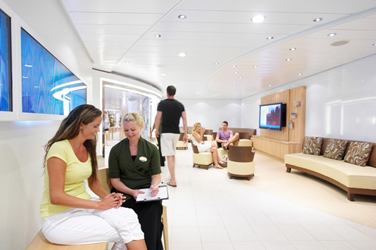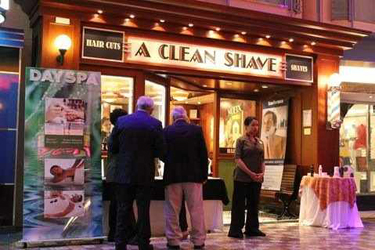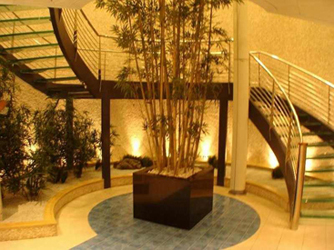 ---

Oasis of the Seas Family

---

Oasis of the Seas is an extremely infant-, child- and teen-friendly ship, offering a large variety of activities and brightly colored spaces for children, from ages 6 months to 17 years. The entire kids' program, officially called the Youth Zone, spans more than 28,700 square feet, and is (surprise) the largest of its kind at sea.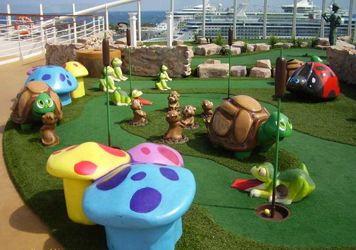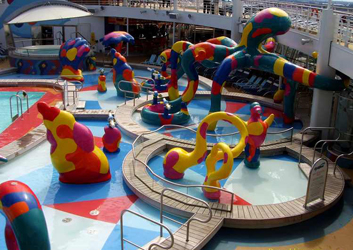 Oasis features for Kid's include: Complimentary DreamWorks Experience - memorable moments including character dining, parades, and meet & greets with favorite characters from Shrek, Madagascar, Kung Fu Panda and more. Complimentary Adventure Ocean Youth Program. Royal Babies and Royal Tots programming. Teen lounge areas and disco. H2O Zone kids' water park. 3D movie theater. Classic carnival games at the new Bordwalk. Two FlowRider surf simulators. Two rock-climbing walls, Zip line, full-sized basketball court. Ice-skating rink, Mini-golf course and Hand-carved carousel.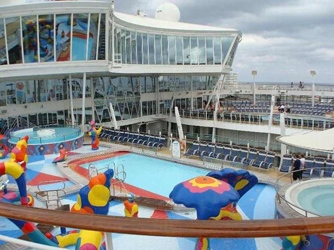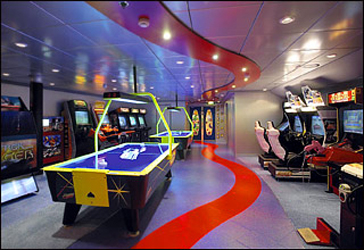 RCI has started new Royal Tots and Royal Babies programs, which provide childcare and activities for children from 6 to 36 months old. All parents have an opportunity to reserve spots for their kids at the beginning of each cruise at a cost of $8 per hour, per child. Remaining hours are then opened up on a first-come, first-served basis.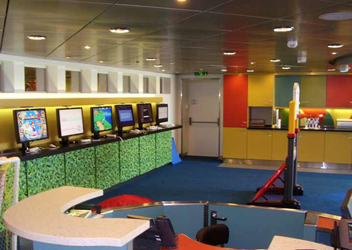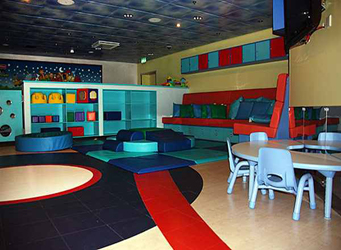 Children, ages 3 to 5 (Aquanauts), 6 to 8 (Explorers) and 9 to 11 (Voyagers) have their own spaces to run around, take part in arcade games and Nintendo Wii tournaments, conduct science experiments (like volcano-making) and take in a mini-musical or perform in shows of their own as part of the "ImaginOcean!" theater program onboard.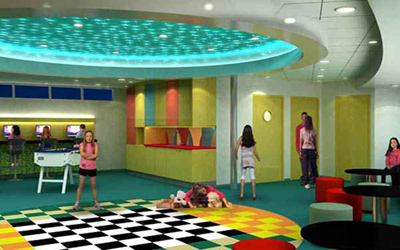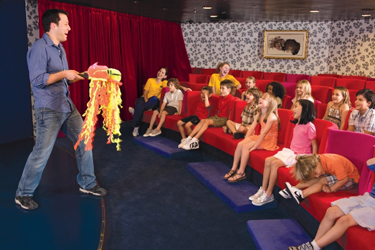 Partnerships with Crayola and Fisher-Price mean that the Youth Zone is also outfitted with the latest toys, games and supplies. Daytime activities are free, but late-night activities are also offered for a fee of $5 per child, per hour.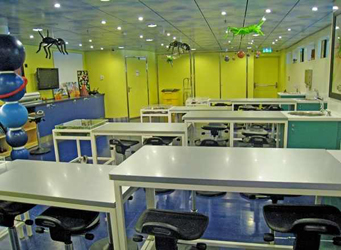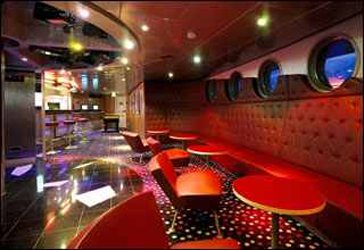 Teens, the hardest demographic to impress, probably won't want to leave their designated areas. The ship was intentionally designed to distance the teen section from the rest of the Youth Zone, and away from the throngs of younger kids, teens can enjoy several lounges, juice bars, Nintendo Wii stations, a music room, the Wipe Out Cafe, themed parties and D.J. lessons.