Welcome aboard Celebrity Infinity with her new sense of style and excitement. Now we're sharing some award-winning Solstice Class favorite features through a $140M investment to revitalize our four Millennium Class ships. Our Millenium Class Celebrity Infinity has been infused with modern luxury and favorite Solstice Class amenities. So now you can enjoy her familiar charms along with sophisticated new surroundings and even more onboard experiences to enjoy.

On Celebrity Infinity, we have introduced 107 spa-inspired AquaClass staterooms featuring indulgent amenities to help you feel relaxed and restored. Enjoy exclusive access to dining in our delicious Mediterranean focused "clean cuisine" Blu restaurant. An AquaClass Spa Concierge will help you arrange all your spa appointments. Melt any stress away as you unwind in heated tile loungers. Make the most of your complimentary access to Persian Garden.

Go on a culinary journey at the innovative Qsine specialty restaurant. Get ready to have a uniquely unordinary dinner where food and art merge into dishes guaranteed to surprise and delight. Enjoy sweet or savory crepes at Bistro on Five. Finish with a chilled Peartini at the ice-topped Martini Bar.

Keep in touch at the hip Celebrity iLounge, where you can participate in the iLearn enrichment series or pick up the latest high-tech wonder from the first Apple Reseller at Sea.

These are just a few of the new enhancements to our Millennium Class ships. Celebrity Infinity will make the most of your precious vacation days. Ready to be impressed? Fantastic.

A FEW CELEBRITY INFINITY FEATURES

Canyon Ranch SpaClub

Relax and rejuvenate in our serene spa at sea. Experience the unique services of Canyon Ranch in a breathtaking setting—aboard Celebrity's modern luxury ships. Enhance your vacation with a complete wellness and lifestyle program that increases resilience, restores serenity, and helps you feel rejuvenated.

Innovations Store

Your one-stop-spot at sea to find all the latest high-tech electronics including iPad and iPod mobile digital devices, MacBook computers, a variety of laptops, digital accessories, and cool electronic toys. Best of all, whatever you purchase at the Innovations Store is duty-free.

AquaClass Staterooms

Spa-inspired staterooms featuring indulgent amenities like a Hansgrohe shower tower and custom blended bath products to help you feel restored and renewed. An AquaClass Spa Concierge to help you arrange all your spa appointments. Complimentary access to our relaxing Persian Garden. Plus, exclusive access to the Blu restaurant serving breakfast and dinner.

Blu Restaurant

A refreshingly indulgent menu of "clean cuisine" provides an exclusive dining sanctuary exclusively for AquaClass guests. A lighter take on your favorites, Blu features inventive dishes with fresh, crisp flavors in a sophisticated atmosphere. Open for breakfast and dinner.

Qsine

Qsine, our one-of-a-kind specialty restaurant, features a uniquely unordinary approach to dining. At Qsine, we strive to awaken your palate through a modern and whimsical approach to familiar dishes from around the world. Food is artfully presented, without traditional courses, and intended to be shared. And, to make it even more playful, the menu and wine list are creatively presented on an iPad. Let your Culinary Tour Guide take you on an unforgettable journey.

Celebrity iLounge

Keep in touch 24 hours a day in the Celebrity iLounge, our one-of-a-kind hip Internet lounge that is the first Authorized Apple Reseller at Sea. Celebrity iLounge also offers various iLearn classes to help you master the latest photography, video and audio skills.

Café al Bacio & Gelateria

The warm atmosphere, comfortable furniture and the sweet scent of the Gelateria's freshly baked waffle cones create an instant emotional connection. Café al Bacio is a great place to relax, any time of day. Many like to stop by in the evening for one of the specialty dessert cocktails, and chat about a great meal that they had or a wonderful show they just enjoyed. There's always something to talk about at Café al Bacio.

CELEBRITY INFINITY SHIP TOUR

The 90,940-ton, 2,170-passenger Celebrity Infinity debuted in 2001 as the second ship in Celebrity Cruises' four-vessel Millennium-class series. Infinity debuted with a bevy of novel features, including a retro ocean liner-themed alternative restaurant and a lovely bank of glass elevators that offer sea views.

Celebrity has invested heavily in refurbishing the Millennium-class series. Following a November 2011 dry-dock in the Bahamas, Celebrity Infinity emerged with a slew of Solstice-class dining venues, a new iLounge computer lab, and new balconies, as well as more than 100 new or redesigned spa cabins.

Much has changed for the ship in the form of decor and onboard features, but Infinity's most visible alterations focus on the Decks 4 and 5 social hub, which forms a two-floor, shiplong link between the main dining room (aft) and theater (forward). The focus is on casual food and drink options.

Despite significant alterations, the ship still retains much of what has made it a fan favorite, stylistically, for more than a decade. The whimsical art, use of natural woods and lots of glass, especially in the stunning Solarium, have always lent Celebrity Infinity and its sisters an elegant, contemporary air. Those touches remain. So too does the high passenger-to-crew ratio, which has earned the line high marks for service. It is a ship for people who like to linger over dinner, sip a drink in a comfy lounge while listening to music (or doing a bit of ballroom dancing), take in a show or lounge by a pool; high-octane partying and crazy outdoor activities (waterslides, surfing, ropes courses) are not Infinity's hallmarks.

Celebrity Infinity Dress Code

The two levels of dress on Infinity are smart-casual and formal. Four- to six-night cruises have one formal night; seven- to 11-night cruises have two; and 12- to 15-night cruises feature three. Infinity's passengers typically dress for the occasion, which means you'll see a fair share of suits and tuxedos on men, and cocktail dresses and gowns on women. On smart-casual nights, men will wear nice slacks and button-down or collared shirts. Women opt for sundresses, skirts and blouses, or dress pants and cute tops. T-shirts, swimsuits, robes, bare feet, tank tops, baseball caps and poolwear are not allowed in the main restaurant or specialty restaurants at any time. Shorts and flip-flops are not allowed in the evening hours (which didn't stop many women from pairing glittery flip-flops with formal attire).

Celebrity Infinity Gratuity

Tips aren't included in the cruise fare, but suggested gratuities are automatically added to your onboard account at a rate of $12 per person/per day, if you're in a standard cabin; $12.50 per person/per day, if you're in a Concierge Class or AquaClass; and $15.50 per person/per day, for passengers in suites. If you would like to adjust the gratuities, you can do so through the Guest Relations desk. A 15 percent charge is added automatically to all beverage and minibar purchases as well as spa and salon purchases. You can't remove these gratuities but can add to them.

Our Conference Center

The Celebrity Infinity comfortable and spacious conference center features state-of-the-art presentation equipment. All of our meeting rooms for our NEWLIFE Cruise and Seminar-at-Sea will be located in this conference center, on Deck 3 Aft.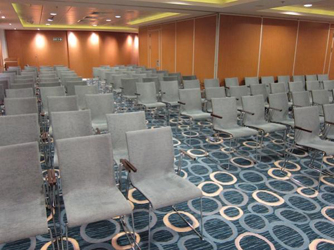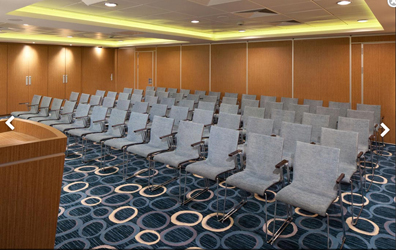 Celebrity Infinity Dining

The striking Trellis Restaurant, Celebrity Infinity's main dining room, offers formal breakfast, lunch (select days only) and dinner. It also offers brunch on one of the sea days. The highlight of the two-tiered restaurant is a huge, paned showcase window that extends from floor to ceiling. Tables are set for combinations of six, eight and 10. (Two-tops and four-tops are available in limited quantities.) There are two options for dinner in the Trellis Restaurant. Passengers can go with traditional, set seating (at 6 p.m. and 8:30 p.m.) or opt for the more flexible Celebrity Select dining option. With Celebrity Select, passengers have the option to dine any time between 5:45 p.m. and 9:30 p.m. and to decide whether they want to eat with their own party or at a mixed table with other cruisers. They can also make specific dinner reservations for each day of their cruise online in advance, make reservations onboard or simply show up when ready to eat.

Cuisine at The Trellis is generally well received; the menu features a mix of traditional and imaginative fare with vegetarian, gluten-free, dairy-free, no-sugar-added and SPE (healthy yet tasty, as validated by SPE Certified consultants) items noted on the menu. Anytime menu items include escargot and shrimp cocktail starters, French onion soup and Caesar salad, broiled salmon and New York sirloin entrees, sides of roast potatoes and steamed vegetables, and chocolate cake, apple pie and cheesecake for dessert.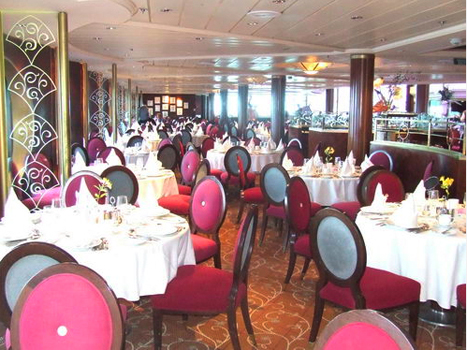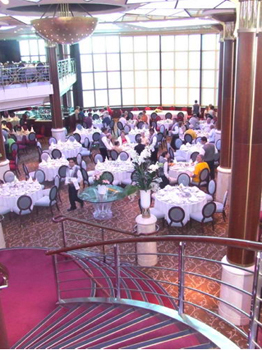 The Oceanview Cafe is the ship's buffet restaurant, located aft on the pool deck. Coffee, tea and juices are available 24/7, and food is served from 6:30 a.m. to 1 a.m. The buffet is set up in one long U, but three stations are hidden way at the back, separate from the main buffet and easy to miss; these sections have different offerings from the regular buffet.

At the Oceanview Cafe, breakfast, served from 7 a.m. to 10 a.m. (with early and late options on either side), features made-to-order omelets, American and English hot breakfasts, fruit, yogurt, bread, cheese and cereal, as well as stations for Asian specialties, a poached egg bar and a waffle/pancake station in the back.

The main lunch service runs from noon to 2:30 p.m. with half the stations remaining open well into the afternoon and evening. You'll find hot fare, a salad bar, a pasta bar and a carving station, with pizza, Asian and Panini/fish and chips in the back.

Tea sandwiches and scones are served from 4 p.m. to 5 p.m. at the Oceanview Cafe. Dinner, 6 p.m. to 9:30 p.m., offers more hot fare and a carving station, plus a curry station, made-to-order stir-fry, sushi and miso soup and more pasta, pizza and salad.

Don't miss Celebrity's homemade ice cream near the entrance to the Oceanview Cafe; it's available until 10 p.m. and quite tasty.

The Pool Grille, just forward of the buffet, offers hamburgers, hot dogs and veggie burgers with fries from noon to 6 p.m.

In the Solarium, the AquaSpa Cafe is a small buffet, serving light meals by the thalassotherapy pool. Breakfast (7 a.m. to 10 a.m.) includes healthy muffins, fruit and oatmeal for free and smoothies, fresh juices and yogurt parfaits for an extra fee. Lunch, from noon to 2 p.m., centers on veggies and salads.

The SS United States, Celebrity Infinity's $45-per-head alternative restaurant on Deck 3, excels in appetizers and desserts, but main courses can be hit or miss. For a sure win, choose the lobster, prepared (and set afire) tableside. Pace yourself, as you'll be offered a cheese course, dessert and complimentary truffles to finish off your meal. In addition to the regular menu, you can opt instead for the Five Senses menu, which presents six courses paired with wines, for a higher surcharge of $89 per person. The setting is delightful, with large porthole windows, white tables and walls with blue and red accents. A special wine room can also host a large private group for a special dinner.

Celebrity's Champagne High Tea, which takes place once or twice a cruise, is also offered in the SS United States. While a string quartet plays, premium tea and coffee, savory sandwiches and desserts are served on fine china for a $25-per-person charge. It was not well advertised on our cruise, so look out for it if you're keen.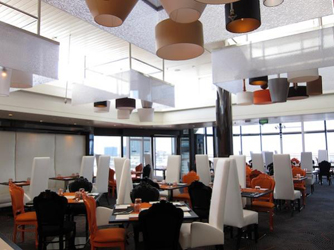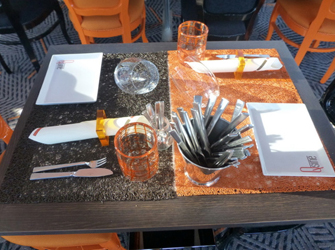 Qsine (pronounce "cuisine") is Infinity's for-fee "creative comfort food" venue, at which patrons order whimsically presented dishes off of iPads. Instead of waiters, you get culinary tour guides, and presentation -- think sushi lollipops or spring rolls served in actual springs -- is the focus. It's $45 per person to eat there. The food is more fun than gourmet, and the best way to dine there is to get together a large group and sample a variety of items. Duos will quickly fill up and are likely to leave disappointed. Excellent choices include M's Favorites, a selection of Mediterranean mezze, and Painter's Mignon, filet mignon with an array of accompaniments. For dessert, the decorate-your-own cupcakes and the trio of gelatos are scrumptious. Qsine, on Deck 11, can be hard to find; take the central glass elevators or the stairs by the entrance of the Oceanview Cafe.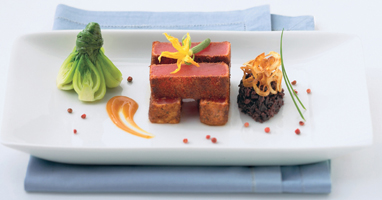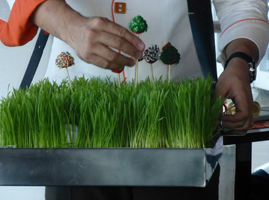 Carved out of a portion of the main dining room on Deck 5 is Blu, Celebrity's spa dining venue, exclusively for AquaClass passengers. Those booked in Royal and Penthouse suites are allowed to dine there, space permitting, for $5 per person. Fee-free for AquaClass residents, the restaurant is open for breakfast (7:30 a.m. to 9 a.m.), serving light meals like smoothies and muesli. Dinner (6 p.m. to 9:30 p.m.) offers a changing menu of clean and simple cuisine, such as a roasted chicken breast or blackened ahi tuna. The venue is gorgeous, done in white with bright blue accents and a row of large porthole windows along one side. Note that Blu is intended to be AquaClass passengers' main dining venue for breakfast and dinner (though they can opt for Select dining whenever they wish), and no guests are allowed. So if you're booked in AquaClass and wish to eat with friends in other cabin categories, you must go to another venue.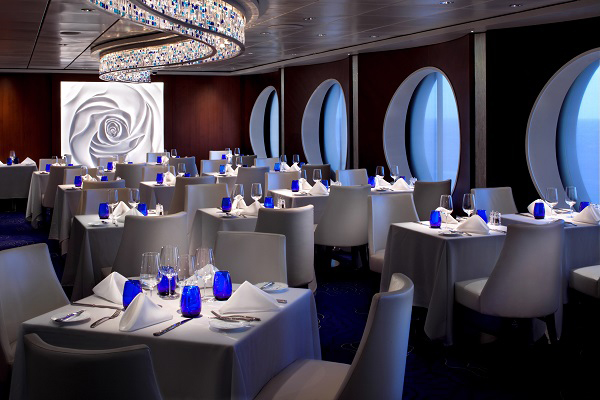 A for-fee yet casual venue is Bistro on Five, hidden in an easy-to-miss area behind the Cellar Masters bar on Deck 5. Bistro's main fare is crepes, including breakfast, lunch, dinner and dessert crepes. It also features panini sandwiches (steak, chicken or vegetable), soups and salads. Popular choices include the sweet banana, nutella and pistachio crepes and the savory Cowboy crepe, featuring marinated flank steak. Bistro on Five is open from 8 a.m. until 12:30 a.m. and requires no reservations, though there is a $7-per-person service charge (which covers as many crepes and paninis as you can eat). Bistro on Five is the busiest during lunch and early afternoon; it's very quiet at breakfast and dinner. Tapas and antipasti are served next door at Cellar Masters from 5 p.m. to midnight.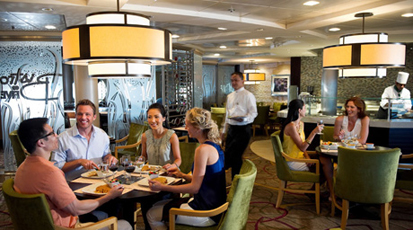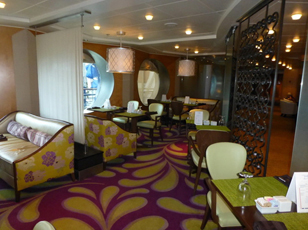 Also on Deck 5, Cafe al Bacio serves free breakfast pastries and desserts from morning 'til night, but the specialty coffee and tea drinks cost extra. Across the atrium, the gelateria offers several flavors of gelato from 11 a.m. to 11 p.m., and it's definitely worth the extra fee.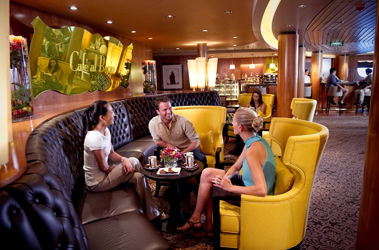 Many passengers partake in Celebrity's drink packages. You can choose Premium or Classic beverage, wine, soda and bottled water packages and purchase them pre-cruise or onboard.

Room service is available 24/7. Breakfast door cards allow you to check off both cold (cereal, fruit) and hot (eggs, pancakes) choices and choose a window for delivery times. Throughout the day, passengers can order from a menu of soups, salads, burgers and sandwiches, pizza and dessert, with additional hot items like vegetable lasagna, New York strip steak and avocado-tomato quesadillas. Order via the phone or the interactive TV. Tipping for room service is customary and greatly appreciated.

Celebrity Infinity Entertainment

Celebrity Life is Celebrity's enrichment and activities program for day and evening fun onboard. Activities mostly follow cruise ship standards (art auctions, bad hair day seminars, cooking demos, wine tastings, bingo and ballroom dance lessons). Some of the more unique (and entertaining) options are interactive events with officers and passengers, including Ping-Pong or water volleyball tournaments, silly game shows and an uproarious Dancing with the Officers "dance" (or is that physical comedy?) contest.

Celebrity's nightly theatrical performances, ranging from Broadway compilations to piano concertos, take place in the lovely three-deck Celebrity Theater and are generally well regarded. Shows include typical Vegas-style song-and-dance revues, alongside performances given by visiting comedians and musicians.

Constellation, the forward-facing lounge at the top of the ship, is surrounded with floor-to-ceiling windows on three sides. It's used during the day as an observation station and for various activities. At night, it's turned into a dance club. Across the hall, an arcade is available to gamers young and old.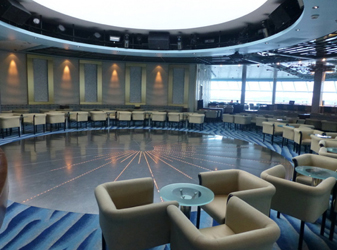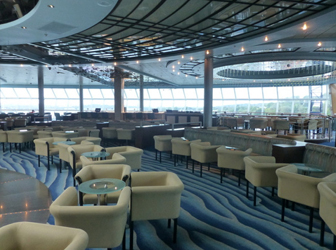 Deck 4 is also something of an entertainment hub. The Rendezvous Lounge, lined with windows opening onto the promenade, features dancing and art auctions. The Martini Bar and Crush, complete with ice-topped bar and juggling bartenders, make great pre-dinner cocktail spots.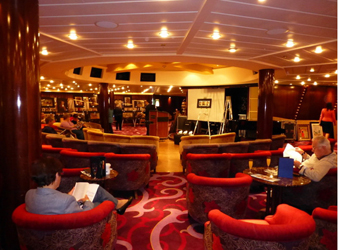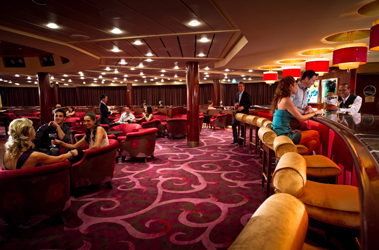 Fortunes Casino, located midship, has an Egyptian theme. You can possibly win at slots, poker, blackjack, craps, Texas Hold'em and roulette.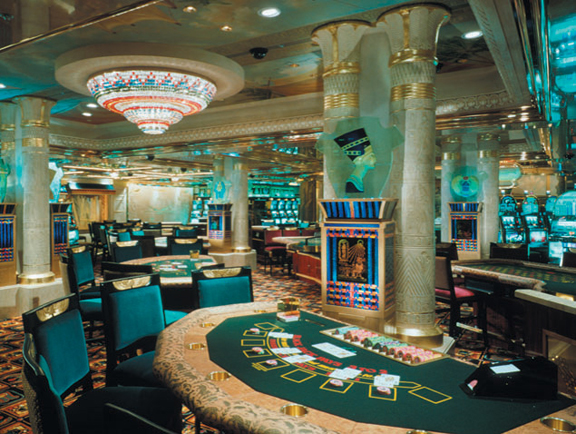 Michael's Club is stocked with more than 60 generic, international and craft beers, along with high-end Scotch and whiskey. It serves as the VIP lounge during the day and opens at 7 p.m., often with a jazz trio or other small musical group performing.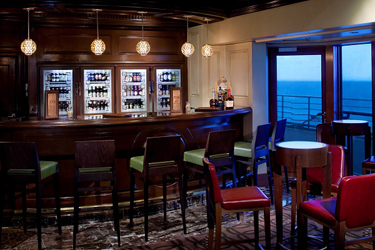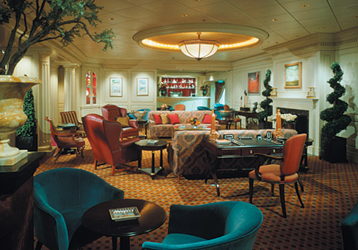 Up one deck is Cellar Masters, a wine bar and tasting venue with Enomatic vino-dispensing machines, a long table for wine education events and comfy chairs for killing time until your dinner table is ready. Taste wine on your own at any time or during a scheduled wine tasting led by a sommelier; unlike most other bars on the ship, this one carries nothing but wine (no soda, cocktails or beer).

Celebrity Infinity Public Rooms

The Grand Foyer, a three-deck atrium, lies at the center of Celebrity Infinity; its highlight is a dramatic staircase and ceiling-to-floor drapes. At the bottom of the atrium, on Deck 3, is the main "cruise business" area -- including the shore excursion boutique, an ATM, the Captain's Club office, Future Cruise Sails, and passenger relations.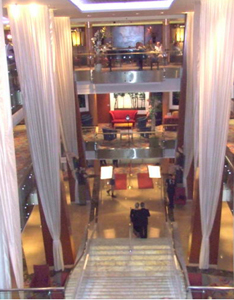 The photo gallery is located on Deck 4, across from Michael's Club.

Forward of Cafe al Bacio is Infinity's enormous shopping venue, the 14,000-square-foot Emporium. Along with the usual logo shops and duty-free items, there are several jewelry, clothing and watch shops, as well as Celebrity Innovations, an Apple product retailer. Instead of cluttering the aisles with specials as on most ships, there is a circular central kiosk area for the daily discount offerings. A small presentation center with chairs and a video screen is used for everything from shore excursions talks to presentations by the boutiques and acupuncture sales pitches.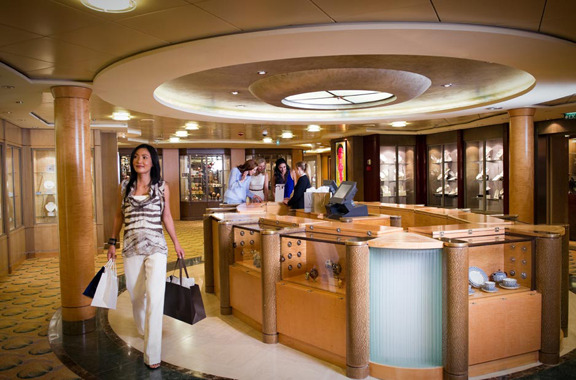 The Celebrity iLounge is found on Deck 9 midship. There Mac computers are available for Web browsing, or you can sign up for a Wi-Fi account, as wireless Internet access is available shipwide. Prices start at 75 cents a minute, or you can purchase a package: 38 minutes for $25, 90 minutes for $50, 208 minutes for $100, 555 minutes for $200, or 1,666 minutes for $400. Computer and technology classes, mostly focusing on Apple products, are held in the Emporium and are complimentary.

The ship's library is just below on Deck 8 and features glass walls, deep armchairs, and a selection of travel guides, fiction and non-fiction books, and board games. The main concierge keeps hours there, as well.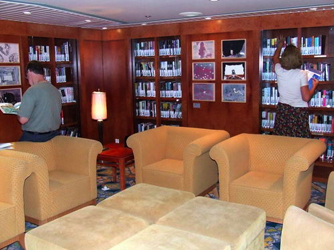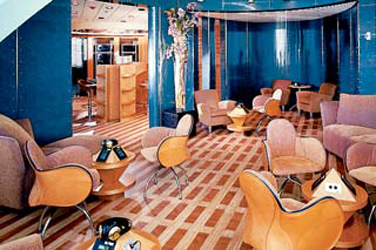 Meeting rooms are located on Deck 3, and a medical facility is on Deck 1.

There are no self-service launderettes.

Celebrity Infinity Spa & Fitness

Infinity's main pool area, located on Deck 10 midship, features cushioned loungers, day-beds and wooden accents. The saltwater pool itself is divided into a shallow end for dipping and a deeper end for swimming; a circular lounge area sits on a raised platform in the middle. Anyone who wants to swim laps can do so early in the morning before the pools get busy. There are four hot tubs, a bar and table tennis on the port side. Additional lounge seating can be found one deck up, circling the pool area.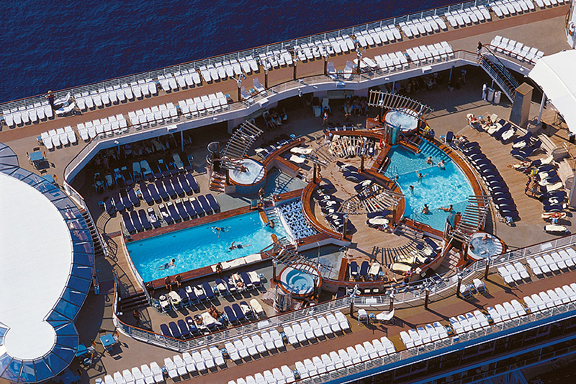 Continuing forward, the Solarium is an adults-only venue with a thalassotherapy pool, two additional hot tubs, padded wood loungers, and some table seating for AquaSpa Cafe diners. The area is open to children for an hour in the morning and an hour in the late afternoon, though we saw kids in the pool later in the evening, as well. The Solarium is enclosed with a glass roof so it can be used in inclement weather.

Canyon Ranch took over all spa and salon services, as well as fitness classes, in 2014. The SpaClub features a generous enough workout room with floor space for fitness classes. It also encompasses spa service and treatment areas, the Persian Garden thermal suite, an acupuncture studio, and a beauty salon.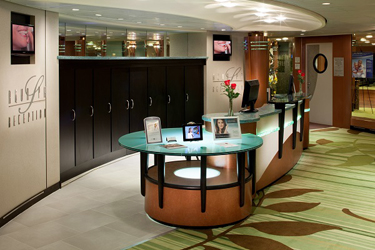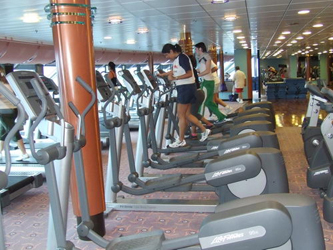 Spa and beauty services include facials, massages, wraps and scrubs, hair styling, mani-pedis and barbering for men. Specials are offered on port days and for buying multiple services at once. In addition to a trained acupuncturist, Infinity also has licensed doctors onboard and offers Restylane and Perlane treatments, as well as Botox.

Passes to the Persian Garden thermal suite are free to AquaClass passengers and cost $179 per couple or $99 per person for a cruiselong pass.
The fitness area offers the usual cardio machines (treadmills, elliptical trainers and bikes), as well as weight machines and free weights. In the aerobics space, abs workouts and stretching sessions are free, but classes in Pilates, spinning and yoga are offered with an additional fee of $12 per person (plus 15 percent gratuity). However, some of the best workouts onboard are to be found in the ballroom and line dance classes, which are offered free of charge.

A jogging track and shuffleboard can be found one deck up on Deck 11, along with a basketball court on Deck 12 at the top of the ship.

Celebrity Infinity Family

Infinity's kids' club is located at the forward end of Deck 11, by the Constellation Lounge, and it has programs for kids ages 3 to 17. Participation in the kids' program is complimentary (with some exceptions) and is organized into compatible age groups. The Fun Factory is one complex split into three rooms, with sections for Shipmates (3- to 5-year-olds), Cadets (6 to 8) and Ensigns (9 to 11), and the X Club is the two-story teen (12 to 17) hangout. Potty-trained children are welcomed from age 3; non-potty-trained toddlers can play in the Fun Factory with their parents at designated times. (Infants who sail must be at least 6 months old as of the first day of the cruise. However, for transatlantic, transpacific, select South America and other select cruises, infants must be at least 12 months old.)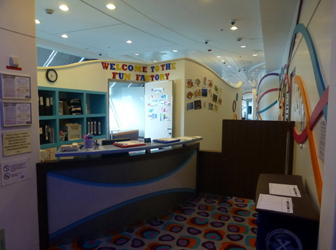 Age-appropriate activities are available for each group, and trained counselors are in attendance. The Fun Factory is outfitted with Xbox Kinect gaming stations, TVs for movie watching and an array of props for games, crafts and fun-yet-educational activities. Such activities include hands-on cooking classes, games like Apples to Apples and UNO, making sand art and suncatchers, and treasure hunts, as well as whole-family activities like bingo, trivia and a family disco party. Complimentary activities run from 9 a.m. to 10 p.m. with breaks from noon to 2 p.m. and from 5 p.m. to 7 p.m.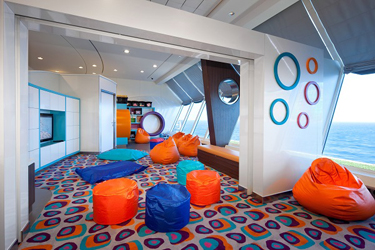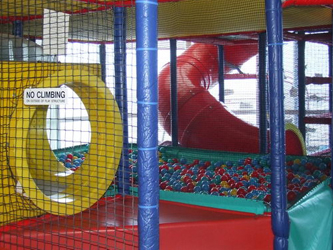 Complimentary teen activities run until 1 a.m. The X Club teen lounge offers a lounge area, foosball and Xbox.

To participate in the "Lunch Party" from noon to 2 p.m. or the "Dinner Party" from 5 p.m. to 7 p.m. on port days (no fee on sea days), the fee is $6 per hour, per child (ages 3 to 11). You must sign up your kids in advance.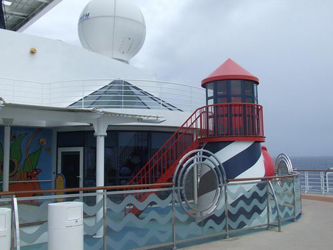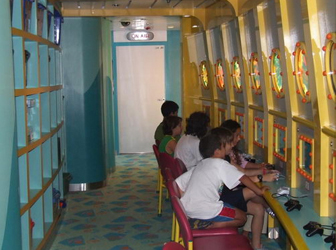 After hours, the nighttime Slumber Party from 10 p.m. to 1 a.m. daily also costs $6 per hour, per child. In-cabin baby-sitting is available for $19 per hour for up to three children (12 months minimum) within the same family, depending on staff availability, as two crewmembers are required. Book at least 24 hours in advance at the passenger relations desk.

Parents can also purchase VIP Passes for their kids. The VIP Pass offers discounts on Lunch, Dinner and Slumber Party costs; goodie bags for the kids to keep; and exclusive events, such as a bridge tour and backstage tour.