---
Full Solar Eclipse Pathway
Directly Over Mount Shasta

---
The amazing Grand Pleiadian Eclipse Alignment, an astronomical alignment that happens only once in approximately 26,000 years, will take place at what we believe is the most powerful spiritual vortex on this continent: Mount Shasta.

Mount Shasta is believed to be the base of the arch-angel Michael, be a dimensional vortex, and sit above the lost Lemurian city of Telos. It is where the 1987 Harmonic Convergence took place with thousands of people. It is already being covered by the media as "ECLIPSE FEVER!"

This annular eclipse begins over the Earth's sixth chakra in Ten Ri City, Japan, then cuts across the US, over Shasta, the Hopi Nation and ends at the "Heart of the Dove" in Lubbock, Texas. This alignment of the Sun, the Moon and the Pleiades also puts us into a direct line to Alcyone, the Central Sun of this neck of the galaxy around which our little solar system rotates. And, as you know, the Pleiades has been linked by the Mayans, Aztecs and Egyptians as the constellation most responsible for the Ascension and evolution of the Human Race.

This solar eclipse is the first annular eclipse to be seen from the United States in 18 years and the first one to be visible from earth in more than 2 years.

Mount Shasta, CA, May 20, 2012:

Partial solar eclipse begins: 5:12 p.m. PDT
Annular solar eclipse begins: 6:26:22 p.m.
Annular solar eclipse ends: 6:30:55 p.m.
Partial solar eclipse ends: 7:36 p.m.

---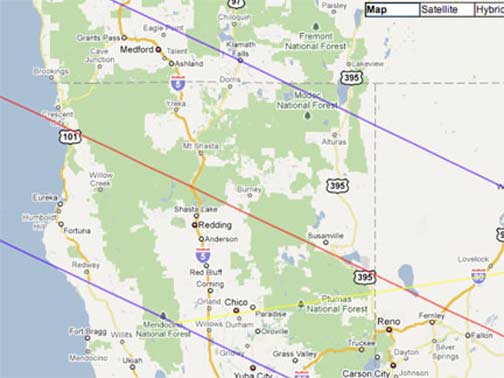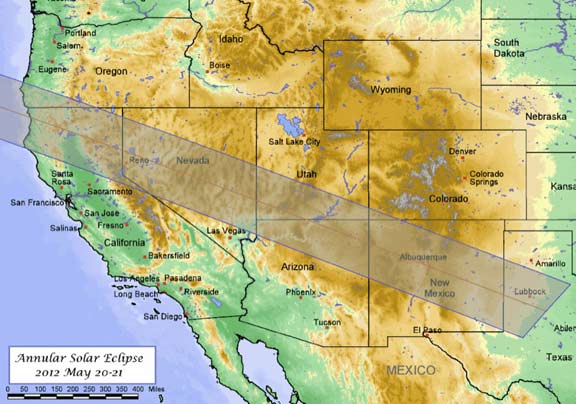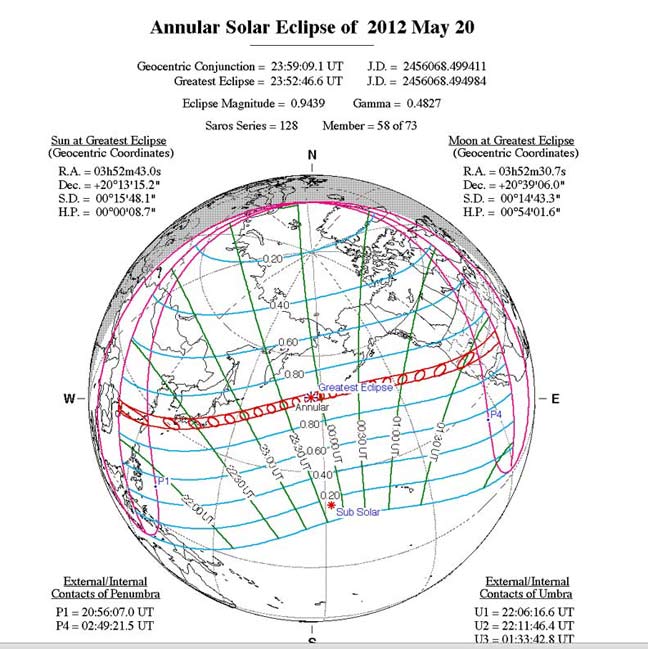 CLICK HERE FOR SPEAKER BIOS, WORKSHOPS AND SCHEDULE
IMPORTANT NOTE: Space on Mount Shasta Retreat is limited!
Hotel Rooms Are Disappearing Quickly !

FOR MORE INFORMATION AND FEES: CLICK HERE
TO REGISTER FOR CONFERENCE: CLICK HERE

---
Sean David's Message
---
- Mount Shasta is believed to be one of the most powerful spiritual vortexes in North America. Legends say the ancient Lemurian city of TELOS still lies beneath it, that it is an energy base for the power and majesty of the Archangel Michael and the flaming sword of God. It is sacred to the Ascended Master St. Germain and all of the energy of Pacific Northwest can be controlled from Mt. Shasta. I led a meditation group there on October 1, 1989 to shift, mitigate and change the energy of the coming San Francisco earthquake. The quake happened on Oct. 17th, and my guiding masters told me the energy had to be released but that we had, "Saved the city from destruction."

- The coming May 20th Solar Eclipse was predicted by ETs in TWO MASSIVE CROP CIRCLES in 2005 and 2011, that showed the ECLIPSE, the DATE of 2012 in a Mayan T'zolkin wheel, AND showed the period between the Eclipse and the VENUS TRANSIT 16 days later on June 8, 2012. Yours truly discovered many of the correlations behind this event! The 2011 Crop Glyph also had the date October 28, 2011, encoded within it, which Dr. Carl Calleman believes was the true end date of the Mayan Calendar.

- BOTH THESE EVENTS ARE DEPICTED ON THE "END PLATE" or the last pictogram of the Mayan Calendar of 2012. They are two symbols on the UNDERBELLY Of the BLACK WATER DRAGON sky serpent that is flooding the world at the behest of two black demons!

- The Sun began to cross over the top of Chitzen Itza in May of 2000, beginning a sacred age of Man.

- Our Sun will align with the Pleiades for the 1st time in 25,940 years.

- The Sun and the Pleiades will be crossing directly over the locations of Chitzen Itza and the Mayan pyramids in the Yucatan for the first time in 25,940 years.

- The Sun and the Pleiades will, from this point forward, align every May 20th for the next 350 years, pointing to the start of a new Golden Age for all Mankind.

- The Pleiades, a cluster of over 200 incredibly old blue-white stars, is considered the constellation of ASCENSION and ENLIGHTENMENT FOR ALL MANKIND by the Summarians, Egyptians, Olmecs, Mayans and Aztecs. Called the Seven Sisters, Seven Rishis and The Seven Wise Men, all Pleiadian alignments have triggered record change. It is mentioned in the Bible over a dozen times, and the "Woman with the crown of Seven Stars" represents the coming Savoir of Mankind!

- The 16-day period between the Eclipse and the Transit will see massive enlightenment, revolution and disaster on a global scale. We should expect to see huge tidal waves, earthquakes and yet ANOTHER "Adjustment" of the Earth's Pole as we have seen with the Indonesia, Chile and Japanese Earthquakes. ALL of these events were engineered using "super-science to SPEED UP THE ROTATION OF THE EARTH, and GENTLY shift the Earth's axis so a cataclysmic polar shift would not occur.

- The Pleiades was sacred to the MAYANS who charted its course in 52-year cycles. The Mayans believed they CAME from VENUS, built a VENUS OBSERVATORY at Chitzen Itza, and the 2012 Venus Transit is THE most important date in their calendar. The last Venus Transit was June 6th, 2004 and the next Venus Transit will not be for another 171 years.

- The path of the Eclipse begins directly OVER the SIXTH CHAKRA, or THIRD EYE of the EARTH in TEN RI CITY, JAPAN. The FLAG of Japan is a huge RED CIRCLE, which is the BINDU representation of the Third Eye, and is not only the rising SUN but the rising sun of CONSCIOUSNESS! In Ten Ri City, Monks of the TEN REYKIYO sect of Shinto Buddhism, begun in the 1840 by a woman who channeled Pleiadians, are holding sacred ceremonies to mark the event. It then crosses over Mt. Shasta, St. George, Utah, THE HOPI NATION, FOUR CORNERS and terminates at "THE HEART OF THE DOVE" of the USA in Lubbock, Texas, bringing PEACE and WISDOM to the HEART OF OUR NATION.

- Our solar system in its rotation around the light-year-wide black hole at Galactic Center, also does a smaller rotation around Alcyone, the central star in our galactic sector, which is one of the seven main visible stars in the Pleiades. This was also charted by the Mayans and Olemecs.

- Mount Shasta was the CENTER of the HARMONIC CONVERGENCE CELEBRATION on Aug. 17, 18, 19, 1987, led by Jose Arguilles, which first brought the MAYAN CALENDAR and the 2012 END DATE to the attention of the WORLD!!!

- The San Francisco ASTRONOMY CLUB will be there with ALL THEIR TELESCOPES and equipment to view the eclipse close-up!

- ENERGY EXPERIMENTS WILL BE PERFORMED to measure the ENERGY OF THE ECLIPSE ON THE EARTH.

- "ECLIPSE MANIA" IS ALREADY STARTING, so NATIONAL MEDIA WILL BE THERE! AND WE HAVE CUSTOMIZED ECLIPSE GOGGLES FOR EVERYONE TO SEE THE ECLIPSE AND THE VENUS TRANSIT. We are trying to get DISCOVERY and ANIMAL PLANET to attend.

- Three requirements for Enlightenment are THE BUDDHA, THE DHARMA and the SANGHA. It means we must have the Christ/Buddha force of spirit within us at all times. DHARMA means that THAT state of Enlightenment must result in good and positive actions and deeds to manifest in the world our state of mind. Lastly, to form SANGHA, or community, with others of like mind and spirit. We MUST travel on spiritual quests to be with others like us and find the focal points of planetary energy and events to affect the greatest change for the great number.

- YOU are one of those people and you have a COMMITMENT and a RESPONSIBILITY when you agreed to incarnate at this point in time and space, to DO THE WORK and be the ANGELS that BRING THE CHANGE!

ALL IS ONE! LIFE HAS PURPOSE! GOD IS LOVE!
---
Mystical Mount Shasta
---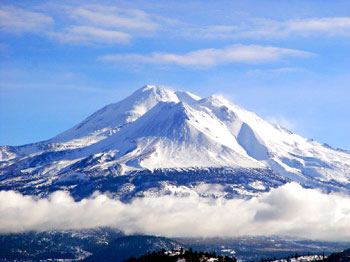 Snowcapped Mount Shasta is located in the upper regions of northern California in the Shasta Trinity National Forest. It is a massive dominant stratum white giant standing 14,162 foot volcano situated in the largest zone of volcanoes in the world called the Pacific Ring of Fire. Mount Shasta is in a section of this ring called the Cascade Range, which begins where the Sierra Nevadas end and extends about 700 miles from northern California through Oregon and Washington into southern British Columbia. These volcanoes range in elevations from 9,500 feet to a towering height of more than 14,000 feet. Mount Shasta is the second tallest volcano in this range.
(Full moon photo below by Jane English: http://www.eheart.com)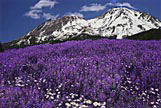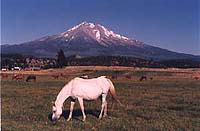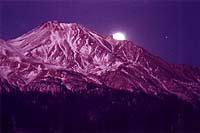 Mount Shasta is the most widely known sacred site of California.  Towering above the Cascade foothills, Shasta is surrounded by five glaciers that hold it in place.  This sacred mountain emits such a strong energy pattern, that satellite photos show an atmospheric hole over its peak similar to Sedona, Arizona. 
Because of the strong geophysical forces within the mountain, there are steam vents, hot and cold springs, purification sites, electrical centers and caverns that have been used as power spots by the indigenous natives for hundreds of years. Many types of phenomena occur on and near Mount Shasta, as this mountain exhibits strong frequencies that create light shows. 
All around the Mount Shasta area are extinct and dormant volcanoes, cinder cones, volumes of artesian springs, sacred caves and mystical caverns. The mountain carries a dominant characteristic of its versatile power, a power that seems to get stronger every day.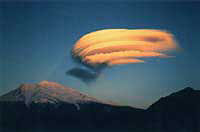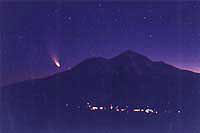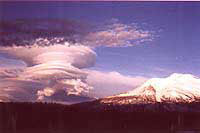 Over the last 70 years, numerous travelers have reported encounters with Higher Dimensional beings who live beneath and around the holy mountain. 
UFO sightings are so commonplace there that there are books published with numerous photographs of craft so large they even dwarf the mountain itself. People on vision quests, ceremonies and camping expeditions have all seen, heard and felt the powerful vortex that is Mount Shasta.
Mount Shasta is also a site where people gather to perform sweat lodge and purification ceremonies. The intense purification of steam and heat within the sweat lodge mimics what is going on inside the mountain. The darkness of the lodge is almost maternal and stirs the goddess energy of one's spirit. The ceremony directs itself to the physical and spiritual cleansing of an individual as does the sacred mountain.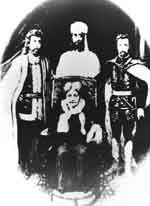 Many experiences have been documented from people all over the world seeing UFO craft come in and out of this mountain; mysterious openings inside the mountain where advanced inhabitants live; vortex energies & portals; mysterious lights that seem to come from inside the mountain; mountain energy fields that glow and much more.
 It is believed that civilizations of highly evolved beings reside within the mountain. Some are believed to be in another dimension that are not currently visible. Yet at times many people from all over the world have experienced a diverse range of phenomena that continues to expand the mysteries of this spiritual sacred grounds.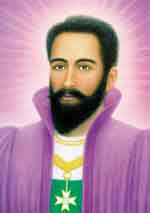 Mount Shasta is legendary as one of the homes of the Ascended Masters where saints & angelic beings have revealed themselves over the centuries. Ancient legends of Mount Shasta reveal this holy site as where ancient ones lived in heaven on earth  as they did in Asgard and Mount Olympus. Ascended Master Saint Germain's energy continuously radiates from the Temple of the Violet Flame deep in the inner recesses of the mountain. Many people all over the world see these mysterious lights and glowing energy emissions from this sacred mountain.
Many believe other Masters influence the energy of this area and are making this their headquarters during the Age of Aquarius that brings peace, love, abundance and wisdom. It is believed that Mount Shasta embodies the head of a huge geographical etheric energy grid.
This sacred mountain has given many people centuries of access to its energy centers.  The pristine meadows, graceful slopes and isolated beauty of the mountain continue to provide a haven for those who seek sanctuary from the world that lies at its feet.
CLICK HERE FOR SPEAKER BIOS, WORKSHOPS AND SCHEDULE
IMPORTANT NOTE: Space on Mount Shasta Retreat is limited!
Hotel Rooms Are Disappearing Quickly !

FOR MORE INFORMATION AND FEES: CLICK HERE
TO REGISTER FOR CONFERENCE: CLICK HERE

---
HOW TO GET THERE
---
Mount Shasta is in Northern California near the Oregon border.
NOTE: There is no bus or train service that drops off at Mount Shasta, but there is an airport shuttle.
Here are some ways to get there:
Traveling by Air

Following is a list of some airports and airlines servicing the Mt. Shasta area with their phone numbers.
AIRPORTS
Medford Airport (Oregon): (503) 772-8068
Redding Municipal Airport (California): (530) 224-4320
AIRLINES
Southwest Airlines: (800) 435-9792
Alaskan Airlines (Horizon Air): (800) 426-0333
United Airlines: (800) 241-6522
From Portland, Oregon, transfer to Horizon Air and fly into Medford Airport in Medford, Oregon. From Portland, Oregon you can also fly into Redding, California on Horizon Air. Rent a car in Medford and drive on I-5 South to Mt. Shasta, California which is approximately a 2 hour drive. The drive from Redding, California to Mt. Shasta is abut 90 minutes. There are approximately 9 to 10 flights daily from Portland Airport to Medford Airport and 4 flights daily from Portland to Redding Airport. Medford, Oregon is North of Mt. Shasta and Redding.
From Los Angeles, take Southwest Airlines or another carrier to Sacramento. Rent a car at Sacramento Airport and drive on I-5 North which will take approximately 5 hours to Mt. Shasta.
From San Francisco, take United Airlines to Redding Airport. Or rent a car and drive from San Francisco to Mt. Shasta on I-5 North, which takes about 6 hours.
Airport Shuttle

Shasta Shuttle, Taxi and Tours: 530-859-3266. www.shastashuttle.com
Ride Share available. If you come by Amtrak, we can pick you up at the Dunsmuir train station.
Our Airport Shuttle can pick you up in Redding at the (RDD) Airport or connect you with the First Class Shuttle - if you are flying out of Sacramento. Or, we can also pick you up at the Medford International Airport (MFR).
Reserve early for the best price!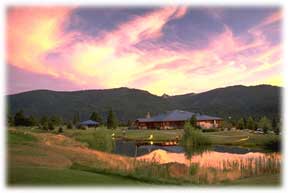 Bus

Ground Transportation Provided by Greyhound Bus Lines. Go to www.greyhound.com for more information. Greyhound Station in Redding: (530) 241-2531 or (800) 231-2222
Train

There is an Amtrak station in Dunsmuir which is just about 10 miles south of Mt Shasta. Their toll free number is 800-872-7245. Please visit Amtrak.com for more information.
Car Rentals

In Mt Shasta there is no local taxi or bus service. Here is the contact information for two car rental pIaces each for Redding and Medford which are about 2 hours south and north respectively of Mt Shasta.
CAR RENTALS IN REDDING:
AVIS - 6751 Woodrum Circle # 130 Redding, CA 96002: (530) 221-2855
HERTZ - Municipal Airport Redding, CA 96001: (530) 221-4620
CAR RENTALS IN MEDFORD:
AVIS - Rogue Valley Intl Medford, OR: (541) 773-3003
HERTZ - Medford Rouge Valley Medford, OR 97501: (541) 773-4293
Taxi

Redding Yellow Taxi Service Phone: (530) 222-1257 or (530) 222-1234
The Yellow Cab Taxi Service is $180 from Redding Airport to Weed.
Redding ABC Cab Co: (530) 246-0577
Medford Metro Taxi: (541) 773-6665
Medford Valley Cab: (541) 772-1818
CLICK HERE FOR SPEAKER BIOS, WORKSHOPS AND SCHEDULE
IMPORTANT NOTE: Space on Mount Shasta Retreat is limited!
Hotel Rooms Are Disappearing Quickly !

FOR MORE INFORMATION AND FEES: CLICK HERE
TO REGISTER FOR CONFERENCE: CLICK HERE

---
Our Conference Facility and Lodging
---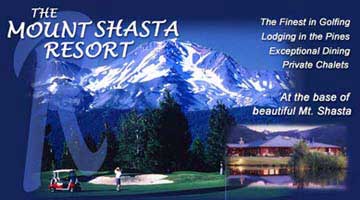 HOTELS:
ALL Conference Meetings: Mount Shasta Resort
(seat in the seminar: available. CLICK HERE to book now!)
1000 Siskiyou Lake Blvd Mount Shasta, CA 96067, check-in to lodging after 4:00 pm

Lodging: Best Western Tree House Motor Inn
(lodging, including breakfast)
111 Morgan Way, Mount Shasta, California, 96067, check-in after 3:00 pm

Lodging: Finlandia Motel and Lodge
(lodging)
1621 South Mount Shasta Boulevard, Mount Shasta, California, 96067, check-in after 4:00 pm

Lodging: Dream Inn Bed & Breakfast
(lodging)
326 Chestnut Street, Mount Shasta, California, 96067, check-in after 1:00 pm

TIMES:

Hotels: Check in on May 18 and Check out on May 21, 2012 (3 nights, 4 days)

Conference Meetings at Mount Shasta Resort: Begin at 7:00 pm on May 18 and end at 11:00 pm on May 20, 2012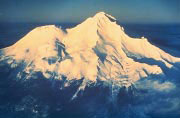 Mount Shasta Resort at the base of beautiful Mount Shasta in Northern California, near the border of Oregon. The Mount Shasta Resort is located off Interstate 5, just 60 miles north of Redding and 35 minutes north of Lake Shasta. Far from the urban clutter, the resort is less driving time from the Bay Area than Lake Tahoe.
Situated at the foot of majestic Mt. Shasta, in an alpine valley of unparalleled beauty, Mount Shasta Resort is a family destination resort with first class amenities and exceptional  accommodations.  Mount Shasta Resort features the finest in golfing along with four beautifully maintained tennis courts.
Directions - From I-5, we're easy to reach. Take the Central Mount Shasta exit, turn left over the freeway, then left onto Old Stage Road. Continue on Old Stage Road to the "V", where you will veer right onto W. A. Barr Road and follow the signs toward Lake Siskiyou. Turn left onto Siskiyou Lake Blvd. where the resort is located.
Mount Shasta Resort: Imagine world famous Mount Shasta and Northern California's finest alpine landscapes as a backdrop to your business and recreational pursuits. Mount Shasta Resort offers this and much more! 
Expect the finest in golfing with our professionally designed 18-hole course situated on 126 acres of dense forest and rolling terrain, offering a challenge to amateur and professional alike. Enjoy exceptional dining in our Highland House Restaurant with spectacular views of Mt. Shasta as well as quality service, California cuisine, and a truly memorable atmosphere.
MOUNT SHASTA RESORT INFORMATION
Nestled in the forest near Lake Siskiyou, resort lodging offers privacy and seclusion in our handsome Craftsman-style chalets. Featuring: One & Two Bedroom Chalets, 4 Public Tennis Courts, Woodland Rooms, Grand Spa. After a day of adventure in the great outdoors, come home to your own private chalet. In this secluded and serene environment, curl up in your living room by the fire with family, friends or a good book. Unwind on your private deck or soothe your weary muscles in our outdoor hot tub.
Mount Shasta Resort allows privacy and seclusion. Experience old world charm in the grand tradition of the American Resort amidst the timeless beauty of California's unspoiled high country. Mount Shasta Resort encompasses all that you could ask for when searching for a place to play, dine and unwind amidst some of the most pristine landscape imaginable.
Restaurant at Mount Shasta Resort:
Enjoy exceptional dining in our Highland House Restaurant with spectacular views of Mt. Shasta as well as quality service, California cuisine, and a truly memorable atmosphere. The Highland House serves sumptuous luncheon and dining fare year round. Delight in our hearty Sunday Champagne Brunch Buffet featuring a wide variety of superb choices, while overlooking Mt. Shasta's ever- changing vista just beyond the upper lakes of the course.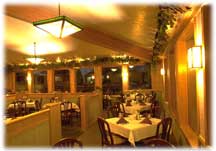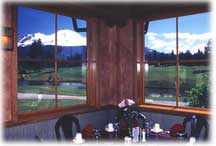 Boasting a menu to please all palates, you'll always find the perfect answer to your craving at our restaurant.  With its tasteful decor and expansive views, the Mount Shasta Resort restaurant is the perfect setting for a business lunch, party among friends and family, or a quiet dinner for two. After dinner, enjoy a nightcap in front of the fire in our cozy lounge.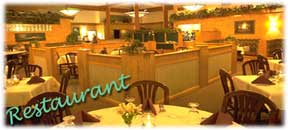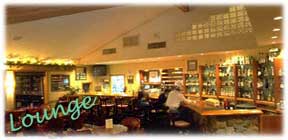 Restaurant hours: 8:00 a.m.-10:30 a.m. breakfast, 10:30 a.m.-2:00 p.m. lunch, 5:00 p.m.-9:00 p.m. dinner
Lodging Guests receive 20% discount on all meals in our Highland House Restaurant
Our outdoor patio is extraordinary during the summer months for tournament groups or wedding receptions. During football season, root for your favorite team while watching the game on our large screen television in our full service lounge.
Internet: We offer "Hot Spots" for wireless internet access throughout the Resort clubhouse and we now feature elegant gift items for all seasons in our Clubhouse Gift Shop.
Swimming/ Hot Tub: Lake Siskiyou is available for swimming, and there is also a community hot tub, so bring your swimsuit.
Spa: Situated just steps away from your chalet sits our Evergreen Day Spa. A full service Day Spa that offers everything from full body massage to manicures, pedicures and facials. Discover the true meaning of serenity at Evergreen Day Spa.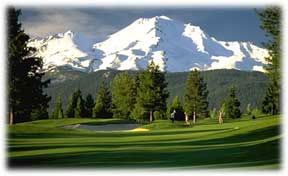 Golf: Expect the finest in golfing with our 6,100 yard, tree-lined course professionally designed by world-renowned Sandy Tatum and Jim Summers. Our professionally designed 18-hole course situated on 126 acres of dense forest and rolling terrain offers a challenge to amateur and professional alike. Featuring: Golf Shop, Practice Range, Group Outings & Tournaments, Lessons, Carts, Rental Sets, Snack Bar
We look forward to entertaining you, your family and friends, adding comfort and rustic elegance to your visit. Whether for business or pleasure, come join us in our rare and beautiful landscape in the wondrous paradise of Mount Shasta Resort!
Tree House Motor Inn:Best Western Tree House Motor Inn is nestled at the gateway to Mt. Shasta, welcoming guests to this spectacular mountain retreat, which is surrounded by natural beauty, plenty of recreational activities, and a stunning view of Mt. Shasta. The 14,161 foot face of Mt. Shasta does impress, as will the Shasta Trinity National Forest it is set in.





We are located in northern California, one hour north of Redding and one hour south of the Oregon border, within an easy drive of San Francisco, Sacramento and Portland.

Midway between the Pacific Northwest and the Bay Area or Reno-Tahoe, warm hospitality complements the rustic elegance of the Best Western Tree House Motor Inn. The serene atmosphere and warm glow of natural woods in your room complements your home away from home. The dining room offers everything from family style dinners to the finest in gourmet dining. Warm up by the cozy fireplace after a great day on Mount Shasta. No matter what the season, Mount Shasta has something for everyone who loves the outdoors. Enjoy this famous 14,162-foot mountain. This is the Best Western Tree House Motor Inn--hospitality Mount-Shasta style.

Mt. Shasta offers many activities for travelers looking to escape the hectic pace of daily life. Find yourself exploring through downtown shops, museums and art galleries. Visitors and locals alike pursue a limitless array of experiences here. It is the perfect place to get just enough snow for prime skiing conditions; the summer brings fishing, boating, mountain climbing and golfing.

Guests of our hotel will enjoy a fine list of standard amenities. We have free wireless and wired Internet throughout the hotel and our entire rooms feature a microwave and refrigerator. Off the lobby is our full service restaurant and lounge. Mornings you will wake up to a complimentary full hot breakfast buffet. When its time to relax, guests will enjoy our heated indoor pool and spa.

Come join us!

Transportation: 60 miles from Redding Municipal Airport

Hotel Amenities: Tree House restaurant and bar/lounge. Complimentary full breakfast buffet: 6:30-10:30 a.m. Dinner hours: 4:30-9:30 p.m. (No lunch served.) Complimentary coffee in lobby, Heated indoor pool and jacuzzi. Meeting/banquet facilities and services, Business center and services, DSL high-speed Internet line in lobby and in most rooms, Video games, 24-hour front desk, Free local telephone calls, Free parking.

Guest Rooms: Refrigerator, Air-conditioning, Coffee maker, Hairdryer, Iron and board, Cable television, High-speed internet access in most rooms. View of Mount Shasta in select rooms, Family suite, All non-smoking rooms, Handicapped rooms.

Local attractions, events and activities: .25 mile from the Art Center, 1 mile from Black Bear Gallery, Mount Shasta Fish Hatchery, tennis and fishing, 3 miles from Lake Siskiyou, 8 miles from Brown Trout Gallery, 14 miles from Mount Shasta, 40 miles from Shasta Lake Caverns, 50 miles from Shasta Dam

Ratings: AAA 3 Diamonds, Mobil 3 Stars.