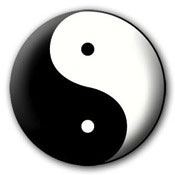 EAT PRAY & LOVE BALI
SEPT. 23 TO 29, 2011
You read "Eat, Pray, Love" and saw the movie. You loved it, and you wanted to change your life, too. But who can take a year off to travel? How about a week to experience some of the marvelous changes author Elizabeth Gilbert enthralled us with in her memoir? Enjoy Bali the way she did, like a native, then experience all the magnificence this little island has to offer. We will eat, we will pray, and we will love all that is Bali!
---

BALI 11-DAY SPECIALTY TOUR
---

SPECIALTY TOURS
Now create your own tour package to Bali for your own group of 5 or more adults. We will provide all your arrangements with care: airfare from home, meals, transportation, English speaking guides-- whatever you desire. Led by local Balinese tour guide Peter Paka.
---
SPIRIT OF BALI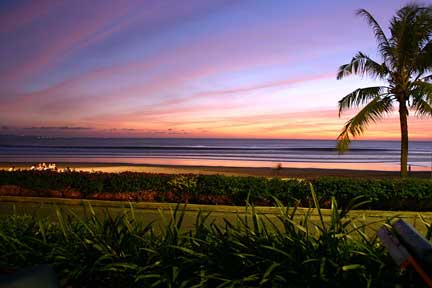 EAT PRAY LOVE TOUR
September 23 to 29, 2011
EAT, PRAY, LOVE - SPIRIT OF BALI Description: SCROLL DOWN
ITINERARY: CLICK HERE or SCROLL DOWN
TOUR RATES: CLICK HERE
To register for this tour on our secure server, CLICK HERE.
For more information, scroll down, and to register
for this tour on our secure server, CLICK HERE.

SPIRIT OF BALI
Eat in Bali... Pray in Bali...
Love in Bali...
You read Eat, Pray, Love,* and you saw the movie. You loved it. And you wanted to change your life, too. But who can take a year off to travel? How about a week to experience some of the marvelous changes author Elizabeth Gilbert* enthralled us with in her memoir?
Enjoy Bali the way she did, like a native, then experience all the magnificence this little island has to offer.
Fresh on the heels of our incredible Eat Pray & Love Bali trip comes this even deeper experience into the heart of Bali.
Time Magazine just interviewed us about this trip!
Here's what some of our guests had to say...
"The trip to Bali was life-altering. I know Bali is a special place and I would've returned with a WOW. But experiencing Bali with you and the group added so much more, leaving me with WOW-WEE!!!!!!!!!"
--- Denise, Florida

"I have been forever changed by Bali." -- Kiya, San Francisco

"Thank you again for making the trip such a delightful, inspirational & life changing experience." -- Jude, New Zealand

"It was the best trip, Halle....thank you for all that you did to make it that way. Bali stood among the very few places that I would return to unconditionally...and all made so much better by the quality of the connection that evolved among all of us." -- Gerri, Boston

"Pinch me! Ah, needed that reality check. It has been an amazing journey. Thank you, thank you, thank you!" -- Jan, San Francisco
We will eat, we will pray, and we will love all that is Bali!
September 23 to 29, 2011 (plus optional extensions)
Visit with Ketut Liyer, Elizabeth Gilbert's Balian teacher
Enjoy a vitamin lunch at Wayan's tiny restaurant - you can also book a body reading and healing
Stay in an incredible, five-star hotel in Ubud, where your every need will be taken care of
Enjoy Balinese Hindu temples as the Balinese do €" learn how the locals pray
Meditate or practice yoga each morning, or sleep in!
Meet Yude Andiko, the musician Liz toured Bali with, and listen to him play his own "Yudele"
Delight in a seafood dinner on the beach in Jimbaran Bay
Shop for Balinese batik, wood carvings, art, and silver jewelry - all made by local artisans
Relax with a Balinese massage
Many meals and all specified activities are included - see itinerary for details
Price includes amazing luxury accommodations, many meals, yoga, meditations, and all specified itinerary activities (see itinerary).

Read the itinerary for full details€¦
* DISCLAIMER: This tour is not affiliated with or endorsed by Penguin Books or Sony Pictures. Elizabeth Gilbert will not be leading this trip. Julia Roberts has probably never even heard of Divine Travels. Javier Bardem will not marry you. Richard from Texas will not give you advice. James Franco will definitely not make out with you. Still, you should come on this trip.


For more information, scroll down, and to register
for this tour on our secure server, CLICK HERE.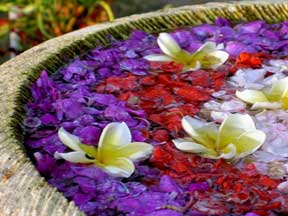 For more information, scroll down, and to register
for this tour on our secure server, CLICK HERE.
---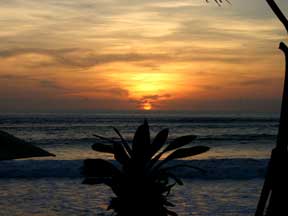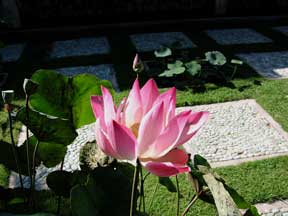 SPIRIT OF BALI
TOUR ITINERARY
September 23 to 29, 2011:
7 days plus optional 4-day extension
---
Arrange your own flights to Denpasar, Bali, or we can make all arrangements — we have great prices right now! You will need to leave the US or Europe up to 2 days prior to arrive on the 23rd in Bali. PRIVATE ARRIVAL TRANSFER BY AIR-CONDITIONED MOTORCOACH WITH ENGLISH-SPEAKING GUIDE.

Day 1

In addition to a full-time local guide on all tours and transfers, Divine Travels Tours' own "Julie the Cruise Director," Halle Eavelyn, will accompany you full-time on this trip.

ARRIVE AT THE PERTIWI HOTEL. Dinner is a short walk, as you are already in the heart of Ubud, or else dine in one of the charming restaurants which feature fresh, local, macrobiotic cuisine.

www.pertiwiresort.com

6 NIGHTS ACCOMMODATION AT THE PERTIWI RESORT. This hotel is in the very heart of the heart, right in the middle of the flavors and color of Ubud. Birds and flowers of all kinds surround you and you are only steps away from everything.

BREAKFAST DAILY.

---

Day 2 (B/D)

Enjoy breakfast made from the very freshest ingredients, as you drink in the sights and sounds of the lush nature surrounding you.

MORNING ORIENTATION MEETING – get to know your fellow Liz Gilbert fans and tell us what about the book inspired you to come for your very own Eat Pray Love* experience in Bali!

We will offer daily themes from the Eat Pray Love* book that will enliven and deepen your experiences on the trip.

You will also learn how the Balinese pray, and be given a chance to purchase the appropriate costume if you would like to pray with us inside the temples, where the locals do. (No obligation – the temples are lovely just to see, too)
AFTERNOON SPA TREATMENT AT UBUD BODYWORKS - This is where the film crew got their massages on Bali, and it's an incredible locale - very Balinese, and extremely enjoyable! Pamper yourself: choose from a facial, Balinese massage or reflexology treatment and relax as the lovely, kind Balinese women float you off into a world of comfort. Choose your own locally blended aromatherapy oil for your massage, then experience bliss.

DINNER IN ITALY - For our first night in Bali, start the EAT part of our trip, at Terrazo! The authentic Italian ambience and food will whisk you away for an evening in Italy. On the way, enhance your evening with a reading about Liz's first meal in Italy. Save room for Tirami Su!

---

Day 3 (B)

EARLY MORNING MEDITATION – Each morning, we will have the PRAY part of the tour, led by Halle of Divine Travels Tours. Today, learn to meditate or just participate. Don't feel like getting up this early… enjoy a late morning and breakfast any time you like!

SHOPPING EXCURSION - This morning we will visit UBUD MARKET, the renowned outdoor market – Everyone who visits Bali goes here – all at the same time… sure we can help you bargain with the vendors, but you'll want an extra suitcase for the silk sarongs alone!

Then we hit a couple of terrific local craft studios offering hand-made batik fashions and silver and gold jewelry. We are very pleased with the quality of the crafts on offer and have negotiated a group discount at both establishments.

LUNCH AT WAYAN THE HEALER'S – enjoy a Vitamin Lunch, "still the best meal in Ubud" and meet Wayan - and maybe her sweet daughter Tutti, too! Wayan will also give healings and readings - this is a chance to see a real Balinese shaman at work - her energy alone will amaze you! (Lunch is at your cost. You may also choose to eat across the street at the amazing Bali Buddha Restaurant)

AFTERNOON VISIT TO THE UBUD MONKEY FOREST - Cuddle up with these amazing local monkeys at the Monkey Forest sanctuary. See Mamas and their newborns, up close and personal, take as many pcitures as you like, even feed the monkeys bananas! Enjoy shopping afterwards on Monkey Forest Road, a favorite with our groups!

DINNER AT THE LOTUS CAFE - Tonight we will enjoy excellent Balinese cuisine at a wonderful local establishment, the famed Lotus Cafe. Sit alongside a pond with a magnificent Lotus Garden, and enjoy local treats and tastes in the heart of Ubud. (Dinner is at your cost.)

---

Day 4 (B/L)

MORNING YOGA CLASS at THE YOGA BARN - One of the partners at Yoga Barn is friends with author Liz Gilbert, and he helped to raise some of the money for Wayan's home! The yoga studio truly reflects both the selflessness of service and the spirituality of Bali. Experience restorative yoga in an open air studio with a gifted teacher. Think of this as either of the "India" portion of the trip, and fully participate in the yoga classes, or like the "Italy" portion of the trip, and sleep in! It's your choice.

THE RURAL CHARM OF BALI AT GULINGAN VILLAGE

Lunch is a delicious buffet at a private, tranquil Balinese compound, which features the island's signature dish, Babi Guling – Roast Suckling Pig. Of course, vegetarian dishes will be included for those who prefer them. Enjoy a fabulous afternoon relaxing among the rice paddies, listening to local musicians, and even getting a Balinese cooking lesson! This is native Bali…
AFTERNOON VISIT TO TANAH LOT TEMPLE - Considered one of the most beautiful temples in the world, Tanah Lot is perched on a cliff overlooking the ocean, and the grounds will give us a taste of the street vendors we will see in Bali. Tourist-y, but a must see! If we are lucky, we may get caught up in a local ceremony and participate in the heart of local Balinese life.
The Taman Ayun temple was built by I Gusti Agung Anom, a founder of the Mengwi kingdom in 1934, and was renovated in later years, giving its present appearance which tourists find so attractive and interesting. The name means beautiful garden. It is built on a high tableland which is surrounded by ponds. This gives the effect from afar that the temple is floating on water. The temple complex has three ground areas which rise in levels. In the most external one there is a general purpose hall which is used for religious ceremonies and for staging of dances. Close by is a decorative fountain. In the central grounds is a building called the 'bale pelik' with beautiful carvings with interesting reliefs and statues of the nine gods, Dewa Nawa Sanga. In the innermost court, there are twenty nine buildings which function as places for the gods and goddesses. There are other buildings which house religious regalia used in the ceremonies. There are multi-roofed structures, some of them having eleven roofs called 'meru meru'. The central section is surrounded by a small pond, thus the whole complex is symbolic of the great Mandhara Mountain turning in a sea of milk. Many people visit this temple, not for its antiquity as it was only renovated in 1937, but for its ambience and air of serenity. The temple has an ideal recreational garden, the air is cool and the still waters provide a safe environment for all sorts of aquatic creatures which live in the ponds.

Tanah Lot, one of the most popular places of interest in Bali, is located on the coast of West Bali, at the village of Beraban in the Tabanan Regency. It is also called Tanah Let which means ancient land and also Tanah Lod, which means the land to the south. The temple Pura Tanah Lot, simple in its construction, is dramatic in its ocean-front location and is one of the main temples in the worship of Balinese gods. Tanah Lot has a long history in the world of tourism. The temple itself is built on a small promontory which is only accessible at low tide. During high water the rock takes on the appearance of a large boat at sea, such is its shape. Poisonous snakes live in the nearby caves to 'guard' the temple and contribute to the temple's dangerous reputation. Sunset is the best time to visit Tanah lot, when the golden red skies frame the temple and waves crash into the rocks.

DINNER on your own at our charming hotel or at one of the many restaurants in Ubud.

---

Day 5 (B/L)

EARLY MORNING MEDITATION – led by Divine Travels Tours, this guided meditation will ground and relax you, even if you've never tried meditating before. Don't feel like getting up this early… enjoy a late morning and breakfast any time you like!

MORNING VISIT TO LOCAL CRAFTS STUDIOS

First, the AYU MAS PAINTING STUDIO, which features room after room of gorgeous paintings in the Balinese, local, and classic styles.

The Ayu Mas is a huge, privately owned, art gallery filled with hundreds of original paintings by dozens of local artists. There's often a small group of artists working out front. The owner is a charming fellow who's very knowledgeable in the various local "schools" of painting (i.e. Ubud style, traditional style, etc.) and the staff is friendly and efficient. Yes, we have negotiated a great discount for you here!

BALI BUDAYA WOOD CARVING STUDIO is a magnificent example of Balinese craftsmanship at its best, this enormous studio features works as small as the palm of your hand… up to 10 feet tall!

This studio offers stunning, original carvings in a variety of sizes and price-ranges. We have negotiated a very substantial discount for the group.

LUNCH AT PIZZA BAGUS in Ubud, as we continue to explore the Italian experiences from "Eat Pray Love" – have a Margarita pizza, along with a reading about Liz's pizza-eating experience in Naples, and enjoy handmade gelato for dessert!

AFTERNOON READINGS WITH KETUT LIYER

By special arrangement, Divine Travels has set up readings with the world-famous Ketut Liyer, the Balian featured in Eat, Pray, Love. Ketut will give private readings outside in his family compound, and you can also buy art drawn by Ketut or his granddaughter, or carved by one of his sons. As Ketut is 87 (we think ;-) this is a once-in-a-lifetime opportunity to have your palm read, or ask questions of this charming, quirky wise one. You can also pose for a picture with Ketut at no charge, but he will ask to see the picture, and then is sure to tell you he is very ugly! Don't forget to bring your copy of Eat Pray Love for him to autograph! Enjoy this glimpse into Liz's world - she sat on Ketut's porch for many many afternoons.

---
Day 6 (B/L/D)

OPTIONAL MORNING YOGA SESSION at the Yoga Barn, or sleep in!

VISIT TO TIRTA EMPUL - Take in the holy waters at one of the mast sacred spots on the island of Bali... Tirta Empul is a delightful and deep way to experience the spirituality of the locals, as you immerse yourself in the rituals of the Balinese people. After purifying yourself, wearing your temple dress, step fully clothed into the waters of Tirta Empul.

Ducking your head under each of the 13 holy springs, feel the significance of the waters as they cleanse your past and you emerge ready to create the future. You will be surrounded by locals who will support and appreciate you as you make this powerful shift. This is a trip very few tourists take, and is a special gift from our Balinese guides (transportation cost will be shared).

Bali's Mother Temple, Besakih: High on the slopes of Bali's Mount Agung sits Pura Besakih, widely referred to as the "Mother Temple" of Hinduism in Bali. Pura Besakih, or Besakih Temple in English, is the largest of the island's 11,000 or so Hindu temples; its 35 shrines and halls draw devotees from all over Bali in massive numbers each year.

The temple is generally agreed to date back to prehistoric times in Bali. It is named for Naga Besukian -- the dragon-god thought by pre-Hindu Balinese to inhabit this, the highest mountain in Bali. But at the beginning of the 11th Century Besakih became the state temple at a time when Bali was no mean kingdom. It has remained the state temple in some form or another ever since and is state supported today.

Like most Balinese temples, Besakih is not a closed building but a mostly open-air affair. It is made up of courtyards with altars and shrines devoted to a number of gods. And those gods have better things to do than just hang around a temple; the Balinese believe that the gods visit a temple on particular dates -- and on those dates the Balinese hold festivals to honor (or placate) the gods. Of all the temples on Bali six are "supremely holy:" Pura Besakih, Pura Lempuyang Luhur, Pura Gua Lawah, Pura Batukaru, Pura Pusering Jagat, and Pura Uluwatu. Of these, Besakih stands higher than the others -- not because it sits some 3000 or so feet above the ocean on the mountain's side, but because it is more sacred to the Balinese. It is said to be the only classless, casteless temple on the island where any Balinese Hindu can come to worship.

EVENING FAREWELL DINNER: BALI BEACH CLUB IN JIMBARAN BAY - This fabulous experience is not to be missed – a torch-lit dinner on the beach, at the water's edge, featuring local dancing and musicians, while we dine on seafood fresh from the Indian Ocean – lobster, shrimp, and fish you've never even heard of! Vegetarian meals will be provided for those who do not eat seafood. Tonight we say farewell to Bali and bring home all our fabulous memories!

---

Day 7 (B)

Relax and pack, or else take time for one last spa treatment or a final shopping trip into Ubud today – you will receive a private airport transfer in plenty of time for your flight.

OPTIONAL If you would like an appointment for another spa treatment, the Alila Spa is a world-class facility with a real sense of the environment created by its magical indoor/outdoor rooms. Relaxation and pampering combine as you choose from Balinese massage, Balinese facial, or traditional reflexology with a Balinese twist – 1 hour treatment. (prices start at $65)

---

OR

OPTIONAL EXTENSION:
September 29 to October 3, 2011

4 NIGHTS ACCOMMODATION AT NUSA DUA BEACH SPA & RESORT (DELUXE ROOM)

Enjoy your gorgeously appointed, upgraded room, with private patio or balcony, marble bathroom, and sunken tub. Even the in-room privacy doors are ornate — hand-carved from exotic wood. Everything in Bali is a work of art!

The Nusa Dua is a stunning full-service hotel with a private beach, 6 restaurants, 4 bars, a cultural pavilion and a private Hindu temple.

Welcome drink at the Nusa Dua; room assignments; dinner on your own, or relax and take a walk on the private beach, stroll the grounds, or take a swim in one of the hotel's beautiful pools. Dinner on your own in one of the hotel's fabulous restaurants.

Days 8-10 (B/L)

BREAKFAST DAILY, in the amazing dining room, which opens onto the hotel's relaxing gardens and features views of the beautiful central pool.

OPTIONAL TRIPS ON THE EXTENSION

VISIT TO THE KRIS MASTER iN UBUD - Wondering what to bring home for the man in your life?

Divine Travels has arranged for a special trip to visit the greatest living Kris Master, I Wayan Ritug, who lives outside Ubud. Museum quality weapons mingle with the large collection of caged birds in his Balinese compound, where you will get a glimpse into real Balinese life. If you want to choose your own Kris, you can buy the handle and blade separately and have it forged into your own special piece. A unique opportunity!

The "Kris" is a wavy-bladed dagger/short-sword, peculiar to Bali and Indonesia, which possesses great magical qualities and mystical significance. I Wayan Ritug's family compound easily has 1000 antique kris in it (as well as tons of other cool, amazing things). Ritug's Kris sell for as little as $150 up to $1000 or more (the President of Indonesia recently purchased an antique Kris from Ritug).

SPA TREATMENTS AT NUSA DUA BEACH SPA & HOTEL - Time for some pampering: choose from a facial, Balinese massage or reflexology treatment at the world-class Nusa Dua Spa.

Choose from a Balinese massage, Balinese facial, or traditional reflexology with a Balinese twist – 1 hour treatment at the world-class Nusa Dua Spa. Afterwards, take a dip in the spa's lap pool, and enjoy the soothing spa music piped through the underwater speakers! Before or after your treatment, try the state-of-the-art gym, just across from the spa. Your visit to the health club is included!

WHITE-WATER RAFTING ON THE AYUNG RIVER

Enjoy this sometimes gentle, sometimes thrilling, always wet ride down the Ayung River - terrific fun! Includes pickup and drop-off at hotel, nearly two hours of river rafting with a trained, experienced guide, a delicious Balinese lunch by the riverside, and a hot shower! Please note: Must be in decent physical condition to participate in this adventure, as there are many steps to traverse!

Day 11 (B)

Private transfer from our hotel to the airport for your flight home.

We love and adore Bali and you will, too!

Itinerary & accommodations are subject to change without notice. Quality and class will remain the same.

* DISCLAIMER

This tour is not affiliated with or endorsed by Penguin Books or Sony Pictures. Elizabeth Gilbert will not be leading this trip. Julie Roberts has probably never even heard of Divine Travels Tours. Javier Bardem will not marry you. Richard from Texas will not give you advice. James Franco will definitely not make out with you. Still, you should come on this trip.

---

---

Bali - the name alone conjurs images of exotic beauty, idyllic locales, deep peaceful spirituality, soaring mountains, lush forests and warm sand beaches. The place itself boasts all this and much more.

Bali is one of the islands of Indonesia and is home to the majority of Indonesia's Hindu population (Bali is 93% Hindu). It lies between Java and Lombok and is 95 miles long by 69 miles wide. It's often called "the island of 10,000 temples" because of the incredible number of temples and shrines. In Bali, spirituality permeates every aspect of life. Every day on the island sees a major religious festival somewhere and, literally, thousands of tiny thankful offerings made to the divine.

Bali is 6 degrees south of the equator, so the weather is pretty consistent: varying between the mid to high 80's all year round: March avgs: 62 - 84 w/ 70% humidity. April avgs: 62 - 88 w/ 65% humidity. There are 3.2 million people on Bali. The currency is the Rupiah (IDR) and the most recent exchange rate is around 9,100 Rupiah to the dollar. First thing to do when you arrive in Bali? Go to the ATM and become a millionaire!

The topography of Bali is varied and beautiful going from sea level to over 10,000 feet on the peaks of its numerous volcanic mountains. But despite Bali's numerous charms, it's most famous for its many forms of art: from painting to sculpture, woodcarving and dance.

The Balinese use three different calendars at the same time:

- The Gregorian calendar (to stay current with us in the West).

- A lunar calendar that is the basis for religious festivals and temple celebrations.

- A special 210 day Balinese calendar that has a complex numerological significance to it. The first week of this calendar is 1 day long, the second week is 2 days long, the third week is 3 days long, etc. up to the tenth week - and all 10 weeks run simultaneously!. The Balinese consult specialists in the calendar systems in order to figure out the best days on which to undertake anything special (like a trip, a wedding, or even a funeral).

---

Balinese Names

The Balinese can be called by 6 different names: personal names, birth order names, kinship, teknonyms, caste names and public job titles. Birth order is extremely important to the Balinese and it's reflected in a person's name. The first born is called Wayan (why-en), with "I" (ee) and "NI" (knee) added at the beginning depending on gender. So a first-born male would be called I-Wayan (ee-why-en) while his wife might be called Ni-Wayan (knee-why-en).


The birth-order names are:

1st born: Wayan, Gede or Putu.

2nd born: Made, Nengah or Kadek.

3rd born: Nyoman or Komang.

4th born: Ketut.


Then the whole cycle starts over with "Balik" (which means "again") added to the name. So the fifth-born child is called Wayan Balik (or "Wayan again"). This naming system is used until a person's first child is born - then their teknonym (child+name) starts to be used. From that point on they are called "Mem (Mother of X)" or "Pan (Father of X)". This teknonym is used until the first grandchild is born, at which point they will be called "Grandmother of Y" or "Grandfather of Y".

So - are you a Wayan, a Made, a Nyoman, a Ketut, a Pan or a Mem? And you thought the Balnese three calendar system was complex. These names don't even take into account the FOUR other ways that a person can be called!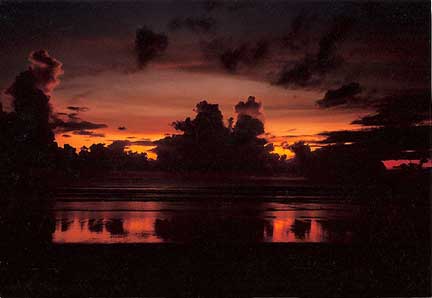 "DANCE OF JOY IN PARADISE"

11-DAY TOUR ITINERARY
Led by local Balinese tour guide
(dates of your choice)

Day 1:

Arrival transfers, welcome with flower garlands. Transfer to hotel in A/C coach. Dinner at the hotel, accommodation at 5-star beach Hotel.

Day 2:

American breakfast, full day excursion visiting Batubulan to see the traditional dance performance, art villages of Celuk, Mas and Ubud, Elephant cave (meditation shrines for Hinduism) at Bedulu, Holyspring temple at Tampak Siring, Kintamani Volcano and its beautiful crater. We will also visit Anom - the famous mask maker. Lunch at local restaurant. Dinner at hotel. Accommodation at 5-star beach hotel

         


Day 3:

American breakfast, full day excursion visiting the MOTHER temple of Bali, Besakih. On the way visit Kertha Gosa court house of justice, Sidemen, Tirta Gangga. Lunch at local restaurant. Dinner at local restaurant. Accommodation at 5-star beach hotel.

Day 4:

American breakfast, full day excursion visiting north Bali include Git-Git waterfall, hot spring, ancient script from Balinese written on the lontar leaf. Lunch at local restaurant. Dinner at local restaurant. Accommodation at 5-star beach hotel.

   

Day 5:

American Breakfast, Lunch at local restaurant in Nusa Dua Area, Watch the Puppet Show in Ubud or Denpasar, Dinner at local restaurant in Ubud or Sanur. Accommodation at 5-star beach Hotel

 

Day 6:

American breakfast, full day on Bali Hai Cruises cross to the next island after Bali. It is recommended spot for snorkeling and also beach activities. Lunch included in the cruise program. Dinner and Accommodation at 5-star beach hotel.

    

Day 7:

American Breakfast, visit the Bali Traditional Healer, Lunch and Dinner at local restaurant. Accommodation at 5-star beach Hotel.

 

 

Day 8:

American Breakfast, A day with LAND CRUISE to the mountain discovering the rice terraces and plantation, Lunch included in the safari program, dinner at local restaurant. Accommodation at 5-star beach Hotel.

 

Day 9:

American Breakfast, half day shopping, Lunch included, Afternoon watch the Kechak & Fire dance with dinner at local restaurant included. accommodation at 5-star beach Hotel

     


Day 10:

American Breakfast, Lunch at local restaurant in Nusa Dua area, In the evening we will transfer you to the Kerambitan Royal Palace to have GALA DINNER with the traditional performance included, accommodation at 5-star beach Hotel