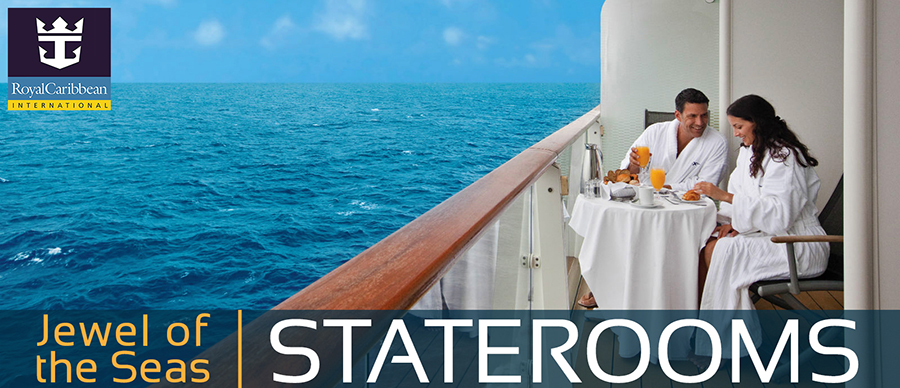 After a day of exploring the world, its exotic cuisine and interesting cultures, there's nothing better than returning to the comfort of your private stateroom. We've designed every one of our staterooms to be a comfortable, relaxing place for you to rest after your adventures. Every room offers a television, telephone, private bath, shower, vanity and even a hair-dryer.
We offer four main categories of staterooms. By choosing a category, you can then choose a specific room-type, based on your needs.

Click on Links or Scroll Down
to View Details of Staterooms:

Suites (Spacious Outside Staterooms with Balcony)

Balconies (Outside Staterooms with Balcony)

Ocean Views (Outside Staterooms with Window)

Interiors (Inside Staterooms with No Windows)

---

With many different staterooms to choose from, Jewel of the Seas has an abundance of options at all price levels. Newly renovated, beautifully designed, decorated, and appointed, all staterooms maximize the use of space.

All rooms are equipped with desks, safes, hair dryers, Wi-Fi Internet access, mini-fridges and flat-screen TV's that feature a range of satellite TV channels and several Royal Caribbean channels, as well as interactive options (order shore excursions and room service, or check your expenses). Plus kids can bring their PlayStations and Wii consoles for in-room use.

Stateroom CATEGORIES

Passengers can choose from four different categories of staterooms: suite, balcony, ocean view, and inside. Then, within each are different setups at different price points, including larger configurations for families.

There are a variety of suite choices, including Junior Suites (with a bathtub, walk-in closet and balcony), Grand Suites (with a bathtub, walk-in closet and balcony), and Owner's Suites (with a bathtub, walk-in closet, separate sitting area and large balcony). The Royal Suite also boasts a whirlpool tub and shower, entertainment center, king-sized bed, and baby grand piano.

Suite guests (Grand Suite and above) have access to the Concierge Club lounge (open 24 hours but not always manned), where guests can enjoy complimentary pre- and post-dinner canapes and cocktails. Suite passengers can also ask the concierge to book shore excursions, dining reservations, spa appointments and more.

For larger family groupings, there are suites that hold up to eight and feature living areas with double sofa beds. Each of these suites has two bedrooms with two twin beds that convert to a queen (one also features third and fourth bunks), a veranda and two bathrooms with showers (one with tub).
Jewel offers two balcony choices, the Deluxe and the Superior. Balcony furniture comprises a small table and two upright plastic-ribbon loungers.

Ocean View staterooms offer portholes and slightly more space, an ideal compromise for the semiclaustrophobic cruiser. Family oceanview staterooms include sitting areas, twin beds that convert into queens and sofas and/or Pullmans.

Interior staterooms feature shower-only bathrooms with sliding doors, as opposed to curtains. A single pump in each shower is preloaded with shower gel/shampoo. Family insides have room for up to six to sleep on two twin beds that convert into a queen, plus a sofa and/or Pullman.

Note: Passengers can no longer smoke in their staterooms, but balcony smoking is still allowed.
The staterooms shown below are samples only. Actual cabin decor, details and layout may vary by stateroom category and type. Actual cabin colors and features may vary.


Suites offer more room, comfort and luxury. Most come with a private balcony and all include standard features. Some suites even include complimentary concierge service, which includes access to a private lounge as well as personalized service to help with making reservations or other arrangements. Suites are a great way to travel in style and give your family more space, while keeping everyone together. Our Two Bedroom Suite and Royal Suite can accommodate up to eight people.

On a Royal Caribbean International® cruise vacation, all guests enjoy friendly and engaging service aboard some of the world's most innovative cruise ships. And guests booked in a suite enjoy even more amenities and personalized service for an exceptional vacation experience. Announcing Royal Caribbean International's new suite program designed to focus on distinctive and personalized service and touch every aspect of the guests' experience from arrival through departure. Suite guests enjoy a myriad of special privileges and upgraded amenities for their cruise, along with Royal Caribbean's world-renowned friendly, engaging and attentive Gold Anchor Service from every member of its staff and crew.

Suite Guests ENHANCED PROGRAM

Enhanced Program for Suite Guests Staying in the following suites:

Royal Suite, Royal Family Suite, Presidential Family Suite, Owner's Suite, Grand Suite (Excludes Junior Suites)

- Priority check-in
- Personalized attention throughout the cruise with complimentary Concierge Club service on select ships
- Reserved prime seating in the main theater for entertainment shows, where available
- Priority tender tickets on select cruises. (Tender service is provided when smaller vessels are necessary to reach shore in locations without docking ports large enough for cruise ships.)
- VIP pool deck seating, where available
- Full breakfast, lunch and dinner dining room menus available for in-room dining
- Private breakfast and lunch seating in specialty restaurants on our Voyager and Freedom Class ships
- Mattel® board games available to order for in-room entertainment for the kids
- Complimentary luggage valet service
- Luxury spa bathrobes for use onboard
- Complimentary pressing service on formal night
- Priority departure with exclusive suite* departure lounge featuring continental breakfast




Two Bedroom Suite with Balcony

Category TS (Deck 7, 8, 9)

Occupancy: Sleeps up to 8 guests

Our Two Bedroom large suites offer two bedrooms with two twin beds that convert to a Royal King, measuring 72.5 inches wide by 82 inches long (one room with third and fourth Pullman beds), two bathrooms (one with shower, one with bathtub), living area with double sofa bed, private balcony, and concierge service. Stateroom can accommodate up to 8 guests.

Also includes minibar, two TVs, vanity area, hair-dryer, phone, vanity table with an extendable working surface for laptop computers and 110/220 electrical outlets. Sleeps up to eight people and can accommodate a rollaway bed and/or Play Yard.

Please Note: A minimum number of guests may apply. Smoking permitted on balcony only.

Square Footage: 584 sq ft
Balcony Square Footage: 151 sq ft


Royal Suite

Category RS (Deck 10)

Occupancy: Sleeps up to 8 guests

Our Royal Suites offer separate bedroom with king-size bed, private balcony, whirlpool bathtub, living room with queen-size sofa bed, baby grand piano, and concierge service. Smoking permitted on balcony only.

Also includes minibar, dining table in a separate area, entertainment center, including a 42" flat screen TV, a stereo and VCR, surround sound system, private bathroom, vanity area, hair-dryer, phone, vanity table with an extendable working surface for laptop computers and 110/220 electrical outlets. Sleeps up to 8 people and can accommodate a rollaway bed and/or Play Yard.

Please Note: A minimum number of guests may apply. Smoking permitted on balcony only.

Square Footage: 1156 sq ft
Balcony Square Footage: 328 sq ft


Owner's Suite

Category OS (Deck 10)

Occupancy: Sleeps 1 to 4 guests

These luxurious suites offer queen-size bed, private balcony, private bathroom with whirlpool tub, double sinks, separate shower and bidet, separate living area with queen-size sofa bed, and concierge service.

Also includes dry bar, minibar, entertainment center including a 42 in flat screen TV, stereo and DVD player, dinette for four, vanity area, hair-dryer, phone, vanity table with an extendable working surface for laptop computers and 110/220 electrical outlets. Sleeps up to four people and can accommodate a rollaway bed and/or Play Yard.

Please note: Smoking permitted on balcony only.

Square Footage: 589 sq ft
Balcony Square Footage: 186 sq ft


Grand Suite

Category GS (Deck 10)

Occupancy: Sleeps 1 to 4 guests

Our Grand Suites offer two twin beds that convert to a Royal King, measuring 72.5 inches wide by 82 inches long, private balcony, sitting area (some with sofa bed), and concierge service.

Two twin beds that convert to a Royal King, measuring 72.5 inches wide by 82 inches long, private balcony, sitting area (some with sofa bed) and private bathroom.

Also includes minibar, TV, stereo, DVD player, larger private bathroom with bathtub and double sink, vanity area, hair-dryer, phone,vanity table with an extendable working surface for laptop computers and 110/220 electrical outlets. Sleeps up to four people and can accommodate a rollaway bed and/or Play Yard.

Please note: Smoking permitted on balcony only.

Square Footage: 380 sq ft
Balcony Square Footage: 110 sq ft


Junior Suite

Category JS (Deck 10)

Occupancy: Sleeps 1 to 4 guests

These suites offer two twin beds that convert to a Royal King, measuring 72.5 inches wide by 82 inches long, private balcony, private bathroom with bathtub and a sitting area with sofa bed.

Also includes minibar, vanity area, hair-dryer, TV, phone, vanity table with an extendable working surface for laptop computers and 110/220 electrical outlets. Some have sofa beds and can accommodate 3-4 guests. Some can also accommodate a rollaway bed or Play Yard. (Junior Suites located in the aft of the ship cannot accommodate a rollaway bed.)

Please note: Smoking permitted on balcony only.

Square Footage: 282 sq ft
Balcony Square Footage: 74 sq ft


Accessible Junior Suite

Category JS (Deck 10)

Occupancy: Sleeps 1 to 4 guests

These suites offer two twin beds that convert to a Royal King, measuring 72.5 inches wide by 82 inches long with open bed frames, automatic wider entry door, turning spaces, private balcony, sitting area with lowered vanity, closet rods, and safe, and a private bathroom with a wider door, roll-in shower, grab bars, fold-down shower bench, hand-held shower head, raised toilet, and a lowered sink.

Also includes minibar, vanity area, hair-dryer, TV, phone, vanity table with an extendable working surface for laptop computers and 110/220 electrical outlets. Some have sofa beds and can accommodate 3-4 guests. Some can also accommodate a rollaway bed or Play Yard. (Junior Suites located in the aft of the ship cannot accommodate a rollaway bed.)

Note: Staterooms 1098 & 1598 have obstructed views.

Please note: Smoking permitted on balcony only.

Square Footage: 362 sq ft
Balcony Square Footage: 86 sq ft


Suite Guarantee

(Deck 10)

Occupancy: Sleeps 1 to 4 guests

These suites offer two twin beds that convert to a Royal King, measuring 72.5 inches wide by 82 inches long, private balcony, private bathroom with bathtub and a sitting area with sofa bed.

Also includes minibar, vanity area, hair-dryer, TV, phone, vanity table with an extendable working surface for laptop computers and 110/220 electrical outlets. Some have sofa beds and can accommodate 3-4 guests. Some can also accommodate a rollaway bed or Play Yard. (Junior Suites located in the aft of the ship cannot accommodate a rollaway bed.)

Please note: Smoking permitted on balcony only.

Square Footage: 282 sq ft
Balcony Square Footage: 74 sq ft

Superior Ocean View with Balcony Stateroom

Category D1 (Decks 7, 8, 9, 10)
Category D2 (Deck 9)

Occupancy: Sleeps 1 to 5 guests

Two twin beds that convert to a Royal King, measuring 72.5 inches wide by 82 inches long, private balcony, sitting area with sofa, and a private bathroom. Rates vary from deck to deck. Please note: Staterooms 9252 & 9652 have partially obstructed views.

Also includes minibar, vanity area, hair-dryer, TV, phone, vanity table with an extendable working surface for laptop computers and 110/220 electrical outlets. Some have a Pullman bed and/or sofa bed and can accommodate 3-5 guests. Some can also accommodate a rollaway bed or Play Yard.

Please note: Smoking permitted on balcony only.

Square Footage: 189 sq ft
Balcony Square Footage: 53 sq ft









Deluxe Ocean View with Balcony Stateroom

Category E1 (Decks 7, 8, 9, 10)
Category E2 (Decks 8, 9, 10)
Category E3 (Decks 7)

Occupancy: Sleeps 1 to 4 guests

Our Deluxe Ocean View Staterooms offer two twin beds that convert to a Royal King, measuring 72.5 inches wide by 82 inches long, private balcony, sitting area, and a private bathroom. Rates vary from deck to deck.

Also includes minibar, vanity area, hair-dryer, TV, phone, vanity table with an extendable working surface for laptop computers and 110/220 electrical outlets. Some have a Pullman bed and/or sofa bed and can accommodate 3-4 guests. Some can also accommodate a rollaway bed or Play Yard.

Note: Staterooms 8060, 8162, 8164, 8662 & 8664 have partially obstructed views. Staterooms 7048, 7548, 7606, 7596, 8042, 8542, 8590, 8600, 9032 and 9532 have a smaller balcony.

Please note: Smoking permitted on balcony only.

Square Footage: 162 sq ft
Balcony Square Footage: 51 sq ft


Accessible Deluxe Ocean View Balcony Stateroom

Category E1 (Deck 7)
Category E3 (Deck 7)

Occupancy: Sleeps 1 to 2 guests

These staterooms offer two twin beds that convert to a Royal King, measuring 72.5 inches wide by 82 inches long with open bed frames, automatic wider entry door, turning spaces, private balcony, sitting area with lowered vanity, closet rods, and safe, and a private bathroom with a wider door, roll-in shower, grab bars, fold-down shower bench, hand-held shower head, raised toilet, and a lowered sink.

Please note: Smoking permitted on balcony only.

Square Footage: 271 sq ft
Balcony Square Footage: 131 sq ft


Ocean View with Balcony Guarantee

(Decks 7, 8, 9, or 10)

Occupancy: Sleeps 1 to 4 guests

Our Ocean View Staterooms offer two twin beds that convert to a Royal King, measuring 72.5 inches wide by 82 inches long, private balcony, sitting area, and a private bathroom. Rates vary from deck to deck.

Also includes minibar, vanity area, hair-dryer, TV, phone, vanity table with an extendable working surface for laptop computers and 110/220 electrical outlets. Some have a Pullman bed and/or sofa bed and can accommodate 3-4 guests. Some can also accommodate a rollaway bed or Play Yard.

Note: Staterooms 8060, 8162, 8164, 8662 & 8664 have partially obstructed views. Staterooms 7048, 7548, 7606, 7596, 8042, 8542, 8590, 8600, 9032 and 9532 have a smaller balcony.

Please note: Smoking permitted on balcony only.

Square Footage: 162 sq ft
Balcony Square Footage: 51 sq ft

Family Ocean View Stateroom

Category FO (Decks 7, 8)

Occupancy: Sleeps up to 6 guests

Our Family Ocean View staterooms accommodate six in its twin beds, sofa or pullman beds and sitting area.

They offer two twin beds that convert to a Royal King, measuring 72.5 inches wide by 82 inches long, additional bunk beds in separate area, separate sitting area with sofa bed, and a private bathroom with shower. Stateroom can accommodate up to 6 guests.

Please note: A minimum number of guests may apply.

Also includes minibar, vanity area, hair-dryer, TV, phone, vanity table with an extendable working surface for laptop computers, and 110/220 electrical outlets. Sleeps up to six people and can accommodate a rollaway bed and/or Play Yard.

Please Note: Smoking is not permitted inside any stateroom.

Square Footage: 265 sq ft


Large Ocean View Stateroom

Category F (Decks 4, 7, 8)
Category G (Decks 2, 3)
Category H (Deck 4, 7)
Category I (Decks 2, 3)

Occupancy: Sleeps 1 to 4 guests

These larger staterooms offer a gorgeous view, two twin beds that convert to a Royal King, measuring 72.5 inches wide by 82 inches long, sitting area with sofa, vanity area and a private bathroom.

Also includes minibar, hair-dryer, TV, phone, vanity table with an extendable working surface for laptop computers, and 110/220 electrical outlets. Some have Pullman beds and can accommodate 3-4 guests.

Please Note: Smoking is not permitted inside any Ocean View stateroom.

Square Footage: 170 sq ft


Accessible Large Ocean View Stateroom

Category F (Deck 4)
Category G (Deck 3, 4)
Category I (Deck 2)

Occupancy: Sleeps 1 to 2 guests

These staterooms offer two twin beds that convert to a Royal King, measuring 72.5 inches wide by 82 inches long with open bed frames, automatic wider entry door, turning spaces, private balcony, sitting area with lowered vanity, closet rods, and safe, and a private bathroom with a wider door, roll-in shower, grab bars, fold-down shower bench, hand-held shower head, raised toilet, and a lowered sink.

Also includes minibar, hair-dryer, TV, phone, vanity table with an extendable working surface for laptop computers, and 110/220 electrical outlets. Some have Pullman beds and can accommodate 3-4 guests.

Please Note: Smoking is not permitted inside any Ocean View stateroom.

Square Footage: 258 sq ft

Ocean View Stateroom Guarantee

(Decks 2, 3, 4, 7, or 8)

Occupancy: Sleeps 1 to 4 guests

These larger staterooms offer a gorgeous view, two twin beds that convert to a Royal King, measuring 72.5 inches wide by 82 inches long, sitting area with sofa, vanity area and a private bathroom.

Also includes minibar, hair-dryer, TV, phone, vanity table with an extendable working surface for laptop computers, and 110/220 electrical outlets. Some have Pullman beds and can accommodate 3-4 guests.


Please Note: Smoking is not permitted inside any Ocean View stateroom.

Square Footage: 169 sq ft