---
Internet Access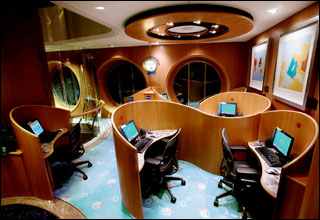 There are 2 options to stay connected while onboard.
1. Wired (iCafes)
Internet stations are available onboard. The ship has a small Internet Cafe for guests to check e-mail or surf the net on deck 4 of the ship in the main lobby area. The room also has a printer available, and charges apply for both Internet use and printing. Further workstations can be found on deck 5 on a terrace looking out at the Centrum.
1. VOOM Wireless Internet Access (Wi-Fi)
All you need is a wireless device with wifi capability. VOOM is available onboard all ships fleetwide. Prices for internet access vary and are subject to change. Log on to the network "royal-wifi" using your device, open your browser and follow instructions to log on.
Charges apply for Royal Caribbean Online, and are the same, either for the Computer Room, or for WiFi access.
---
Royal Caribbean Jewel of the Seas Dress Code
Meals in the main dining room follow this schedule:
For a 5-night cruise, 3 casual nights, 1 smart casual night, and 1 formal night.
For a 7-night cruise, 4 casual nights, 1 smart casual night, and 2 formal nights.
For an 8-night cruise, 4 casual nights, 2 smart casual nights, and 2 formal nights.
The number of smart casual and formal nights is at the ship's discretion.
Dress is casual during the day. For formal nights, quite a number of men choose to wear tuxedos for formal dining, though dark suits were more common. Women are typically found in cocktail dresses or gowns. Otherwise, country-club casual pretty much dominates in the evenings.
However, formal dress is not compulsory on formal nights, and many do not participate and instead choose to dine in Windjammers buffet to avoid the formal attire.
---
Gratuities / Tipping
Gratuities have already been prepaid for large groups such as ours. Royal Caribbean passengers are charged $13.50 per person, per day ($15.95 for suite guests). Passengers can modify gratuities by visiting the guest services desk while onboard. A 15 percent gratuity is automatically added to bar tabs.
Gratuities can be added on a daily basis to passengers' SeaPass accounts during the cruise. Passengers opting for flexible My Time Dining must use the prepay option.
---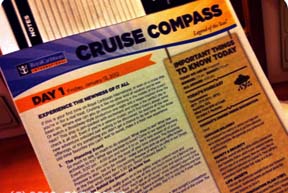 Staying Informed: Cruise Compass
Every day during your cruise with Royal Caribbean, you will receive a copy of the Cruise Compass in your stateroom in the late afternoon. The Cruise Compass functions as your ship itinerary and lists the detailed schedule and activities for the next day.
This includes info about the ship schedule, dining, entertainment, spa and fitness, special events, lectures, port information, shore excursions, shopping, and more.
---
In-Stateroom TV and Movies
Every room on Royal Caribbean Jewel of the Seas has an interactive TV to provide up-to-date information about what is happening on the ship. The TV interfaces with your SeaPass account so you can book shows and shore excursions at the touch of a button. You can access a variety of electronic commerce services such as previewing and reserving shore excursions, watching on-demand movies and informational videos, ordering room service, enjoying games of chance, and reviewing your SeaPass account and shipboard activities.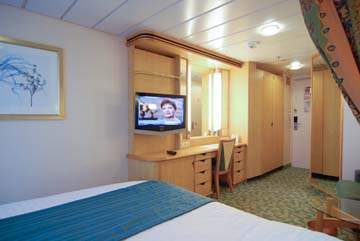 Royal Caribbean's RCTV offers at least 29 channels of in-room television programming fleet-wide, including satellite channels such as CNN International and ESPN International; TNT; Cartoon Network & Boomerang; Discovery, best of the Travel Channel, The Learning Channel, Animal Planet and Discovery Channel; Bloomberg TV; CNN; CNN Espanol; and movie channels that play recently released theatrical films before they hit the cable circuit. Films played on the big outdoor screen also play in-stateroom.
In addition, Royal Caribbean has developed many channels exclusive to the cruise line that offer a variety of hand-picked shows in the lineup, including classic TV shows, current sitcoms and dramas, classic movies, music videos, E! Entertainment TV programs, daytime soap operas, and E! & Style network shows geared to women.
Each Royal Caribbean ship has its own full-service mini TV station at sea complete with a television production crew and editing studio. In addition to keeping the pre-produced programming on schedule and pulling down live satellite feeds, the ships' broadcast technicians produce and edit onboard TV broadcasts, from the Cruise-In-Review videos to highlights of daily entertainment, art auctions, and other activities.
---
Find a Quiet Retreat on the Ship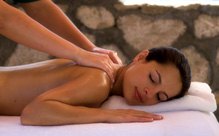 Though cruise ships are known for round-the-clock activity, you can find sanctuary on the ship. Here are some ideas:
When crowds on deck or in public areas become overwhelming, you can seek solace in your stateroom. If you want a blissfully quiet experience, book a stateroom where the laundry room, elevators, or other noisy public facilities are not within earshot. If you are traveling with the family, minimize your stress by booking a Family Cabin. Balcony staterooms or suites make for an idyllic retreat, with extra living space inside and a private veranda outside. In addition, passengers in suites get several amenities that make their vacation more relaxing.
Retreat to the glass-canopied, adults-only Solarium pool, where inspired surroundings, a light-fare cafe, and whirlpools promise the ultimate in relaxation. Rent a private cabana for a few hours, or claim a lounger in an adults-only section of the deck. Visit one of the whirlpools. Visit the Vitality Spa, a luxurious sanctuary boasting signature treatments, medi-spa services, and a full-service salon to make you glow from the inside out. Find peace at the well-stocked library, featuring a variety of genres, plus tables for cards and board games. The outside strolling area (along the jogging track) is a great place to read or nap.
Get free room service for breakfast-in-bed or lunch/dinner on your private balcony. Or visit one of the specialty restaurants for a quiet ambience. If you eat meals during off-peak hours, the main dining rooms and buffets will be significantly quieter. Try the main dining room for breakfast or lunch, rather than fighting crowds at the buffet.
On port days, stay on the ship to avoid lineups for tenders and jam-packed souvenir shops. On a sunny shore day when everyone else is off the ship, retreat to the spa, sit by the pool in a perfect spot, and enjoy nearly empty dining rooms.
---
Centrum Shops
The Shops of the Centrum are located just forward of the Centrum on deck 5 and offer a range of duty free goods. Distinctive storefronts offer an array of merchandise ranging from logo items, perfume, and jewelry to liquor and cruise wear.

Along with cigarettes and alcohol, the shops retail jewelry (including Swarovski Crystal and Murano), watches (from the likes of Citizen and Tag Heuer), fashion items, perfume and cosmetics, sunglasses (from Parada, Gucci, Maui Jim's, Ray Bans and Guess), logo souvenirs (from mugs and glasses to clothing and toys), sundries, and other items.