---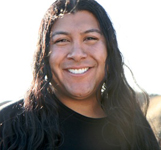 Don Jose Ruiz
In 2010, Don Jose Ruiz released his first book titled The Fifth Agreement in partnership with his father, Don Miguel Ruiz. Following this publication, Don Jose began traveling around the US, Mexico, and South America. Don Jose inspires people in many different ways including: book signings, lectures, seminars, and hosting intensive journeys to Teotihuacan and other sacred sites around the world.
Among a few of the highlights, Don Jose has been asked to speak at conferences such as "Conversations Among Masters," "Celebrate Your Life," and "Conscious Life Expo." At these conferences, he has spoken alongside Dr. Wayne Dyer, Reverend Michael Beckwith, Caroline Myss, and Gregg Bradden. He has been interviewed by many notable media publications, including LA Times, Univision, Fox News and Eckhart Tolle Television. Don Jose has also inspired many corporate entities by using the five agreements to enhance positive rapport among employees by inspiring creativity linked with common sense.
Don Jose's message has been heard all over the United States, Mexico and South America. His journeys to sacred sites have also been translated into many different languages, including Spanish, French and German. Don Jose's message and The Fifth Agreement is rapidly growing and being shared around the world. His message is changing lives and is bringing people closer to themselves more than ever before. His passion is to help children stay away from gangs and drugs by developing a healthy outlet such as learning to play a musical instrument as well as develop other creative avenues. He will continue to share the wisdom of his family lineage through his own life experiences. Don Jose enjoys working with people of all faiths and cultures. He sees all men and women as equals and feels it's a blessing to be alive. His upcoming events include tours in Mexico, Europe, Australia and the United States.
Don Jose Ruiz was born in Mexico City, Mexico and was raised in Tijuana, Mexico. When he was 21 he came to live in the U.S. with his father, don Miguel Ruiz. From a very young age don Jose was guided by many teachers present in his life including, his mother and father, his grandmother Sarita, and several other Naguals. Through masterful guidance by his teachers and amazing life experiences with precision synchronicity, Jose came to "silent knowledge." He witnessed the world as it is, without any story. In his early twenties, don Jose lost his eyesight. In his process of surrendering, he learned the value of learning to listen; to listen to his inner wisdom and integrity and to see different perspectives, while knowing nothing is personal. He had a renewed love and gratitude for life - and he found acceptance, happiness and abundance; he found bliss. He grasped a true understanding of faith, love, gratitude and humility. Through his surrender and faith, in concert with modern medicine Jose
recovered his eyesight.
Like his father, combining new insights with ancient wisdom, don Jose Ruiz is dedicating his life to sharing the ancient Toltec wisdom by translating it into practical, everyday-life concepts that promote transformation through truth, love and common sense. Don Jose teaches and lectures across the United States and around the world: Power Journeys to the pyramids of Teotihuacan, Palenque, Tulum and Coba; workshops with guest don Miguel or other teachers at Omega - NY, Austin, and Vancouver. Don Jose Ruiz has now collaborated with his father don Miguel Ruiz on a new book that offers a fresh perspective on the Four Agreements, and a powerful new agreement for transforming our lives into our personal heaven: The Fifth Agreement. The Fifth Agreement takes us to a deeper level of awareness of the power of the Self, and returns us to the authenticity we were born with. In this compelling sequel to The Four Agreements, we are reminded of the greatest gift we can give ourselves: the freedom to be who we really are.
The Fifth Agreement
Come awaken your spirit with don Jose Ruiz, co-author of The Fifth Agreement, where he will offer his Toltec traditions combined with his brilliant modern expression. Don Jose Ruiz will share the experiences that helped him transform his life, and stories that have inspired him throughout his life.
Don Jose Ruiz, New York Times bestselling author of The Fifth Agreement, Ripples of Wisdom, and now My Good Friend The Rattlesnake, invites us to further open our hearts to the ancient Toltec Wisdom and the teachings of his ancestors.
In this lecture, he will inspire you to live life beyond your limits by learning how to:
- Gain awareness of how your agreements have created your reality;
- Create a happier and rewarding story for yourself;
- Make new agreements that are more in line with your true authentic self.
Like his father, don Miguel Ruiz, don Jose is dedicating his life to sharing the ancient Toltec wisdom by translating it into practical, everyday life concepts that promote transformation through truth, love and common sense. He teaches and lectures across the United States and around the world and leads Power Journeys to the pyramids of Teotihuacan, Palenque, Monte Albán, Tulum and Coba.
Testimonials:
"Don Jose Ruiz is a spiritual master in the making. His heartfelt tales resonate with courage and vulnerability as he takes us on a spiritual journey full of family wisdom, soulful surrender, and boundless love. The powerful life lessons and insight he shares are inspiring and timeless." --Panache Desai
"Warm and authentic, don Jose's life and insights offer a treasure map of ah-ha's and epiphanies for all of us on the path of self-mastery." --Mike Dooley
---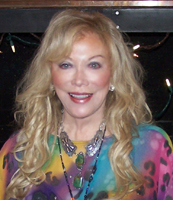 Lynn Andrews
Lynn Andrews is the New York Times and internationally best-selling author of the Medicine Woman Series, which chronicles her three decades of study and work with shaman healers on four continents. Her study of the way of the sacred feminine began with Agnes Whistling Elk and Ruby Plenty Chiefs, Native American healers in northern Canada. Her quest for spiritual discovery continued with a Shaman Curendera of the Mayan Yucatan; an Aboriginal woman of high degree in the Australian Outback or Nepalese healer in the foothills of the Himalayas. Today, she is recognized worldwide as a leader in the fields of spiritual healing and personal empowerment. A shaman healer and mystic, Ms. Andrews is widely acknowledged as a major link between the ancient world of shamanism and modern societies thirst for profound personal healing and a deeper understanding of the pathway to enlightenment.
Ancient Teachings For A Modern World: The Shamanic Mysteries of Sacred Ceremony
"One day I was climbing in the high Himalayas with my teachers Agnes Whistling Elk, Ruby Plenty Chiefs and Ani, a Nepalese healer of enormous power and wisdom. Suddenly the ground began shaking as huge boulders cascaded down, completely blocking the trail. Realizing we were trapped, with a sheer drop-off of hundreds of feet on one side, I thought our lives might be over.
"'Well, Lynn,' Ani said when the shaking stopped, 'It seems spirits of the mountain have given you a test. They have given you an avalanche, perhaps to show you how you block yourself in life. We will do a ceremony.'
"'How will a ceremony move all this rock?' I asked, feeling hopeless.
"'That's for you to discover and we will follow. Remember, there are no accidents. There is a reason for the mountain to test you in this way.' And she began to prepare a circle of stones.
"In the process of performing this ceremony with my teachers, I learned one of the most important lessons of my life: No matter what challenges I face, when I call in the spirits of place in a sacred and honoring way, it opens channels within me to access my own courage and vision and receive their Divine wisdom and strength."
Throughout the shamanic world, there are many different ceremonies used for many different purposes. In this workshop, Lynn will create Personal Ceremony with you as she shows you how to call in the spirits of place and move into the Divine space within and around you to find and give thanks for the guidance you seek. She will introduce you to Sacred Wheel of the Four Directions and show you how to begin using its power and energy in your life. And she will give you a Handout to use, wherever you are.
Standing at the Crossroads of Power: The Teachings of the Sacred Wheel
Learn How To:
- Empower Yourself in Any Relationship or Situation You Face
- Make Choices That Benefit You
- Make Peace with the Voice of Your Inner Critic
- Find Your True Sacred Dream
How do you make wise and careful choices in a world as fast-paced, fragmented and pressure-filled as ours? In this Workshop, Lynn will use the ancient shaman teachings of the Sacred Wheel to show you how to find the position of power and understanding in any situation or dilemma you are facing.
Whenever you are in a situation where you need to make choices, you are standing at the center of a crossroads. This is a place of great power and potential because it is a place where decisions must be made and acted upon. Action generates energy, which becomes power, and Lynn will show you how to harness that power, use it to choose your direction wisely, and propel yourself through the crossroads in a conscious and intended way.
Looking at the situations of your life around the Sacred Wheel enables you to discover the truth of what you are facing. As you examine where this situation fits in the great dream for your life and your role in it, you open yourself to the truth as it actually is, not what you want it to be and not what all of the scary stories your mind and emotions are telling you. Then you measure this truth against your own personal truth to see what decisions and course of action will be best for you.
The Sacred Wheel is based on the energies of the Four Directions of Mother Earth. When you use it, you have the opportunity to see the whole picture at one time and to recognize what the energies are that have brought you to this crossroads. Once you recognize and understand those energies, can you chart your way forward from the center of the Sacred Wheel – the center of the crossroads of power – with confidence and knowing.
---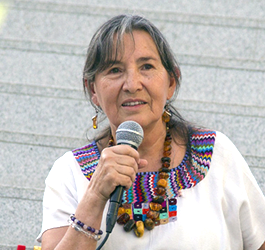 Elizabeth Araujo
Grandmother Elizabeth, one of the most well respected Mayan grandmothers on the planet, is a warm, compassionate woman manifesting a discernment that crosses cultural boundaries. She travels extensively throughout the world to wherever she is called, to do ceremony and hold council with Elders in the process of bringing unification, balance and harmony to Mother Earth. One of the leaders of the Council of Mayan Elders, she was born and raised in El Salvador and lives in Guatemala.
"I had the joy of traveling with Elizabeth throughout Guatemala, Peru and Bolivia in addition to being a guest in her home in Antigua. Her gentle spirit and clear intent creates an atmosphere of acceptance, love and allowance for all who come into her presence to enjoy. Elizabeth works through the Mayan traditional healing ceremonies with the Sacred Fire and is a guide for spiritual journeys to sacred sites," said Les Carney - Co-Creator of Centers of Light Directory
When asked how we prepare for planetary ascension, Elizabeth answers:
"We prepare every day by living with honesty, helping others...especially those in need. Caring for Mother Earth, avoiding any more contamination of the Earth, etc, etc. The change is an end of a Cycle of the Sun and the beginning of a New one. Live well and only God knows who will stay, it has always been this way and that is why we are here. This is all I can say for you, my Dears."
Era Of The Divine Feminine
December 2012 marked the end of an era, the end of the 13 Baktun and the beginning of a new, we are now in the second year of a new Baktun (2014) in the Mayan Calendar of the Long Count, a calendar composed of 13 Baktuns or 5200 years in length. Some small discrepancies in time will be explained and the reasons why, and the meaning of the "Year Zero".
I will mention a few Mayan prophesies that are being fulfilled in our times such as the "Eagle and The Condor", and "The Return of the Ancestors and the Return of the Men of Wisdom," and others of great importance for our times. We will briefly talk about the Honey Bees and how they served as a model for the development of the Mayan communities, and how the Spanish Invasion in the 1500s affected the life of the Mayas.
According to the Calendar of the Long Count we have entered the Era of the Divine Feminine. We will talk about its significance and what does it mean for each, men and women. According to this calendar and the ancient prophesies we have entered an era when women are to govern, we will explore some of the challenges women have to face and the role of men in this era of the feminine energy.
Mayan Astrology Readings
The Mayan Astrology is based on the Tzolq ij, the 260 day Calendar, like all Mayan calendars it is based on a vigesimal system, and is directly related to our bodies, since that base of 20 came out of the sum of the 10 fingers and 10 toes. Each day has its own energy with different degrees depending on the number of the day which can go from 1 to 13. Then, one is born in a certain day and that day together with other sign days will determined your life, your character, your potentials and your weaknesses as well.
Each one of us has been born with a mission in this life that is determined by the day sign in which one is born. In the Mayan communities the astrology is done to the children at a very early age, allowing him to be raised according to his aptitudes and weaknesses. As adults we can still find what those aptitudes and weaknesses we have been born with allowing us to cultivate them and work on our weaknesses to minimize their effect on us making our life easier. In other words, we learn to control the signs instead of the signs controlling us.
Mayan Astrology gives you a direction in life. It will confirm if what you are doing is the right thing or not then you can move forward in life with certainty, it helps you to know yourself better. It can help you find your purpose in life.
---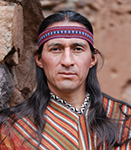 Mallku
Mallku is a sensitive Artist and a Promoter of Andean Culture- collaborated during the 1980's as a co-editor of books on Natural Medicine. In 1997 he presented his book The Awakening of the Puma (Inka Initiation Path), in which he revealed his expertise in understanding the Esoteric Knowledge within Andean Archaeo-astronomy. In 1999 he paid tribute to the Sacred City of Machu Pijchu in his book Machu Pijchu Forever, City of Pilgrims. His extensive research has earned him well-deserved recognition and acknowledgements, including the publishing of his books in Poland, Hungary and Brasil. Mallku is an international lecturer and teaches about the Ancient Culture of the Andes, promoting a Shamanic experience as one of the Paths of Liberation for the present generation.
In his last book Inka Power Places, Solar Initiations, he reveals important secrets of the Initiation Knowledge of the Amauta Sages, which were expressed in their Temples, Palaces and Cities as testimony for all time.
Mallku is a very active person in his region and is actually the president of the Association of Andean Writers based in Cusco. He is the owner of the "Shaman Vegan Raw" restaurant in Cusco; as well a tour operator for Shamanic Journeys in Peru.
Contact MALLKU in CUSCO: Tel: 0051/984761007, 984760187, 261419
E-mail: mallku007@gmail.com - www.mallku.me *** www.shamancenter.org