Carnival Triumph
Cruise Ship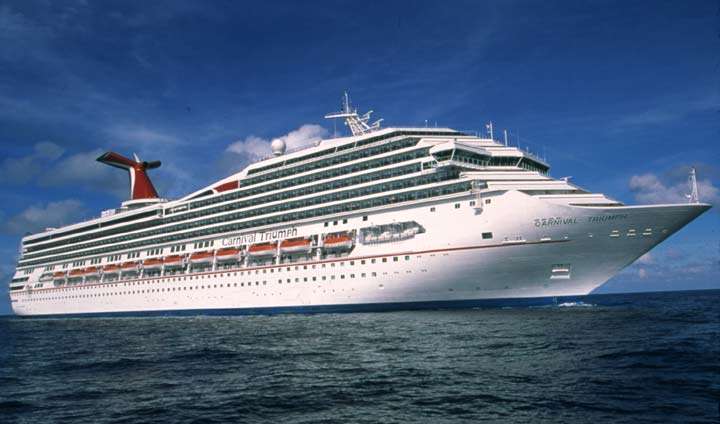 ---

---

CARNIVAL TRIUMPH SHIP FACTS


Gross Tonnage: 101,509
Length: 893 Feet
Beam: 116 Feet
Cruising Speed: 21 knots
Guest Capacity: 2,758 (double occupancy)
Total Staff: 1,100
Registry: The Bahamas

ONBOARD EXPERIENCE


Our ships are built with one goal in mind: to make sure that every time you walk up the gangway, you get the sense that you're crossing over into a whole new world of fun.

Once on board, let the good times roll because just about everything is included. Enjoy delicious meals in various onboard restaurants, including your comfy accommodations with the complimentary 24-hour stateroom service. Pull an all-nighter - or as much of one as you can manage - as you revel in the awesome nightly entertainment; then wonder at all the fun there is to have the next day. But that's not all... there's the beautiful and exciting destinations; the award-winning youth programs for kids of all ages; the high rollin' casino... topped off with some of the friendliest service at sea.

So check out the ships in our fleet of fun, pick one of our amazing itineraries, and hop on board, cause we're headed out to Funville.

The Carnival Triumph is a giant, floating monument to fun. Filled with restaurants, lounges, and entertainment options a'plenty. Sounds like a Triumph to us, so it's no wonder this ship got the name CARNIVAL TRIUMPH. It's the ultimate in relaxation and adventure, with lots of awesome amenities, a spa, a friendly casino and lots of other great stuff.

With four swimming pools, seven whirlpools, tons of bars, a giant casino and a daily schedule of activities that will make your head spin, the Triumph lives up to Carnival's "Fun Ships" motto with gusto.

---

DRESS CODE

During the day on the Carnival Triumph, casual attire is the order of the day. We suggest shorts, sundresses, tank tops, etc. for the ladies, and for men; shorts, polo shirts, T-shirts, etc. will do. We suggest you wear rubber-soled, low heeled or flat shoes for extra traction while onboard. The use of any footwear with wheels, including but not limited, to Heelys© shoes, is prohibited on board our ships. For dining you may want to dress up a bit and/or bring along a light sports jacket or cardigan.

Most evenings we have a Cruise Casual dress code, but there are those Cruise Elegant evenings one or two nights throughout your "Fun Ship" voyage, where you will have the opportunity to showcase your more elegant attire. For those who want casual attire for dinner time, the Lido Restaurant is open nightly, and has a more relaxed theme. However, shirts and shoes/footwear (flip-flops) must be worn at all times inside the Lido Restaurant.

Both dress codes for the dining rooms are described below.

Cruise Casual Dining Dress Code: Gentlemen - Sport slacks, khakis, jeans (no cut-offs), dress shorts (long), collared sport shirts; Ladies - Casual dresses, casual skirts or pants and blouses, summer dresses, Capri pants, dress shorts, jeans (no cut-offs).

Not permitted in the dining room during the Cruise Casual dinner for ladies and gentlemen: shorts, gym shorts, basketball shorts, beach flip-flops, bathing suit attire, cut-off jeans, sleeveless shirts for men and baseball hats.

Cruise Elegant Dining Dress Code: Gentlemen - Dress slacks, dress shirts. We also suggest a sport coat. If you wish to wear suits and ties or tuxedos, by all means we invite you to do so. Ladies - Cocktail dresses, pantsuits, elegant skirts and blouses; if you'd like to show off your evening gowns, that's great too!

Not permitted in the dining room during the Cruise Elegant dinner for ladies and gentlemen: shorts, gym shorts, T-shirts, beach flip-flops, bathing suit attire, jeans, cut-off jeans, sleeveless shirts for men, sportswear, and baseball hats.

---

GRATUITIES / TIPPING

Tips on Carnival Triumph are required to be prepaid in advance for our group. Tipping on Carnival Triumph is $11.50 per guest, per day as follows:

$3.70 Per Day Stateroom Services
$5.80 Per Day Dining Room Services
$2.00 Per Day Alternative Services: distributed to other kitchen and hotel service staff

For beverage purchases, fifteen percent of the bill is automatically added to the Sail & Sign charge. Room Service staff may be tipped at your discretion. Tipping your Matre d' of your dining room is at your discretion. You should tip if you received special attention or services from the Matre d'.

Additional thoughts on tipping onboard the Carnival Triumph:

If you are putting your kids in the program and they have a great time, you should consider tipping the Youth Director. The youth staff put in 110 per cent to make certain your kids have a great time, and, if your kids' experience finds that to be true, it is appropriate for you to tip the staff a bit extra. As Carnival doesn't have a formal system or guidance for tipping the Youth Staff, you will need to bring cash for this tip. Our tip guidance is $5 per day, per child. Make certain that the Youth Director understands that the tip should be shared amongst the staff. For some reason, this hard working group tends to get overlooked in the tipping department. You will be one of the few who tip the youth staff on the Carnival Triumph and they will be sincerely appreciative.

---

STAYING INFORMED

The list of all the day's events are available in "The Fun Times," the Carnival Triumph's newsletter, and is also delivered each evening to your room. This makes planning for the next day's activities easy. The Fun Times even lets you know what items are on-sale in the gift shops. Also, many of the activities are listed on a schedule on a TV channel in your room.

Finally, the Cruise Director (the emcee for the cruise) will be a public presence throughout the cruise) will typically make announcements in the morning that are broadcast in the public areas of the ship and on a video channel in your room (provided you have the TV on and tuned to the appropriate channel).

For the kid's activities, Camp Carnival, they have their own Camp Capers detailing kids' activities that are available just outside the pick-up/drop-off areas for the kids. A copy of Camp Capers is also given out at orientation.

---

IN-STATEROOM TV AND MOVIES

The Carnival Triumph features an advanced interactive TV system in cabins that allows for guests to order shore tours, Pay-Per-View movies (for a fee) and free room service from the comfort of their stateroom. Passengers can check on the status of their Sail & Sign account (onboard credit card system) through the system as well.

Finally, if you are missing the comforts of home, ABC, CBS, Fox & NBC channels are usually available as well using a satellite feed from a major US city (Denver, New York, Los Angeles, etc.). A limited selection of basic cable channels are usually available (ESPN, CNN) as well.

---

QUIET PLACES ON THE SHIP

Quiet places onboard the Carnival Triumph include:

-The Washington Library is the ship's library and tends to be very quiet. The Washington Library is decorated quite tastefully with dark wood tables, large gold armchairs and red carpeting. Though small, it is a peaceful retreat with a large selection of board and table games available. You can also check out books but the hours are very limited - there is only one worker on duty for one hour, two times each day.

-The Oxford Lounge, which tends to be fairly quiet in the morning right up until the start of afternoon tea (3:30 PM) which features classical music. About an hour before dinner, the music switches to a live jazz combo plays and The Oxford Lounge has a dance floor for pre-dinner dancing.

The Carnival Triumph ship pretty much empties-out when it is in port. So, if you are looking for quiet, port days are a great time to be onboard the Carnival Triumph.

---

SHOPPING

The onboard shopping area on the Carnival Triumph is aptly named "The Fun Shops" and is located on Deck 5, the Promenade Deck past the "World's Way Promenade". Various sundry items are available for purchase (suntan lotion, toiletries, candy, postcards, etc.), along with Carnival logo-ware, resort wear (casual clothing), jewelry, watches, liquor and cigarettes. The prices run the gamut - great on liquor and cigarettes, generally good on watches and expensive on sundry items. And, as the ship is at sea, you will not have to pay a sales tax - purchases are "duty free".

If you want to surprise someone and plan something special in your cabin, check out the "Formalities" store where you can order up something special - like decorating your cabin for and Anniversary or Birthday, roses, food baskets and other items to make your cruise that much more memorable.

Art Auction at Sea

At the popular "Art Auction At Sea" where you can purchase collectible art while onboard your cruise. See the tip below regarding some consideration you should give before you purchase art onboard your cruise. Reportedly, several companies that run art auctions onboard cruise ships will provide an appraisal with their art that will lead you to believe that you are getting very good value. There are those with opinions that the appraisal methods are questionable. So, if you are inclined to buy something at one of these auctions, a common sense approach to avoid feeling like you got ripped off is to never buy thinking you will make a profit, buy the art because it suits your tastes and budget.

Carnival Triumph Shopping Tips

The liquor deals are excellent. However, keep in mind limits on what you can bring back into the country per US Customs regulations. Also, liquor bought at the onboard store cannot be consumed during your cruise - you will be given the liquor you purchased during disembarkation. While not a guarantee, many items go "on sale" on the last day of the cruise.

Read the "Fun Times" for daily "special" sale items (watches, gold by the inch, etc.) featured in the stores.

---

SHIP FEATURES AND PHOTOS

---

The Capitol

When you board the Triumph, you'll find yourself in the Capitol - essentially the ship's lobby - which, like the building for which it is named, features a soaring, gold-domed ceiling and a circular staircase rising seven stories. Here you'll find the Capitol Lounge, and arranged around the open area on various decks the photo gallery, shops and shore excursions desk.

---

Triumph Lobby Lounge

---

Club Rio Lounge





---

Rome Lounge

Carnival Triumph Entertainment

The majority of the big-ticket events on the Triumph take place in the three-deck-high Rome lounge. Once again reflective of the ship's overall theme, the Rome lounge pays homage to its namesake with stately arches and columns. There are two main shows on the sailing. For main shows it is a good idea to get to the Rome Lounge early although there is ample seating, some of the views are blocked, particularly on the upper levels.

Choose a great seat in the Carnival Triumph Rome Lounge and check out a spectacular stage show full of music, dancing, lights and costumes that could rival any Broadway performance.

Besides the shows, you'll also find lots of bingo and interactive audience events like the "In the Bag" and the "Not-so-Newlywed Game." The passenger talent show was quite enjoyable -- think the "American Idol" finals rather than the massive tryouts. If you love to be the center of attention, the Triumph gives you plenty of opportunities to shine. If you don't, you'll still have plenty of fun laughing at or cheering on your fellow passengers from the sidelines.

If you love live music, you can find it at literally any time of day on this ship. Besides the nightlife on the World's Way Promenade, you can relax to the tunes of a Calypso band poolside or read your book in the Oxford Lounge alongside a classical music quartet.

But it's not all martini sipping and jazz trios on the Triumph - There is a late-night adults-only comedy show, karaoke competitions and of course, the hairy chest competition. The point is: No matter what tickles your fancy, you can be sure you'll find plenty to amuse you at any moment of the day on the Triumph.

The World's Way Promenade on Deck 5 is where the action is, at least in the evening. It's here you'll find the Club Monaco casino and the adjacent Olympic Sports Lounge which shows the major sporting events through an ESPN satellite feed and news in the off hours. The California Wine Lounge is a small but lovely nook that does in fact serve a variety of wines but inexplicably showcases only large bottles of Grey Goose vodka behind the bar. The Big Easy piano lounge is small but often very crowded -- in fact, we were unable to score seats until the last night of the cruise. This New Orleans-themed bar is decorated with oyster shells from floor to ceiling and features a recessed piano surrounded by a circular bar, a great spot for shouting your requests and singing along.

If you prefer dancing to singing, head to the Venezia Lounge. The cover band plays a great variety of familiar light tunes, and night after night the dance floor was crowded with couples of all ages. If your music or dance tastes are a little (or a lot) more high energy, head to the Hollywood Dance Club where hundreds of television monitors lines the walls from floor to ceiling. Here you'll find louder, more contemporary music and a younger crowd.

Underground Tokyo, the ship's arcade, is also here, and while it is cleverly decorated as a winding, narrow cave with games lining the walls, parents might be wary of its location -- right smack in the middle of the ship's mostly over-21 nightlife.

---

Hollywood Dance Club

Dance. Dance. Dance. The party is in full swing at the Carnival Triumph Hollywood Dance Club. Show 'em your moves and make new friends in the process.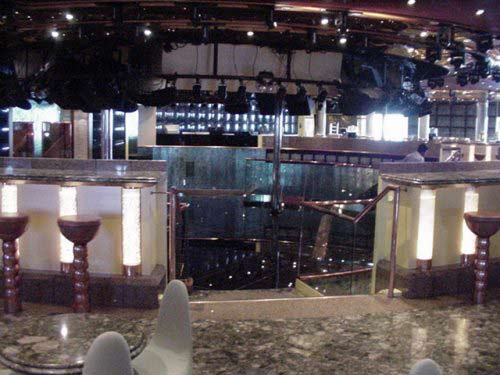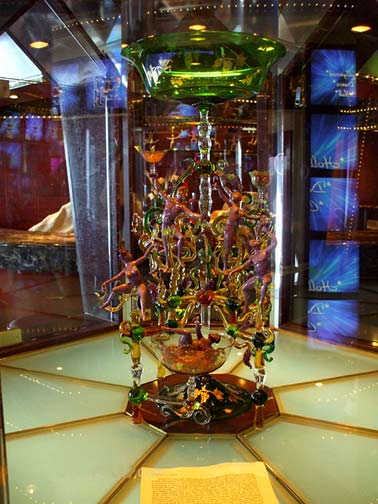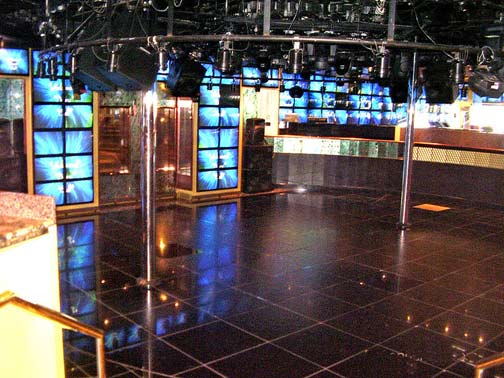 Piano Lounge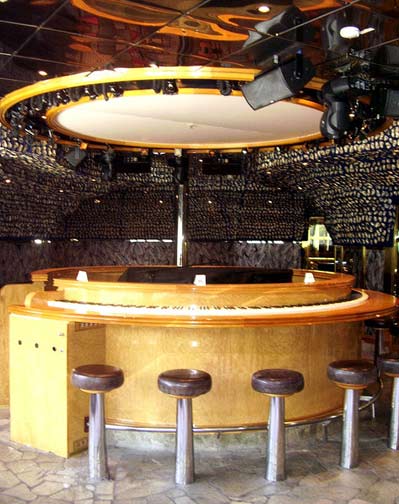 Washington Library
---
Oxford Lounge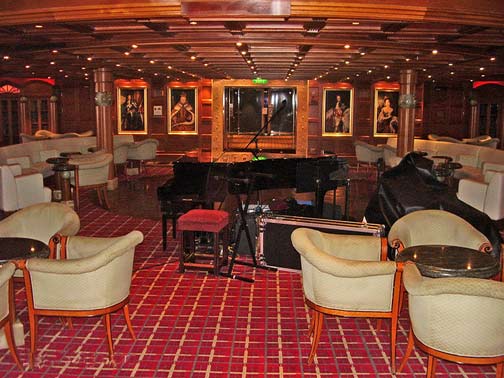 ---
Venezia Lounge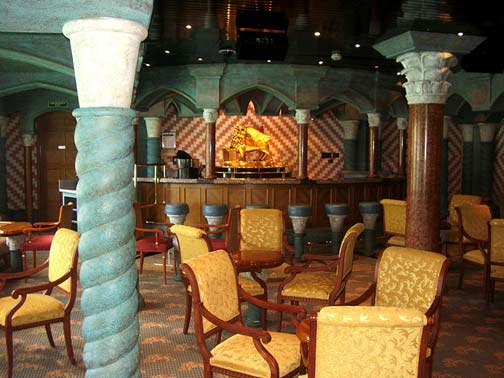 ---

Big Easy Lounge

---
The energy in the Carnival Triumph sports bar is set on high. Check out a game on TV and enjoy drinks and appetizers while you laugh it up with friends, old and new, in the Olympic Lounge.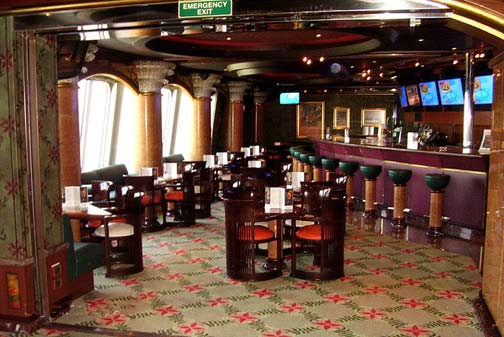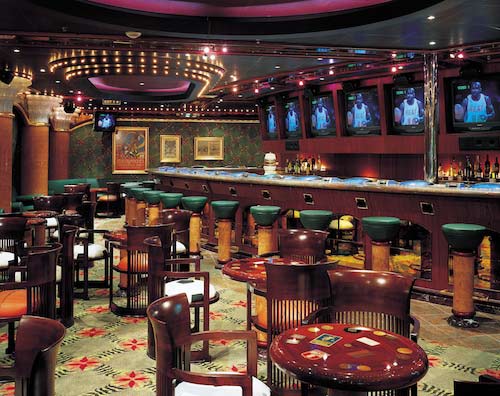 ---

California Wine Lounge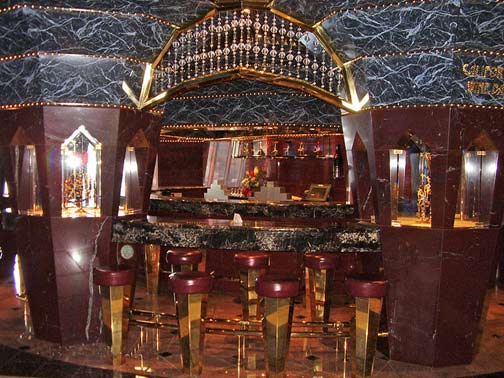 ---

Luxury Dining

London and Paris Dining Rooms

Enjoy decadent and undeniably delicious dining in the London and Paris dining rooms. Choose Early (6 p.m.), Late (8:15 p.m.) or Your Time (5:45 p.m. to 9:30 p.m.) dining and feast on the ultimate culinary delights.

These two tiered main dining rooms offer starters such as fried shrimp, tomatoes and buffalo mozzarella, soups, and salads. Chicken, seafood, beef, and pasta entrees are among the varying main menu selections. Ice cream, sherbet, cheeses, pies, and cakes are examples of dessert choices.

The Paris Restaurant onboard Carnival Triumph is aft, and is larger than The London. The London Restaurant onboard Carnival Triumph is located in the middle of the ship. Both are located on the Lobby Deck.

Tips for the Carnival Triumph's Main Dining Rooms

-Breakfast is served from 7:45am to 9:00am. Lunch is from noon to 1:30pm.
-Early dinner time ranges from 5:45pm to 6:15pm, and late dinner time is from 8:00pm to 8:30pm.
-Both restaurants require reservations for dinner.
-For breakfast and lunch, casual clothing is OK but no swim wear or shorts are permitted.
-Appropriate attire is a must for dinner.
-Meals are no cost, but special beverages, wines, beer, and soft drinks may be purchased via current bar menu.
-When ordering steaks, make sure you state your preferences as the kitchen tends to over-cook meat. Staff service is generally considered to be excellent.
-Seating in the balcony areas is preferable for most because it is more quiet than the main floor.
-The main dining rooms are less crowded than The South Beach Club for breakfast and lunch.
-Typically, only one main dining room is open for breakfast.

Carnival Cruises "Your Time" Dining

Throughout your Carnival Triumph cruise, you'll be able to savor cuisine as you wish on your time! From 5:45pm to 9:30pm, both main dining rooms provide first come, first serve seating. Wait time is usually 20 minutes, and parties of ten plus may be accommodated at different tables. All tips / the tipping policy for the main dining room does apply.

Room Service

Room Service onboard the Carnival Triumph is nothing spectacular. What you should know about room service on the Carnival Triumph includes:


-Room service is available 24 hours a day,
-There is no cost for the food,
-There is a charge for beverages.
-The Carnival Cruises room service menu does not have a great variety of options. You would be better off venturing out to one of the self-service dining options like the Lido buffet where many of the dining stations are open 24-hours a day.

---

South Beach Club (Lido Buffet)

South Beach Club Lido Restaurant

For casual indoor and outdoor dining, the South Beach is a popular option. Located on Carnival Triumph's Lido Deck. This restaurant has a grand buffet with carving stations, a New York Deli Counter, the Hong Kong Noodle Company, a Pizzeria, the grills, and the Pantry.

The South Beach is open for breakfast, lunch, and dinner. It is extremely popular during breakfast and lunch, offering quick meal alternatives such as salads and burgers. While the The South Beach is open from 7:00am to midnight, it does include a 24 hour pizzeria and deli sandwich board. Of the various dining choices, the Caesar Salads and Deli sandwiches receive nice reviews. Breakfast and lunch are self service, but after 6:00pm service at your table begins. The dinner menu includes salads, pasta, chicken, shrimp, and steaks.

Tips for the South Beach Lido Buffet

The South Beach Club does not require reservations and is the casual dining alternative to the main dining rooms. Finding a table is usually not a concern, but lines for cook-to-order can be long during breakfast and lunch. Keep in mind that this is the most popular dining alternative on the ship! If you want to get away from the breakfast and lunch crowds, the main dining rooms are a better choice. No smoking is allowed in The South Beach Club, and there is no cost for food. Specialty drinks, wines, beer, and soft drinks are available for purchase from the current bar menu.

The Pizzeria Napoli

The South Beach Club's Pizzeria station has fresh, hot pizza 24 hours a day and is a great alternative for after midnight munching.

The Coney Island Grille

Open noon to 6:00pm, visit the grille for hamburgers and hot dogs meant to satisfy ravenous cravings after a good swim.

---

Vienna Cafe Coffee Bar

On Promenade Deck, sweets, snacks, and coffees can be purchased at the Vienna Cafe. On the World's Way Promenade is the Vienna Cafe where, for a reasonable price, you can purchase designer coffees and pastries. This is a fine connection for chocolate covered strawberries and banana splits. Casual dress is OK, and we suggest you check while aboard for hours open.

---

Sushi Bar

The Sushi Bar is open from 5:30pm to 8:30pm. The sushi bar is another casual dining alternative on Promenade Deck. This is not a complete sushi bar, but among the 8 to 10 menu items you'll find California rolls, Nigiri salmon, and Nigiri Tuna (Maguro).

---
Biggest Screen You've Ever Seen!

Watch movies, concerts, news, sporting events, and even watch others shake their "groove thing" on the new Carnival Triumph Seaside Theatre. A 12'x22' jumbo-sized LED screen with a crystal-clear picture and a 70,000-watt, easy-to-hear sound system.

---

Keep Connected

Internet Access

WiFi:
You can access the internet on the Carnival Triumph -- there is WiFi on the entire ship and an internet cafe.

Carnival does provide PC's in an internet cafe and is adjacent to the Oxford Bar Deck 4 (Atlantic). However, if you want to bring your WiFi-enabled laptop, iPhone, PDA, etc., the Carnival Triumph is WiFi enabled. You can choose from a "pay-as-you" go rate for a one-time $3.95 activation charge, and, a 75¢ per minute rate. Alternatively, you can buy a block of non-refundable minutes for:


Internet Cafe:
The Internet Cafe is open 24-hours and features individual terminals where you can surf the Web, chat online, and access your private e-mail account (Gmail, AOL, Hotmail, Juno, Yahoo, etc.) Alternatively, personalized CruisE-mail is available on most vessels. Please see additional information below.

For your convenience, the Internet Cafe Manager is available for assistance during posted hours.

Internet Cafe terminals run on Windows XP and are limited to Internet communication. Terminals are equipped with Microsoft Office readers only, not full versions of these programs (WORD, EXCEL, etc); most files can be accessed as "read only" for viewing purposes but cannot be edited or saved. Please note, on your personal laptop you can read, edit and save files without restrictions according to the programs installed.

Wireless Users:
The Wireless Internet Service is compatible with a Wireless 802.11b card, which is the industry standard. You may use your personal laptop while onboard, your iPhone and all other WiFi equipped devices and most software installed on them without restrictions. VPN access on the other hand is restricted to connections of the type, which are not IPSec or PPTP connections. Kindly discuss your VPN limitations with your company's IT department if you are planning to work while sailing. We are not able to change your settings onboard.

Pricing:
Instructions on how to create an account and pricing details are present on-screen in the Internet Cafe or on your laptop once you connect to Carnival WiFi. Internet pricing is identical, whether you are using the Internet Cafe terminals, your own laptop or other wireless devices. All Internet charges will be billed directly to your onboard "Sail & Sign" account.

Time Plans offer guests the opportunity to enjoy a lower per-minute rate. These Time Plans are transferable between Internet Cafe terminals and personal laptops/wireless devices, can be used anytime throughout the cruise until disembarkation and don't have to be used in a single session. No refund will be provided for unused minutes. Upgrading a pre-selected pricing option is not available and plans are subject to change.

- 480 minutes for $159
- 240 minutes for $89
- 120 minutes for $59
- 45 minutes for $29
- Pay As You Go: $0.75/min

Printing: available in the Internet Cafe at $0.50/job
Activation fee: a one-time $3.95 charge applies to each user on their first login only.
Boarding Passes: you can check in online and print your boarding passes in the Internet Cafe; please note, regular printing and online time charges apply.

Laptop rental
A limited number of laptops are available for rent; pricing and additional information available onboard.

Before You Go
Get the most from your cruise Internet time and your trip ۠make sure you're powered up and prepared before you board the ship with this handy pre-cruise checklist. Here are a few things you want to remember to pack for your cruise:
- WiFi enabled laptop and mobile devices
- Power supply for each of the devices you are bringing with you
- A charged battery for your trip to the ship
- Data cables to transfer pictures
- Headphones
- Laptop privacy screens

Best Practices
- Email: Convert your email settings to basic; you will have a better experience with less graphic intense content. Most email providers have a lite version of their service optimized for low-bandwidth users.
- Mobile websites: most websites nowadays offer a mobile interface; they are leaner, less graphic intense alternatives to their main page. Mobile pages load quicker via the leaner bandwidth available onboard and can be accessed regardless of your device: laptop, smart phone, tablet etc. A few examples:
- www.M.Facebook.com
- www.Touch.Facebook.com
- www.M.Yahoo.com
- Apps: consider using apps; they are tailored for your device and will improve your online experience
- Browsers: Experiment with alternate browsers for a faster experience: Chrome, Opera, Safari, Mozilla, Firefox
- Remember to log out
- Disconnect from WiFi - develop the habit of disconnecting from WiFi when ending your Internet session; leaving your device connected may slow other users' Internet speed
- Words associated with leaner content = faster loading time: mobile, text only, lite, no media, low resolution
- Discuss VPN limitations with your company's IT department prior to cruising; onboard personnel are not able to change your settings onboard.

NOTE:
Internet access via satellite is a significantly different experience than high-speed connections on shore. Onboard Internet access is not guaranteed at all times due to the nature of satellite communications, which are subject to occasional disruptions due to weather patterns and location.

Accessing E-mail and the Internet in the middle of the world's oceans is a triumph of cutting edge satellite technology. Our investment into this technology matches some of the most prestigious companies in the world, but even so it cannot be as fast as your home broadband. This is because the data must be transmitted over a slower wireless signal to satellites 22,000 miles above the Earth, which then bounce the data back down to the exchange. At home the data is sent down your fast cable connection to your local exchange, just around the corner from your house. We are continually reviewing our investment to secure you as fast a connection as possible and challenge fjords, glaciers and other grand geographical locations, to provide you with as seamless and consistent a service as possible.

Cellular-at-Sea

Cell phone service is available on all ships in the Carnival fleet. While your ship is at sea, the cellular system is activated and you can make and receive calls, send and receive text messages, as well as view emails and browse the Internet with over 300 carriers worldwide. International roaming rates apply and are set and billed by your home carrier. Charges will appear on your regular cell phone bill. Please contact your carrier before your cruise to check rates for each service and ensure your plan allows you to roam. For more information, visit www.cellularatsea.com.

Cell phone roaming is enabled on the Carnival Triumph, however, the system can be pricey as the price plans feature international roaming rates and data charges (this can be very expensive). Contact your mobile phone operator to ensure that your account is activated for international roaming and inquiry as to per minute rates and data charges.

All major US mobile operators as well as Rogers Wireless in Canada are available on the Carnival Triumph. There are also several mobile operators whom are available on the Carnival Triumph.

Ship-to-Shore Phone Calls

For our guest's convenience, the ship's telecommunications network offers direct dialing via satellite from the stateroom's telephone. This is available 24 hours a day regardless of the ship's location. This service is closed on the final day of the cruise at 4:00 AM. The rate is $1.99 per minute, and charges are billed to the guest's on board Sail & Sign Card. Since all communication is via satellite, the charges apply to all calls including calling cards, credit cards, 800 toll-free numbers and collect calls.

Shore-to-Ship Communication

Friends and family may call guests on board via Sea Mobile Shore-to-Ship telephone service. The rate is $9.50 per minute from the United States; additional long distance charges may apply from outside the United States.

1-877-CCLSHIP (1-877-225-7447): from the U.S
1-732-335-3284 - from outside the U.S

The caller needs to have available the ship name and the guest's name. The charges will be applied to the caller's credit card: MasterCard; Visa; American Express; The Discover Card; Diner's Club.

For customer service please call:
1-866-459-9020 or 954-672-4428
e-mail: dialaship@mtnsat.com

Customer Service Hours:
8:30am to 5:30pm Eastern Standard Time

---

Slide & Glide

The Carnival Triumph has 3 pools plus a small "kiddy" pool for wading that is part of the Camp Carnival program. The pools have saltwater and there are fresh water showers provided so you can rinse off. Reportedly, the maximum pool depth is 3' 8" - enough to take a dunk and cool off, but, not really deep enough, or large enough, to swim in. Given this, the area around the pool is best suited for sunbathing on 2 tiered decks.


The main pool is "The Continent Pool" and is located in the middle of the ship on Deck 9. The main pool features two oversized whirlpool spas and is positioned below the 270 square foot LED TV known as Carnival's Seaside Theater. The TV runs most of the day and features sporting events, music videos, and in the evening, movies. With a 70,000 watt sound system, there have been complaints that the TV can be quite loud. At the opposite end of the Continent Pool is a stage which, during most hours of the day, there is some activity going on - anything from a Caribbean band to a member of the ship's staff leading an activity or game. Typically, the Continent Pool hours are from 8 AM to 11 PM.

Located behind the South Beach Club Restaurant on the Lido Deck (Deck 9) is "The New World Pool" which is enclosed under a retractable roof and features two oversized whirlpool spas. The Sun and Sea Pool area is designated as "adults only,"however, there are mixed reviews on Carnival's enforcement of the policy. Carnival has yet to introduce their adults-only Serenity product onboard the Carnival Triumph, however, the enforcement of the "no kids" policy will certainly improve whenever that happens. Given the adults-only policy for the New World Pool, and, that there is no live music in the New World Pool area, this is your better bet for a quieter pool area. Typically, the New World Pool opens at 8 AM and closes at 12PM.

On Deck 10 (Panorama Deck) is "The Universe Pool" which features one oversized whirlpool spa. The pool is located overlooking the Continent Pool and right next to the run-out for the water slide. Operating hours typically are from 8 AM to 8 PM.

Carnival's Twister water slide is 214' long and the entry to the slide is located on Deck 13 (Sky Deck). The slide is 3-stories high and empties out into its own separate pool. The water slide typically operates from 10 AM to 5 PM and there is a 42" minimum height requirement.

There is a children's wading pool in the Camp Carnival area of the Carnival Triumph located on Deck 12 (Sun Deck).

Pool, Water Slide & Sunbathing Tips

When arriving in the pool area, you will need to sign-out a towel for use around the pool area. There will be a $22 charge per towel to your onboard account for each towel you fail to return.

Babies & Infants in Pools: Carnival's official policy is "no swim diapers, children must be potty trained". We have not heard reports on whether the policy is strictly enforced.

While Carnival does its best to discourage this, sunbathers do show-up at 8 AM and try to stake their lounge chair territory for the day.

The Port side of the Lido deck near the pool does permit smoking. The rest of the deck is non-smoking.

---

Spa, Salon, and Fitness Center

Carnival Triumph Spa

The Carnival Triumph's spa treatments include many of the services usually expected of a day spa: massages, acupuncture, body wraps, slimming treatments, facial treatments, tooth whitening, steam rooms & water therapies. The spa itself is operated by Steiner - the leader in shipboard spa who operates spas on just about every major cruise line in the industry. You should check onboard for the current list of services being offered on your cruise. Of particular interest in the Carnival Triumph's spa facilities include a couples massage room, men's & women's steam rooms, and a dry float bed (used in body wraps).


Carnival Triumph Salon

The Salon onboard the Carnival Triumph offers hairstyling, cutting, coloring, eye brow shaping, waxing, manicures, pedicures & facial treatments.


Spa & Salon Tips

Make certain to book any Spa Carnival or Salon treatments you want early - they tend to fill-up quickly. Also, be on the lookout for discounts offered for making appointments on the first or second day of the cruise.
Try the Ionithermie Super Detox Treatment to lose inches and cellulite.

Workout Room (Gym), Jogging Track, Yoga & Aerobics

The Carnival Triumph's jogging track and gymnasium are both located on Deck 11 - the Spa Deck. Access to the jogging track is via a stairway from Deck 10 and the gymnasium is accessed via the Spa Carnival front desk. There is a hallway on the left and right side of the Spa Carnival check-in that leads to the Men's and Women's locker and shower area before entering the gym area itself. Access to both Carnival Triumph workout facilities is included with the cost of the cruise. There are men's and women's locker rooms and showers you may use in the Spa Carnival facility.

The gym is really quite outstanding - there are at least one dozen treadmills and enough other cardio machines and weights to rival any hometown gym. One thing your local gym probably doesn't have though is the floor to ceiling windows so you can look at the beautiful ocean while you work off your buffet butt. There is also a selection of classes offered, but the trendiest and most popular (Pilates, yoga and spinning) are $10 per person. In addition to the gym, there is a jogging track on Deck 12 if you prefer your workouts in the fresh air.


Aerobics and Yoga

Aerobics and yoga classes are available onboard Carnival Triumph for a modest fee - check the Fun Times or with the Spa Carnival front desk for scheduling information.

City Sports Park

It's all in fun on the Carnival Triumph Sun deck. Have a swinging good time at the 9-hole mini-golf course. Then take a quick run around our padded jogging track, get your Ping Pong game on, and don't pass up on a great game of Shuffle Board.

---

The Winning Club Monaco

Charm "Lady Luck" at the newly renovated Carnival Triumph Club Monaco Casino. Try your hand at slot machines, blackjack, roulette and poker - Go ahead, roll the dice, or cut the cards.

---

Children's / Kid's Programs & Babysitting

Carnival has one of the premiere kids' programs in the industry. Youth groups onboard Carnival Triumph are divided based on age. Club O2, located Deck 12 (Sun) Forward is the meeting place for ages 15-17. Circle "C" at Deck 12 (Sun) Forward provides activities for the 12-14 crowd. The two-tiered Camp Carnival Child Development Center takes excellent care of the youngsters with age appropriate divisions. Located on Deck 11 and 12 (Forward), Toddlers ages 2-5, Juniors ages 6-8 and Intermediates, ages 9-11 each boast their very own Camp Director and dedicated space. Age appropriate planned activities are provided throughout the cruise.

Children's / Kid's Program Tips

At Camp Carnival, the age groups have some room for maneuvering. If you have a couple of kids close in age but fall into different groups, it's not normally a big deal. This varies with the amount of kids on each cruise, but the Camp Directors will accommodate you as much as possible.


Club O2 Fun Times and Circle "C" Capers are handed out by their respective Directors.
Sign up for all groups is the first night. Club O2 and Circle"C" groups can come and go as they please. It's a good idea to set up a meeting point or a buddy system after an activity is over. Camp Directors for these groups will escort as needed.

Video Games / Video Arcade

The Carnival Triumph's Underground Tokyo video arcade is located on Deck 5 (Promenade) adjacent to World's Way Promenade. Games typically include air hockey, foosball, and a half-dozen of the traditional arcade games. Game Boy's may be available for rent from the Carnival Youth Staff, and, the Carnival Youth program areas usually have Sony Playstations for use in their respective programs.

Camp Carnival

It's designed and fun-ified with Carnival Triumph cruisers ages 2-11 years old in mind. So relax, and know that your kids are supervised by an experienced team and having just as much fun as you are...maybe even more.

Circle "C"

One of the coolest spots on the ship is Carnival Triumph Circle "C" and it's just for kids 12-14. Video games, dance parties, late night movies, Karaoke and more. What could be more fun?

Club O2

We know just what teenagers 15-17 like...Music, video games, food, new friends and BIG fun, Club O2's got it; the perfect 'round-the-clock Carnival Triumph hangout full of the most fun things to do.

---

Carnival Triumph Deck Plans