Shore Excursions
---
Special Exclusive Shore Excursions Only For Our
"Mayan Galactic Alignment" Cruise Group
PORT CALLS
Enjoy your time at port with like-minded
"2012 Mayan Galactic Alignment Cruise" participants
On the 2012 Mayan Galactic Alignment Cruise, we will dock at two ports in Mexico: PROGRESO and COZUMEL. There Divine Travels is offering specific exclusive shore excursions for our "Mayan Galactic Alignment Cruise" group. By booking one of these shore excursions, you can enjoy touring with like-minded individuals who are taking the Seminar-at-Sea.

REGISTER FOR SHORE EXCURSIONS BY CLICKING HERE NOW

---

LINKS TO THIS PAGE, or Scroll Down:

Progreso Excursion: Initiation with Maya Elder Hunbatz Men

Progreso Excursion: Galactic Alignment Torsion Measurement with Richard C. Hoagland

Cozumel Excursion Part 1: Goddess Ixchel and Sacred Dance at San Gervasio

Cozumel Excursion Part 2: Fire Ceremony at Chankanaab with Famed Mayan Elder Elizabeth Araujo

Optional Add-on: Royal Dolphin Swim at Cozumel

---

Tickets for Shore Excursions:

Shore excursion tickets will be placed in your stateroom upon arrival. Please look over your excursion tickets carefully, verifying meeting time and location. If you are traveling in a group, ensure that everyone has the same meeting time. Please also take note of the "notes" section of the ticket; this will indicate special information that you need to know about the tour.

Physically Challenged Guests:

While we endeavor to make our shore excursion program available to all guests, inherent tour venue limitations and/or tour operator limitations, beyond our control, limit the ability of guests with special needs to participate in certain shore excursions. We strongly recommend such guests to advise the shore excursion department of disabilities when requesting tours and to further meet with the shore excursion staff on board to discuss their disabilities as they relate to the unique characteristics of each excursion. We advise independent transportation for the comfort and convenience of guests with disabilities.

IMPORTANT: The very special Shore Excursions offered here for our group have extremely limited space, so reserve your spot now, before they sell out. Don't miss this opportunity!
REGISTER FOR SHORE EXCURSIONS HERE NOW

More Shore Excursions: If you want to take other shore excursions not described on this page, you can register for shore excursions online at www.Carnival.com. Those shore excursions will be a mixture of various people taking the Cruise--not "Mayan Galactic Alignment Cruise" participants.

---

PROGRESO
Grand Pyramid of Chichen Itza: "El Castillo"

Wednesday, December 19, 2012
Solar Galactic Alignment: Sun at 27 degrees Sagittarius
Arrival in Port 7:00 am, Departing 4:00 pm

---

Shore Excursion:

"Sacred Mayan Initiation at Chichen Itza" with Mayan Elder Hunbatz Men

Day of the Solar Galactic Alignment, with Sun at 27 degrees Sagittarius

FEE: $189, including box lunch on bus

7:30 am to 3:15 pm

REGISTER FOR SHORE EXCURSIONS BY CLICKING HERE NOW

We will be transported by bus from the Port of Progreso to the Chichen Itza Mayan Sacred Site, where we will participate in a very special Mayan ceremony, just for our group, led by famed spiritual guide Hunbatz Men.

Meet for departure: 7:30 am
Departure from pier at 8:00 am local time
Arrival at rest stop 10:15
Arrival to Chichen Itza 10:30
Time at site 2 hours
Rest stop and pick up Box Lunch 12:30
Departure from Chichen Itza 1:05 pm
Arrival to cruise pier 3:15 pm

Wear a hat or visor to shield from the sun, and good walking shoes, such as athletic, tennis, or hiking shoes. If possible, the shoes should be made of all natural fibers, so the sacred vibration of the land can be absorbed. Our spiritual guide has asked us to dress in all white clothing on this excursion, and to memorize the prayer below. Box lunch will be provided on the bus.

VERY IMPORTANT: It is traditional in the Maya world to bring cash and also another SMALL, practical, personal or household gift that a man can use, to give to the spiritual teacher leading the ceremony. It is an insult not to do so.

"Initiation within the New Mayan Cycle of 5,125 Years"

Hunbatz Men will lead a Mayan Initiation on our shore excursion at Chichen Itza. This work will be very important because we are going to witness the change of Age of the Mayan Wisdom.

Instructions from Hunbatz Men for the Ceremony:

Hunbatz says, "Please tell all the initiates who will participate in the rituals, both men and women, to wear white clothes. Let us say that this will be the official color for clothes. Also I would advise every initiate to memorize the following prayer to Hunab K'u. This is a prayer for the daytime and for our solar creator. Anywhere and everywhere we do our initiatic work will be blessed with manifestations of orbs, which represents our consciousness like you will see in the photos below."

Prayer to Hunab Ku
by Hunbatz Men

With the rising of the sun we receive your words, Master,
Because with your light we awaken and contemplate everything.
We also contemplate ourselves because we are your children.
This is why at dawn we surrender ourselves to you,
So that you may protect us and teach us your wisdom.
It is your visage which looks upon us and contemplates us, Master.
This is why we surrender to you, Father and Master Hunab K'u.
And we surrender our children,
Just as our parents surrendered us to you.
Master Hunab K'u, you know what you make of us.
We ask you, Master Hunab K'u, to show us the path.
Help us, Master Hunab K'u, to regain fraternal love.
We ask this of you, Master, Giver of Movement and Measure,
So that we do not lose ourselves.
Oh Master, Hunab K'u!

Hunbatz Men is a Maya elder who lives in Merida, Yucatan, Mexico. He is a spiritual leader, Daykeeper, and teacher of traditional Maya wisdom passed down to him through generations of Mayan elders. He has committed his life to transmitting these sacred teachings to others who have an interest in the vision and practices of ancient indigenous cultures. He believes that modern peoples can benefit from understanding the world view that the teachings of the Mayas express. This path of sacred sacred wisdom teachings is offered through Maya Mystery Schools, and draws students back into the higher consciousness of the universe, back into Cosmic Consciousness, which they have forgotten. His books include Secrets of Mayan Science/Religion (Bear & Co, Santa Fe, NM 1990) and The 8 Calendars of the Maya: The Pleiadian Cycle and the Key to Destiny (Bear & Co, published early 2010).

Hunbatz Men says, "There are many Mayan ceremonial centers in my sacred land. More and more people are feeling called to make a pilgrimage here, fulfilling the sacred Mayan prophecy that after the cycle of darkness that ended in 1995, people would again return to the temples in a respectful way. More people are doing ceremony at sites. More people are learning the knowledge that has been stored in the stones."

There are about twenty-one thousand temples, pyramids, and sacred centers in Mesoamerica. This elaborate network of sacred centers was used to keep balance on the Earth and to expand the consciousness of human beings. According to Hunbatz, there are more pyramids in Mesoamerica than anywhere else in the world. The culture of the pyramids was created here. The main temple, he says, is the one at Chichen Itza.

"The ceremonies that culminated at Chichen Itza were intended to help reprogram human DNA so that we humans can learn to exist on Earth in symbiosis with our light bodies-Sun bodies. Our DNA during the Mayan cycles of the Iast twenty-six thousand years has been encoded with a flaw that can, ultimately, become a source of deevolution. This flaw causes us to believe that we are separate from the Divine Source. For us to evolve identity, this flaw was required. But now it is time for us to move into communion with the Divine.

"Our Mayan teachers knew that with the passage of time people would retum to this land to regain the knowledge of these stones. They are vibrating with the new era, to teach that which was written there. The prophecies say that thousands of people will come back there to try to rediscover the secrets and the philosophy of the Maya:' Hunbatz says that since the early I980s as many as thirty thousand to forty thousand people come each year as tourists. They began coming when the mainstream culture suddenly recognized that a dramatic insignia is formed on the side of one of the pyramids at special times of the year."

From the Book Profiles in Wisdom by Steven Mc Fadden

---

Shore Excursion:

"An Expedition into Ancient Mayan Torsion Science during the Grand Galactic Alignment of 2012"
with Richard C. Hoagland

Day of the Solar Galactic Alignment, with Sun at 27 degrees Sagittarius

FEE: $189, including box lunch on bus

7:30 am to 3:15 pm

We will be transported by bus from the Port of Progreso to the Chichen Itza Mayan Sacred Site, where we will participate in a very special Mayan ceremony, just for our group, led by famed spiritual guide Hunbatz Men.

Meet for departure: 7:30 am
Departure from pier at 8:00 am local time
Arrival at rest stop 10:15
Arrival to Chichen Itza 10:30
Time at site 2 hours
Rest stop and pick up Box Lunch 12:30
Departure from Chichen Itza 1:05 pm
Arrival to cruise pier 3:15 pm

Wear a hat or visor to shield from the sun, and good walking shoes, such as athletic, tennis, or hiking shoes. If possible, the shoes should be made of all natural fibers, so the sacred vibration of the land can be absorbed. NO NEED to dress in white. Box lunch will be provided on the bus.

Have you ever wondered about the "magic" surrounding discussions of ancient sacred sites?

Have you ever wanted to feel first-hand that intensified awareness and charged sensation so many of us have experienced when we finally have the opportunity to stand on these "timeless sacred grounds?"

And, have you ever secretly worried that it was "all in your head?"

Or -- is there a real, measurable "lost science" behind all those remarkable sensations and reports?

Now you can participate in your own "Grand Mayan Experiment for 2012" - at one of the world's most famous ancient Mayan sites, Chichen Itza - to actually find out.

By scientifically measuring what others say they have been feeling,

And, seeing the results first-hand as you are feeling them yourself!

This 21st Century rediscovery of "lost ancient Mayan science" began with "the first Venus Transit, in 2004" -- where Richard C. Hoagland, head of the Enterprise Mission, conducted his first "torsion field measurements" at Coral Castle, reported live from S. Florida on "Coast to Coast AM." For the first time in public that pre-dawn, Richard shared with millions in the "Coast" audience the unique "torsion technology and software" he was using to measure the same "aetheric/torsion field energies" Hoagland theorized were the basis of the secret knowledge the ancient Mayans already knew about and used over a thousand years before.

Not only incorporating its life-changing "celestial alignment secrets" in their infamous Long Count Calendar but in the massive, mysterious pyramidal architecture that is the centerpiece of all their "ancient sacred sites!" 

Hoagland's journey of discovery of "what the Mayans really knew" continued, in 2009, at Teotihuacan, Mexico, and at Tikal, Guatemala -- where he was finally able to numerically, redundantly, confirm for the first time the "highly-active torsion field amplification" going on amid the striking pyramids that are the hallmarks of these well-known ancient Mayan sites.

In the words of his Tikal Mayan guide, Francisco Florian "seeing these measurements on the computer screen finally made real for me all the stories of these energizing, sacred places that I've been told about my entire life, from my own people."

With his Mayan guide watching almost unbelievingly, Richard repeatedly demonstrated the existence of a major torsion field, surrounding not only the imposing pyramids built all across Tikal, but especially, the energies focused on the courtyard in between -- where the Elders annually commanded Mayan framing peasants to bring their harvest grains and seeds, for "exposure" in the center of Tikal; those crops, after this annual "fertility festival," consistently bore greater yields, according to Florian, than those seeds NOT brought to the center of Tikal just by being placed for several days between the pyramids.

Hoagland's historic torsion field measurements finally demonstrated "why."

These were the same ancient Mayan Elders, living in exclusive and restricted "royal apartment complexes" immediately adjacent to this Sacred Courtyard and its flanking pyramids, whose years were almost double that of the ordinary Mayan farmers living miles away, yet eating the same foods but dying decades sooner!

Simply because, according to this data,

The long-lived Mayan Elders lived all their royal lives immediately adjacent to this courtyard - "energized" as it was by the massive pyramids "standing guard" in the center of Tikal.

This startling Enterprise research into "the lost science that underlies the entire ancient Mayan mythos" - including, the many predictions of 2012 based on the highly controversial Calendar itself - were profiled, in 2009, in the NBC/ SyFy Special "2012, Startling New Secrets," subsequently re-broadcast many times around the world and viewed by millions. 

Earlier this year, Richard was on the summit of the Sandia Mountains, almost 12,000' ft above the Rio Grande Valley in New Mexico, documenting once again via additional torsion measurements the major physics implications behind the Mayan Calendar:

The measurable "torsion impact" of solar eclipses on our planet. 

Representing the "ultimate celestial alignment" in the solar system, as seen from Earth, the historic solar eclipse measurements Richard recorded on May 20th, confirmed stunning "major torsion effects" occurring directly as a result of the rare "annular" alignment of the Sun and Moon (below).

Richard's measurements also confirmed "why" what ancient peoples have insisted for millennia - that mountains are "sacred" -- because of "special energies" around them -- turns out now to be scientifically, measurably true,

Mountains, like the Sandias - topped by thousands of feet of ancient limestone -- by their very "geometry and composition," massively amplify the background "torsion field" which is what makes them the ultimate of "sacred places".

Which limestone pyramids as miniature "sacred mountains" also have been carefully designed to do!

Come with us, then, on "the expedition of a lifetime" - a unique expedition into "Ancient Mayan Torsion Science" during our "Grand Galactic Alignment Cruise of 2012".

Mr. Hoagland, leading an "Away Team" of expedition members from the ship the morning of December 19, 2012 - the celestial "window" when the Sun aligns closest to the Center of the Galaxy for the next ~26,000 years - with the assistance of Away Team members, will carry out extensive torsion measurements of the fabled "Pyramid of Kukulkan" at Chichen Itza, during this literally once-in-a-lifetime Milky Way Alignment.

One of the first goals of these unique scientific measurements will be to explore the capability of the Pyramid of Kukulkan to amplify existing "torsion energies" - the background "aetheric field" of space itself; because of the physical location of Chichen Itza - 20.67 degrees north, 88.6 degrees west - extremely close to a physically significant latitude in "torsion physics," 19.5 degrees, that Enterprise research has identified as extraordinarily significant in terms of "tapping into the torsion energies of Earth itself," Enterprise expedition measurements of the Kukulkan Pyramid may reveal unique "torsion signatures and modulations" due to this crucial geodetic placement.

Further, located ~120 degrees (and thousands of miles) west of the Great Pyramid, in Egypt, this also pivitol Kukulkan location allows further testing of a remarkable additional idea -- that "all ancient sites are ultimately connected 'communicating with each other' through the torsion field of Earth itself."

Another goal of our "Galactic Alignment Expedition to Chichen Itza" will be to measure the effects of focused meditation on the existing torsion field surrounding the Kukulkan Pyramid before and during the planned meditation efforts of a parallel Chichen Itza shore excursion, led by venerated Mayan elder, spiritual leader, Daykeeper and teacher of traditional Mayan wisdom, Hunbatz Men; this will represent a unique opportunity for all Away Team members to explore with scientific instruments the effects of human consciousness on the underlying "creative torsion field" as amplified by a highly venerated ancient Mayan sacred site and, at a unique moment in the current troubled history of Earth. 

Finally, this Enterprise Chichen Itza expedition will be in a unique position to measure -- and perhaps to answer - an exciting "modern mystery" about the Kukulkan Pyramid, that first arose in 2009.

Remarkably, during a local thunderstorm one afternoon, as another group of tourists were visiting, the Pyramid of Kukulkan suddenly produced a "beam" of visible energy -- projected vertically as far as the eye could see perhaps into outer space itself!; one family, visiting the pyramid from Costa Rica, just by chance captured this extraordinary event on camera.

Later, as they and the other tourists left the pyramid by tour bus, the family passed their camera around... and dozens of their fellow tourists saw the striking images within minutes of the remarkable event itself, thus ruling out anything as "trivial" as a hoax.

Was this extraordinary emission of visible, "collimated" energy -- apparently coming from within the Pyramid of Kukulkan -- triggered by the sharply changing electric fields of the local thunderstorms that afternoon?; did those massive electrical energies "awaken" some kind of "ancient torsion technology" deliberately buried for centuries underneath the Pyramid causing it to emit such a beam in direct response to such an outside stimulus?

Or--

Was this spectacular emission some kind of deliberate, "timed event" -- part of a long-designed "torsion awakening" of the Kuklukan Pyramid as 2012 approched... some kind of "torsion beacon" for those somewhere out there in the Galaxy "who have been waiting "--

A 2012 "extraordinary climax" for the inhabitants of Planet Earth?

Come with us and find out.

---

Chichen Itza: "The Well of the Itzas"

Chichen Itza, the most famous of all Mayan archeological sites, is a vast Maya ruin dating from 600 to 900 AD. This breathtaking and powerful site is a must for the first time visitor seeking the ancient road of the Maya. There are six square kilometers of archeological zone. At its height it was undoubtedly a bustling metropolis, with its population taking part in a prosperous and artistic society.

Chichen Itza is a pivotal site when studying the Maya Late Classic period. Its rise coincided with the steady decline of the other great Mayan cities. Plagued by inter-dynastic blood feuds fought to determine kingships, the powerful kingdoms of the Middle Classic period were faltering.

Wedged between two great kingdoms, that of Coba and Uxmal, the site boasted no great structures or temples until the arrival of a group of Mayans called the "Itza" who forever changed the political thinking of the entire region. The Itza are believed to have been sea faring merchants who traded extensively from a base on the western coast of the Yucatan, bringing rare goods such as obsidian from Mexico.

Not only good merchants, the Itza were a warrior people, and through their excursions into the Yucatan they challenged the military might of the cities and alliances of Coba and Uxmal. Bringing Mexican military and political concepts they had learned as a result of their trade relations, they were eventually victorious, and built their capital city around a large cenote,or natural well, calling it "the well of the Itza." Scholars have spent many years trying to discover where the Itzas came from and what their relationship was to the Toltecs, who obviously influenced the building style at this site.

The different architectural styles (classified as "new" Chichen and "old" Chichen) led scholars to assume that the older section exhibited the building styles prevalent to the Puuc Maya while the newer section was attributed to a foreign invader such as the Toltec. In particular, the glorification of the Toltec god Quetzalcoatl in his Mayan form as Kukulcan, the Feathered Serpent, led many to believe that the Toltecs had taken over this formerly Mayan city. Now, however, scholars are beginning to dispute the idea of a foreign invasion and takeover. Contemporary thought is that Chichen Itza must have been a cosmopolitan endeavor that was inhabited by a diverse group of peoples from the Puuc to the Toltecs.

In a period when dynastic blood feuds were bringing down many Classic Mayan kingdoms, Chichen introduced new systems of rulership. Chichen Itza is unique in the ancient Mayan world because it lacks the fundamental relationship of its people to a king. Both portions of the city lack documentation of kingship that is characteristic of cities using the system of dynastic rule. Hieroglyphic texts tell of a matriarchal lineage that produced five sons who shared rule. This concept of co-rule among brothers was unorthodox at the time. According to Linda Schele and David Friedel in A Forest of Kings: The Untold Story of the Ancient Maya, "They turned away from the dynastic blood feuds of the past and moved toward effective alliance and consolidation.... The reassertion of the idea of brotherhood marked the dismantling of that first principle undergirding kingship: dynasty."

This dynamo of a city developed into a military machine that defeated and absorbed the surrounding provincial cities whose government was still based on kingship, offering the loser an opportunity to join their alliance. If the loser refused they became the sacrificial offering to the gods of the "New Deal."

The two zones ("New Chichen Itza" and "Old Chichen Itza") at this site show the different building styles used over its three hundred year history.

The Maya were adepts in the understanding of how the earth and the planets worked together in the yearly cycle. This knowledge is encoded in the great pyramid and the city itself. The observatory, or Caracol, located in the Old City is unique as the only truly round building found at any Mayan site. Its function as an observatory for astronomical study is obvious. El Castillo, or the grand pyramid, has a staircase on all four sides, each with 91 steps that totalled with the last step on top equal the 365 days in a solar year.

Twice a year, on the Equinoxes, light and shadow create an effect that make it appear as if the Feathered Serpent is descending down the stairway of the grand pyramid. Each spring, thousands of people from all over the globe come to witness this event. After a millennium of existence, this pyramid still functions as a highly reliable way to pinpoint the changes of the seasons.

The Maya ruins at Chichen Itza are also well-known for their chacmools, or receptacles for offerings to the rain god Chac. To the Maya of the inland jungle, rain was the most precious of nature's gifts. If rain was not forthcoming the crops suffered and indeed so did the whole society. The rain god Chac was an important deity for these Maya who had very little water without rain. It was the chacmool who received the human hearts as offerings for his beneficent rainfall.

Chichen Itza has numerous monuments for a visitor to explore. Some of the not to be missed destinations of this great ancient city are: El Castillo, commonly referred to as the great pyramid; the Main Ball Court, which is the largest discovered from the ancient Mayan world; the Sacred Well or Cenote, where archeologists have discovered a number of well-adorned skeletons of sacrificial victims; the Temple of the Skulls, with its numerous skulls adorning its facade; the Temple Of The Warriors, with its 1,000 columns dedicated to the warriors of Chichen Itza; and the Caracol or Observatory.

With its authentic and conscientious restoration and some of the most powerful and moving frescoes in the ancient Mayan world, it is a most impressive site--from its Old City to its newer structures that attest to its tremendous political influence in the Late Classic Era of the Maya.

---

COZUMEL
Home of the Goddess Ixchel

Thursday, December 20, 2012
Arrival in Port 8:00 am, Departing 3:00 pm

---

Shore Excursion:

"Goddess Ixchel Sacred Mayan Ceremony at Cozumel"

San Gervasio Sacred Site and Chankanaab Eco Park

8:00 am to 2:30 pm

FEE: $189, including lunch

REGISTER FOR SHORE EXCURSIONS BY CLICKING HERE NOW

This will be a 2-part shore excursion, with an option for a "Royal Dolphin Swim." We will first board the bus at the port in Cozumel and travel to the sacred site of San Gervasio, the only major site in the entire ancient Mayan world dedicated to the Goddess energy. There we will tour the sacred sanctuary to the Goddess and experience her gentle vibration of peace, love, and harmony. We will have a guided tour of the park by a local expert, with comments by Elizabeth Araujo, famed Guatemalan Mayan Elder, and we will enjoy sacred dance with "HEAVEN," Planetary Priestess of the Divine Feminine, and acclaimed sacred dancer.

Then we will travel by bus to Chankanaab Park, where we will witness a sacred Mayan Fire Ceremony conducted by Elizabeth Araujo, and a performance with musicians and dancers. Lunch will be included.

8:30 - Cruise dock pickup
9:00 / 10:00 – San Gervasio
10:30 / 10:45 – Arrival and entrance to Chankanaab
11:00 to 12:15 – Ceremony
12:15 to 1:00 – Lunch
12:00/12:45 - First shift Dolphin swim
1:00 to 1:24 - Lunch for first round of Dolphin swim
1:00/1:45 – Second shift Dolphin swim – Free time for those not taking Dolphin Swim
2:00 – Depart for cruise dock
2:30 - Arrival at cruise dock

Wear a hat or visor to shield from the sun, and good walking shoes, such as athletic, tennis, or hiking shoes, with socks (no sandals, as they will allow small lizards and fine black sand to enter). If possible, the shoes should be made of all natural fibers, so the sacred vibration of the land can be absorbed. Bring your swimwear and sandals onto the bus. You can change into your bathing suit at Chankanaab. HEAVEN has asked us to wear white for her special sacred dance ceremony.

VERY IMPORTANT: It is traditional in the Maya world to bring cash and also another SMALL, practical, personal or household gift to give to the spiritual teacher leading the ceremony, such as sewing or cooking implements. It is an insult not to do so.

Those who wish to swim with the dolphins can do so at Chankanaab Park. Reservations must be made in advance, while space is still available. This will sell out, so reserve now. For the dolphin swim, no sunscreen or jewelry is allowed.

San Gervasio Archeological Park

Most important Mayan ruins in Cozumel, this place was the Mayan sanctuary of Ixchel, goddess of love and fertility, an obligatory visit site for mayas once in their lifetime.

The Mayan sites of Tulum and Coba are also accessible from the port of Progreso. However, in terms of importance in the Mayan culture, Cozumel's San Gervasio ruins are a more significant site than Tulum. Tulum was simply a coastal "watchpost," whereas San Gervasio contains the temple built to honor the Goddess Ixchel. Here you will experience firsthand the mysteries of Mayan culture at the largest archeological site on the island.

At San Gervasio, enjoy beautiful sacred dance dedicated to the Goddess with "Heaven," Planetary Priestess of the Divine Feminine, and Acclaimed Sacred Dancer, Spiritual Teacher, Ceremonial Activator, Chi Gong Dance Alchemist, Creatress of SPIRITDANCING. Heaven offers tools to ignite Pure Presence and Full Spectrum Ecstatic Embodiment. Her teaching empowers us to integrate the Primal, Human, Divine, Feminine, Masculine, Shadow & Light and to activate the Codes of Light, Love & Unity. The time is NOW to fully embody the coherence of Mind intelligence, Body intelligence and Heart intelligence.

Through embodied prayer, sacred dance and sound healing Heaven transmits the Living Goddess frequency to open the heart, quiet the mind and connect to the Divine.

She teaches SpiritDancing in the Chi Field and Creating from Source utilizing the Ecstatic Embodyment Arts of mystical movement, sonic alchemy, shamanic trantric dance, body prayer and SPIRITDANCING, a fully in bodied, heart based sacred embodiment practice that is key to ascension and transformation.

As a Planetary Priestess in service to the Great Shift and Awakening of Consciousness on Mother Gaia, Heaven leads Divine Union Activations and Heaven on Earth Ceremonies and Celebrations around the Globe to help usher in the Golden Age.

Honoring the Living Goddess 

Ritual at San Gervasio 

"We are here to Dance the Dream Awake

to embody and live the Principles of the New World.

 As awakening Avatars, we share an orgasmic dance of co-creation with Source.

What Happens on Dec 22, 2012 and beyond is up to us! We are the Ones we are waiting for."

December 21, 2012 heralds the birth of a New Era. We are all being called to do our part in creating the New World. During this auspicious alignment, we have a powerful opportunity to restore the Divine Feminine Energies on our planet as we dance the New World into being.

Working with intention and ritual brings great healing and nurturing transformation to Mother Earth. GAIA is a Living Goddess. We are living on the Living Goddess herself and if we remembered this truth in our choices, actions and behavior, we would be living and thriving on a very different planet.

Planetary Priestess and Sacred Dancer, HEAVEN will transmit the Living Goddess Frequency through a Divine Mother Prayer dance as she is embodied by a pantheon of Goddesses including Gaia, Isis, Kuan Yin, Lakshmi and Mayan Cosmic Mother Ixchel, Goddess of Love, Creativity, and Fertility.

We activate the field with honoring the elements and calling the directions. Using breath, movement, sound and intent, Heaven guides us to open a portal to the heart of Gaia, spiraling and weaving our HEARTS as ONE. Heaven leads us in a Blessing ceremony, sending love, caring, appreciation and gratitude into her soil, weaving our feelings, prayers and intentions into the Web of Energy that connect us all in the Divine Matrix and sending it out to Bless all of Creation and finally elevating our prayers to the Hunab K'u in the Galactic Center.

"When we create certain kinds of emotions in our heart we actually change the shape of the DNA in our cells, the DNA that is directly linked to the stuff the world is actually made offeelings of care, appreciation and gratitude that trigger the healing effects of our bodies can influence our world." - Gregg Braden from the Divine Matrix.

SpiritDancing is BodyPrayer that opens the Heart and heals the Earth. Participants stand in a moving mandala of concentric circles. As we all collectively step to the heartbeat of the drum, each step becomes a prayer for healing. Each movement an enactment of sacred intent. As Spirit moves, each person steps forth and calls out a dedication or intention for their SpiritDance. "I am dancing for the Golden Age of Peace and Unity!" Embodying through Spiritdancing what they hope to experience in the new world, just as shamanic ancestors have done dancing for rain, bountiful harvest, fertility, communing with other dimensions or dancing on grid points to help birth the New Earth as we do today. When we dance as One Spirit with love, gratitude and unitymiracles happen

Please wear white and bring your Highest Intentions!

Come Dance the Dream Awake!!!

The Maya archeological site of San Gervasio has an unusually long history, beginning around 100 BC. Located on Cozumel Island, the largest island in the Mexican Caribbean, it was still a functioning religious site at the time the Spaniards arrived in the 16th century. In the heart of the island, in a lush jungle populated with brilliantly colored iguanas and lush flowers and foliage, one can see why no one ever wanted to abandon this beautiful place.

In ancient times, every Mayan woman was expected, at least once in her lifetime, to make the journey to Cozumel from the mainland to make offerings to Ixchel for her family's fertility and crop sustenance. Ixchel ("She of the Rainbows") is the deity of the moon. Ix Chel, Ix, meaning female, and Ch'el, meaning white or pale face,is a name befitting a moon goddess. She is also identified in the Madrid Codex as "the White Lady."

Ixchel is associated with the moon, sex, childbirth, disease, beekeeping, planting, water, writing, weaving, midwifery, fertility, medicine, and rain. She is the wife of the Mayan sun-god Itzamna Kinich Ahau, and together they had 13 sons, 2 of which created the world and everything in it.

Ixchel is depicted in three different aspects: maiden, mother, and grandmother. When depicted as a maiden, she is often shown together with a rabbit. The rabbit was associated with the moon by the Mayans, because when they gazed up into the sky at the moon, they saw a "rabbit-in-the moon." When depicted as a mother, Ixchel is often carrying something strapped to her back that she is about to pass down to humanity. At times, this burden she bears is something good, like the god representing a new crop, but sometimes it is something bad, like disease or drought. When depicted as an angry old woman, the goddess is known by the name Ixchebelyax, a name made up of the Mayan words Ix (female) cheb (brush to write with), and yax (first), or "the first lady of writing," an allusion to her gift to mankind of the written language. In this old crone version of her persona, she wears a snake headdress, crossed bones on her skirt, and has claws in place of fingers and toes. This crone will often carry an upturned water jug, symbolizing the deluge she and the sky-serpant were capable of unleashing upon the world.

The cult of Ixchel was introduced to Cozumel by the Itza Maya when they arrived on the island in the Late Classic Period, and it reached its apogee in the Post Classic, when many of the buildings in San Gervasio were erected. The cult was centered on worship and petitions to the goddess by women who came from all over the Mayan world on pilgrimages to the holy island of Cozumel.

In 1549, the bishop of Yucatan, Bishop Diego de Landa, wrote in 1549 that the Maya "held Cozumel in the same veneration as we have for pilgrimages to Jerusalem and Rome, and so they used to go to visit and offer presents there, as we do to holy places; and if they did not go themselves, they always sent their offerings."

San Gervasio was the sanctuary of the Goddess Ixchel as well as an important commercial, political and cultural center. Engravings at the site relate to events all over the Mayan world.

A graceful arch protects an altar on a sacbe (ancient road) leading into the ceremonial center. Many statues to Ixchel were found here and are still being discovered at the 40+ temples on the island. It is believed that a large ceramic image of Ixchel delivered oracles spoken by a hidden priestess for pilgrims with questions.

Although the archaeological site at San Gervasio has not had a lot of restoration, there are numerous structures and the beautiful natural setting makes a visit there worthwhile. One of the most interesting buildings is the Temple of the Hands. Inside, numerous small red hand prints of unknown significance are painted on the wall, leading more than one tourist to speculate that perhaps this was a day-care center for pilgrim moms!

The Mayan ruins at San Gervasio are a welcome retreat for those visiting the busy island of Cozumel. Enjoy the peaceful setting of this fertile jungle shrine dedicated to the Maya goddess Ixchel.

---

Cozumel Chankanaab Park

The second part of our Cozumel shore excursion takes us to Chankanaab Eco Park, where we will witness an amazing fire ceremony on the natural lagoon with Elizabeth Araujo, internationally famous Mayan Elder, honored and revered member of the Council of Mayan Elders, who lives in Antigua, at the heart of the Mayan World in Guatemala. We will also enjoy lunch at Chankanaab and witness ceremonial dance and music. Swimming in the Caribbean sea will also be available.

Elizabeth Araujo was born and raised in El Salvador. She is a warm, compassionate person manifesting a discernment that crosses cultural boundaries. She travels extensively throughout the world. Wherever Tata and Elizabeth are called to do ceremony and hold council with Elders, they bring unification, balance and harmony to Mother Earth. Her gentle spirit and clear intent create an atmosphere of acceptance, love and allowance. Elizabeth works through the Maya traditional healing ceremonies with the Sacred Fire and serves as a guide for spiritual journeys to sacred sites.

Grandmother Elizabeth lives in Guatemala. "I had the joy of traveling with Elizabeth throughout Guatemala, Peru and Bolivia in addition to being a guest in her home in Antigua. Her gentle spirit and clear intent creates an atmosphere of acceptance, love and allowance for all who come into her presence to enjoy. Elizabeth works through the Maya traditional healing ceremonies with the Sacred Fire and is a guide for spiritual journeys to sacred sites", said Les Carney - Co-Creator of Centers of Light Directory

Recently, Elizabeth answered some questions that have been on all of our minds. We thought we'd post it here for all to enjoy!

Here are the questions:

"Must we prepare for the change or continue living as we are accustomed to?"

"Why won't everyone go into this ascension?"

"Who will go?"

"How do we prepare to go into this ascension of the planet?"

Elizabeth says:

"We prepare every day by living with honesty, helping others...especially those in need. Caring for Mother Earth, avoiding any more contamination of the Earth, etc, etc. The change is an end of a Cycle of the Sun and the beginning of a New one. Live well and only God knows who will stay, it has always been this way and that is why we are here. This is all I can say for you, my Dears." --Elizabeth

Traditional Maya Fire Ceremony

Elizabeth will guide us in a powerful ceremony on land on the Island of Cozumel at San Gervasio, the Maya site sacred to the Goddess Ixchel.

The Maya Ceremony is an offering given to our Creator. In this occasion it will be to give thanks for being together and to ask for peace and unity in the world.

The Fire Ceremony is the spirit of the Maya Tradition. The fire transforms, the fire purifies. Through the fire we connect with our Creator. We drow a glyph on the ground and I will explain the meaning of it before placing our offerings in it. I will explain the meaning of the day in the Maya Caledar.

We invite the spirit of the water, mountains, the spirit of our ancestors, etc, to accompany us, we present ourselves to the sacred fire who will take our petitions and prayers to our Creator. We greet the 4 directions and then we proceed to call the 20 days of the Maya Calendar explaining their meaning. After calling the days and before closing the Ceremony there is time for anyone to speak if so desires. We give thanks to the spirits that accompanied us, we give thanks to Our Creator and Mother Earth and Close the ceremony, at this time the fire is all consumed.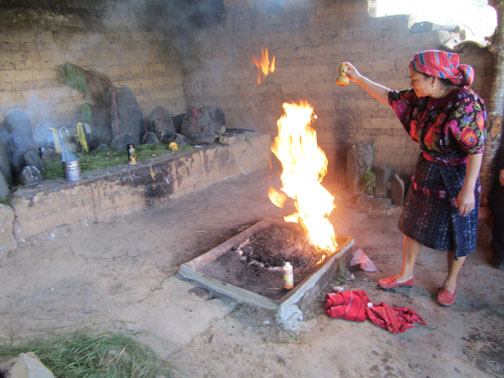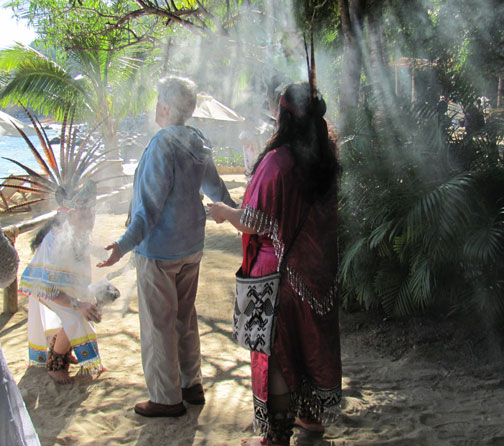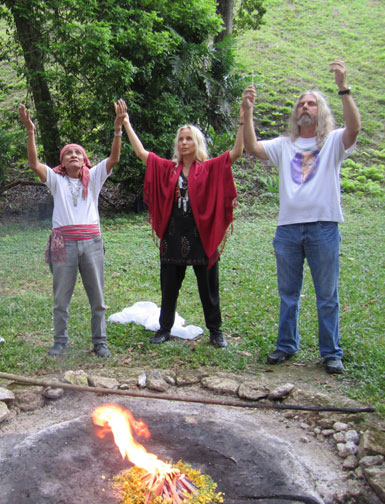 Cozumel's Chankanaab Park is a beautiful beachfront national park with a rich diversity of activities. In 1980 Chankanaab Park was decreed a National Park and an area for shelter, refuge and protection for flora, fauna and marine life on the Western Coast of Cozumel Island. The word Chankanaab comes from the Mayan language; Chan (small) Kanaab (sea or ocean) making reference to the natural lagoon formation located in the interior of the Park.

Mayan Fire Ceremony

Many of us are mesmerized by fire, and as we spiritually mature, we must ask why. Fire ceremonies are the center of all spiritual practices and common among all ancient and native cultures. A fire ceremony is the most powerfully transformative of all rituals. Each fire ceremony offers us the opportunity to use the source of all light to amplify our intentions and oblations. The divine lives in the fire. The ritual feeds and nurtures her. As one teacher puts it "fire is living spirit, not a symbol of God but God herself."

Mayan fire ceremonies are elaborate and powerful. The effects may not be fully realized for days or months. The experience is essential to understanding Mayan cosmology and involves us in their heartfelt way of worship.

The Maya Aj q'jab are adepts at fire ceremonies, probably doing thousands of them in their lifetime as an Aj q'ij. They use the sacred calendar to find the right day based on the purpose for ceremony. The ingredients are selected based on the same criteria. The Aj q'ij possess the ability to magically light the fire with the flick of the wrist, not using matches or lighter. There is also a science behind their reading of the licks of the flames and the glimmer of the coals. This ascertains if and how the nawales respond to the petitions. Their power and eloquence in calling forth the Nawales rivals any charismatic public speaker in the Western world. Hearing an Aj q'ij do this is enough to put lightening in your blood.

Mayan fire ceremonies begin with the invocation of the four directions, then the ancestors, other living Maya clans, places in nature, the elements and, sometimes, every conceivable spirit guide in the universe, regardless of faith, culture or location. Sometimes the tone of the ceremony is somber, other times it may be fun-filled and light. This depends on who is the ceremonial leader, the group of participants and the intention for the ceremony.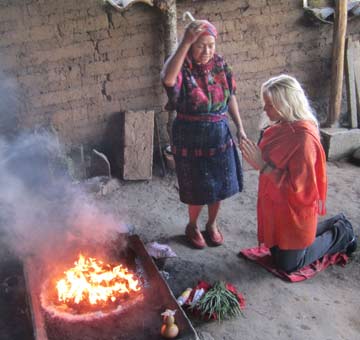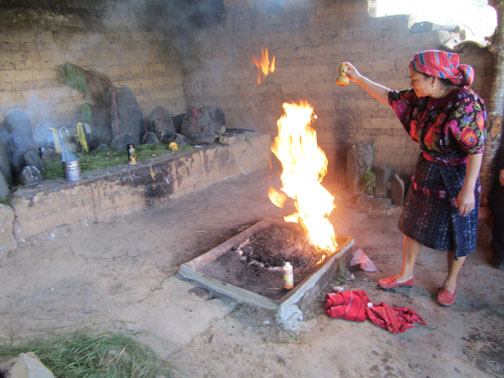 Preparing the Fire Pit

Smoke from ceremonial fires can be seen all over the countryside in Guatemala, on the mountainsides, cave floors and river banks. Mayan fire pits can be found in front of the catholic churches in the center of town and in the market (testament to how the Maya have been able to synchronize their belief system within Hispanic culture). The pit is wiped clean before a single ingredient is placed within it. Usually the Daykeepers spit a mouthful of sacred alcohol drink onto the pit to cleanse it. The sacred bundles (vara) are unfolded and spread out to the side of the pit. Each ingredient is meticulously placed on the vara so that the Aj q'jab know where to find it in the heat of the ceremony.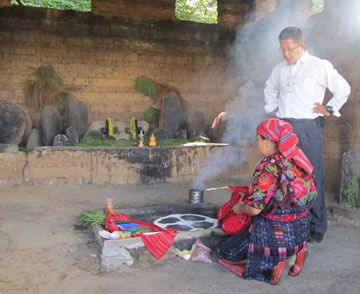 Ingredients

Many of the ingredients are procured at the ubiqitous "shaman shops," either portable clapboard push carts or permanent market stalls which brim over with ceremonial supplies. Most of the ingredients all handmade and carefully tied together with little strings that are never cut with a knife or scissors. At least two different sizes of color-coded candles, larger ones for the four directions and smaller tapers for the 20 Day Signs, are laid out on the vara in order of usage. The large color-coded candles represent the four directions and ancestors. Yellow colored candles symbolize peace, red symbolizes love, green is for the Earth, white is purity, baby blue is for little boys and pink is for little girls, royal blue is the sky, purple for the ancestors and black is for the offering.

Several different types of incense are used: small nuggets of copal packaged and tied up in corn husks; rax-pon, a large round ball of pine sap, ocote, small bits of myrrh, frankincense, herbs and sesame seeds. Florida water, flower petals, corn meal, sugar, cacao beans, home brewed rum and puros (rolled cigars of pure tobacco) all make fine offerings to the deities.

An artful masterpiece is created when everything is arranged, perfectly fit for pleasing the deities.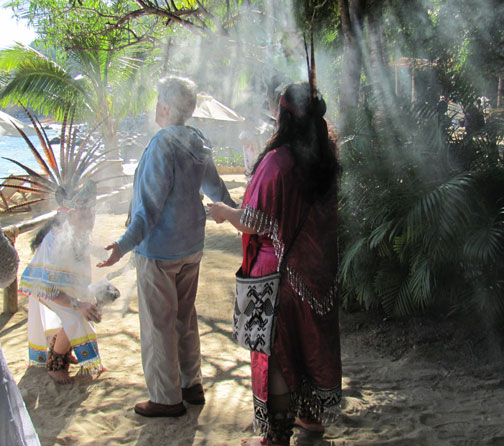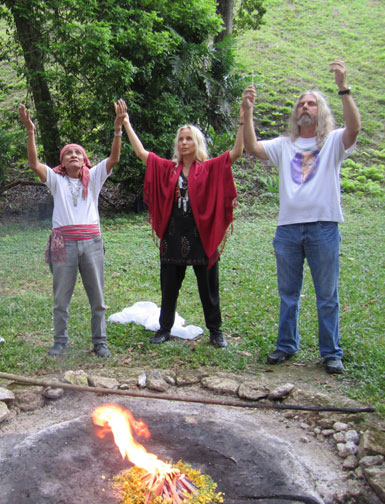 The Ceremony

Everyone present usually would know their Mayan day sign before the ceremony and is given a couple of candles that matches the color of their Day Sign. To begin, the smudge person begins to cleanse the energy fields of everyone in the circle. This continues throughout the ceremony.

The candles for each of the four directions are lit as their presence is called into the circle. Next the Aj q'ij begins the Sacred Count of Days beginning with the nawal of that day. As eloquently and as passionately as possible, both men and women Aj q'jab articulate the attributes of the nawal. When the Aj q'ij complete the request for the nawal to be present, s/he will ask the participants to count from 1-13 in unison. The count gets louder and more adamant with each number. A number of languages may be used.

The full count of 260 ( 20 Nawales x 13 Numerals) must be done from the heart and in earnest, otherwise the nawal will not show up. That, as you can imagine, is a very bad sign. As this whole process pogresses, passions mount and the energies rise. The heat and light from the fire alone are enough to capture everyone's attention. Each participant may step up to the fire when their personal Day Sign (nawal) is called. Whether the person realizes it or not, by doing so they step into their power and are forever changed.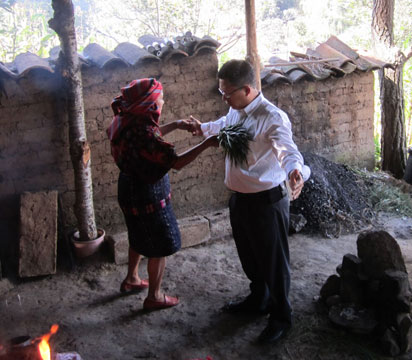 The Closure

The fire is a living, breathing organism that is essential in the web of life. Out of respect for her, no one walks away until the last ember has turned to ash. The intentions and prayers that were infused into the candles, copal and other offerings begin to seep into the souls of all who participated. The Mayan fire ceremony enlivens one's sense of Mayan cosmology, the Mayan Cross and enables the embodiment of all 260 nawales. All of this unlocks the cosmic code and the divine messages found within.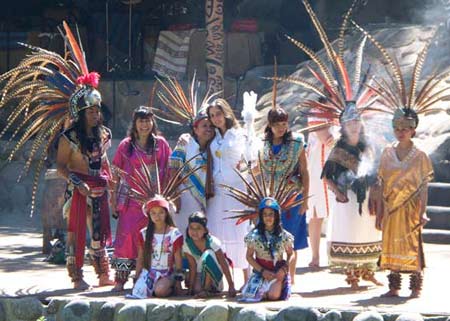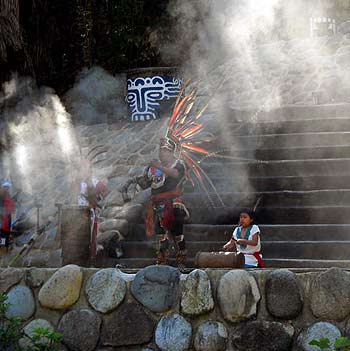 Chankanaab Park

Chankanaab, one of nature's greatest works of art, is located on kilometer 9 on Cozumel's highway. The park is considered a conservation area for fauna and flora after being decreed a national park in the year 1980. Every aspect of adventure, fun, and calm is melted into one place.

During your visit, you will discover that you are part of a natural reserve that offers its visitors an array of things to do, such as a swimming area, or a Cozumel dive area to be closer to the underwater universe. Experience the unforgettable opportunity to swim with dolphins, offered by Dolphin Discovery. The activity is without a doubt one of the most popular Cozumel tours. Don't miss out!

Entrance to the Park Includes:

Sea Lion Show, Prehispanic Eco Tour, Dolphin Presentation, Sea lion show, Manatee Exhibition, Beach, Coral Reef and facilities; restrooms, hammocks, palapas, beach chairs, swimming pool, showers and more.

Available in Park:

Two restaurants, a snack bar, gift shops, bathrooms with showers, lifeguard, 3 dive shops with equipment rental, lockers, hammocks area, children's playground and other beach activities.

Chankanaab provides visitors with adventure, fun, tranquility and safety while at the same time balancing and focusing on environmental conservation. Chankanaab Park engulfs in its lagoon the ancestral mystery which was at one time occupied by Mayan settlements. Or as legend has it, perhaps it was refuge for pirates who where looking for supply areas or hiding places for cherished treasures.

Plan to spend plenty of time exploring the botanical gardens with over 350 species of tropical plants and the inland lagoon, home to corals, large communities of fish, mollusks, crustaceans and marine gardens. While these areas did suffer extensive damage in hurricane Wilma, visitors can still enjoy observing the flora and fauna rejuvenating itself in nature's own time-honored process.

Free guided tours are available or follow the jungle paths on your own through the archeological park containing a Mayan village and replicas of sites throughout Mexico. Be sure to stop by the small interactive natural history museum.

The park offers special sand wheel chairs, bathrooms for the handicapped, showers, lockers, a volleyball beach court area, as well as a hammock area for relaxation, and a children's playground. Sunbathers will love the soft, white powdery sand beach with many palapas. The beach is raised above sea level by a rock wall that lines the cove. In the snorkel reef area, submersed statues and abundant fish life make this a fascinating place to snorkel, snuba, and dive.

Chankanaab offers several unique attractions for additional fees:

Dolphin Swim or Snorkel Adventure or an Encounter for the entire family
Sea Trek Helmet Dive where one can walk on the ocean floor in the cove wearing a waterproof helmet: Great for non-divers who want to experience the underwater world. As well as snuba.
Sea Trek Helmet Diving

---

"Royal Dolphin Swim" at Chankanaab Park

Dolphin Discovery Cozumel Location

$149 additional for Royal Dolphin Swim. Must be reserved in advance.

Currently SOLD OUT. Register for the Waiting List.

REGISTER FOR SHORE EXCURSIONS BY CLICKING HERE NOW

Cozumel, Mexico's most famous island, is surrounded by the blue turquoise water of the Caribbean Sea, offering its visitors an undeniable beauty and plenty of Cozumel tours to explore this piece of paradise on Earth.

The Island of Cozumel is famous for its importance as a cruise ship port and diving in Cozumel opportunities for the adventurous traveler. One of the many things to do in Cozumel is to swim with dolphins in their natural habitat. Being able to enter their beautiful world and interact with them in this manner is just one of the many things we love about Cozumel.

The Dolphin Discovery Cozumel facilities and your exciting day with us are located inside Chankanaab National Park. This Cozumel park is a beautiful conservation area located in the heart of the island and was created to protect the incredible fauna and flora species of Cozumel.

Chankanaab also protects the world-renowned coral reefs, which have made dives in Cozumel so famous. Our participants and their companions are free to stay in Dolphin Discovery facilities to unwind, relax, enjoy good food and chilled beverages, snorkel the reefs, watch a fun sea lion show and participate in other activities in Chankanaab. While you're here, go out and explore the island on your own and discover all the things there is to do in Cozumel.

Dolphin Royal Swim®

Pure excitement: action and speed!
Among the many things to do in Cozumel, Dolphin Discovery Cozumel is truly a one-of-a-kind experience. Our incredible dolphinarium is located on the beautiful island of Cozumel, one of the most important cruise ship destinations in Mexico. Our tender dolphins will offer you an array of interesting aquatic activities for you to enjoy.

The Dolphin Royal Swim® is the most dynamic of all dolphins programs and the most complete, as you will be swimming with two dolphins.

It includes the famous foot push, where two dolphins will raise you up the water surface by pushing you from the bottom of your feet. The ride will make you feel like you're flying! Our program also includes the dorsal tow, a ride along the Caribbean Sea while you hold on to the dorsal fins. In addition, you will also receive a kiss, a hug, a handshake and you will be able to enjoy some free time with them in the water.

Perfect entertainment: Up-Close and Underwater!

If swimming with dolphins is one of your greatest dreams, now is the time to make it real! In the crystal clear waters of the Caribbean Sea you will be able to live an adventure that you will remember forever.

The Dolphin Swim Adventure in Cozumel a worldwide diving paradise and important cruise ship destination will bring you as close to the dolphins as you ever imagined.

You will immerse yourself in their world through a snorkeling mask and you will discover the special bond between you and them.


They will tenderly say hello with their fins, they will kiss you, sing for you, take you for a ride on their belly and you will be able to swim in Caribbean waters while they jump or play with you.

The dolphins will be your pals for the rest of your life.

Start planning your trip to Cozumel today! Dolphin Discovery's amazing animals are waiting for you and we do not want you to miss The Experience of a Lifetime!

After your Dolphin Royal Swim program, you can enjoy the facilities of a unique Cozumel park where Dolphin Discovery Cozumel is located, Chankanaab National Park. While you're there, explore the island and find out what you love about Cozumel, whether it's the island's shopping paradise, gorgeous beaches or Cozumel diving experience.

HOLY COW ! Take the leap and Register now for your shore excursions!