Ruby Princess Cruise Ship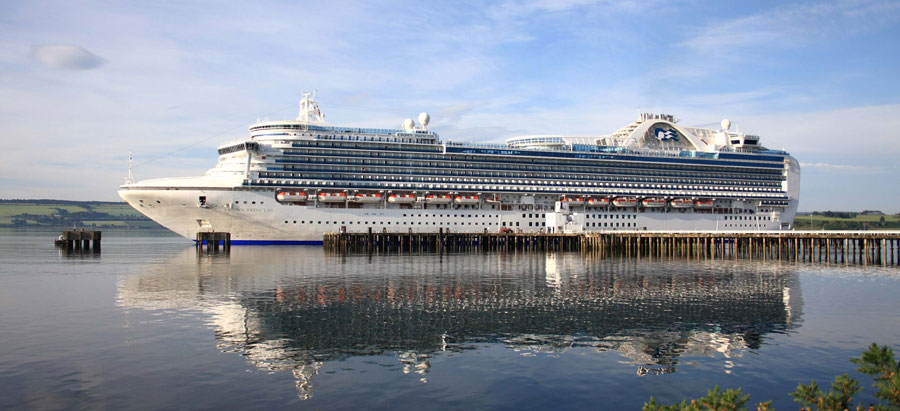 http://www.princess.com/learn/ships/ru
---
OUR SEMINAR-AT-SEA SHIP
RUBY PRINCESS
---
Featuring our latest innovations, Ruby Princess is one of the largest Princess ships, with room for 3,080 guests. From her nearly 900 balconies, you can enjoy sweeping views of romantic landscapes across the world. After experiencing the relaxed comfort of our intimate onboard venues, however, you may not want to explore the beauty ashore! The serenity of The Sanctuary and the casual street café atmosphere of the Piazza may just reel you in for the day, while your nights might be filled with the great tasting food offered in the Crown Grill, followed by a first-run film at Movies Under the Stars.

On Ruby Princess, enjoy the amenities that Princess is known for. Take a look around, and you'll find yourself surrounded by opportunities for fun. The Lotus Spa® and fitness area has a gym, a jogging track, basketball court, shuffleboard and more. Enjoy a yoga class, practice your swing with one of the virtual golf simulators, or play a round of 9-holes on the Princess Links putting course. There's even a swim-against-the-current lap pool. Speaking of pools, this ship has five pools - one is in the Sanctuary, and is adults-only. The Calypso Reef has two hot tubs as well as a pool, as does Neptune's Reef. The Lotus Spa also has two hot tubs. Finally, you can also enjoy the Terrace pool - just relax and take in the sun, dip your toes, or make a splash. Want to go shopping? The boutiques on board are all duty free and have designer clothing and other gifts. Enjoy the library, the art gallery and auction, and the seminars offered in the ScholarShip@Sea® program. The ship even has a wedding chapel.
Those familiar with Princess will recognize its marquee features: Movies Under the Stars, a poolside big-screen theater; the bustling, three-deck Piazza, a combination bakery, Internet cafe, wine/sushi/tapas bar and performance venue; the adults-only Sanctuary, a mostly shaded top-ship retreat with thick, plush loungers, massage cabanas and a spa menu; and Princess' signature duo of specialty restaurants, the Crown Grill (steaks, chops and seafood) and Sabatini's (Italian multi-course repast).

The ship also showcases Princess' most successful smaller programs and amenities. The excellent Wheelhouse Pub lunch with its fish 'n' chips and bangers 'n' mash draws a serious crowd; Wii's and PS3's in the kids' areas; classes on drink-mixing and astronomy. Best of all are the phenomenal backstairs ship tours -- one that takes passengers into the galley during the frantic dinner rush (at 7:30 p.m.) and a second that provides an insider's look at the inner workings of the vessel, from the sprawling laundry facilities in the bowels to the top-ship funnels.

There are even smaller, under-the-radar touches: With the exception of a cheese plate, sushi and tapas at Vines is included in the fare. And, suite passengers can eat breakfast in Sabatini's with a special menu and sip on reduced-price drinks and free canapes in a designated lounge each evening.
---
FREE SHIP AMENITIES
---
As the Consummate Host, Princess Cruises strives to provide each passenger with a truly unforgettable onboard experience and an exceptional value for their vacation dollar. From an array of great-tasting dining options to engaging onboard activities to staterooms featuring all the comforts of home, you'll discover plenty of amazing options that are included in your cruise fare, so you can simply relax, unwind and escape completely.

Dining options freshly prepared from scratch
Taste your way through an ever-changing menu of delicious options for breakfast, lunch and dinner in our main dining rooms, with your choice of Anytime or Traditional Dining in the evening.

- Choose from an array of casual dining venues to satisfy any craving, including: fresh pastries and paninis at the International Café; crisp salads, hearty soups and warm rolls baked three times daily in the Horizon Court buffet; grilled hamburgers, hot dogs and hand-tossed Neapolitan-style pizza in our convenient poolside grill and pizzeria.
- Order from a room service menu at any time of day or night.
- Indulge in a hearty British-style Pub Lunch in the Wheelhouse Bar or alternate location during sea days.
- Treat yourself to creamy, refreshing soft-serve ice cream – sprinkles optional – every day.
- Delight in chilled glasses of milk and warm cookies just out of the oven, served every afternoon.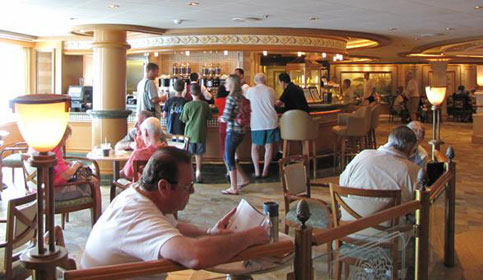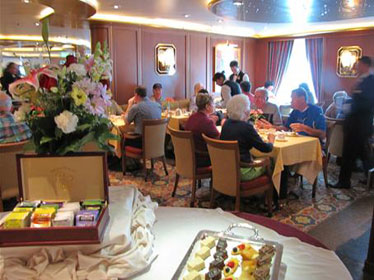 Dazzling entertainment from sunrise to sundown
- Enjoy Princess Signature Shows with lively music, stunning choreography and some of the largest casts at sea.
- Cozy up under a fleece blanket with complimentary popcorn as you watch anything from Hollywood blockbusters to live sports events and concerts on the giant poolside screens at Movies Under the Stars®.
- Melt into your chair and relax in the inviting Piazza-style Atrium while street performers and musicians entertain you.
- Applaud the comedy, live music and cabaret of talented guest entertainers, dance in the night club or sing your favorite tune during our Princess Pop Star competition.
- Let loose at Princess deck parties with festive themes that go till late at night.
- Expand your mind with dance classes, cooking demonstrations, port lectures and engaging ScholarShip@Sea programs, covering topics from art history to navigation at sea.*
- Flip through a wide choice of satellite channels or relax with a Hollywood blockbuster film on your stateroom television (subject to reception).
- Peruse the extensive onboard library with over 2,000 books.
- Check out our incredible Youth & Teen program with fun age-specific activities from science experiments to arts & crafts to video games, makeovers and teen dance parties.
* A nominal fee may apply to some classes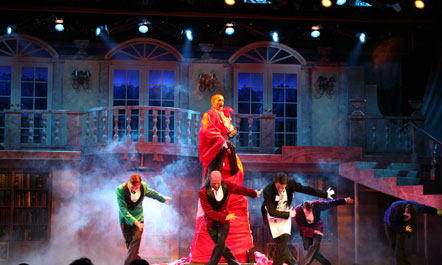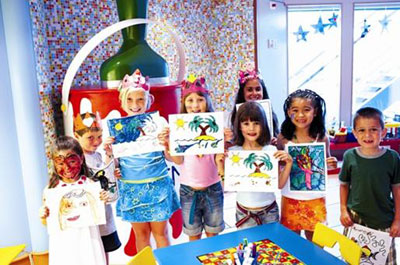 Health and Wellness
- Practice your skills with a variety of sports activities including table tennis, basketball and a jogging track.
- Stay fit in the well-equipped Lotus Spa® Fitness Center, complete with treadmills, rowing machines, exercise bikes, and free weights.
- Relax and take a dip in our many fresh water pools, including some underneath a retractable glass dome to enjoy rain or shine, as well as swim-against-the-current pools and soothing whirlpool spas.

Comfortable Accommodations
- Discover the friendly services of your stateroom steward, whether you've chosen a modest inside stateroom or a luxurious suite.
- Enjoy the conveniences of home, including a TV, hairdryer, refrigerator, in-room safe, bathroom sundries, and more – in every stateroom!
- Rest your weary eyes upon comfortable beds blanketed in duvets with 100% Egyptian cotton bed linens.
- Taxes, Fees & Port Expenses as shown on your booking confirmation are included in your cruise fare. Other items are not included in the cruise fare including, but not limited to: gratuities for onboard staff, alcoholic and some non-alcoholic drinks, spa and salon services, laundry, shore excursions, travel insurance, purchases made in the onboard stores, or meals at hotels when booking pre- or post-cruise hotel stays or cruisetours.
---
RUBY PRINCESS SHIP FACTS
---
Cruise Line:
Princess Cruise
Builder:
Fincantieri Cantieri Navali Italiani, Monfalcone, Italy
Entered Service:
November 2008
Dry Dock Renovation:
December 2015
Godmother:
Trista and Ryan Sutter (Batchelorette Stars)
Registry:
Bermuda
Gross tons:
113,561
Length:
951 feet
Width:
159 feet (including bridge wing); 118 feet (excluding Bridge wing)
Decks:
19
Cruise Speed:
21.5 knots
Passengers:
3,080 (double); 4,375 (full capacity)
Crew:
1,200 International
Passenger Cabins:
1,538 (1,102 outside/436 inside)
Cabin Distribution:
26 Suites with private balconies (Square footage: 461-1,279*)
2 Family suites (Square footage: 607*)
178 Mini-suites with private balconies(Square footage: 324*)
674 Balcony cabins (Square footage: 233-285*)
222 Ocean view cabins (Square footage: 158-182)
436 Inside cabins (Square footage: 163)
*includes balcony. There are 880 cabins with private balcony
Wheelchair Accessible Cabins:
25 (16 balcony; 4 oceanview; 5 inside) (Square footage: 234-396)
Pools:
4 (plus additional pools for children and crew)
Whirlpools:
7
Dining Facilities:
3 main dining rooms
Sabatini's—Italian trattoria
Crown Grill— Steak and Seafood grill
International Café: 24-hour dining
Vines—Wine and seafood bar
Café Caribe— Caribbean Buffet
Horizon Court—Buffet restaurant
Prego—Poolside pizza
Trident Gril—Hamburger and hot dog grill
Scoops—Ice cream sundae bar
24-hour room service
Showrooms/Lounges:
Three main show lounges (both theater and cabaret style); 12 lounges/bars for refreshments, entertainment, dancing
Passenger Services:
Piazza-style atrium, casino, four duty-free shops, Lotus Spa and fitness center, The Sanctuary, sports deck, wedding chapel, children's and teen's centers, disco and observation lounge, nine-hole putting course, golf simulator, library, Internet Café, art gallery, Movies Under the Stars outdoor screen
Launderettes:
Yes; also personalized dry cleaning and laundry services available
Electrical Current:
110 volts
Ship Currency:
Cashless. At end of cruise, payment of charges incurred on your cabin card—which also doubles as a credit card during the cruise—are paid by Visa, MasterCard, American Express/Optima and Diners Club/Carte Blanche
Gratuities:
A discretionary $10 per person per day (including children) automatically added to your shipboard account. For bar and wine charges, a 15 percent gratuity added to the bar or dining bill.
Cell Phone Service:
Yes (At sea or in port)
Internet Center:
Yes; Wi-Fi also on board for laptop users
Smoking:
In designated areas in the public lounges. There are designated non-smoking staterooms available.
Medical Center:
Yes
Attire on Board:
Casual/sportswear clothing for daytime. No swimwear in dining or public rooms. For smart casual evenings, open-neck shirts, slacks and sports outfits are appropriate. For formal evenings, tuxedo, dinner jacket or dark suit for men; evening dress or cocktail dress for women.
---
RUBY PRINCESS SHIP DESCRIPTION
---
The 113,000-ton Ruby Princess, built at the Fincantieri Shipyard in Malfalcone, Italy to the cost of around $500 million, is a sister ship to the Caribbean Princess. However, Ruby Princess offers several new design evolutions, including an Italian-piazza-style atrium, new dining venues, redesigned public spaces and an adults-only Sanctuary. Sabatini's Italian trattoria was moved to an upper deck and has been enhanced with a piano lounge—Adagio—placed just across from the restaurant. The Crown Grill with an open kitchen is a new restaurant addition on a Princess ship. The children's facilities have been expanded; and new entertainment introduced. The many hallmark features that define the Princess experience—the Movies Under the Stars poolside movie screen; the Lotus Spa fitness center; the children and teen's center; and the 100-person wedding chapel with an Internet wedding cam—are still there but embellished. And yes, the ship has nearly 900 staterooms with private balconies—one of the highest percentages of balcony cabins in the industry.

One of the major highlights of the ship—The Sanctuary—an adults-only retreat located on Ruby Princess' Deck 17 forward and accessible through the signature Lotus Spa and the spa's swim-against-the-current lap pool. This tented retreat sports plush cushioned chairs and chaise lounges, two cabanas for private massages and piped in soft music amid lots of semitropical greenery. Stewards serve guests light foods and beverages and provide chilled face towels. Available for rent are personal MP3 players with noise canceling headphones, loaded with themed play lists focused on relaxation for those who want to escape with music. The two private cabanas feature Lotus Spa Services including a full body Lotus Massage for couples. During my trip there was no charge to use the Sanctuary, but the retreat has proved so popular that Princess now charges a $15 usage fee to prevent overcrowding.

The seventh in the Grand Class series of eight ships, the Ruby Princess features a lot of new innovations not seen on her sister ships. Despite being a ship with a nearly 3,100 passenger maximum capacity, the ship had almost a small feel to her and for the most part, one never finds the public areas overcrowded.

The ship's décor is of a high quality, even fresh flowers can be found in the public areas. Bouquets of fresh flowers can also be ordered for your cabin. Service is of a high caliber. The PA system with its incessant jarring announcements is not evident as is the case on many other cruise ships.

As for activities, the entertainment staff has planned so many events that on a sea day, one can be busy from morning to late night. Anything but ho hum. This is truly a lovely ship—and one we would not hesitate to recommend to either the first-time cruiser or the more seasoned one.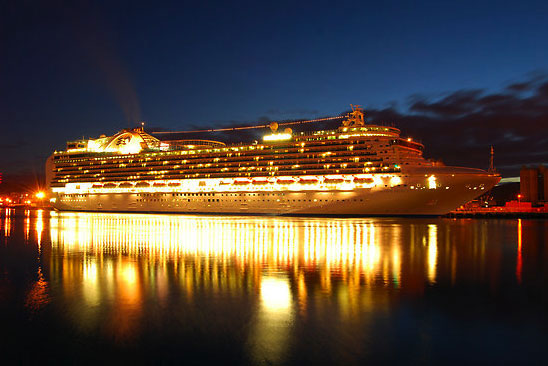 ---
RUBY PRINCESS SHIP HIGHLIGHTS
---
This crown jewel of the fleet dazzles from the moment you come onboard, boasting all the amenities you expect of Princess.

Its unique Crown Plaza is an atrium designed in the spirit of an Italian piazza where you can get a bite to eat or just relax and people-watch. Other highlights of this ship include the Crown Grill, modeled after a classic steakhouse, the Sanctuary deck area, reserved just for adults, and Movies Under the Stars, our poolside movie theater.

Crown passengers will enjoy a variety of special features designed for this ship, plus the many services and features of Personal Choice Cruising -- enabling passengers to customize their cruise experience with a myriad of dining, entertainment and activity options.

Below are some of the features Ruby Princess has to offer.

Entertainment
Nights are always abuzz with activity, and it's up to you to choose your pleasure - from live theater and the big screen, to plush lounges, swanky casinos and dance clubs. To say the nightlife onboard is entertaining is an understatement. Our performers are seasoned professionals and their performances are of the same caliber as what you'd see on a Broadway stage. Our theater productions, lounge acts, movies and casino venues are just some of the fun onboard.

Theaters
This ship's theater venues are designed with great acoustics, the best seats in the house, and stellar acts. The movies shown are all first-run feature-length films.

Princess Theater
Movies Under the Stars outdoor theater

Hot Spots
Our ship's Hot Spots are just that - sizzling! They vary depending upon the ship and feature dazzling casinos, our Movies Under The Stars outdoor theater, night clubs, dance floors and more.

Gatsby's Casino
Explorers Lounge (nightclub-style performances)
Skywalkers Nightclub (15 decks above the sea)
Club Fusion

Lounges
Whether you're in the mood for a cozy space to sip cocktails with someone special or a swanky place to savor a cigar and make new friends, Princess ships provide it all.

Wheelhouse Bar
Adagio Bar
Crooners Bar
Speakeasy cigar lounge


Personal Choice Dining
Dine in the manner that suits your schedule instead of cramping your style. Choose from Traditional Dining, Anytime Dining, Specialty Dining or Casual Dining. Our Princess chefs are true culinary artists who insist on serving the very finest cuisine - and it shows. Our entire fleet has been inducted into the prestigious Chane des R'tisseurs gastronomic society. Each chef's menu is creative and the selections change every day. Pair that with impeccable service and you're in for an unforgettable gourmet experience.


Traditional Dining
This ship offers several formal dining rooms in the cruise tradition, with Traditional Fixed Seating at the same times for each meal, with attentive service provided by your own waiter throughout the cruise.
Botticelli Dining Room

Anytime Dining
Anytime Dining means you aren't limited to eating at a fixed time or place on the ship. Instead, the choice of when and where you want to eat is flexible, based only on your stomach's whim.
Michelangelo Dining Room
Da Vinci Dining Room

Specialty Dining
Our ships' restaurants are always in big demand and this ship's options are no exception, serving up exquisite local specialties and gourmet favorites. Reservations recommended. Cover charge applies.

Sabatini's (Italian restaurant)
Crown Grill (steak & seafood)
Ultimate Balcony Dining

Casual Dining
Want to maximize your pool time and minimize your mealtime? Get a quick and satisfying bite whenever you like at our Casual Dining eateries, or get take-out and dine by the pool.

24-hour International Cafe (nominal charge applies to select items)
Horizon Court Buffet and Bistro
Cafe Caribe
Vines (wine & seafood bar - nominal charge applies to select items)
Pizza & ice cream bar
Trident Grill (burgers & hot dogs)
Afternoon tea
24-hour room service


Ruby Princess Activities
Fill your days with activities and do nothing the next. Take a personal enrichment class, do yoga, go duty-free shopping, or just relax with a dip in one of the pools or spas. The many activities onboard our ships are designed to stimulate, educate, entertain, inspire and sweat - not necessarily in that order. But, you can be sure we'll do our best to cover all the bases. And from art auctions to virtual golf, this ship is loaded with fun things to do.


Pools & Spas
Sometimes floating serenely just isn't enough - splash around, ride the waves, swim against the current or take a dip in one of this ship's bubbling hot tubs.

Calypso Reef and Pool (plus 2 hot tubs)
Neptune's Reef and Pool (plus 2 hot tubs)
Terrace Pool
Lotus Spa Pool (plus 2 hot tubs)
The Sanctuary(adults only)

Sports
Our ships will keep you on the run, literally, with basketball, paddle tennis, jogging tracks and state-of-the-art gyms equipped with machines that'll keep your heart rate pumping.

Lotus Spa, gym and fitness area
Swim-against-the-current lap pool
Nine-hole putting course
Virtual golf simulators
Jogging track
Center Court

Enrichment
When is a cruise an opportunity to enrich? When it's a Princess cruise. This ship offers area lectures, art exhibits and classes taught by local experts.

World-class art collection, gallery and auctions
ScholarShip@Sea
24-hour Internet Cafe (wireless access available)
Library
Hearts & Minds Wedding Chapel
Conference Center

Boutiques
Deals on designer clothing and gifts, including Lladro, Swarovski, Calvin Klein, Tommy Bahama, Lancome, Clinique, Estee Lauder, and Fossil - all up to 30% off.
Boutiques (duty-free)
Escapes (Future Cruise Sales)


Under 18
A Princess Cruise means fun for the entire family - with activities for kids to keep them happy and special teen programs to get them involved too. With Princess, young kids and teens have their own kind of fun - and their own place to hang out. Our youth and teen centers are fully equipped with everything from the latest video games and movies, to arts and crafts, fooseball tables, board games and jukeboxes. And for the littlest ones, activities like kids' karaoke, pizza parties, pajama nights and more.


Kids & Teens
This ship's activities run the age-appropriate gamut for those under 18 - from Princess Pelicans (ages 3 to 7), and Shockwaves (ages 8-12), to Remix (ages 13-17).
The Fun Zone
Teen Center
Video arcade
Chill Out splash pool
---
CONFERENCE CENTER

---
Our comfortable conference center features state-of-the-art presentation equipment. One of our meeting rooms for our Seminar-at-Sea will be located in this conference center. We will also hold meetings in one or more of the lounges or dining rooms on the ship.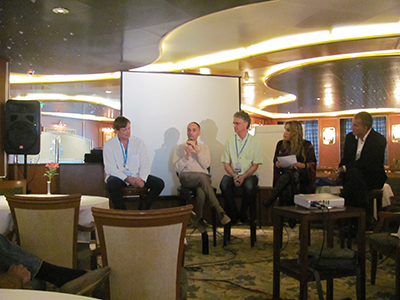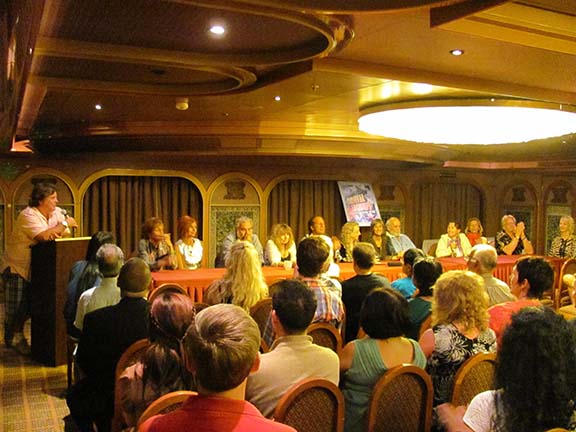 ---
RUBY PRINCESS SHIP DINING
---
The Ruby Princess has three main dining rooms that come in handy for the line's Personal Choice Dining Program, which allows passengers to choose from Traditional Dining with early and late seatings for dinner or Anytime Dining. The ship's 24-hour casual restaurant, the Horizon Court, offers a buffet alternative for breakfast and lunch; at night it becomes a sit-down bistro. Tuscan-inspired Sabatini's is the ship's venue for upscale Italian fare, and has established itself over the years as one of cruising's more popular alternative restaurant concepts.

Ruby Princess's three main dining rooms—Da Vinci, Michelangelo and Botticelli—are similar in décor and size and where guests are pre-assigned a table at one of two seatings. The rooms and table settings are well appointed. Service is efficient and the food is tasty. (Breakfast and lunch are open shared seating and if you wish not to share a table with other passengers, you must request it.)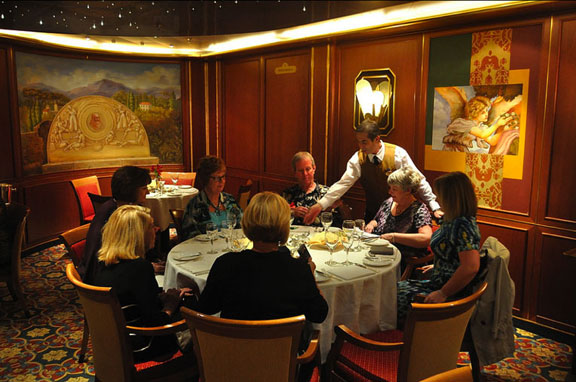 But guests also have a choice of other dining venues that allow them to eat when they wish or with whom they wish during the dinner hours. Their dinner options include the informal 312-seat Horizon Court that also serves breakfast and lunch at the top of the ship on Deck 15. Floor-to-ceiling windows provide stunning sea views and the comfortable furnishings are pleasing. Adjacent is the smaller Café Caribe that provides a themed Caribbean buffet with regional specialties such as grilled Caribbean rock lobster, spicy shrimp and a variety of Asian dishes such as a Rijstafel Rice Table Buffet. Sporting colorful Caribbean décor and live music, the space features an open kitchen where passengers can order their meals cooked to their specifications.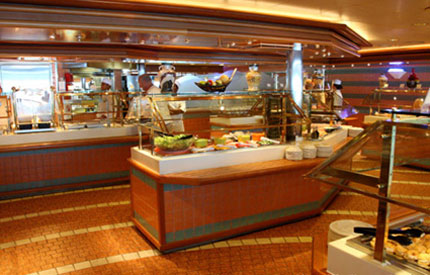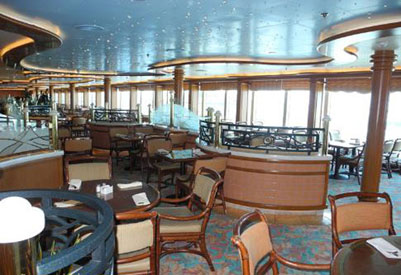 After, perhaps, a heavy lunch, passengers may prefer to eat a light supper down on Deck 5 in the three-deck Atrium area named La Piazza. Here, Princess has introduced the International Café that carries the 24-hour dining concept further with a changing menu of à la carte items served in the Italian village setting. The International Café menu features both complimentary and modestly priced items such as freshly baked croissants or beignets in the morning, pannini sandwiches at lunchtime, tea in the late afternoon or pre-dinner mini-selections in the evening. The café is also open for late-night bistro dining option with a selection of sandwiches, salads and soups.
Close by is an Italian gelateria serving a choice of ice creams as well as freshly made pastries to go along with the variety of specialty coffee drinks made from a selection of six different coffee beans.

Steps away is Vines, an open bistro that offers samplings of wines by the glass from 26 vintages. A selection of chilled seafood appetizers including sushi, gravlax or other treats from the sea are also available. There is a charge for the wines and the seafood appetizers served. And as you indulge in the food delights of the Piazza's food venues, "street performers"— jugglers, magicians, an a cappella group and other musical presentations—will entertain you.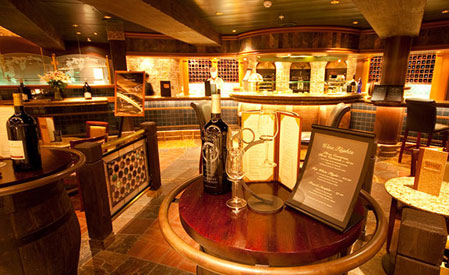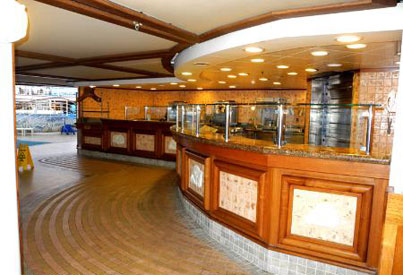 For a special evening, the new 160-seat Crown Grill offers a menu of premium beef and seafood entrées. This cozy showplace eatery with its rich brown colors and leathery décor imparts a "New York steakhouse feel." An open, theater-style kitchen where chefs custom-prepare steamed shellfish and cooked-to-order steaks and chops takes center stage. Passengers can choose to sit at the kitchen's eat-up counter and watch the chefs as they dine, or settle into a comfortable booth with for a four course dinner. When I ate there, my entrée was a freshly steamed two-pound lobster. The Crown Grill also sports a dedicated cocktail bar that boasts a new signature 16-ounce Crown Grill Margarita concoction. A $25 fee per person applies for dinner, although some items may carry an additional charge.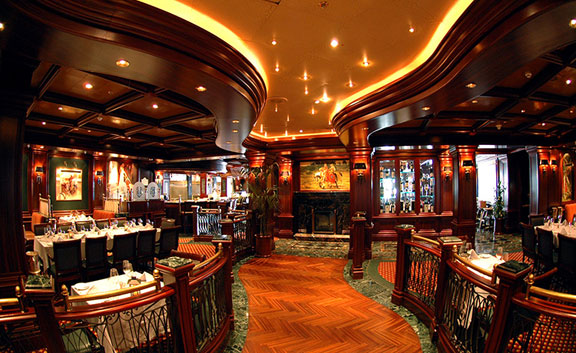 The popular Sabatini's trattoria found on Princess vessels has a new top-deck location on Deck 16 to offer fine dining with a view. The restaurant has a grand entrance that leads to a three-sided windowed venue. There is also a small area on deck for al fresco dining. An all-new multi-course menu is offered; custom-made fine china and new stemware are evident; and dinner can take as long as two or three hours. Dinner costs $20 per person.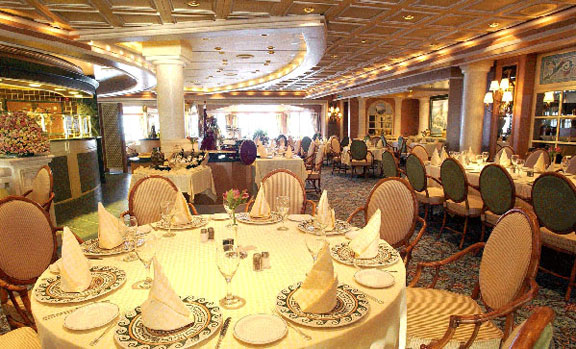 The new Adagio Lounge across the way offers a cozy venue for Sabatini's diners to enjoy a pre-or post-dinner Italian-inspired cocktail or have their after-dinner dessert as they listen to the pop/jazz pianist playing his tunes.

During the daytime, guests can enjoy lunch at the Trident Grill by the pool—the perfect place for hungry passengers to get freshly grilled burgers and hot dogs. Or they might want to opt for The Pizza & Ice Cream Bar located nearby for a tasty treat.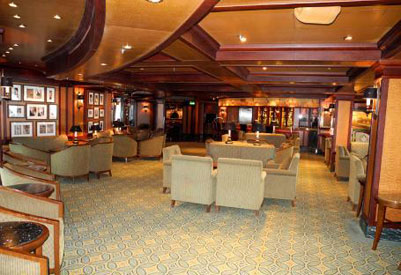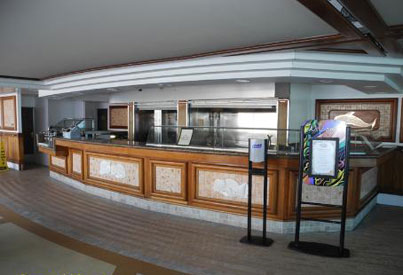 Guests can also opt to "stay in" for the evening and there is 24-hour room service for a fee available for those wishing to dine in their cabins. Special room-service-only offerings include an elegant three-course Ultimate Lobster Balcony Dinner featuring a choice of lobster or grilled beef tenderloin accompanied by a half bottle of champagne, canapés, a bouquet of flowers, and an 8-by-10 photo taken at dinner ($100 per couple). At breakfast time, a special Champagne Balcony Breakfast ($25 per couple) can be ordered.

As a tip of the hat to Brooklyn, Princess introduced the Brooklyn Balcony Nosh that is offered passengers on embarkation day. The Nosh—an authentic Nathan's Hot Dog with all the trimmings, an iced bottle of Brooklyn Brewery's Premium Lager Beer, and a generous slice of Brooklyn's famous Junior's Cheesecake—is presented to passengers on embarkation day in their cabin as a tribute to Ruby Princess's first homeport in Brooklyn. There is a $7 fee for the Nosh selections.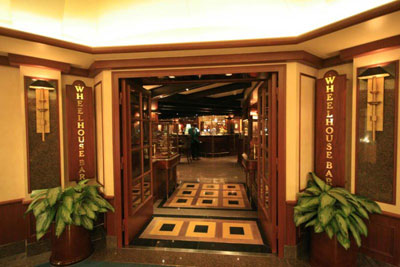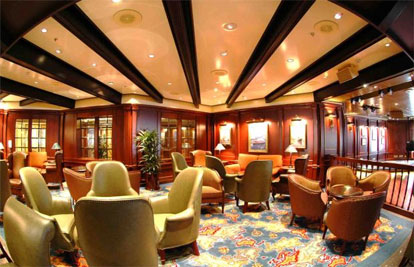 On sea days, Ruby Princess' nautical themed Wheelhouse Bar is transformed into an authentic English-style pub, serving a selection of traditional fare. A menu of British favorites, including bangers & mash, fish & chips, ploughman's lunch and cottage pie, will complement a selection of traditional pub brews such as Stella Artois, Bass Ale or Guinness. Pub lunch meal service is free of charge and runs from 11:30 a.m. to 2:30 p.m.
---
RUBY PRINCESS SHIP ENTERTAINMENT
---
Ruby Princess retains the many hallmark features that define the Princess experience, including the dramatic Movies Under the Stars poolside movie screen, multiple entertainment options, a Lotus Spa fitness center, an extensive children and teen's center, and a wedding chapel. On this vessel, there are three main show lounges (both theater and cabaret style) and 12 lounges or bars for refreshments, entertainment, or dancing. In addition, there is the Gatsby Casino for those wishing to try their luck, and an Internet Café with 25 computer stations located just off the Piazza.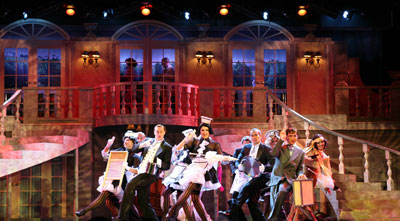 The roughly 800-seat Princess Theater is the ship's main venue, and it also showed movies from time to time when not featuring production shows and comedy acts. Broadway-style production shows have included "Motor City," a tribute to Motown, and "Destination Anywhere," a mishmash of songs and sets from different eras and locales that takes you on round-the-world journey, and "What a Swell Party," a compilation of Cole Porter tunes and other music from the Great Gatsby era.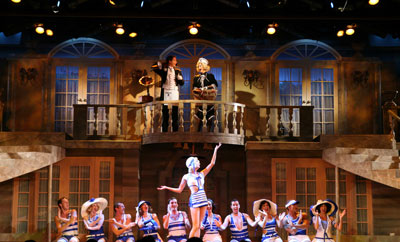 Introduced to the Princess fleet on Ruby Princess, the Piazza atrium is a marvelous destination. It serves as a mini-performance venue, demo area and, during down times, adjunct to the International Cafe. For instance, there might be a sushi, fruit and vegetable demonstration, "comedy juggler," and string quartet. At another time, the Princess singers and dancers offer a few numbers from "Motor City," the Motown production show. On the second formal evening, people throng all three levels to watch the fabled "Champagne Pour," a Princess tradition.

Beyond that, the ship has so many entertainment options that your head might spin as you try to figure out which to choose. Each lounge has a different personality. Crooners, on the promenade, is right in the heart of the action, overlooking the Piazza, and usually features a vocalist or pianist. Explorer's Lounge is primarily an events' venue for just about everything, including art auctions, dances, standup comedy and guest lectures. Club Fusion was also busy during the day -- with Ballroom Blitz, line dancing, bingo and Jeopardy -- and into the evening with music-related activities, from trivia and the Newlywed, Not so Newlywed Game to "Princess Pop Star," a take-off on American Idol.

The Speakeasy, adjacent to Gatsby's Casino, is the only place to smoke a stogie. The Wheelhouse Bar, a Princess tradition, has nautical character but lacks the intimacy associated with smaller versions on other ships. And Adagio, tucked into a light-filled corner on Deck 16, is an elegant, Ritz Carlton-esque venue -- ideal for a chat -- with low-key piano music. Late-night action is to be found in Princess' trademark Skywalker's. (This version has a nice balcony off the end.) It then becomes a kids' and teens' disco early in the evening; it turns into an adults-only hangout later on.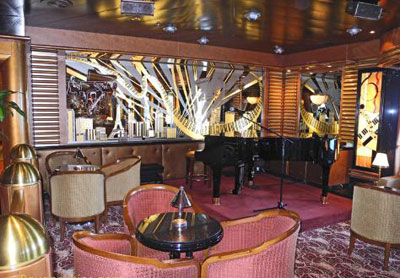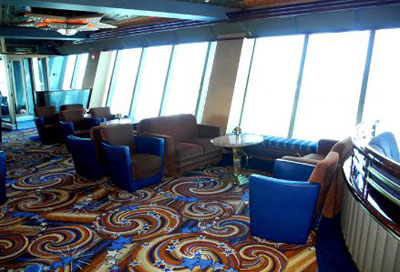 Movies Under the Stars, in the Calypso Pool area, is a major attraction and is on all day (with family fare), as well as into the night.

During the daytime, beyond the aforementioned entertainment, Princess is definitely committed to its ScholarShip@Sea program. Some classes are more light-hearted -- you can bring out your "inner artist" during Ceramics@Sea (tucked into an alcove by the Neptune's Reef pool); you pay only for the plate or frame or whatever you choose ($15 to $30). The paint is supplied, and staffers fire your piece for you to take home. Other facets of the overall program include culinary arts demonstrations (wine-tastings, ice-carving and the like), an extensive array of Computers@Sea classes ($25 for a Photoshop class) and a guest lecture series (free).

A number of new ScholarShip@Sea enrichment programs debuted aboard Ruby Princess including: Navigation@Sea focuses on the history of navigation; Mixology@Sea offers a hands-on course taught by the ship's bar manager; Astronomy@Sea program explores the night sky through a telescope on the top deck; Art History@Sea: Botticelli to Warhol, The Evolution of Art makes 500 years of art come to life with a special hour-long presentation.

The Grand Casino has the usual array of slots and table games, including one for dealerless Texas Hold 'Em.

Three new fun competition events have also made their debut on Ruby Princess. The first, Ballroom Blitz, usually held in the New York nightclub-style Club Fusion on Deck 7, offers participants the opportunity to learn a variety of basic ballroom dances at lessons throughout the cruise and can then show off their moves in a series of evening competitions inspired by the recent popularity of ballroom dancing on television. In the Princess Peer Factor—Friends, Family or Foe?—two teams of peers square off in fun events where they can try out their skills at a variety of interesting shipboard tasks, such as pizza making, casino dealing, ice carving, cocktail mixing or trying to keep up with the ship's entertainers.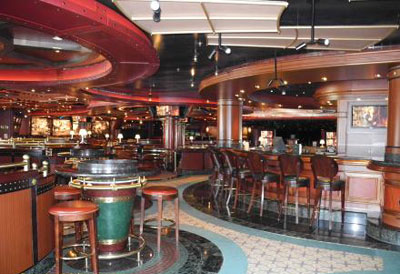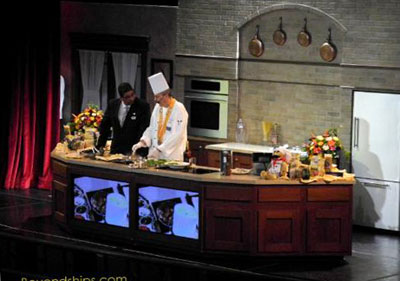 The third is the Spelling Bee at Sea, a two-day competition for both youths and adults, held in the Princess Theater. Popularized by the Broadway hit musical The 25th Annual Putnam County Spelling Bee, the public's fascination with spelling contests has grown. On board, passengers can test their spelling acumen with the winners receiving a special dictionary autographed by the ship's captain. Bee finalists will also enjoy a larger audience for their 15 minutes of fame when the final rounds of the spelling competition are shown on the giant Movies Under the Stars.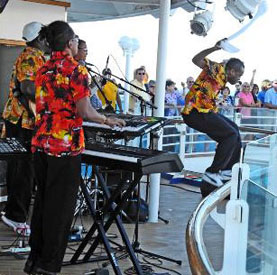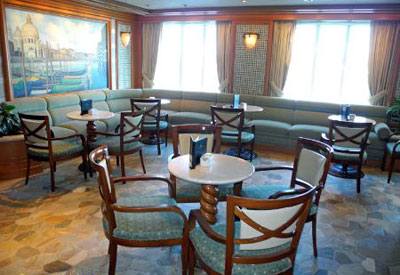 ---
RUBY PRINCESS SHIP SPA AND SPORTS
---
First introduced aboard Golden Princess in 2001, the Lotus Spa concept is featured in state-of-the-art facilities designed to give both female and male passengers the opportunity to renew mind, body and spirit. The Asian-influenced spas offer a full range of body and facial treatments, relaxing steam and sauna facilities, and a salon featuring hair and nail services. Unique is the spa's hand- and foot-soothing therapies such as an Exotic Hand Ritual or a Sole Delight Foot Treatment and paraffin wax dips. Lotus Spa treatments may be reserved prior to the cruise.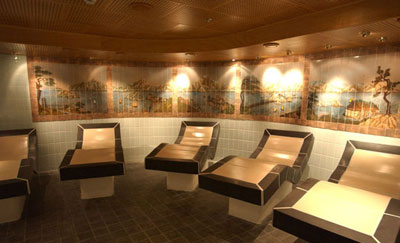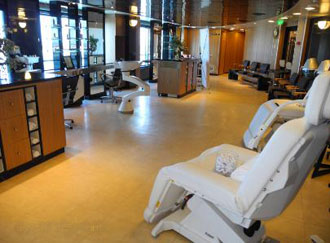 As the Lotus Spa was moved forward on this ship, the windowed fitness center was expanded with the latest cardio and weight machines. Other fitness activities include a variety of classes for body conditioning such as Step Xpress, aerobics and power walks as well as, for a fee, Pilates, pulse cycling and KickBoXpress. Personal trainers are on hand and a series of health and nutrition seminars also scheduled during a cruise.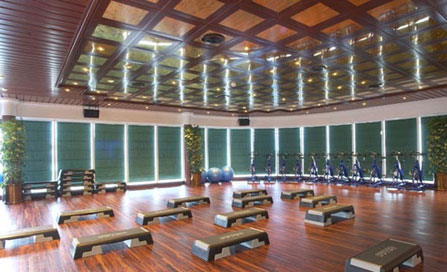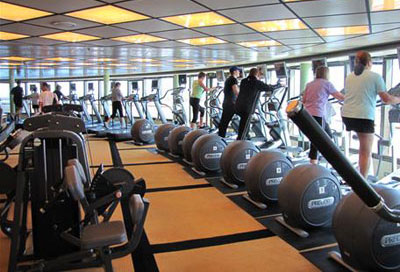 Ruby Princess has a string of swimming pools located on her upper decks. Beginning forward, the adults-only Lotus Spa Pool is an intimate pool and whirlpool area connected to the ship's spa. Moving aft, you come to the Neptune Pool, a large pool accompanied by two whirlpools. There is a bar and food venues (pizza, ice cream, hamburgers, etc.) located in this area.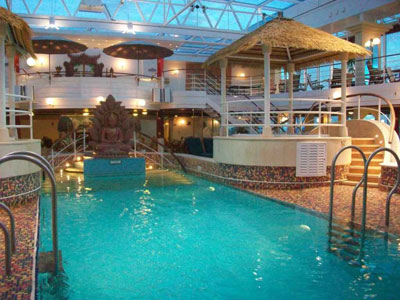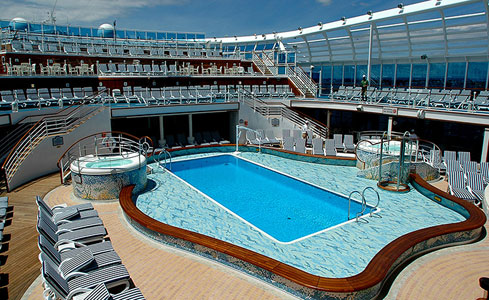 Next is the Calypso Reef and Pool. In addition to two whirlpools and a bar, this area has "Movies Under the Stars" - - a 300-square foot LED screen where movies, sporting events, concerts and videos are played. At the aft end of the ship is the Terrace Pool, with its spectacular views over the ship's wake. There is a bar nearby. The aft whirlpool is located on a terrace several decks above this pool.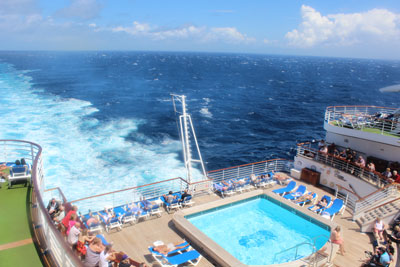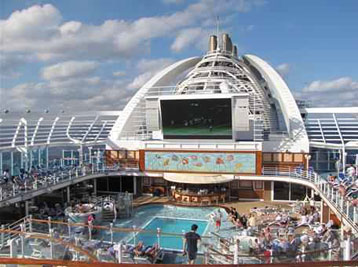 For those guests looking for a more serene experience, Ruby Princess offers The Sanctuary. This concept debuted on Ruby Princess and has since been rolled out fleet wide. It is an adult's only outdoor deck area most of which is shaded by a large canvas awning. It seeks to promote relaxation with a tranquil atmosphere, specialty drinks and light meals. You can also have a massage in the Sanctuary's pavilions.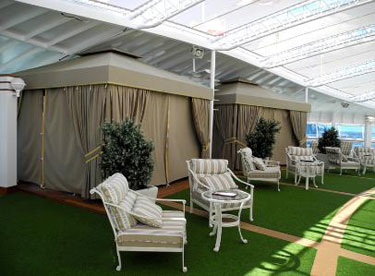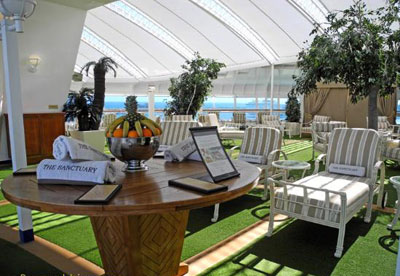 Out on deck is a wonderful miniature golf course. Adjacent, you can practice your golf swings at one of two golf simulators. Other sports activities include basketball on the top-of-the-ship basketball court, shuffleboard and paddle tennis.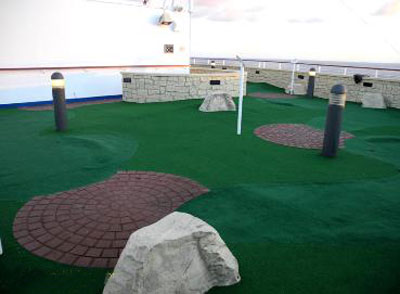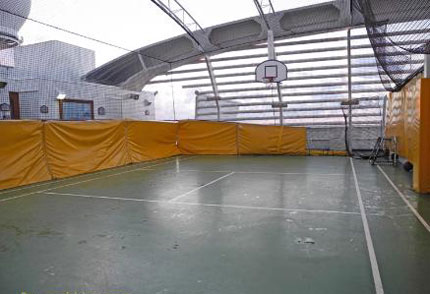 ---
RUBY PRINCESS SHIP PUBLIC AREAS
---
The Piazza provides the ship with a central gathering spot. Just off the Piazza is the Escapes Travel Cafe. While not a "real" cafe (no refreshments are served), it's outfitted with personal computers for researching future cruises. Next door is the actual Internet cafe with 25 computers. Rates are 75 cents per minute, and packages are available for heavy users. Via Wi-Fi, you can also hook up your own laptop in public spaces and staterooms.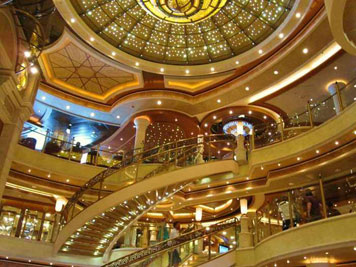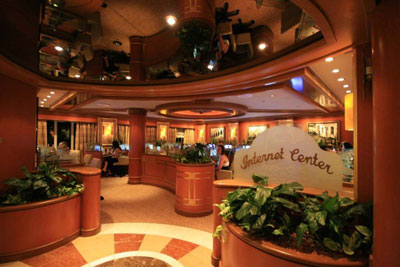 Internet Access

Internet access is available on all Princess vessels through our 24-hour onboard Internet Cafe and wireless network -- which is available in some staterooms and various public areas including our world famous Piazzas.

Use our state-of-the-art computer systems to access your web-based email account, or browse the Internet for world news, sports and stock trading. Or bring your wireless-enabled laptop and access the Internet through our improved onboard wireless service.

Guests who subscribe to email services from an Internet Service Provider (ISP) are advised to verify that their ISP has a web-mail viewing site prior to sailing. Most major ISPs have websites that allow email access via a web browser using an email address and password.

Please contact the Internet Café Manager onboard for information regarding the charges that apply to Internet and wireless services and any other specific requirements.

Plus – Platinum and Elite Captain's Circle members benefit from credit toward Internet Café packages.

(Internet access via satellite is significantly slower than high-speed connections on shore. Princess Cruises reserves the right to filter content accessed via the ship's Internet services. Please note high bandwidth consuming applications such as voice over IP telephony, peer-to-peer file sharing and streaming media may be restricted onboard Princess vessels.)

Pre-Book Internet Packages

Perfect for those who like to stay in touch or who need to manage their affairs on a daily basis in order to put their minds at ease. You can relax and fully enjoy their Princess vacation with Internet access for news, information and web-based email.

120 minutes: $69.00
(Includes 20 bonus minutes for pre-purchasing an Internet time package.)

240 minutes: $99.00
(Includes 40 bonus minutes for pre-purchasing an Internet time package.)

460 minutes: $159.00
(Includes 60 bonus minutes for pre-purchasing an Internet time package.)

680 minutes: $199.00
(Includes 80 bonus minutes for pre-purchasing an Internet time package.)

All prices include account activation fee. All prices are quoted in USD and are subject to change without notice.

Onboard Shops

There are five shops onboard offer duty-free liquor, T-shirts and other logo items, "brand name" fashion jewelry and watches.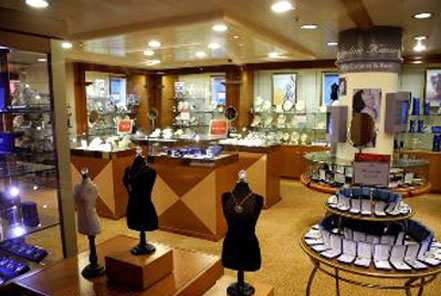 The photo gallery stretches a long way on Deck 7, between the Crown Grill and the Princess Theater. The library and card room spread out across Deck 6 and offer games, daily news printouts and books for checking out.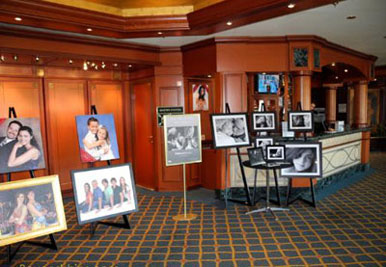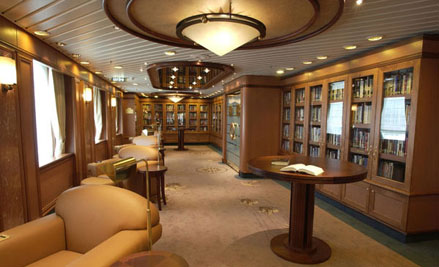 ---
RUBY PRINCESS SHIP YOUTH FACILITIES
---
The Princess Kids program has been enhanced on the Ruby Princess with a new Junior Chef program offering an industry-first opportunity to get hands-on food preparation instruction right in the ship's kitchen galley. The young participants—suited up in mini toques and chef uniforms—can learn to make a number of no-cooking-required" dishes, such as a fruit pizza, sushi rolls, or cake decorating. At the end their "culinary course" each participant receives a special certificate of achievement and photo touting their culinary achievements. Parents are encouraged to attend with their children as well and take notes.

Another enhancement is the personal makeover sessions designed for teens in the Lotus Spa. Here, a beautician provides a personal consultation on the secrets of skin care and makeup application for a new look. In addition, teens (16 and older) will find a selection of spa-treatment options tailored for them, or they may want to spend some bonding time with a Mother and Daughter Paradise Massage, or a Father and Son Chill Out Massage.

Two youth programs have also been renamed on this vessel. After polling a variety of junior passengers, the kids and teens chose two new names: Shockwaves (ages 8-12) and Remix (ages 13-17). The program for the youngest children will continue to be known as Princess Pelicans (ages 3-7).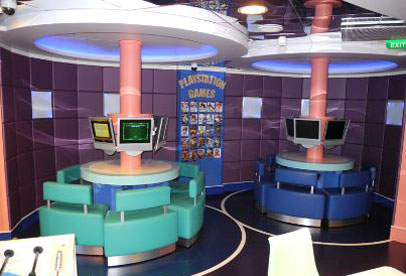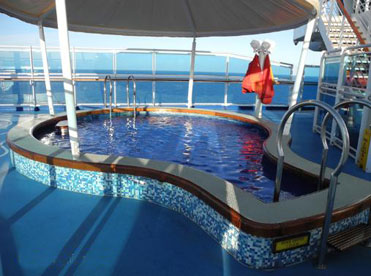 The extensive indoor/outdoor youth center features separate rooms for the different age groups, including a dedicated teen center. Children from 3 to 12 during a cruise will be entertained with art corners, game tables, splash pools, ping pong tables, juke boxes and the latest PlayStation2 video games. Activities include arts and crafts, edutainment events, T-shirt coloring, sports activities, scavenger hunts, PSP game rentals, deck parties, afternoon ice cream, pizza fests, video games, movies and cartoons.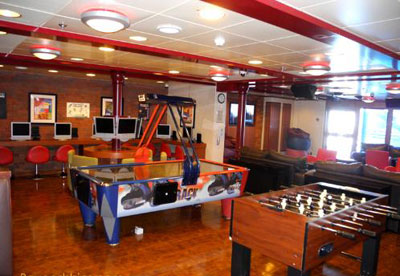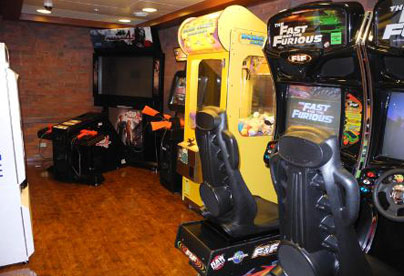 The Remix teen center includes a whirlpool spa, big-screen television, Internet access, PlayStation2 video games, karaoke machines, ping pong and air hockey tables and other facilities specifically geared to the teenage crowd. Participants also enjoy events teens-only deck parties, casino nights, karaoke, teen formals, DJ workshops, talent shows, pizza parties and midnight movies on the Movies Under the Stars screen.

Wizards Academy

This enriching new program lets children explore the connection between science and magic in a fun and participative environment. Kids will also enjoy activities and projects from popular arts and crafts company Klutz, or participate in Yoga for Kids, a healthy and fun course designed specifically for children.

Princess Pelicans (Ages 3-7) Activities Include:

Arts and crafts
Disco nights
Movies and cartoons
Talent shows
Educational workshops
T-shirt coloring
Kids Fun Fair
Klutz® craft activities
Kindermusik® at Sea
Birthday parties
Kids dance parties
Pajama parties
Afternoon ice cream
Kids-only dinners
Pizza and ice cream parties

Shockwaves (Ages 8-12) Activities Include:

Karaoke
Playstation®2/3 and Wii tournaments
Movies and cartoons
Scavenger hunts
Talent shows
"Science on the Seas" program
Sports tournaments
Jr.CHEF@Sea
Kids Fun Fair
Klutz® craft activities
Birthday parties
Kids dance parties
Pajama parties
Afternoon ice cream
Kids-only dinners
Pizza and ice cream parties

Remix (Ages 13-17) Activities Include:

Sports Competitions
Late-night movies
Talent shows
Casino night
DJ workshops
Casino night
Hip-Hop dance classes
Teen makeovers
Playstation®2/3 and Wii tournaments
Scavenger hunts
Dance parties
Hot Tub parties
Pizza parties
'Mocktail' parties
Teens-only formal dinners