Puerto Vallarta, Mexico:
Tues., Nov. 14, 2017
(In port 10:00 AM to 8:00 PM)

Temazcal Authentic Sweat Lodge and Shamanic Ceremony, Including Lunch

Shore Excursion Departure Time:
10:00 am


Approximate Duration:
6 hours


Early Bird Fee: $199 Nonrefundable

A Temazcal is a type of sweat lodge which originated with pre-hispanic indigenous peoples in Mexico and Mesoamerica. The word Temazcal comes from the Nahuatl word temazcalli that means "house of heat." In ancient Mexico, it was used as part of a curative ceremony to purify the body after a battle or a ceremonial ball game. It was also used for healing the sick, improving health, and for women to give birth. It continues to be used today in Indigenous cultures and spas of Mexico and Central America for cleansing mind, body and spirit.

Benefits:

The Temazcal experience is a powerful medicine that helps you build self-power and mindfulness since it produces many therapeutic benefits:

– Helps your body release toxins through sweating, cleansing it from all that has been accumulating over the years.
– Opens the heart, relaxing the mind and helping to release stress and unfinished relationships.
– Helps you connect with your inner self, giving power and endurance to face every challenge of life.
– A forgiveness and acceptance ceremony for leaving behind toxic thoughts, behaviors, and fears.
– The process your mind is going through helps you understand many thoughts that have been around for a long while, helping you make better decisions.

Ceremony

Our experienced shaman will guide you through the various phases of the ceremony. Before entering the Temazcal you will be cleansed with copal tree smoke and will turn to salute the four directions (North, South, East and West). After that, the group will get comfortable inside the Temazcal and the heated volcanic rocks will be placed in a pit located in the center. Then the door will be covered with a blanket, sealing in the heat. Medicinal herbs such as copal tree, lavender and rosemary will be thrown on the stones to create a sweet-smelling vapor.

As water and herbs are poured over hot volcanic rocks, the ceremony will start with chants and the aromatic steam cleansing and refreshing your entire body. The ceremony is about one hour long. The shaman will open the door four times throughout the ceremony to bring in hotter stones (the door opens aprox. every 15 minutes). After the last door opening, you may refresh yourself in cooling waters of a freshwater shower.

Symbolism

Temazcal's architecture:
A circular and dark dome imitating a woman's womb. Tradition says it is Mother Nature's womb and that each participant enters again to be reborn and rejuvenated.

Volcanic stones:
They create the medicine (heat) inside the Temazcal. In the ceremony, they are called "grandmothers" because they were the first ones to settle the world.

Fireplace:
It is used to heat the volcanic stones or "grandmothers" just before the ceremony. In the ceremony, it is called "grandfather."

The 4 doors: Represent the 4 directions and the 4 elements
- The door of the East represents the Fire
- The door of the South represents the Water
- The door of the West represents the Earth
- The door of the North represents the Wind

Energies from the center of the Earth and four elements – Earth, Fire, Water and Wind – are summoned to harmonize your spirit and body.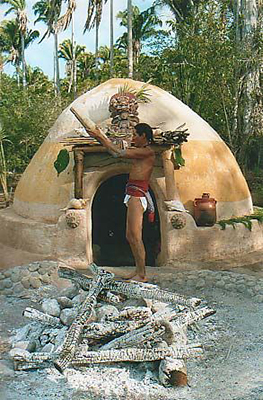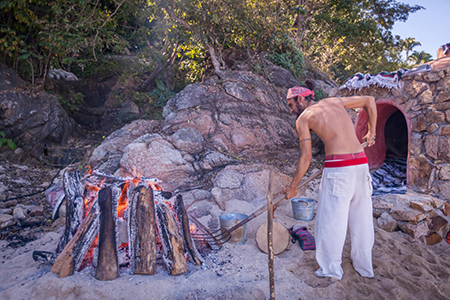 Lunch Includes:
Chips and Salsa, chicken or beef fajitas with rice and salad, homemade tortillas, drink: natural fruit water, dessert: fruit.

What to Bring:
- SeaPass card and photo identification
- Camera
- Cash/credit cards
- Ladies bring: Bathing suit, shorts, t-shirt, sandals, to change into for sweat lodge
- Men bring: shorts, t-shirt, sandals, to change into for sweat lodge
- Towels from ship swimming pool
- Insect repellent
- Sun protection (Use only after the Temazcal)
- Bottled water

What to Wear:
- Hat and sunglasses
- Comfortable shoes
- Separate clothes not to be worn inside sweat lodge

Important Notes:
- Before the tour we suggest you have a light breakfast, which must include fruits and juices
- Drink a lot of water.
- Temazcal is not a spa treatment: it is a purification and therapeutic heat ceremony.
- Temazcal is heated to high temperatures. The body may reach a temperature of 104°F (40°C) during the ceremony.
- Don't enter to the Temazcal ceremony if you have any ailment or health condition such as high blood pressure, claustrophobia or diabetes.
-Women who are pregnant or menstruating are advised to avoid the ceremony.
- Please drink water before the ceremony. We don't recommend any other type of drinks until the ritual ends.
- Leaving the Ceremony before it finishes is always possible. To not disturb the other participants, you may wait for the door to open.
- Avoid: Use of make-up, sunscreen or products that block the sweating, alcoholic beverages and/or heavy meals before the Temazcal.

What Will Happen
- Upon arrival at the Ranch, water and fruits will be served.
- The Shaman will invite you to change clothes for the Temazcal.
- There will be an explanation about the Temezcal, also a 20-minute ceremony.
- The Temazcal will last approximately 45-60 minutes.
- After the Temazcal you will take a shower.
- You will be offered complimentary water and fruit.
- You also have available soft drinks and beers with an extra cost.
- You will have 20 min. on your own to walk around the ranch.


Itinerary:
10:00 am: Meeting time (You will receive meeting location on the information sheet you will get with your ticket)
10:10 am: Transportation to ranch
11:00 am: Welcome, briefing, and pre-temazcal exercise
11:40 am: Temazcal and after-dip in cool water
2:00 pm: Fruit and water served, then lunch in restaurant
3:10 pm: Transport to ship
4:00 pm: Arrival at ship
4:15 pm: Optional downtown drop off

Mazatlan, Mexico:
Weds. Nov. 15, 2017
(In port 7:00 AM to 5:00 PM)

"Voices of Ancient Testimonies"

UNESCO World Heritage Site: Las Labradas Petroglyphs and Native American Ceremony with John Two-Hawks, Including Box lunch

Shore Excursion Departure Time:
8:40 am

Approximate Duration:
6.5 hours

Early Bird Fee: $199 Nonrefundable

We invite you to relive thousands of years of mythological traditions and come to explore one of southern Sinaloa's most enchanting archeological treasures.

One of the nearly unknown, secret mystical sites of Mexico, just 45 minutes north of Mazatlan, near the fishing village of Barras de Piaxtla, a mythical group of petroglyphs lie on the beach called "Las Labradas."

This UNESCO World Heritage Archeological Site is a magnificent beach strewn with 1000 amazing black rocks, carved with spiritual symbols of an ancient people that inhabited this land long before the Spanish conquered it.

These petroglyphs are of Tolteca origin, carved by pre-Columbian ancestors of indigenous Indians that Spanish Conquistadors encountered when they arrived in Sinaloa in 1531. The oldest petroglyphs on the site are estimated to be 4500 years old. The site was in use for over 3000 years, and finally abandoned in 1200 A.D., making it some of the oldest art in northwest Mexico. They were carved with sharp and solid rocks, and it is surprising to see that most of them are in good condition, in spite of being hammered by the sea.

These inspirational artistic expressions are a gateway to the spiritual life of these peoples. The petroglyphs are the voices of ancient testimonies, of hundreds of years of mythological traditions made by the indigenous peoples of the American continent. They are beautiful abstract and symbolic expressions for the continent's original inhabitants.

These petroglyphs are believed to be the way ancient Toltecas communicated with their Gods. They were most likely made during rituals and ceremonies in which priests petitioned their Gods for benefits, such as rain, bountiful harvest, or successful hunt. It is believed these rocks were carved by priests and that they represent their dreams and visions, often enabled by the use of hallucinogenics..

The Toltecs, the ancient settlers of this part of the country, made long hunting trips and were always led by a religious leader, who was the protector of tradition, the artist that maintained the social equilibrium, and the one who carved on rocks what he saw in his dreams and visions, often times spurred by the use of hallucinogenic plants.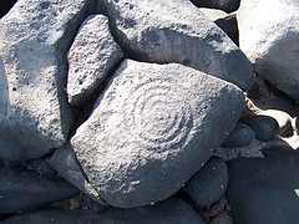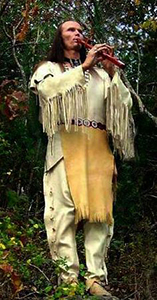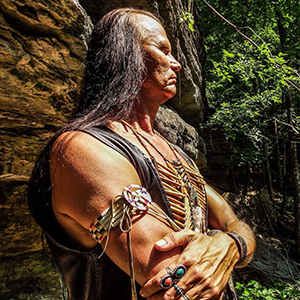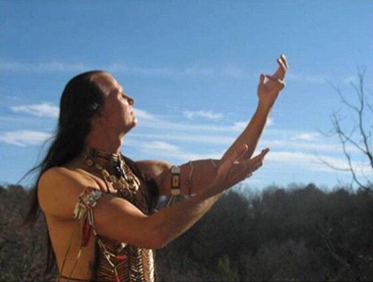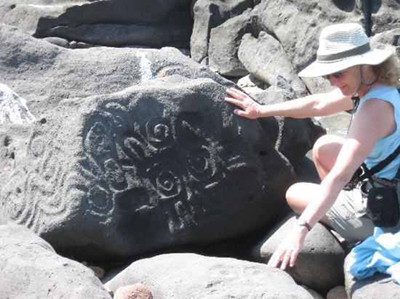 What to Bring:
- SeaPass card and photo identification
- Camera
- Cash/credit cards
- Sun protection

What to Wear:
- Hat
- Sunglasses
- Sturdy rubber-soled shoes and socks for walking over slippery rocks on the beach.

Itinerary:
8:40 am: Meeting time (You will receive meeting place on the information sheet you will get with your ticket).
9:00 am: Pick up at dock.
9:15 am: Departure and transfer to the Labradas Beach by bus.
10:30 am: Arrive to Las Labradas
10:45 am: Authentic Native American ceremony with John Two-Hawks.
12:00 pm: Guided tour to most important petroglyphs.
2:10 pm: Bus transportation back to Mazatlan and box lunch on bus.
3:00 pm: Return to ship or optional downtown drop-off.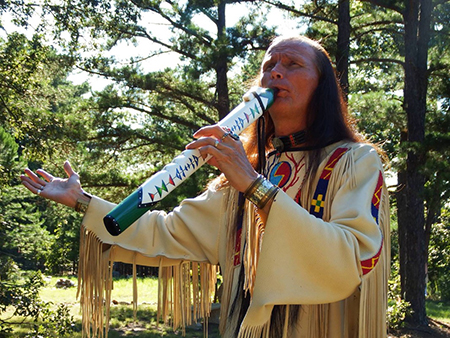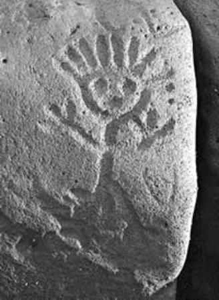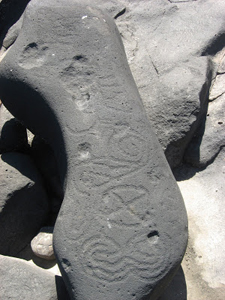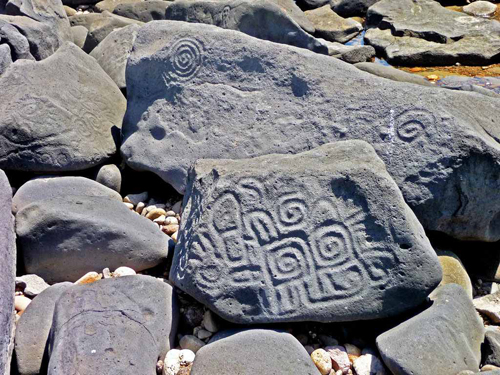 Cabo San Lucas:
Thurs. Nov. 16, 2017
(In port 7:00 am to 2:00 pm)

Authentic Maya Fire Ceremony on Beach with Grandmother Elizabeth Araujo

Shore Excursion Departure Time:
7:35 am

Approximate Duration:
4.5 hours

Early Bird Fee: $199 Nonrefundable

Elizabeth Araujo is a warm, compassionate person manifesting a discernment that crosses cultural boundaries. She travels extensively throughout the world. Wherever Tata and Elizabeth are called to do ceremony and hold council with Elders, they bring unification, balance and harmony to Mother Earth. Her gentle spirit and clear intent create an atmosphere of acceptance, love and allowance. Elizabeth works through the Maya traditional healing ceremonies with the Sacred Fire and serves as a guide for spiritual journeys to sacred sites.

Grandmother Elizabeth was born and raised in El Salvador and lives in Guatemala. "I had the joy of traveling with Elizabeth throughout Guatemala, Peru and Bolivia in addition to being a guest in her home in Antigua. Her gentle spirit and clear intent creates an atmosphere of acceptance, love and allowance for all who come into her presence to enjoy. Elizabeth works through the Maya traditional healing ceremonies with the Sacred Fire and is a guide for spiritual journeys to sacred sites", said Les Carney - Co-Creator of Centers of Light Directory.

Recently, Elizabeth answered some questions that have been on all of our minds. We thought we'd post it here for all to enjoy!

Here are the questions:

"Must we prepare for the change or continue living as we are accustomed to?"
"Why won't everyone go into this ascension?"
"Who will go?"
"How do we prepare to go into this ascension of the planet?"

Elizabeth says:

"We prepare every day by living with honesty, helping others...especially those in need. Caring for Mother Earth, avoiding any more contamination of the Earth, etc, etc. The change is an end of a Cycle of the Sun and the beginning of a New one. Live well and only God knows who will stay, it has always been this way and that is why we are here. This is all I can say for you, my Dears." --Elizabeth

Traditional Maya Fire Ceremony

Elizabeth will guide us in a powerful ceremony at a gorgeous beach at a beautiful resort in Cabo. The Maya Ceremony is an offering given to our Creator. In this occasion it will be to give thanks for being together and to ask for peace and unity in the world.

The Fire Ceremony is the spirit of the Maya Tradition. The fire transforms, the fire purifies. Through the fire we connect with our Creator. Elizabeth draw a glyph on the ground and explains the meaning of it before placing our offerings in it. Elizabeth explains the meaning of the day in the Maya Caledar.

Elizabeth invites the spirit of the water, mountains, the spirit of our ancestors, etc, to accompany us, we present ourselves to the sacred fire who will take our petitions and prayers to our Creator. We greet the 4 directions and then proceed to call the 20 days of the Mayan Calendar explaining their meaning. After calling the days and before closing the Ceremony, there is time for anyone to speak if so desires. We give thanks to the spirits that accompanied us, we give thanks to Our Creator and Mother Earth and close the ceremony, at this time the fire is all consumed.

Itinerary:
7:35 am: Meeting time (You will receive meeting place on the information sheet you will get with your ticket).
7:45 am: Walk to tender together
8:15 am: Pick up in Cabo San Lucas and transfer to resort in bus.
8:30 am: Arrive at resort
8:45 am: Authentic Maya ceremony and explanation.
10:00 am: Relax at beach.
11:30: Take bus back to Cabo San Lucas pier.
11:45: Board tender or optional shopping.
12:00: Return to ship.