Day 06        Tanjore/ Madurai
Morning leave by coach to Madurai, enroute visit Trichy. Arrive and check-in at Hotel Taj Garden Retreat. Rest of the day free. Dinner and overnight at the Hotel.
Hotel: Taj Garden Retreat or Similar (Meals ­ Breakfast and Dinner)
Hotel Location: Atop the Pasumalai hill, with a panoramic view of the Temple city and the Kodai hills, a century old celebrated property sprawling over 62 acres of landscaped gardens. l5 km from the airport, 6 km from the railway station, and a 15-minute drive from the famous Meenakshi Temple and city centre. Accommodation: 34 rooms. T.P.K. Road, Madurai.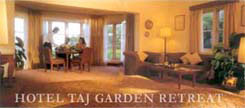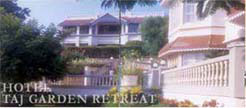 Amenities: Front Desk, Business Center, Complimentary Breakfast, Bar, Restaurant, Safe Deposit Box, Coffee Shop, Room Service, Room-Service 24 Hours, Wheel Chair Access, Bus Parking, Post, Laundry, Travel Desk, Beauty Salon, Currency Exchange, In room telephone service, Express Check-In, Express Check-Out, Florist, Gift Shop, Guest Laundromat, Maid Service, Wake up service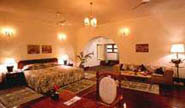 Standard Rooms: All rooms elegantly appointed in colonial style, air-conditioned, with international direct dial facility, channel music, colour television with in-house movies and satellite programmes. Room service and laundry service. Direct Phone, Channel Music, Shower/ Bath Tub, Safe Deposit Box
Dining Room: Serves Continental, Indian, Mughlai, and Chinese cuisine and alcoholic beverages. Lawn service in the evenings. Open from 7 a.m, to 11 p.m.
Recreation & Other Services: Swimming pool, tennis and badminton courts, indoor games, sightseeing tours. Telex/cable/facsimile facilities. Travel desk, car rental, currency exchange, safe deposit lockers, doctor-on-call and baby sitting.
---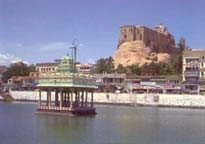 Rock Fort: The Rock Fort Temple tops on a 83m high outcrop. This temple was built by the Pallavas as a small cave temple, but the Nayaks made use of its naturally fortified Position. It is a stiff climb, up the 437 steps cut into the stone to the top but well worth the view. Non-Hindus are not allowed into the Vinayaka Temple at the summit and at the bigger Sri Thayumanaswamy Temple dedicated to Siva, halfway up. The monument is open daily from 6 am to 8 pm.
Ranganathar: This superb temple complex at Srirangam, about three kms from the Rock Fort is surrounded by seven concentric walls with 21 gopurams and is probably the largest in India. Most of it dates from the 14th to 17th centuries, and many people have had a hand in its construction, including the Cheras, Pandyas, Cholas, Hoysalas and rulers from Vijayanagar. The largest gopuram in the first wall on the southern side was completed as recently as 1987, and now measures 73m. The main temple is dedicated to Vishnu. Even muslims are said to have prayed here after the fall of the Vijayanagar Empire. Non-Hindus are not allowed into the gold - topped sanctum, but they are allowed into the sixth wall.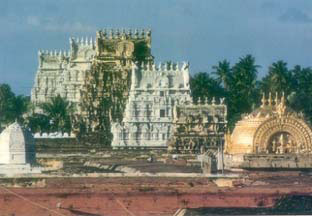 The whole place is fascinating. Bazaars and Brahmins' houses fill the space between the outer four walls, and you don't have to take your shoes off or deposit your bicycle until you get to the fourth wall. Just past the shoe deposit is an information centre, where you buy the ticket to climb the wall for a panoramic view of the entire complex. A temple guide will unlock the gates and tell you what's what. It's worth engaging one of these guides as there is much to see and you could easily spend all day wandering around the complex. There's also a small museum containing sculptures. An annual Car Festival is held here in January during which a decorated wooden chariot is pulled through the streets between various walls. In mid-December, the Vaikunda Ekadasi, or Paradise Festival will be celebrated in the Vishnu Temple.
Viralimalai: (30 km) : The temple of Lord Subramanya is situated on a hillock. There is also peacock sanctuary here.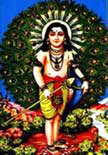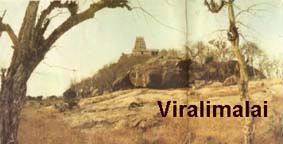 Vayalor: (8km) : Located on the outskirts or Tiruchi. There is a small Lord Muruga Temple set in the midst of lush green vegetation.
Samayapuram: (20 km) : This is a very important place of pilgrimage, famous for its temple dedicated to the Goddess Mariamman.
Jumbo: The Sri Jambukeshwara Temple is dedicated to Lord Siva and has five concentric walls and seven gopurams. It is built around a Siva lingam partly submerged in water that comes from a spring in the sanctum sanctorum. Non-Hindus are not allowed inside the temple. The complex was built at the same time when Sri Ranganathaswamy Temple was also built. It is open daily between 6 am and 1 pm and between 4pm to 9.30 pm.
Sri Kokarneswarar Temple: The rock-cut cave temple of Sri Lokarneswarar Brahadambal at Thirukokarnam is of Mahendravarma Pallava's period.
Uthamar Koil: Uthamar Koil in Karumbanur is one of the most famous shrines in 108 Vaishnavik Padalshtalam. This temple is situated eight kilometres north of Trichy Fort Station, 4 km north of Srirangam railway station. Here is the temple where the Lord Creator - Brahma, the lord for the well being of the universe - Vishnu and the destroyer of universe - Siva take their abode. This place is also known as " Kadambavanam" or "Trimurthishektram".