Harmony of the Seas

Staterooms and Suites
Pictures and Descriptions


After a day of exploring the world, its exotic cuisine and interesting cultures, there's nothing better than returning to the comfort of your private stateroom. We've designed every one of our staterooms to be a comfortable, relaxing place for you to rest after your adventures.

All staterooms on Harmony of the Seas follow the same general color scheme, with gray and white carpets, blond and gray wood, and pops of aqua, along with silver hardware. Staterooms are compact but comfortable with plenty of hanging and drawer space. All staterooms other than suites and studios include a dresser with drawer space, a sofa, a desk/vanity, two wardrobes with space for hanging clothes as well as additional drawers, floor-length mirror, large lighted makeup mirror, two beds that can be combined to create a "Royal King," and two nightstands with cubby space. Programmable safes, for-fee mini-bar refrigerators, phones, hair dryers, and giant flat-screen TV's are provided. TV's have a variety of channels showing sports, news, cruise ship programming, and movies. Additional movies are available on-demand for $11.99 each.

Bathrooms for all staterooms other than suites are identical. Each has a shower capsule with curved glass door, toilet, small sink and vanity, narrow shelving unit, large mirror and hooks for drying towels or bathing suits. Showers are fairly small, but showerheads are adjustable for even the very tall. There are bars to assist with leg-shaving, allowing women to prop up their legs comfortably in a tight space. In-shower hooks keep washcloths from falling on the floors or for drying wet clothes. A small shelf can be used for soap, shampoo and conditioner. Royal Caribbean provides only the very basics when it comes to amenities in non-suite staterooms: You'll get a bar of soap and a shower gel dispenser. Bring along your own hair care products and lotion.

Staterooms use energy-efficient power, and a card is required to be placed into a door-side slot to activate lights and outlets, which can be frustrating if you've left something to charge while you're away, only to come back to find your battery power has dwindled. Use an old keycard -- or any kind of card — to keep things charging (just make sure to turn off your lights and TV). You'll find plenty of outlets, too: U.S. and European outlets are located on the desk, alongside two USB outlets. You'll also find one bedside outlet.

Harmony of the Seas staterooms can accommodate anywhere from one passenger (in its studio staterooms) to 14 (in its Family Presidential Suite). Some staterooms have connecting doors to accommodate families or groups traveling together, others additional beds — sofa beds or pull-down beds that drop from the ceilings — as well as a number of wheelchair-accessible staterooms across a variety of categories. The ship's accessible staterooms include wider entry doors, large turning spaces, sitting areas with lowered vanities, ramps to and from balconies and bathrooms that have wide doors, roll-in showers, grab-bars, fold-down shower benches, raised toilets and lowered sinks.

We love the variety of staterooms on Harmony of the Seas; there's something for everyone. With many different staterooms to choose from, Harmony of the Seas has an abundance of options at all price levels. The ship has a total of 49 different stateroom categories. Even the staterooms in lower categories include nice touches, such as extra storage and cool bathroom features, which make them feel special. Staterooms pack a lot of comfort and efficiency into even the smallest spaces, while the suites provide opulence and wow-worthy amenities.

---
Stateroom Categories

To View Details of Staterooms of Your Choice, Click Links or Scroll Down:

Loft Suites (Magnificent, Opulent 2-Level Suites with Balcony)

Suites (Spacious, Luxurious Outside Staterooms with Balcony)

Ocean View Balconies (Outside Staterooms with Balcony)

Neighborhood View Balconies (Inside Staterooms with Balcony Overlooking Neighborhoods )

Ocean Views (Outside Staterooms with Window)

Neighborhood Views (Inside Staterooms with Window Overlooking Neighborhoods)

Interiors (Inside Staterooms with No Windows)

---
Special Suite Amenities

On a Royal Caribbean International cruise vacation, all guests enjoy friendly and engaging service aboard some of the world's most innovative cruise ships. Suite guests enjoy even more amenities and personalized service for an exceptional vacation experience. Suites offer more room, comfort and luxury. Suites are a great way to travel in style and give your family more space, while keeping everyone together.

Royal Caribbean International's new suite program is designed to focus on distinctive and personalized service and touch every aspect of the guests' experience from arrival through departure. Suite guests enjoy a myriad of special privileges and upgraded amenities, along with Royal Caribbean's world-renowned friendly, engaging and attentive Gold Anchor Service from every member of its staff and crew.
Suite passengers get a variety of perks depending on their stateroom category. Harmony of the Seas offers three classes in its "Royal Suite Class" program: Sea Class, Sky Class and Star Class, from lowest to highest. All Suite Class passengers get access to the Coastal Kitchen restaurant for dinner, bottled water, luxury bath products from the likes of Hermes, Ferragamo and L'Occitane (depending on the category), bathrobes and pillow-topped mattresses.

Suite guests (other than Junior Suites) have access to the Concierge Club lounge (open 24 hours but not always manned), where guests can enjoy complimentary pre- and post-dinner canapes and cocktails. Suite passengers can also ask the concierge to book shore excursions, dining reservations, spa appointments, and more.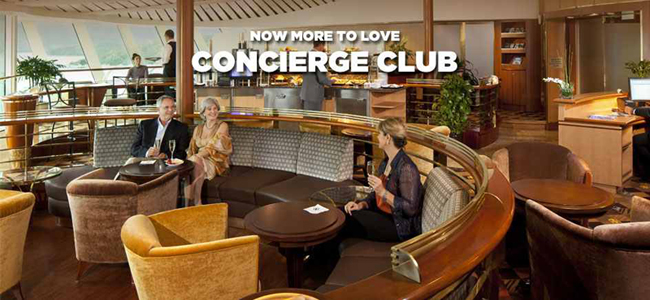 Crown Loft Suite

Two-level urban lofts with contemporary décor, private balconies, guest baths, LCD TVs and more.

The Crown Loft Suite, part of the "Sky Class," is a split-level stateroom, with a main living area on the ground floor and an open bedroom loft. There are 29 of these onboard Harmony of the Seas, including one that is accessible (737 square feet with a 140-squre-foot balcony). Crown Loft Suites run 545 square feet with 114-square-foot balconies. Panoramic views come from the two-story windows that let in a fantastic amount of light. A bathroom featuring a shower is located on the main floor, while a second bathroom with tub and shower is on the second level. The living area on the main level includes a sofa bed, dining area, dry bar, table/desk and easy chairs. Balconies include two padded lounge chairs. Staterooms can accommodate up to four people.

Sky Class passengers get all-day access to Coastal Kitchen (this is connected to the exclusive suite lounge), in-suite dining, complimentary Voom internet access, a one-day pass to the spa's Thermal Room, access to Signature activities, access to the Suites Beach on the ship's stops at private islands, a welcome gift, and concierge services, which provide things like priority restaurant reservations, theater seats, access to the suite sun deck on Deck 17, and priority boarding and departure.

Beds:

- One King bed
- One double sofa bed

Size:

- Stateroom: 545 sq. ft.
- Balcony: 114 sq. ft.

Occupancy: Up to 4 guests

Sky Class Exclusives:

- Concierge Service
- All Day Access to Coastal Kitchen
- Specialty Bottled Water (upon arrival)
- Complimentary VOOM - The Fastest Internet at Sea
- Priority Boarding & Departure
- And more

Views: Ocean view

Rooms:

- Open living and dining room on main level
- Master bedroom on second level

Private balcony

Bathrooms:

- One bathroom on main level
- Master bathroom with tub on second level

Deckplan Code: L1 L2





---

SUITES

---

Owner's Suite - 1 Bedroom

These luxurious suites offer separate living areas, private balconies and a mini bar.

Owner's Suites balconies includes a dining table and two padded lounge chairs. Inside, you'll find a dining table for four, dry bar and living room that features a sofa, deep easy chairs, cocktail table and large leather ottoman. The bathroom has separate tub and shower, dual sinks, quartz vanity, and separate bidet and toilet. The master bedroom has a large quartz vanity and large closet. Owner's Suites can accommodate four people, with a pull-out couch. Owner's Suites are part of the Sky Class.

Sky Class passengers get all-day access to Coastal Kitchen (this is connected to the exclusive suite lounge), in-suite dining, complimentary Voom internet access, a one-day pass to the spa's Thermal Room, access to Signature activities, access to the Suites Beach on the ship's stops at private islands, a welcome gift, and concierge services, which provide things like priority restaurant reservations, theater seats, access to the suite sun deck on Deck 17, and priority boarding and departure.

Beds:

- Two twin beds that convert to a Royal King bed
- One double sofa bed

Size:

- Stateroom: 556 sq. ft.
- Balcony: 243 sq. ft.

Occupancy: Up to 4 guests

Sky Class Exclusives:

- Concierge Service
- All Day Access to Coastal Kitchen
- Specialty Bottled Water (upon arrival)
- Complimentary VOOM - The Fastest Internet at Sea
- Priority Boarding & Departure
- And more

Views: Ocean view

Rooms:

- Bedroom area
- Living area with dining table and sitting area
- Private balcony with seating area and private dining

Bathrooms: One bathroom with tub and two sinks

Deckplan Code: OS






---

AquaTheater Suite - 1 Bedroom

Enjoy the best seat in the house during AquaTheater performances in a comfy suite with sweeping ocean views.

Passengers who book this category will have views of the AquaTheatre and the Boardwalk below. Each of these staterooms features a separate bedroom and living area, which includes a sofa and two chairs, cocktail table and large TV. The bedroom features a large closet, second TV and is attached to a bathroom that includes separate tub and shower along with a single sink and quartz countertop. AquaTheatre Suites are part of the Sky Class and sleep four to eight people.

Beds:

- Two twin beds that convert to a Royal King bed
- One double sofa bed

Size:

- Stateroom: 562 sq. ft.
- Balcony: 631 sq. ft.

Occupancy: Up to 4 guests

Sky Class Exclusives:

- Concierge Service
- All Day Access to Coastal Kitchen
- Specialty Bottled Water (upon arrival)
- Complimentary VOOM - The Fastest Internet at Sea
- Priority Boarding & Departure
- And more

Views: Ocean view

Rooms:

- Bedroom area
- Large closets
- Sitting area with table and sofa bed
- Private balcony with seating area and private dining

Bathrooms: One bathroom with tub

Deckplan Code: A4

Deck 14






---

Grand Suite - 1 Bedroom

Grand Suites offer a comfortable bedroom, a living area, private balcony and extra perks for guests.

Grand Suites are in "Sky Class." They feature separate living and sleeping areas, as well as a small bar. Living rooms include two chairs and a couch (some of which convert into a bed), as well as a cocktail table, two side tables and a flat-screen TV. Bedrooms feature vanities with makeup mirrors and heavy chairs. Only one nightstand has outlets for overnight charging, but you can charge from the other side of the bed using the vanity outlets. The bathroom features a tub and shower combo, dual sinks, quartz countertop and large mirrors that hide shelving. These accommodate up to four passengers.

Sky Class passengers get all-day access to Coastal Kitchen (this is connected to the exclusive suite lounge), in-suite dining, complimentary Voom internet access, a one-day pass to the spa's Thermal Room, access to Signature activities, access to the Suites Beach on the ship's stops at private islands, a welcome gift, and concierge services, which provide things like priority restaurant reservations, theater seats, access to the suite sun deck on Deck 17, and priority boarding and departure.

Beds:

- Two twin beds that convert to a Royal King bed
- One double sofa bed

Size:

- Stateroom: 371 sq. ft.
- Balcony: 105 sq. ft.

Occupancy: Up to 4 guests

Sky Class Exclusives:

- Concierge Service
- All Day Access to Coastal Kitchen
- Specialty Bottled Water (upon arrival)
- Complimentary VOOM - The Fastest Internet at Sea
- Priority Boarding & Departure
- And more

Views: Ocean view

Rooms:

- Bedroom area
- Living room with sitting area
- Private balcony with seating area and private dining

Bathrooms: One bathroom with tub and two sinks

Deckplan Code: GS






---

Junior Suite

Junior Suites fall under the ship's "Sea Class" and can accommodate two to five passengers, depending on the stateroom. At the lowest end of the suite scale, these staterooms come with an upgrade in amenities, including bottles of shampoo, conditioner, lotion and shower gel. Each bathroom includes a bathtub/shower combo, quartz vanity and sink with shelves flanking both sides. Junior suites also have large walk-in closets.

These suites offer a comfortable bedroom, small sitting area and a private balcony.

Beds:

- Two twin beds that convert to a Royal King bed
- One double sofa bed in staterooms with up to 4 and 5 guests
- One Pullman bed in staterooms with up to 5 guests

Size:

- Stateroom: 287 sq. ft.
- Balcony: 80 sq. ft.

Occupancy: Up to 5 guests

Sea Class Exclusives:

- Dinner at Coastal Kitchen
- Royal Caribbean Classic Bathrobes for Use Onboard
- Luxury Pillow Top Mattress
- Luxury Bathroom Amenities by L'Occitane®

Views: Ocean view

Rooms:

- Bedroom area
- Sitting area with sofa
- Private balcony

Bathrooms: One bathroom with tub

Deckplan Code: J4






---

OCEAN VIEW BALCONIES

---

Ocean View with Large Balcony

Enjoy beautiful Views: of exotic ports, landscapes, seas and skies from your large private balcony.

Beds:

- Two twin beds that convert to a Royal King bed
- One double sofa bed in staterooms with up to 4 guests

Size:

- Stateroom: 182 sq. ft.
- Balcony: 80 sq. ft.

Occupancy: Up to 4 guests

Views: Ocean view

Room with bed, vanity and sitting area with sofa

Bathrooms: One bathroom

Deckplan Code: 2C






---

Ocean View Balcony

Balcony staterooms have verandahs overlooking the water that range from 50 to 80 square feet, depending on their location on the ship. Balconies in all categories feature two mesh chairs, a small table and two mesh footrests.

Enjoy beautiful Views: of exotic ports, landscapes, seas and skies from your private balcony.

Beds:

- Two twin beds that convert to a Royal King bed
- One double sofa bed in staterooms with up to 4 guests
- One Pullman bed in staterooms with up to 5 guests

Size:

- Stateroom: 182 sq. ft.
- Balcony: 50 sq. ft.

Occupancy: Up to 5 guests

Views: Ocean view

Room with bed, vanity and sitting area with sofa

Bathrooms: One bathroom

Deckplan Code: 8D 4D 2D 6D

Accessible balcony rooms are 272 square feet with 80-square-foot verandahs.






---

NEIGHBORHOOD VIEW BALCONIES

---

Boardwalk View Balcony

Balcony staterooms can be found overlooking the ship's neighborhoods. Staterooms in this category keep you involved in the action but sacrifice a bit on privacy; people below and above can see you.

Enjoy Dine-Drink-Discover exclusive amenities available only to Boardwalk guests including a complimentary meal for four at Johnny Rockets®, soda packages for two and a rock climbing session for the whole family.

Beds:

- Two twin beds that convert to a Royal King bed
- One single sofa bed in staterooms with up to 4 guests

Size:

- Stateroom: 182 sq. ft.
- Balcony: 52 sq. ft.

Occupancy: Up to 4 guests

Dine-Drink-Discover Perks

- Classic hamburgers and more at a complimentary meal for up to four guests at Johnny Rockets®.
- Enjoy unlimited soft drinks throughout the cruise with a soda package for two guests.
- Tackle the Rock Climbing Wall at a session for the entire family.

Views: Boardwalk view

Room with bed, lowered vanity and sitting area with sofa

Bathrooms: One bathroom

Deckplan Code: 4I 2I

Accessible Boardwalk staterooms run 274 square feet (with 73 square-foot balconies).






---

Central Park View Balcony

Balcony staterooms can be found overlooking the ship's neighborhoods. Staterooms in this category keep you involved in the action but sacrifice a bit on privacy; people below and above can see you.

Enjoy Dine-Drink-Discover exclusive amenities available only to Park View guests including a complimentary lunch for two, bottle of red wine and a learn-to-play lesson at Casino RoyaleSM.

Beds:

- Two twin beds that convert to a Royal King bed
- One double sofa bed in staterooms with up to 4 guests

Size:

- Stateroom: 182 sq. ft.
- Balcony: 52 sq. ft.

Occupancy: Up to 4 guests

Dine-Drink-Discover Perks

- Savor a complimentary lunch for two at Jamie's Italian, Sabor or Johnny Rockets®.
- A complimentary bottle of red wine welcomes your arrival.
- Step up your game with casino gaming lessons from an onboard expert.

Views: Central Park view

Room with bed, vanity and sitting area with sofa

Bathrooms: One bathroom

Deckplan Code: 2J

Accessible Central Park staterooms run 274 square feet (with 73 square-foot balconies).






---

OCEAN VIEWS

---

Ocean View

Harmony of the Seas offers exceptional choice when it comes to its oceanview staterooms with a window that overlooks the ocean. Ocean View staterooms offer a gorgeous view, two twin beds and a private bathroom.

Beds:

- Two twin beds that convert to a Royal King bed
- One double sofa bed in staterooms with up to 4 guests

Size Stateroom: 179 sq. ft.

Occupancy: Up to 4 guests

Views: Ocean view

Room with bed, vanity and sitting area with sofa

Bathrooms: One bathroom

Deckplan Code: 2N 6N

Accessible staterooms in this category are 264 square feet.






---

NEIGHBORHOOD VIEWS

---

Central Park View Interior

If you're looking for a special view, consider a Boardwalk View, Promenade View, or Central Park View stateroom. These offer bay-window seating overlooking some of the ship's busiest neighborhoods — without all the noise, thanks to sound-muffling windows. We prefer these over the balconies in the same categories because they seem quieter and more private; you can people-watch without the people being able to watch you.

Fabulous restaurants, shops and the tranquil gardens of the Central Park are just outside your door.

Beds

- Two twin beds that convert to a Royal King bed
- One double sofa bed in staterooms with up to 4 guests

Size Stateroom: 191 sq. ft.

Occupancy: Up to 4 guests

Views: Central Park view

Living Spaces: Room with bed, vanity and sitting area with sofa

Bathrooms: One bathroom

Deckplan Code: 1S






---

Promenade View Interior

If you're looking for a special view, consider a Boardwalk View, Promenade View, or Central Park View stateroom. These offer bay-window seating overlooking some of the ship's busiest neighborhoods — without all the noise, thanks to sound-muffling windows. We prefer these over the balconies in the same categories because they seem quieter and more private; you can people-watch without the people being able to watch you.

Promenade Staterooms have bowed windows overlooking the Royal Promenade and standard room amenities.

Beds:

- Two twin beds that convert to a Royal King bed
- One double sofa bed in staterooms with up to 4 guests

Size Stateroom: 194 sq. ft.

Occupancy: Up to 4 guests

Views: Promenade view

Living Spaces: Room with bed, vanity and sitting area with sofa

Bathrooms: One bathroom

Deckplan Code: 1T






---

INTERIORS

---

Interior with Virtual Balcony

These staterooms don't have a view but are a solid value, especially for those who don't spend much time in their staterooms. Virtual balconies are floor-to-ceiling high-definition TVs that, combined with draperies and real-time video streaming from the ship's external cameras, create the illusion of an actual balcony. They even can provide sea sounds — mutable using a remote control.

This standard stateroom offers two twin beds, a private bath and all the amenities of our standard staterooms.

Beds:

- Two twin beds that convert to a Royal King bed
- One double sofa bed in staterooms with up to 4 guests

Size Stateroom: 160 sq. ft.

Occupancy: Up to 4 guests

Views: Real-time views of the ocean and destinations via a high-definition screen that spans nearly floor to ceiling

Living Spaces: Room with bed and vanity

Bathrooms: One bathroom

Deckplan Code: 4U






---

Interior

These staterooms don't have a view but are a solid value, especially for those who don't spend much time in their staterooms.

This spacious stateroom offers two twin beds, a private bath and a vanity area.

Beds:

- Two twin beds that convert to a Royal King bed
- One double sofa bed in staterooms with up to 4 guests

Size: 149 sq. ft.

Occupancy: Up to 4 guests

Views: N/A

Living Spaces: Room with bed and vanity

Bathrooms: One bathroom

Deckplan Code: 6V, 4V, 2V

Interior accessible staterooms are also available, with or without the virtual balcony, and measure 258 square feet.






---

---