---


TRANSPORTATION TO
PORT CANAVERAL CRUISE TERMINAL

Port Canaveral is one of the more popular cruising and vacation destinations in Florida, and is the gateway to cruise that many guests embark and start their adventure. Here is a quick guide to how to get there quickly and easily.

Royal Caribbean operates out of Cruise Terminal #1, located at the south side of Port Canaveral:

Port Canaveral
Cruise Terminal #1
9050 Discovery Road
Cape Canaveral, Florida 32920
FLIGHT GUIDELINES

Embarking Passengers
For our Cruise, departing from Port Canaveral at 4:30 pm, the latest recommended flight arrival into Orlando International Airport (MCO): 12:30 pm

Disembarking Passengers
For our Cruise, arriving in Port Canaveral at 6:00 am, the earliest recommended flight departure out of Orlando International Airport (MCO): 12:30 pm

ROYAL CARIBBEAN ChoiceAir


Royal Caribbean's ChoiceAir program has been enhanced with Premium Benefits that give you everything you want in airfare service: the best value, the assurance that you'll get to your ship, the flexibility to choose your favorite airline and flights, and the security in knowing you have round-the-clock support throughout your travels.

- ChoiceAir guarantees the lowest airfare available. If you find a lower fare within 24 hours of booking, we'll award you 110% of the difference to spend on board your cruise—a benefit no other cruise line offers.

- ChoiceAir has experts on hand monitoring your flights, and if any delays or cancellations jeopardize your travel plans, we work quickly with the airline to get you on the next available flight to get you to your ship.

- You have the flexibility to search different airlines and flights, so it's easy to find exactly what you want. And, we save you time by filtering out flights that won't work with your cruise.

- ChoiceAir Agents are available 24/7 to help ensure your air travel is as carefree as your cruise. Just call. They'll do whatever they can to help.

- ChoiceAir with all its benefits and services is absolutely free to use. All you pay for is your air travel, which is exactly the way it should be.

- For additional details about the Royal Caribbean ChoiceAir program, contact Eleanor at Avenues of the World Travel: 928-556-0853, ext. 204 after you have made a reservation for the Cruise.




TRAVEL DELAYS

Air travel schedules can be affected by a number of factors. If your flight arrives at Port Canaveral after the ship's scheduled sailing time due to weather or mechanical problems, contact Royal Caribbean's emergency travel hotline and/or a supervisor at the airline's ticket counter for assistance in securing hotel accommodations and flight arrangements to your ship's next destination.

Calling within USA: 800-256-6649
Calling International: +1 305-539-4107

In case you miss the departure of your ship due to carrier-caused delays or other insurance-covered reasons, please make sure you have enough travel insurance to cover additional accommodations, meals and "catch-up" transportation expenses. You are responsible for any expense incurred to meet the ship at its next port of call.

For this reason, we highly recommend that you arrive a day prior to sailing and stay in a hotel the night before to avoid any possible delays. We offer pre-cruise hotel reservations and we offer travel insurance. Contact Eleanor at Avenues of the World Travel: 928-556-0853, ext. 204.




WHEN TO ARRIVE AT PORT

In general, Royal Caribbean allows guests to arrive at the Cruise Terminal anytime in the late morning to early afternoon. Arriving at the port earlier (rather than later) is advantageous for a few reasons. First, you will beat the crowds at check-in that usually arrive between noon and 1:30 pm. Second, you will board the ship sooner, giving you more time onboard. Arriving early does add a risk of extra waiting around to be let onto the ship, and staterooms are not accessible onboard until 1:00 pm. However, the majority of guests tend to arrive in the early afternoon, which can lead to longer lines.

The ship will sail at 4:30 pm. Royal Caribbean Cruise Line requires guests to be checked in no later than 90 minutes prior to the scheduled sailing time. Therefore you need to be checked in by 3:00 pm. Guests arriving late may not be permitted to sail. In some ports, government regulations require cruise lines to submit a departure manifest 90 minutes prior to sailing.

HAND-CARRY A BAG

Make sure you keep one bag that you hand-carry onto the ship. Upon arrival at the Cruise Terminal, your luggage will be transfered onto the ship by porters and delivered to your stateroom, and you will not see it again for several hours. You might not see that luggage until late that night. Therefore, pack a carry-on that you can wheel onto the ship with all you need for the day, including your travel documents, change of clothing, swim suit, workout clothes, cosmetics, medicines, book to read, and/or anything else you might want.

Give your checked bags to one of the porters upon your arrival at the dock. Make sure your luggage tags are securely attached to every piece of luggage so they will arrive in your stateroom. (Print out those luggage tags in advance from the Royal Caribbean website when you complete your online check-in.) Gratuities for porters are not included in your cruise fees. A suggested tip is $2-3 per bag.
PASSENGER AND LUGGAGE DROP-OFF AND PICK-UP

- Arrival:

For passenger safety, security, and convenience, please proceed directly to the Cruise Terminal to drop off passengers and baggage. Parking personnel will direct drivers to the appropriate parking facility. All parking facilities are convenient, secure, and patrolled 24 hours a day. Passenger and luggage drop-off is available in front of the Terminal or in the parking facility. Porters will assist you with your large bags, which will arrive in your stateroom later in the afternoon.

Be sure to pack a separate carry-on bag that you will personally wheel onto the ship. Place any medications, cosmetics, make-up, swim suit, sunscreen, or other vital items you might need in the afternoon before the rest of your luggage arrives in your room.

- Departure:

On the last night of your cruise, you may place your luggage in the hallway outside your stateroom, and early next morning the porters will take them to the Cruise Terminal for you to retrieve after you leave the ship. Be sure to keep underwear, clothing, cosmetics, make-up, shoes, and anything else you will need for the next morning. If you wish, you have the option to wheel all your luggage off the ship yourself without help from porters.

If you parked at the Cruise Terminal, you have the option to retrieve your vehicle and pick up your companions and luggage in front of the Terminal entrance, or you can walk with your luggage to your vehicle and depart when ready.

TAXI OR RIDE-SHARING

There are lots of taxis at Port Canaveral, as well as at the airports in the area that can easily take you to/from Port Canaveral.

Ride-sharing programs, such as Uber or Lyft, are also options that can save a lot of money compared to traditional taxis. These ride-sharing services allow people to use their own personal automobiles to provide car rides. Uber and Lyft are gaining popularity among people headed to the cruise port as a less-expensive way of getting private car transportation to the port.

RENTING A CAR

In many cases, a one-way car rental is the best optional economically because of the flexibility it offers, as well as the per-person cost. Most major rental car facilities have locations in the Cocoa Beach area and provide complimentary shuttle service to the port.

The larger the group, the better sense renting a car makes. Check what the rental car rates will be for the time you are looking to go, but having a rental car offers not just a means of getting to the port, but also a way to see local attractions, enjoy a greater variety of restaurants and stock up on last-minute supplies prior to getting to the cruise terminal.

When reserving your car, be sure to indicate that you will return the car in a different location and look for locations in Cape Canaveral or Cocoa Beach. The major rental car companies have locations within 5 miles or so of the cruise terminals.

A good tip for those renting a car is to first drive the car to the cruise terminal, drop off the luggage and everyone else in your party there. Then, the driver should drive the rental car back to the car rental location and take the free shuttle back to the Cruise Terminal. The reason for this is many people opt to bring the car to the car rental location first and lines can develop for the shuttles since the shuttles aren't very big. If just one person needs a ride back with no luggage, it can be much easier to hop into the first shuttle back to the terminal since you don't have to worry about fitting luggage or family.

ROYAL CARIBBEAN TRANSFERS

Royal Caribbean offers a bus service of its own (called transfers) to bring you to the port from Orlando International Airport (MCO). Royal Caribbean offers transfers in one way increments (you can book two one-ways to create a round trip).

To purchase a Royal Caribbean Guest Transfer or for additional information, consult our travel agent Eleanor at 928-556-0853, ext. 204 or eleanor@avenuesoftheworld.com.

FROM AN AREA HOTEL

If you are staying in a hotel prior to your cruise, the hotels in Port Canaveral and Coco Beach are very convenient to the port. Take route A1A north and follow A1A all the way until you reach the port area. Follow the signs for the terminal of your cruise.

Some hotels in Cape Canaveral offer cruise and park deals, where you can pay for a one night stay at the hotel and receive complimentary parking for the duration of your cruise as well as shuttle service to the Cruise Terminal terminal.

To book one of our suggested hotels, or for additional information, consult our travel agent Eleanor at 928-556-0853, ext. 204 or eleanor@avenuesoftheworld.com.




DRIVING DIRECTIONS

Driving to Terminal 1 at Port Canaveral is simple enough from most spots in Florida. Most routes will take you to the Cape Canaveral/Cocoa Beach area via State Road 528, which is a toll road. You should be prepared and either pre-purchase a SunPass, or have exact change in your vehicle.

From Orlando International Airport (MCO):
Approximately 45 minutes west of Port Canaveral.
- Take the North exit from the airport, staying to the right on SR 528 East.
- Take SR 528 East all the way to Port Canaveral.
- Take Exit 54B and follow the signs indicating Port Canaveral Cruise Terminals B Side.
- Arrive at Cruise Terminal 1 (CT-1).

From Melbourne International Airport (MLB):
Approximately 25 miles (40 minutes) south of Port Canaveral.
- Exit east (left) out of the airport onto NASA boulevard and follow to U.S. Highway 1.
- Turn left (north) onto U.S. Highway 1.
- Travel approximately 20 minutes on U.S. Highway 1 passed the intersection of S.R. 520 in Cocoa about one mile to the S.R. 528 exit.
- Exit and travel east on SR. 528 for approximately 10 miles, crossing the Indian River, Nerritt Island and the Banana River to reach Port Canaveral.
- Take Exit 54B and follow the signs indicating Port Canaveral Cruise Terminals B Side.
- Arrive at Cruise Terminal 1 (CT-1).

From Orlando Sanford International Airport (SFB):
Approximately 1 hour northwest of Port Canaveral.
- Exit the airport south to the Central Florida Greenway (Toll Road 417).
- Go south 23 miles to S.R. 528 (the Beach line Expressway) eastbound exit.
- Go east (37 miles) to the Port.
- Take Exit 54B and follow the signs indicating Port Canaveral Cruise Terminals B Side.
- Arrive at Cruise Terminal 1 (CT-1).

From Space Coast Regional Airport (TIX):
Located about 20 minutes from the Port in Titusville FL.
- Exit and drive east three blocks
- Turn south onto U.S. Highway 1 to the Beach line Expressway (S.R. 528) and follow this east to the Port.
- Take Exit 54B and follow the signs indicating Port Canaveral Cruise Terminals B Side.
- Arrive at Cruise Terminal 1 (CT-1).

From Daytona Beach International Airport (DAB):
Located about 75 miles north of Port Canaveral.
- Take I-95 south to S.R. 528 East and follow to the Port.
- Take Exit 54B and follow the signs indicating Port Canaveral Cruise Terminals B Side.
- Arrive at Cruise Terminal 1 (CT-1).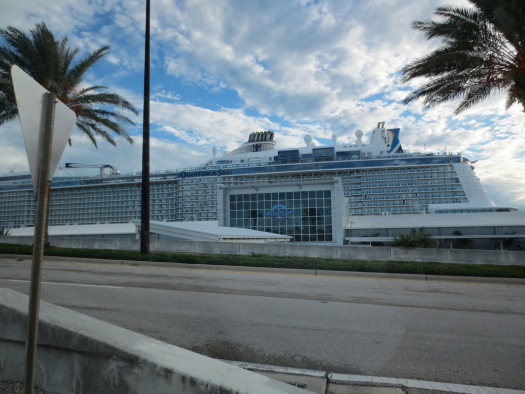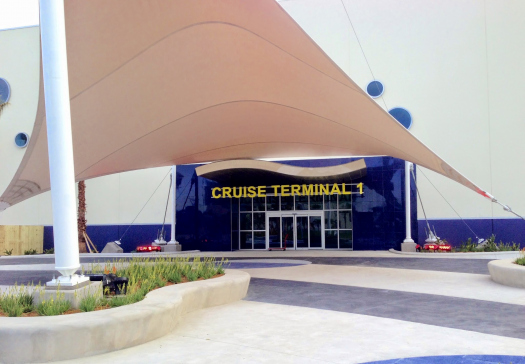 Official Port Canaveral Cruise Parking is available only directly adjacent to each of Port Canaveral's Cruise Terminals. The Port does not own or operate any off-Port parking facilities. Port Canaveral no longer offers pre-paid parking. Please pay to park at your cruise terminal's designated parking area and simply take a short walk to your ship; no need for shuttles. Oversize parking for RV's and buses is also available at each Cruise Terminal.

NOTE: No reservations are needed for parking. Ship schedules and assigned Terminals are subject to change. Please check with Royal Caribbean Cruise Line for the latest information on where you will be embarking.

Cruise Terminal Location: Harmony of the Seas
(South Side) - Exit 54B
Cruise Terminal #1 - 9050 Discovery Road

Rate for cars: 7 Nights/8 Days - $136.00

*Rates are subject to change without notice. Contact the Canaveral Port Authority at 321-783-7831 for the latest information.

*Select hotels offer a discount on parking at Port Canaveral. If you are staying at a qualifying hotel, you can get a discount at check-out for the parking fee. Inquire with your hotel.

Acceptable Payment Methods

American Express, Visa, MasterCard, and Discover credit cards

Refunds

May be requested by contacting us at (321) 783-7831 ext. 327 - Monday through Friday. Please be prepared with the sailing date.

Disabled Parking spaces are available and the fee is waived for vehicles transporting certain persons who have disabilities that fall into the following categories:

- Have special equipment, such as ramps, lifts, foot or hand controls for use by a disabled person.
- Display a Florida Toll Exemption Permit as explained in s. 316.1964, Florida Statutes
- Display a Florida Disabled Veteran (DV) license plate issued under s. 320.084; s. 320.0842; or s. 320.0845, Florida Statutes

Parking agents will not grant parking waivers for any other reason than the ones listed above.

* Rates May Vary based on seasonality, day of the week, time of booking, length of stay and availability..

** COTG Cruise is not responsible for theft or damage to vehicles.
CHECKING IN AT CRUISE TERMINAL
At the Cruise Terminal, you will check in at Royal Caribbean. Look for a sign directing you to your Deck. If you are booked in a suite, or if you are an Emerald, Platinum, Diamond or Diamond Plus member of the Royal Caribbean Crown & Anchor Society, be sure to take advantage of Priority Check-in. When you get to the pier, look for a sign directing you to your Deck and to Priority Check-In. That is the area where you can go ahead of the long lines.

If you have completed your online registration in advance at and printed out your "SetSail" Boarding Pass, then you will "sail through" the registration process. If not, please arrive early, by 2:00 pm, in order to complete your registration at the dock.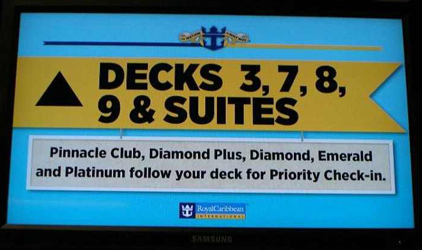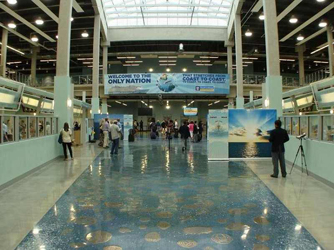 Guests can complete Online Check-In (on the Internet) no later than 4 days prior to the cruise. If you completed Online Check-In, you will go to an area designated for documentation validation. By checking in online, you will expedite your boarding process and will be able to start enjoying your cruise vacation much faster.

At the Cruise Terminal, you will need to present:

- Your SetSail Pass
- Identification Documents (proof of Citizenship) for each guest
- Credit Card to be used for your Onboard Expense Account
- Onboard Expense Account Information (i.e your credit card and the reservation information that is authorized to charge against the account)