Join Us on the "Conspira-Sea Cruise"!

Sail with Like-Minded Souls
in the Experience of a Lifetime.
Our "Conspira-Sea Cruise and Seminar-at-Sea" takes place right on our luxury cruise ship during our seven-day cruise, in conference rooms on the ship, and during our port calls.

During this incredible, mind-blowing, truth-telling, spiritually enriching event, we will do our best to uncover the truth about things conspiratorial, such as:

GMOs, Monsanto, bee colony collapse, ecology, global warming, climate change, fracking, HIV, autism, big pharma, medical suppression, vaccinations, flouridation, political corruption, government corruption, forbidden archeology, Federal Reserve, truth about money, World Bank, strawman, property title, admiralty law, martial law, Bohemian Grove, Skull and Bones, JFK, cover-ups, September 11, Star Wars agenda, nuclear plants, chemtrails, HAARP, crop circles, IRS, MK-Ultra, Fukashima, NASA, NSA, Bilderbergs, sustainability, military industrial complex, pentagon, Waco, Malaysia 370, Pan Am 103, TWA 800, Gulf Oil Spill, Halliburton, Obama, Ruby Ridge, OK City, Vatican, New World Order, false flags, Montauk, privacy, surveillance, Area 51, Dulce, Project Rainbow, Nazi Bell, Vrill, U.S.S. Eldridge, Iron Mountain, psyops, population mangement, subliminal ads, Nibiru / Planet X, Cointel Pro, entity possession, technology suppression, electoral fraud, identity chips, 2nd amendment, and so much more.

Plus we will explore how to heal ourselves and others, and to attain self-mastery and greater integrity through:

Spiritual practices, alternative lifestyles, holistic health, yoga, manifestation, self-development, organic foods, healthy living, wellness, self-sufficiency, prosperity, sustainability, freedom, human rights, discernment, wisdom, awakening, longevity, inner guidance, and inner peace.

The purpose of this cruise is NOT about being a victim of conspiracies. It is about taking back our power from corrupt and greedy institutions, attaining true self-authority, and realizing our genuine Self behind the masks. It is about discovering the truth, taking command of our lives, and attaining genuine inner realization.

This cruise will not only uncover the lies. It will show us the truth. As we dispell the darkness, and shine the light of wisdom, we enter the true light of consciousness.

And we are set free.

ALL are welcome to discover the real truth, together.

IMPORTANT NOTE: This Seminar-at-Sea does not promote any particular religious beliefs or creeds and will not tolerate any prejuudice or discrimination against any ethnic, religious, or racial group. it is about developing our own inner knowing of truth.
Join us on an incredible cruise as we sail to the gorgeous, fun-filled ports.


Be a part of a holistic conference at sea, with famous researchers, investigators, and whistleblowers.


Visit fascinating ports and enjoy amazing shore excursions unavailable elsewhere.


Enjoy fun in the sun on pristine beaches and marvel at native wildlife and sealife.


Enjoy 7 days of awakening, as we sail into the truth that sets us free.


Enjoy veg, non-veg, vegan, or raw food, and participate in awesome activities.


View the starlit sky with a nightly UFO Starwatch.


Make new friends, gain greater knowledge and wisdom, and create memories that last a lifetime.

Interviews with Some of
Our Previous Speakers


Included FREE When You Register
Seminar-at-sea with renowned researchers and investigators
information not found in mainstream media or Internet
Exercises to heal yourself and gain greater inner strength
Practical ways to survive and thrive in a time of uncertainty
Aha moments as the truth is revealed
Spiritual experiences, rituals, and healing
UFO starwatch with night-vision goggles
Yoga instruction with an expert teacher
Awesome coaches, readers, healers, and vendors
Excellent seminar staff attending to your needs
Some of the most beautiful staterooms at sea
Access to state-of-the-art fitness center
Access to adults-only swimming pool
Access to steam room and sauna in Lotus Spa
Bathrobes in your staterom, when requested
Excellent caring service by the crew
Delicious dining in many options on the ship
Meals superior quality compared to most other cruise lines
Dining with like-minded people in our group
Awesome buffet open all day and night
Great choices for vegetarians and vegans
Afternoon Tea with scones, clotted cream and more
Awesome gourmet desserts created by special five-star chef
Soft-served ice cream and authentic gelato
International Cafe featuring gourmet pastries
Free room service all day and into the night
Incredible onboard entertainment
Fun-filled free programs for toddlers, kids, and teens
Broadway-like stage shows
Outdoor movies and sports on mega-sized screen at pool
Dance classes and educational programs
Art auction at sea
Onboard library
Recent movies still in theaters to watch in your stateroom
Hilarious comedy-club entertainers
The most spectacular destinations on the planet
Much, much more!
"I very much enjoyed the cruise and could not possibly find anything I would change. I thought it was very well organized and I would love to be a part of it again. Thank you for a wonderful time!"--Chuck Poloka, Pennsylvania

"Thanks again for a wonderful Seminar At Sea - felt you had a good mix of presenters. I was impressed with how deep some of the workshops went, and loved having more than one session with some of these great teachers, with time between to integrate and assimilate what was taught. I loved having our meals together so there were opportunities to sit with the teachers and ask deeper questions and have some personal contact."--Evalena Rose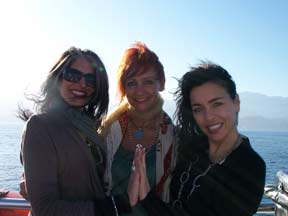 "When you ask me what I loved about the cruise, I will tell you, 'everything.' It was my experience to enjoy...I asked God to see dolphins and a school of them showed up playing outside my balcony room. I asked God to see whales and whales showed up jumping into the air. I asked God for a beautiful sunset and I was in awe as I watched the sun sink in the horizon. With every blessing, my heart was filled with gratitude."--Tina Taylor, Illinois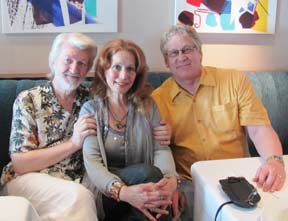 "The exceptional service, quality of our room, and the ease of getting food when hungry were great. The view was splendid, as were the excursion opportunities. All enjoyed this event!"--Barbara Tralle, California

"Your staff were exemplary in all ways. You, Adele, and the door monitors all were helpful, courteous, supportive, superb. Peter was a great help and always there when I needed him, as it seems he was with others."--Evalena Rose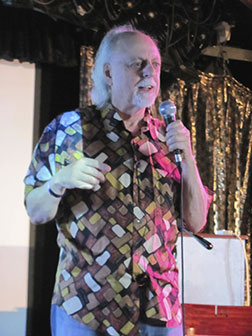 "It was the perfect venue for having non-stop workshops, easy access to dining, and also to our rooms. This was so much better than a hotel-based week long workshop! Brilliant idea!!"--Julie Hart, California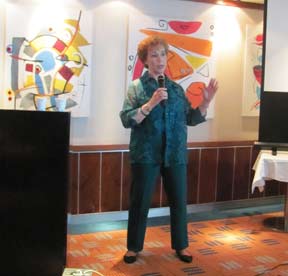 "I enjoyed the cruise tremendously. Of major importance for me was being able to disconnect with the 'outside' world. Being in the middle of the ocean certainly helped. I think that this was a perfect way for me to re-connect with myself. This cruise surpassed all my expectations."--A.R.J.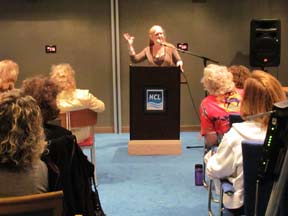 "The panel of speakers was by far the best attribute of the trip. The speakers covered a wide array of topics... everything from Angel wings to the modern Nazi regime. It was all around enlightenment."--D.R.M., Wyoming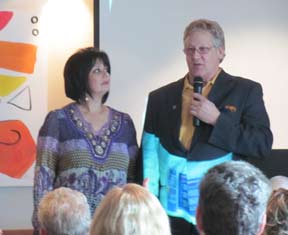 "I first want to thank Susan Shumsky for putting this amazing event together. Thank you to all the speakers for sharing your insights, wisdom and love. Susan, you came into my dreams 2 nights before the cruise. You are a great teacher and very matter of fact...The meditations were and are powerful. Each one left me floating out of my chair...Your gifts and messages are so important to us all. Thank you for the love and light that you shine on this world...My experience was perfect...Just know, I love you guys."--Tina Taylor, Illinois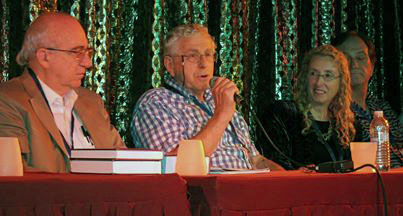 "The cruise was amazing, interesting, fun and knowledgeable. Nice work for giving all of us having such a wonderful time...Well, Susan, hats off to you and all you did to find everyone and put the cruise together."--Victoria Buchen, Arizona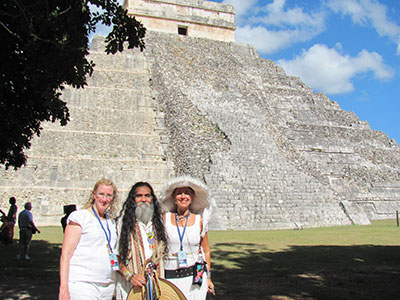 "I loved it all I didn't do any excursions it was awesome!!! I would do again loved Dannion he's awesome! And Sean! I need laughter to lighten it up like meetings at work, too professional, makes me want to sleep!"--Laura Cringan, Massachusetts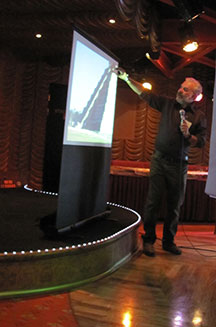 "I enjoyed the various speakers and the different areas that were covered. The speakers who had the experience that was most relatable to me, I enjoyed most. The ones who offered experiential exercises were by far my favorite. Dr. Susan Shumsky was number one!!! Due to the guided meditations and the personal experience they offered to me. I also really enjoyed Victoria of the Light because I had a personal connection with her."--Gerri Walker, Pennsylvania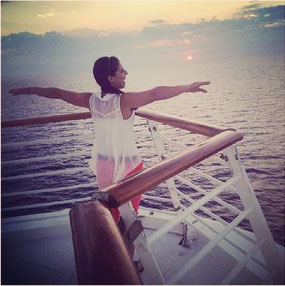 "I enjoyed Dannion due to his personal story and sense of humor. I enjoyed Sean David Morton due to his experiential exercises, sense of humor, and secret government information. I found that intriguing. I enjoyed the insight that was provided into the Mayan people that was given by Elizabeth Araujo."--Gerri Walker, Pennsylvania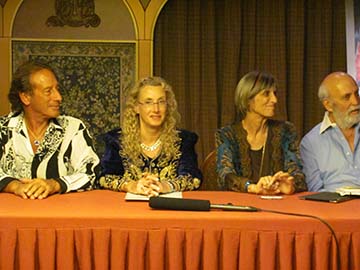 "Just wanted to say thank you Susan for inviting me to be a part of the cruise and for all the work and hours that you put in, so everything would run smoothly. I really enjoyed being a part of the group. I was also very impressed with your lecture and so was everybody else that attended it. You are a brilliant speaker. I am looking forward to your next cruise."--Lai Ubberud, Texas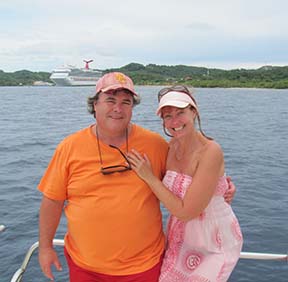 "I love Danion and Sean David Morton. They were both fabulous. Nicki's presentation was incredible. So was Susan's. And the ceremony/presentation that Marybeth did on the second last day was off the charts! I also loved the closing ceremony, with all the speakers. It was very high. I totally enjoyed the night vision experience and think that's a big plus. We could have promoted it a bit more at dinner every night. I don't know about his attendance, but I was shocked at how easy it was to get to the roof and 'play' in this way. A big plus, and cudos to you for bringing him. I thought that was really special."--Maureen St. Germain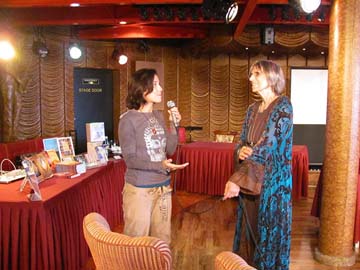 "My favorite speakers were Dannion - gives confidence in spirit; Sean- information and funny; Susan - phenomenal meditations. My favorite event was the last speaker panel; funny, but to hear they were blessed as well as blessed us. My favorite shore excursion was Honduras - not so Americanized. The ship staff and services were phenomenal."--Kathy Brilliant, California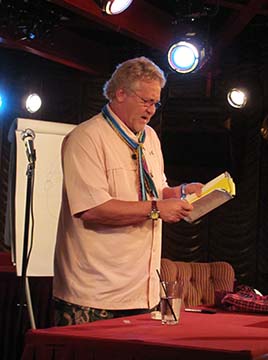 "I enjoyed being Mayan. The people, ports and spirit of the trip were all incredible. Dannion was my favorite speaker. If you really listen to what he is saying, some of the most brilliant and cosmic material being said on the planet right now. He also adds a great sense of humor to otherwise humorless topics (like death). Sean David is like a water fountain of information. The angel wing thing was also great because it was interactive with the audience. The Jedis vs. Cyborgs thing is something I've been talking about for several years. Loved to hear it coming from Sean David now too! I really enjoyed Mark Becker's yoga. It was a nice change of pace to the classes and other scheduled activities. A great way to start the day! Meeting and connecting with people."--Sean Murphy, California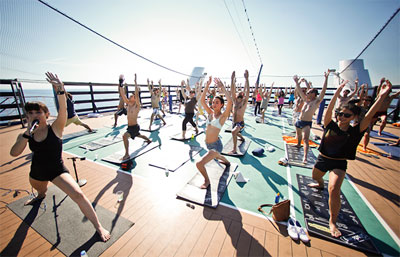 "Thank you so much for inviting me to participate on the Cruise into 2012 conference. I met a lot of wonderful people and appreciated meeting you both. It was a powerful time for the planet and especially the oceans. Day by day the Light is increasing on Earth and we are all blessed to add to the Light of the world whenever we have the opportunity."--Patricia Cota-Robles, Arizona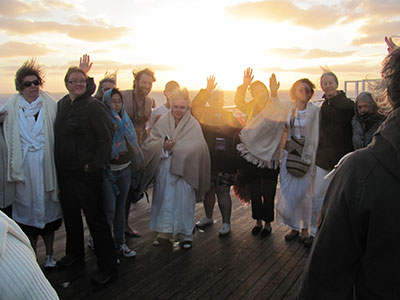 "I wanted to thank you, Susan, for organizing this cruise. I think it gave the participants and the speakers new openings for the future, which was its purpose."--Carl Johan Calleman, Sweden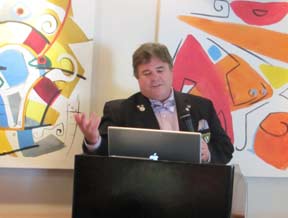 "I enjoyed the sense of community and purpose. I enjoyed the informality and accessibility of most of the speakers. I enjoyed that some shore excursions were exclusively for our group."--Jim McPhie, California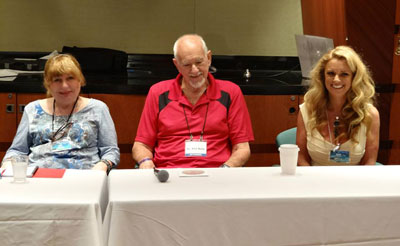 "Las Caletas Hideway was wonderful and I felt that was the closest we ever resonated as a cosmic spiritual experience throughout the trip. I connected with people I had never imagined and there were some exchanges which were quite important. Since I work with Emoto, I was able to use water as a medium for carrying important messages and even though I was very discrete I had people connecting with me. I am sure that at some level, we were all pulling in the same direction. Many thanks to Carl Calleman for his dedication and perserverance and to you for keeping it all together."--Beth Goodson, Switzerland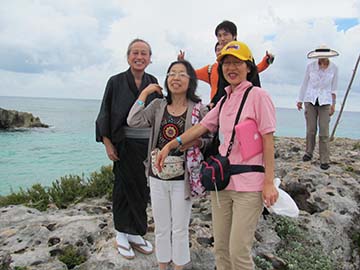 "I loved all the incredible speakers and the variety of information. I loved the Mayan ceremony and the food aboard ship. I was pleasantly surprised to find that speakers like R Hoagland, S Morton, and Wayne H. who I hadn't heard before were giving us access to such valuable information and were such wonderful speakers. What a treat! Every one of them was wonderful in their own area of expertise."--Tami Kukuczka, Michigan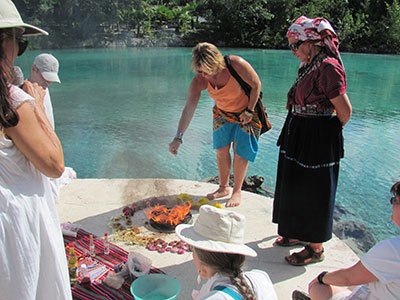 "Overall, I loved just about everything about the cruise. If I had to choose a few memorable experiences they would be the sacred ceremony in Puerto Vallarta, Whale Watching in Cabo and seeing a UFO zoom across the sky while stargazing on the Helipad with Richard Hoagland. I sincerely hope you have more spiritual cruises in the future!"--C.J.M, Vancouver, Canada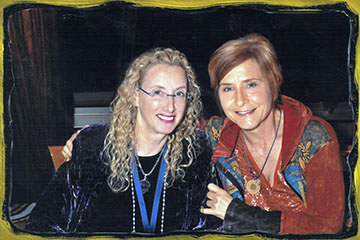 "I enjoyed Dr. Shumsky's meditations the most. This is the first time I can honestly say I learned what meditation is all about and how to be comfortable with myself during meditation. I intend to continue my meditations and reaching the spiritual goals I have set for myself."--R.T.W.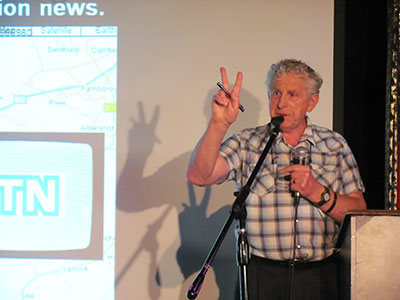 "What I enjoyed most about the cruise was everything! Great ship, great itinerary and wonderful people. My favorite speakers were Maureen, Tenwhitefeathers, Lai Ubbard, Susan, Dannion, Sean. I also really enjoyed Mark's yoga class. He is a great teacher! I really enjoyed the fire ceremony at Altun Ha. I also LOVED the Sting Ray and Dolphin swim."--Melissa Thomson, California

"My favorite presenter was Aeoliah. I went to all three of his sessions and thought they were very deep and meaningful. I thought that the staff on the cruise were just fantastic!!! My favorite port day was the last and the whale watching."--J.V., Aptos, CA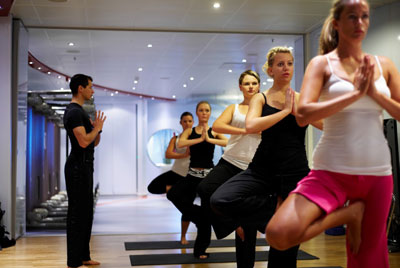 "I liked Susan's & Others unbelievable effort to make things go right when maybe the universe had another idea. I liked the pace, the starting time each day, the continuity, the people, the accessibility to the speakers plus an update at the end of each speaker on what or who was next and updates on changes if there were any."--Wonderful Wanda, Florida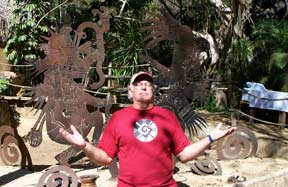 "I wanted to especially thank you for the work and time you gave for this event. I am aware of your extra efforts, and the trip went extremely well. It turned out to be very sacred and special. Many, many people were helped and grew in these energies."--Elizabeth Joyce, Pennsylvania

"We really enjoyed the cruise and meeting the other presenters and being a part of everything. We would definitely do it again!"--J.V., Aptos, CA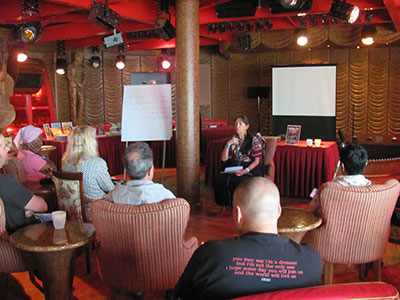 "Susan... I can't say enough about your effort from the beginning of your asking for the order to the follow with additional information, to the Teleconference, to Ship Data, and the situations you had on board with guests, speakers, and crew. You were marvelous!"--Wonderful Wanda, Florida

"I liked the Crop Circles. The speaker was pleasant and excited about the topic. I got gems from each presentation I attended."--Mel Sears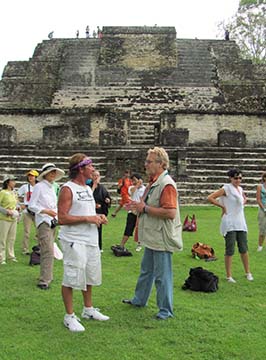 "In my opinion, the cruise lived up to the advanced billing. I found the 9th Wave Ceremony something to remember. The cruise was relaxing. I found the dolphinarium visit interesting because of the opportunity to meet a dolphin at close range with nothing between us (such as the hull of a boat). The beach horseback ride constituted the first opportunity for me to ride a horse since I was a teenager."--Tom Shaffer, Connecticut
"THANK YOU! THANK YOU! THANK YOU! Susan, I really appreciate everything you did to make the trip a reality (both for me and everyone else). I feel so blessed and grateful just to be able to go on the cruise this year. May you all be blessed and see you on a future cruise! Thank you all so much!"--Sean Murphy, California
"Got a lot of information, met a lot of great people--left feeling really good!"--J.A.H, New Jersey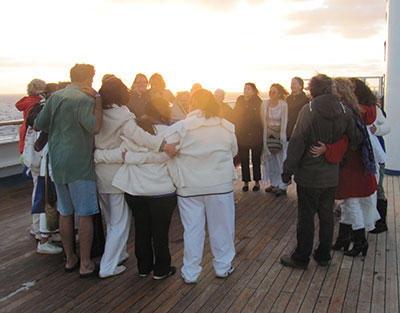 "All in all I found the seminar informative, stimulating and thought provoking. I will be inspired to read many of the presenters...I found the seminar life-altering. The information presented here will be part of every decision I make in the future. Thank you for your offering of an enriching experience."--Addie R., Florida
"I would have to say that what I loved most about the cruise was meeting other like-minded individuals and sharing with them. My favorite speaker was Colin Tipping. I came to a new level of awareness and a different perspective on forgiveness."--Bob Morse, St. Petersburg, FL
"Your staff were helpful. I appreciate the effort all of you made in order to meet people's needs. The cruise line staff were also helpful. Our cabin steward was wonderful."--Mel Sears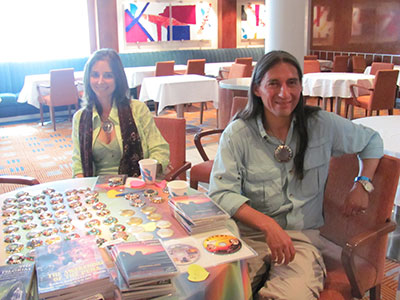 "I liked the fact that we were a microcosm--this presented challenges as well as beautiful opportunities. I thought all speakers were well prepared. I personally resonated with the theme of the cruise: Carl Calleman and those speakers who tried to present the idea of co-creation at this important date. The shore excursion was just magic. Victoria of Light was with us and through her capacities as a whale rider led whales which stayed with us for 8 miles--even the pilot of the boat was blown away by that experience."--Beth Goodson, Switzerland
"It was wonderful in so many ways! So nice to meet and talk with other like minded people, to hear some wonderful presenters and be charged up and excited by the music...Being able to walk right into the dining room without a reservation was a big bonus for the whole group, and it was exciting to get to know a few of the attendees and presenters at dinner as well."--Lily S., Oregon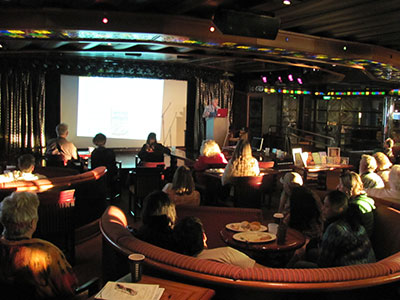 "I enjoyed the meeting of like minded people in a lovely relaxing situation. Victoria of Light was favourite followed closely by Dannion, then Harrison. The evening meals I enjoyed as it was a lovely way to meet the others. I loved the three excursions I took -Tulum, Altun Ha, and swimming with the Stingrays and Dolphins. They where all great in different ways can't pick best. I liked the food and service. Thanks so much for the opportunity, and all you did to make it a great experience."--Jessie Dickie, New Zealand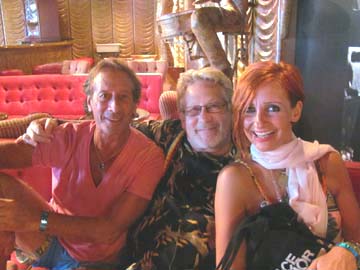 "The team of support people that were there all the time, EVERY one of them were sweet, comfortable, and easy to work with... Their genuine concern for our welfare was very evident. Who could ask for more? The taping team were MOST impressive. They are very hard workers. They were so flexible and 'on the job.' so many hours. I don't know how they kept up! Great prices for the videos."--Maureen St. Germain, New York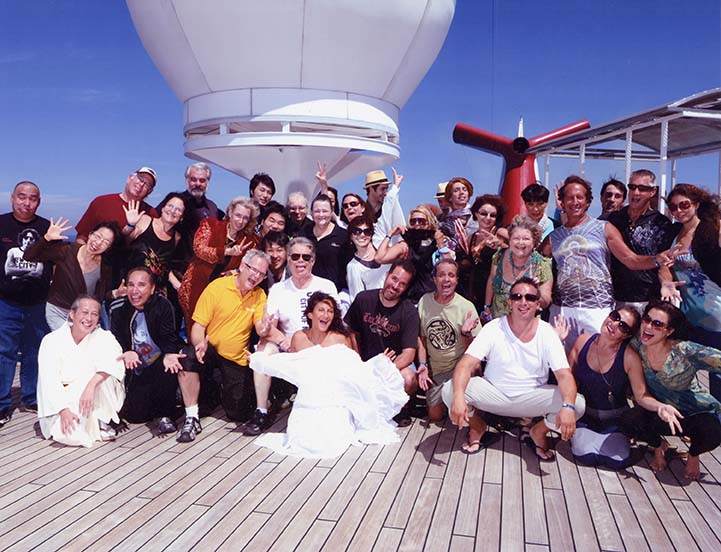 "I enjoyed meeting the people, not having to cook, and the excursions off the ship. I enjoyed the dinners as you could talk to lots people. Meals were really great, the staff were very helpful, service of rooms was awesome."--Lesley Evans, New Zealand
"My favorite shore activity at port was whale watching, because we got up close and personal with the whales and each other. Loved our private boat and that you and Adele were with us."--Evalena Rose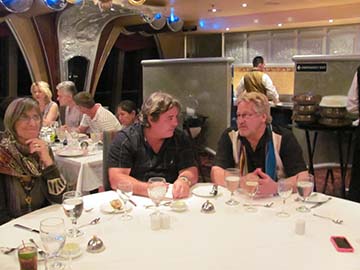 "The whole idea of the Spiritual cruise and many of the people involved made it a memorable experience. I arrived on the cruise after a two week spiritual retreat, totally balanced in full love, light and power. The cruise was a beautiful finish to my month of Spiritual work and I learned so much. It was a time for making new friends, sharing ideas, understanding and generally having fun."--Julia Green, Florida
"I liked the chance to connect with others. Going to the seminars made this possible and easy. I liked having friends to eat with and to hang out with in the ports."--Mel Sears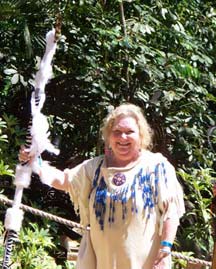 "I liked everything about the cruise. My favorite speakers were Sean David, Carl Calleman, and Maureen St. Germain. My favorite event of the cruise was holding a stingray. My favorite shore excursion was Elizabeth Araujo's ceremony at Cozumel."--R.C., New York
"What we loved most was meeting such a diverse group and sharing with the people in the workshops. We both found the cruise enriching and entertaining. To meet the speakers in real time and finding out they are just like us was such a blessing."--Peter and Margot Biro, Edmonton, AB, Canada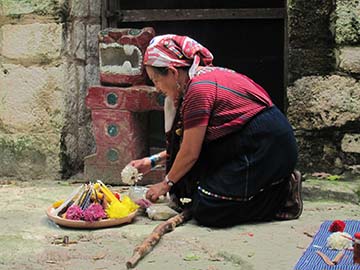 "My favorite speakers were Victoria of Light as she has high vibrational energy and it takes you to an amazing place. Dannion Brinkley as he was in his heart and felt like Love and Truth. Marybeth as she was coming from heart. Harrison was a genuine loving soul who also was coming from his heart. My favorite shore excursion was the trip to Altun Ha and the ceremony there, as it felt like I was connecting to other life times. It felt very special."--Lesley Evans, New Zealand
"Barry and Joyce Vissell's exercises helped me touch and bring healing to my core wound, and their support afterward was extraordinary and deeply compassionate. I loved Yogi Amrit Desai workshop, where I had a transcendent experience with the yoga and meditation on the first day at sea. Amazing man."--Evalena Rose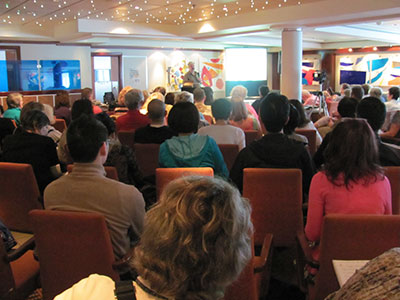 "The service people, staff and waiters were fabulous. They noted needs, and remembered us. They produced 'food requests' almost like a magician, very quickly and with grace and ease. The ship was beautiful. Great deco, interesting layout and well thought out. Food service seemed very efficient no matter where we ate. Impressive. Loved their food, service and accommodations. I thought our stateroom (on the 2nd floor) was laid out VERY well. We were both able to store our clothes and suitcases, have room to both of us work and be comfortable! It may have been bigger than my NYC bedroom!"--Maureen St. Germain, New York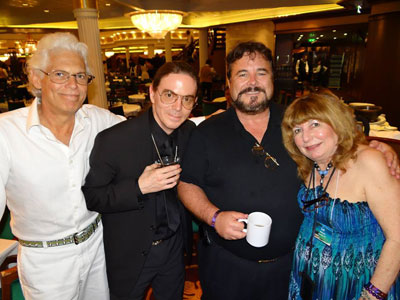 "During Sean's meditation I felt the Holy Spirit gently rock me back and forth. However, it was in Susan Shumsky's guided meditation that I had a most magnificent experience. The Holy Spirit began rocking my body back and forth uncontrollably and I began to have vivid visions. It was very difficult for me to come back to the room. I wanted to stay in bliss forever. When I did finally manage to open my eyes, I continued to rock. I rocked for several hours afterwards-all during lunch and into the next presentation. I kept asking everyone if the boat was rocking and they said no. All I can say is, Susan has a direct line to the Divine!"--C.J.M., Vancouver, Canada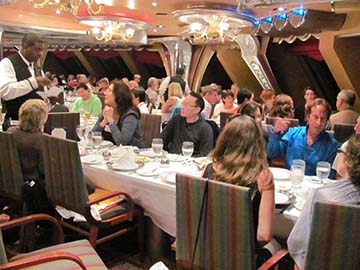 "Our Captain took us first to Lover's Beach and Los Arcos explaining each feature and some history. We got up close to the Seal colony near land's end. Then we took off in search of whales! Our Captain had a heads-up from another Captain that some whales had been spotted a few miles north in the Sea of Cortez. Shortly we came upon a group of small craft that were shadowing some whales. Just as we got close, a baby whale jumped completely out of the water. The baby was swimming along with its mother and rolling and slapping its tail. Because there were several small boats of various kinds watching we all kept a ways away from the whales so as not to sppok them. Just about the time that many of the other small boats turned back, the large catamaran with many of our fellows in Oneness showed up and although we had seen the papa whale some ways off, he came over and put himself between the large catamaran and mama and the baby. The whales picked up speed and for a while we had some difficulty staying near them. But, then the large catamaran left and papa let us get real close to himself and mama and baby. All this time Victoria had been "singing" to the whales and now the whales slowed down and we were right next to them. Papa went right under us, but he didn't come up until he was clear of us. It was a truly amazing excursion."--Jim McPhie, California"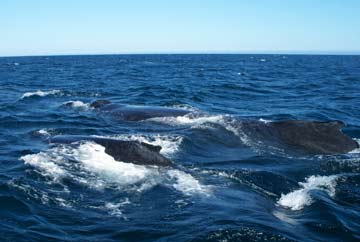 "I would like to tell you thank you so much for a great "Spirit of Love Cruise." You are the best for all things what are you doing for all of us. I am so happy that I took this wonderful holistic vacation with all of you famous people. For me it was fantastic, because I got more information."--D. K., Mississauga, ON Canada
"What I loved most about the cruise was being a part of the Seminar at Sea, time with the Vissell's, helping people grow, doing private sessions, and most especially the shore excursions." --Evalena Rose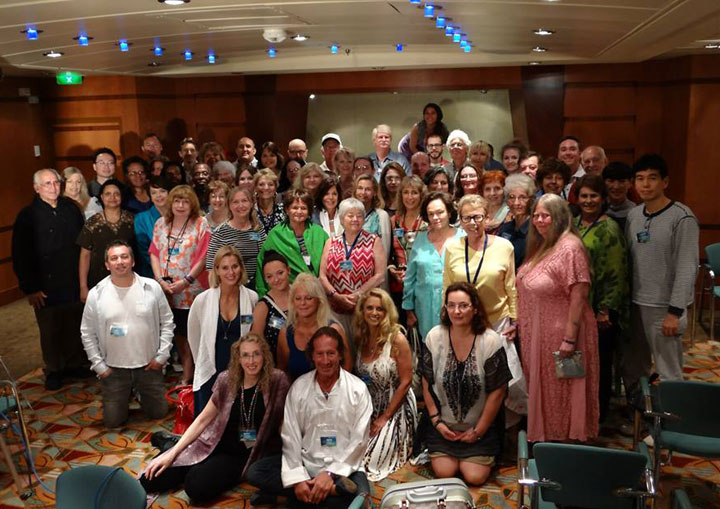 "Barry and Joyce were our favourites along with Colin Tipping. They were very genuine and organic in their talks. We could relate to their messages."--Peter and Margot Biro, Edmonton, AB, Canada
---
Comments About the Mayan Ceremonies:
"My experience of the 9th Wave Ceremony was almost indescribable. The moment I stepped off the boat, I started crying. Like I was home. Well, at least that's how it felt. The air was so pure. The sounds were so calming. I was definitely in a state of grace. During the ceremony the drum beats moved through me and I felt every word in my heart. I felt the air, the trees, the birds, the sun, the earth and...I felt one with all. After the ceremony was over, I was brought to tears again. This time, it felt like a letting go. It was a letting go of something so deep inside me that I can't even describe it. I just remember saying thank you over and over again. Then finally, that sense of responsibility was gone. I took the deepest breathe I have taken in awhile and just started laughing, uncontrollably. It was so cool."--Tina Taylor, Illinois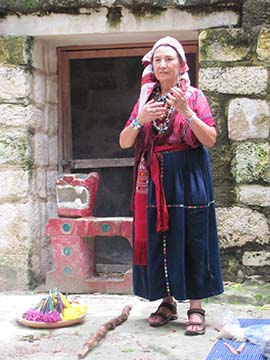 "This was the highpoint of the week. We walked up the hill and stopped to be cleansed with incense - and then went into the arena area. The ceremony was endearing and it was great to see Dr. Calaman honored for his writing. That brought tears of gratitude to my eyes."--Elizabeth Joyce, Pennsylvania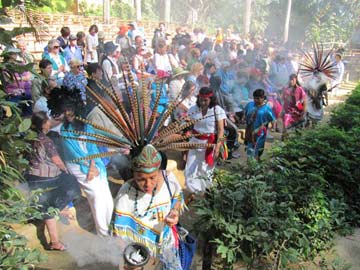 "I found the whole experience of the 9th Wave Mayan Ceremony moving, and a lot of work had been put in to the celebration to make us feel welcome and part of the ceremony. What they gave, they gave from the heart and their beliefs...Having listened to the talks on the Mayan calendar beforehand made it even more meaningful as I knew nothing at all about the Mayan calendar before this journey."--Julia Green, Florida
"I felt blessed that these indigenous people included us as their brothers and sisters after all the persecution they have suffered. I really feel the ceremony was profound and it brought me to tears of gratitude."--Tami Kukuczka, Michigan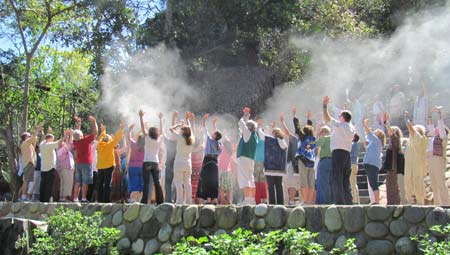 "My favorite events were the ceremonies, all of them, Nicki's, Elizabeth, and the very special ceremony that was done at Altun-ha were just spectacular. All of them were very very special. I especially appreciate the phenomenal logistics that you arranged for the ceremony with the Mayan Elders and Dannion. People don't realize how incredible they were. I think the choice of locations that Mark demanded was SPECTACULAR!!! They were well prepared with the ceremony initiation circle and then the circle on the main lawn. Quite impressive. It is quite an undertaking. Congratulations on pulling that one off! You chose well."--Maureen St. Germain, New York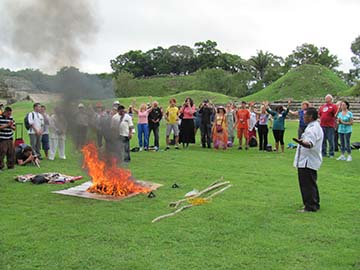 "It was exhilarating! One of the Mayan elders hugged me and I can still feel it!!!!"--M.A.J., New Jersey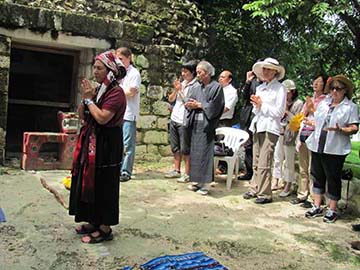 "I had a personal experience in Belize at Al Tun Ha. That was my favorite because I connected with the spirit of the ancestors personally and came back a different person than when I started."--Gerri Walker, Pennsylvania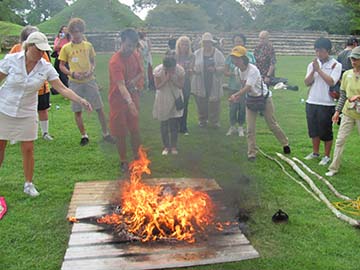 "My favorite activities were the hugs, dinners, and general sense of celebration among each other. If I had to say one event it would be the ceremony at Altun Ha. Going to a sacred site is a must on 'spiritual trips' like this."--Sean Murphy, California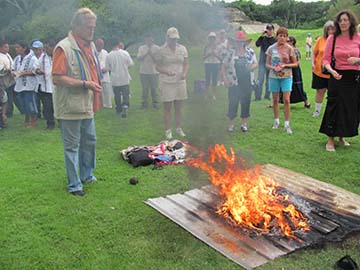 "Absolutely and utterly amazing. I will bear this experience in my heart forever and will pass it on, whenever and wherever I can."--Helle Thuren, Denmark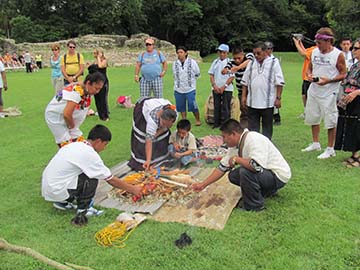 "The Ceremony was magical! I especially enjoyed being on stage at the end and participating in the dancing. One of the Mayan elders gifted me with a sacred ceremonial rattle. I felt truly blessed and grateful for the experience. During and afterwards I felt very light, etheric and full of love :) Yes, the wave is upon us!"--C.J.M., Vancouver, Canada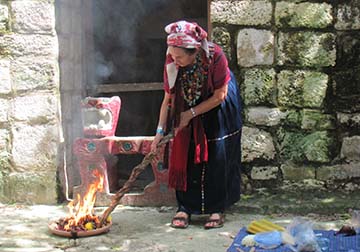 "The Mayans were as if from another world, so pure in their intent and they performed the rituals. Even the children focused pure hearted and content on the mission of making their purpose known to the spirit world."--Connie Fisher, New Mexico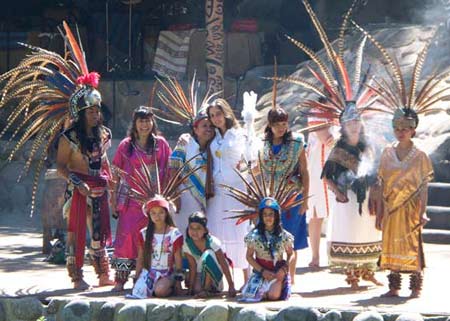 "I was so grateful to have this very uplifting, profound experience. It was so amazing that the Mayans came all the way across the country to make this happen there and then. Their honoring of Carl Calleman was one of the highlights for me...The snake dance was great for its sense of inclusion and community. Everyone was on another plane for some time afterwards. Really, I'm not sure I left there yet! We are all One."--Jim McPhie, California